Swiss Skydiver second in NTRA Top Thoroughbred Poll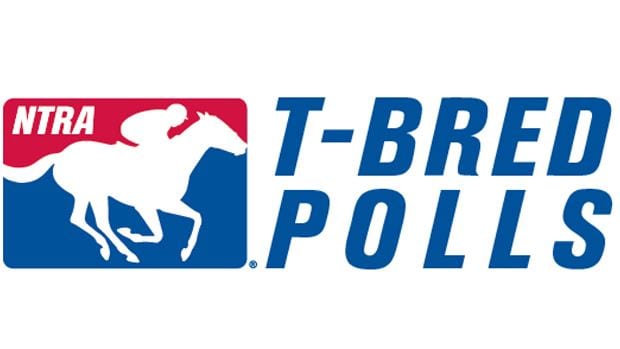 From a National Thoroughbred Racing Association release
It has yet to be determined which Breeders' Cup race top sophomore filly Swiss Skydiver will enter. What is assured is that the Preakness Stakes winner will carry strong regard to any starting gate she enters as she continues to inch up the ranks in the latest National Thoroughbred Racing Association (NTRA) Top Three-Year-Old Thoroughbred Poll.
In the wake of her victory over Kentucky Derby winner and poll leader Authentic in the October 3 Preakness, Swiss Skydiver remains under consideration for a start in either the Breeders' Cup Distaff or another showdown against males in the Breeders' Cup Classic at Keeneland on November 7. The daughter of Daredevil was one of the few movers on this week's poll, earning 12 first-place votes and 303 points to move up one spot to second, just ahead of Belmont and Travers Stakes winner Tiz the Law (8 first-place votes, 301 points) in third.
Authentic continues to hold down the top spot in the Three-Year-Old Poll with 14 first-place votes and 312 points. Both Authentic and Tiz the Law are scheduled to be part of the Breeders' Cup Classic field.
Grade 2 winner Art Collector (185 points) ranks fourth ahead of Grade 1 Jockey Club Gold Cup winner Happy Saver (173). Honor A. P., who has been retired to stud, is sixth with 113 points followed by multiple Grade 1 winner Gamine (97 points), who is expected to contest the Breeders' Cup Filly & Mare Sprint.
Kentucky Oaks winner Shedaresthedevil and Max Player remain tied for eighth with 82 points apiece while Mystic Guide, who was second in the Jockey Club Gold Cup, rounds out the top 10 with 60 points.
Multiple Grade 1 winner Improbable is likely to vie for favoritism in the Breeders' Cup Classic as the son of City Zip continues to hold the lead in the NTRA Top Thoroughbred Poll with 29 first-place votes and 335 points. Trained by Bob Baffert, Improbable will bring a three-race win streak into the Classic with his most recent win coming in the Grade 1 Awesome Again Stakes at Santa Anita Park on September 26.
Champion Maximum Security was bested by Improbable in the Awesome Again Stakes and remains behind his stablemate in the poll with 2 first-place votes and 246 points. Multiple Grade 1 winner Vekoma (1 first-place vote, 206 points) moves up one spot this week to third, two points ahead of fellow top-level winner Tom's d'Etat (2 first-place votes, 204 points).
Champion Monomoy Girl (192 points) holds in fifth followed by multiple graded stakes winner By My Standards with 130 points. Authentic (107 points) and Tiz the Law (104) rank seventh and eighth, respectively, with Swiss Skydiver (89) and multiple Grade 1 winner Rushing Fall (62) completing the top 10.
The NTRA Top Thoroughbred polls are the sport's most comprehensive surveys of experts. Every week eligible journalists and broadcasters cast votes for their top 10 horses, with points awarded on a 10-9-8-7-6-5-4-3-2-1 basis. All horses that have raced in the U.S., are in training in the U.S., or are known to be pointing to a major event in the U.S. are eligible for the NTRA Top Thoroughbred Poll. Voting in both the Top Three-Year-Old Thoroughbred Poll and the Top Thoroughbred Poll is scheduled to be conducted through the conclusion of the Breeders' Cup in November.
NTRA TOP THOROUGHBRED POLL
Improbable
Maximum Security
Vekoma
Tom's D'Etat
Monomoy Girl
By My Standards
Authentic
Tiz the Law
Swiss Skydiver
Rushing Fall
NTRA TOP THREE-YEAR-OLD POLL
Authentic
Swiss Skydiver
Tiz the Law
Art Collector
Happy Saver
Honor A. P.
Gamine
Shedaresthedevil
Max Player
Mystic Guide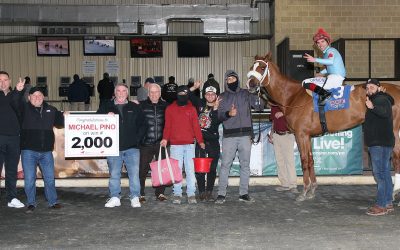 Trainer Michael Pino went 2-for-2 today at Parx Racing to reach 2,000 wins in a career which has seen his runners earn over $43 million.