SWISS SKYDIVER TAKES PREAKNESS FOR THE AGES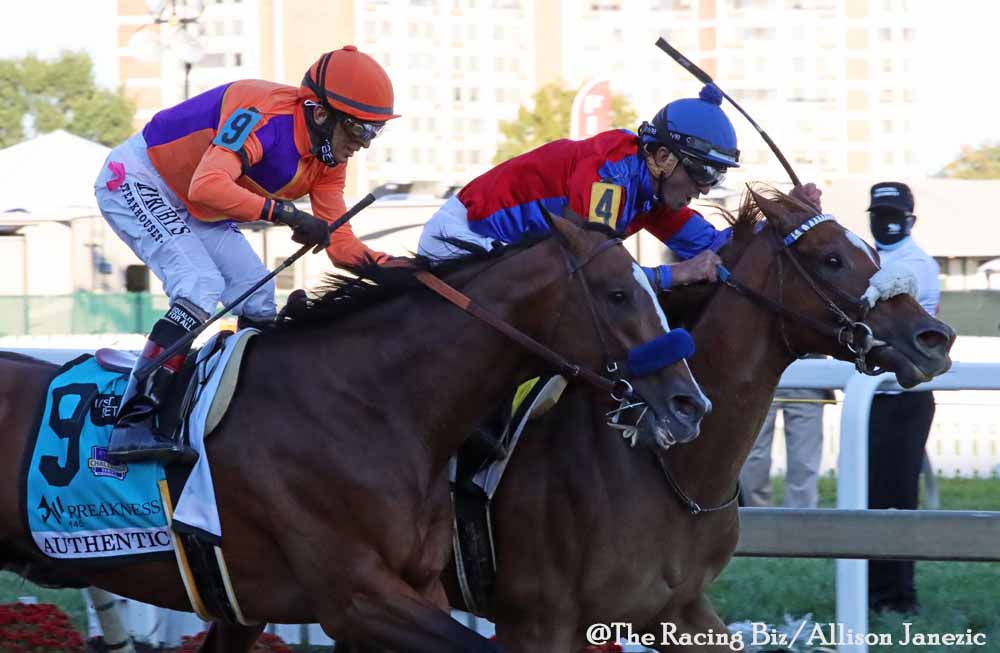 Frank Vespe

October 3, 2020
Friday morning, trainer Kenny McPeek said he was hoping his filly Swiss Skydiver could carve out an opening half-mile of about 48 seconds in the Preakness Stakes. That, he said, would enable her to deliver her best finishing kick.
Saturday afternoon in the gloaming at Pimlico Race Course, jockey Robbie Albarado delivered exactly that opening half-mile, Swiss Skydiver had plenty of late punch, and the result was a Preakness for the ages.
Swiss Skydiver became the sixth filly in history to win the Preakness, outdueling Kentucky Derby winner Authentic to win by a neck in the second-fastest Preakness ever run. It was nearly 10 lengths back to the show horse, longshot Jesus' Team, who was a head better than Art Collector.
Running time for the 1 3/16 miles over a fast main track was 1:53.26 — faster than the great Curlin's 1:53.46 in 2007 and just shy of the stakes record of 1:53 flat set by the might Secretariat in 1973. The track record, 1:52 2/5, was set by Farma Way in the 1991 Pimlico Special.
Robby Albarado, aboard Swiss Skydiver for the first time, bided his time as one of a trio of horses, among them second choice Art Collector off the lead pair of Authentic and Thousand Words — both trained by Bob Baffert — through the tepid opening fractions. Then, as the field neared the far turn and Thousand Words grew weary, Albarado sliced his filly between horses, then to the rail where she stuck her neck in front.
"I had to make a conscious decision in the middle the backside because I felt like Drury's horse, Brian's horse [Art Collector, ridden by Brian Hernandez and trained by Tommy Drury, Jr.] seemed like he was there but he kind of started receding at that point and it was my chance. I jumped in there."
There was still three-eighths of a mile to go. What no one knew then — not Albarado, not McPeek, not John Velazquez on Authentic, or that runner's trainer, Bob Baffert — was that the final margin had been established.
"It was just a sprint from the three-eighths pole home," Albarado said. "She showed she was determined to be in front of him and wouldn't let him pass. So, just a heart of gold; she has a heart of gold."
Baffert, who said he'd hoped Authentic would establish a clear lead in quick fractions, admitted it wasn't his day today.
"I was hoping he was on the lead. But he got beat," he said. "He had the whole stretch to get by her. She ran a gallant race."
It was the first time in six tries that a Baffert-trained Kentucky Derby winner failed to win the Preakness.
The win provided a bit of redemption for Albarado. He's had a glittering career — more than 5,200 wins and nearly $220 million in purse earnings — but recent years haven't been so kind. He's won less than 10 percent of his starts in each of the last three years, and his less than $1.7 million in 2019 purse earnings marked his worst year since 1993.
"I owe it all to Kenny [McPeek]. I mean, he believed in me still and, sorry, it's Kenny," Albarado said. "It's all Kenny. I just, people started, um, thinking I can't do it anymore and Kenny was there, just when I needed someone."
"We all go through stages in our career where we struggle," McPeek said. "And we all, to me, the key is better horses."
It's safe to assume some of those may start coming Albarado's way soon.
And there's certainly no question that Swiss Skydiver fits every definition of "better horses." She's won five of nine starts this year, six of 11 for her career. The Preakness was her second Grade 1 victory — she also won the Alabama, against fillies, in August — and the winner's share pushed her career earnings to nearly $1.8 million.
It's been an old-school kind of campaign for Swiss Skydiver, a daughter of Daredevil owned by Peter Callahan. She's raced in every month of 2020 except April, and McPeek said there's likely one more dance on her card this year, in the Breeders' Cup, most likely the Distaff.
"I mean she's hickory," McPeek said. "I mean, anybody that says that she hasn't entertained this country this year any more than any other horse. I mean, they weren't watching because she was doing it everywhere."
Swiss Skydiver paid $25,40 to win. The exacta returned $37.80 for a dollar.
On a gorgeous fall day, attendance at Pimlico was, more or less, zero. Only the horses' connections were allowed onto the grounds, resulting in an oddly atmosphere-free Preakness that nevertheless produced a thrilling horse race. Handle for the day was $51,242,631 — well off last year's total of nearly $100 million but better than some had feared, given the day's spot on the calendar.
It was the second Preakness win for Albarado, who also guided Curlin to a similarly thrilling — and fast — win in the Middle Jewel. It was McPeek's first Preakness victory, coming in his sixth try over a period of 25 years.
McPeek has trained a dozen Grade 1 winners, including Take Charge Lady, who earned nearly $2.5 million in her career.
Swiss Skydiver hasn't quite reached that earnings level yet, but she's taken McPeek on a ride for the ages.
"I've had a lot of special horses in my career, but she's definitely right there at the top right now," the trainer said. "And I don't see a long time until another one does something like that to me."
LATEST NEWS