Laurel Park picks and ponderings October 10, 2020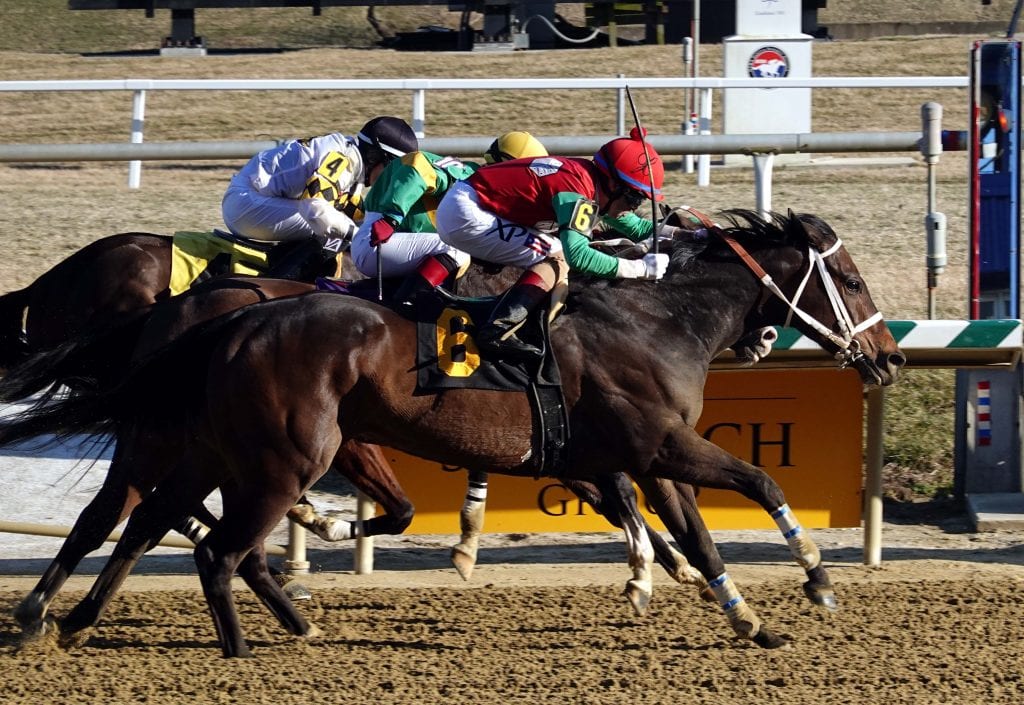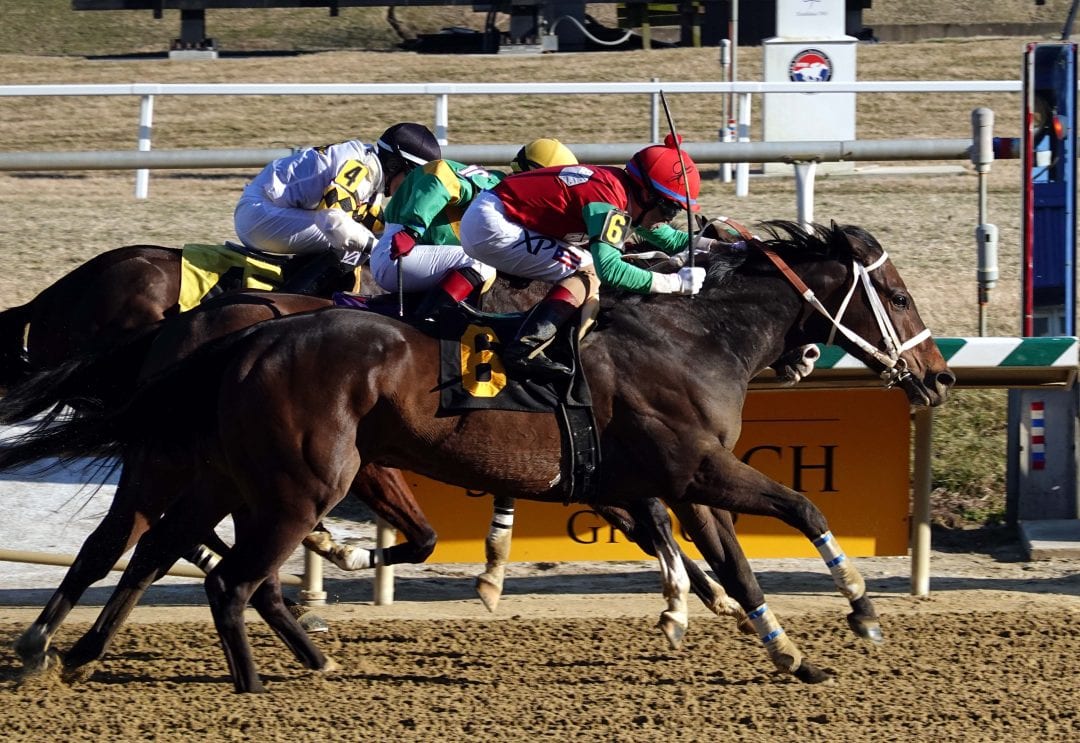 Anna's Bandit. Photo by Laurie Asseo.
In which we pick the races from Laurel Park each day…
Post time: 12:40 p.m.
Carryovers: Rainbow Jackpot Pick 6 — $1,472; Super High 5 — $455; Late Pick 5 — None
Notable: Until further notice, no fans are allowed to attend the races at Laurel Park. For more info, click here.
ANALYSIS
RACE 1: MAIDEN CLAIMING $25,000, 3-YEAR-OLDS AND UP, 5 1/2 FURLONGS (GRASS)
1-7-12-6
#1 Hinting (4/1): Finally gets back on grass after getting washed away several times. He ran on well to finish fourth in his race on the surface in May, with a sharp brisnet figure of 74. He's gotten a few races under his belt on the dirt; should be primed for a big one in his return to the lawn.
#7 Embeed (3/1): Lightly-raced colt has just one grass race under his belt, but it was a solid one: a second-place finish at this level at Penn National last out. It wasn't a visually impressive race, but he got a strong figure of 69, and he can take a step forward second time on grass.
#12 Big Perm (5/2): Showed speed and faded over the speed-favoring grass at Monmouth. Ordinarily, that would be a bad sign, but those races were going long. Now, he's cutting back to 5 1/2 furlongs, where his speed should be an asset. 
RACE 2: MAIDEN SPECIAL WEIGHT, 3-YEAR-OLDS AND UP, 6 FURLONGS
1-3-4-5
#1 Joycee Has Pizazz (7/5): Got outkicked in his last start by The Cairo Kid, who had a significant pace advantage. This one outgamed the rest of his rivals to finish second, improving his figure seven points second time out. Faces an easier field here, and has some of the best late pace figures in the race.
#3 Trustyourinstinct (4/1): First-timer has been working strongly for trainer Anthony Farrior, including a bullet three-furlong drill on September 27. The board will tell the story with him.
#4 Magic Mule (3/1): Got a good setup second out at Delaware Park last out, bt couldn't quite close the deal and ended up second. Even though his figure improved in that race, his debut, where he battled on the pace and lost by four lengths, was probably the more impressive race. I'm not sure if he has the closing kick to go with Joycee Has Pizazz, but should be able to outfinish the rest. 
RACE 3: CLAIMING $16,000 (N/W2L), 3-YEAR-OLDS AND UP, 5 1/2 FURLONGS (GRASS)
10-12-1-5
#10 B Determined (15/1): Closed with fury to break his maiden going away two back at this track. He broke slowly next out Penn National, but still came on well near the end going five furlongs. Looks better off with the extra half-furlong, and gets it here in his second race against winners.
#12 Power Back (10/1): Gets back on the grass after breaking his maiden on this surface two back. He tried dirt for his debut against winners, but was a complete non-factor. Should sit midpack and kick on turning for home. 
#1 Don Jupp (8/1): Makes his third start off the layoff, and gets Trevor McCarthy aboard for the first time. Has been forwardly placed in routes before fading, will sprinting work better for him?
nANALYSIS
RACE 4: CLAIMING $5,000 (N/W2L), 3-YEAR-OLDS AND UP, FILLIES AND MARES, 6 FURLONGS
8-10-2-3
#8 The Best of You (5/2): Broke her maiden impressively in her last start, besting a heavy favorite in a gate-to-wire score. She didn't change leads in that race, either. Tries winners for the first time here, and should be prominent early on. Can she outrun this field, too? 
#10 Adabel (6/1): Might have made a premature move in her last race, as she got clear in the stretch before flattening out. It was easily the best race she's run recently; can she time the move better and move forward?
#2 A Toast to Kay (12/1): Ran well in her first start off the layoff, closing well after a bad break to get third. She's had plenty of tries at this level, and hasn't gotten a job done while getting plenty of checks. Could shake things up underneath at a price.
RACE 5 – MAIDEN CLAIMING $40,000, 2-YEAR-OLDS, 5 1/2 FURLONGS
6-1-3-10
#6 Starburst (7/2): He's been working strongly at Monmouth Park, including a bullet drill on September 27. We've seen Maryland-breds stabled elsewhere come down here and win before. This one looks like another one in that mold.
#1 King Alan (6/1): Ran on well after a bad start in his debut. Next out, he got wagering action, but once again had an awkward beginning and ran into a buzzsaw, in Jaxon Traveler. Goes back in for a tag here, and if he can learn to break cleanly, will be dangerous.
#3 What Does It Take (8/1): Mike Trombetta firster has been throwing down bullets in the morning at Fair Hill. Trombetta is slightly better debuting for a tag than in other situations, hitting at 16% first time out in a maiden claiming race. 
RACE 6: STARTER OPTIONAL CLAIMING $25,000, 3-YEAR-OLDS AND UP, 1 MILE (GRASS)
9-1-6-7
#9 McElmore Avenue (7/5): Closed frantically to just miss against better earlier in the year, losing to horses like Nick Papagiorgio and Outofthepark. Makes his second start off a brief break, and gets Sheldon Russell back in the saddle. This is a massive drop in class for him, and he should relish it.
#1 Seville Row (4/1): He's taken steps forward in his last two, matching a career-top figure last out in his first try against winners. Closed decent ground off a slow pace in that effort. 
#6 Backwoods Boogie (12/1): Stretches out from 5 1/2 furlongs after showing speed at that distance. John Robb and Xavier Perez are always a tough trainer/jockey combo. His best bet looks to be going to the front and trying to steal it.
ANALYSIS
RACE 7 – MAIDEN CLAIMING $16,000, 3-YEAR-OLDS AND UP, 1 MILE (GRASS)
3-16-9-2
#3 Survey (6/1): Showed speed and almost held on in his first start at this level. He's been improving steadily since returning off almost a two-year layoff a few races back.
#16 Lasting Image (3/1): Keeps dropping down the class ladder, now finds himself at the bottom. He's been running figures in the high 60s and low 70s, which should be good enough to win this one. Sheldon Russell gets the mount for the first time.
#9 Rum Bobby (8/1): Tries grass for the first time in his third race off the layoff. Improved slightly second off the bench, and has been entered for grass in the past, only to see the race get washed away.
RACE 8- MAIDEN CLAIMING $40,000, 3-YEAR-OLDS AND UP, FILLIES AND MARES, 6 FURLONGS
6-1-3-10
#6 Kisses for Heidi (2/1): Closed well in the stretch last out at Churchill Downs, finishing a clear-cut second behind a rival with an idyllic trip. She was claimed out of that race by Claudio Gonzalez; he's always dangerous first off the claim. 
#1 Bourbon Wildcat (10/1): Finished a solid third on debut at Delaware, after not changing leads. Drops for a tag for the first time, although it's probably a similar field to what she saw last out. Worth a shot if she stays near her morning line.
#3 Vanna Belle (6/1): First-timer for Jeremiah O'Dwyer looks well-meant, with a string of solid workouts. Another one where the board will tell the story.
RACE 9 – ALLOWANCE (N/W1X), 3-YEAR-OLDS AND UP, FILLIES AND MARES, MD-BRED, 1 1/16 MILES (GRASS)
7-8-1-4
#7 Good Life Cider (5/1): Ran a career-top figure last out, despite making her first start off a very long layoff, and getting stuck behind a very slow pace. Adding lasix should only help. 
#8 Bethabara (9/2): Made a strong rally to beat a n/w2L field last out, despite a wide trip. She's gotten paces to run into in her best grass races, and there looks to be enough speed in here to keep things at least semi-honest. 
#1 Lookin Dynamic (5/2): Drops after two good efforts against better. Another one who will do her best running towards the end, and will have to avoid being pace compromised.
RACE 10 – CLAIMING $5,000 (CONDITIONED), 3-YEAR-OLDS AND UP, 7 FURLONGS
1-7-5-2
#1 Chuck's Dream (5/1): Ran a big race going a mile last out at Delaware. Now cuts back a bit and has the most early speed, with a tactical inside post. 
#7 Robber Bob (9/5): He's a strong contender, if you can forgive his last race. It's true the track wasn't super-favoring to his style, but you'd hope he'd at least hang in a bit better, rather than simply pack it in. Takes another drop from the $10,000 level, after two sharp wins earlier in the year.
#5 Big Boots (5/1): He's finished second or third eight times out of eleven races this year, without a win. Tends to get a good trip stalking the pace, then flatten out. I'm looking for the same thing again here.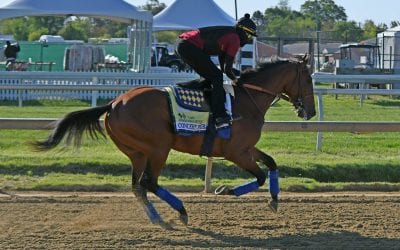 The fourth Kentucky Derby future wagering pool will kick off Friday, and 2yo champ Forte is the top individual choice on the morning line.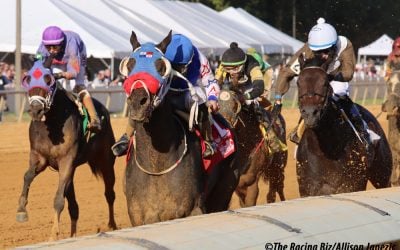 We provide full-card picks and analysis for this afternoon's races at Laurel Park.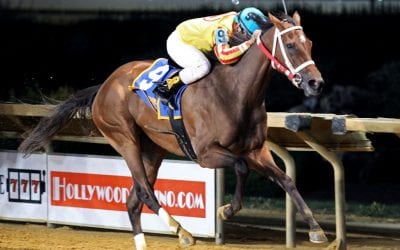 We provide picks and analysis for this evening's card at Charles Town Races.