TREVOR MCCARTHY POSTS STAKES HAT TRICK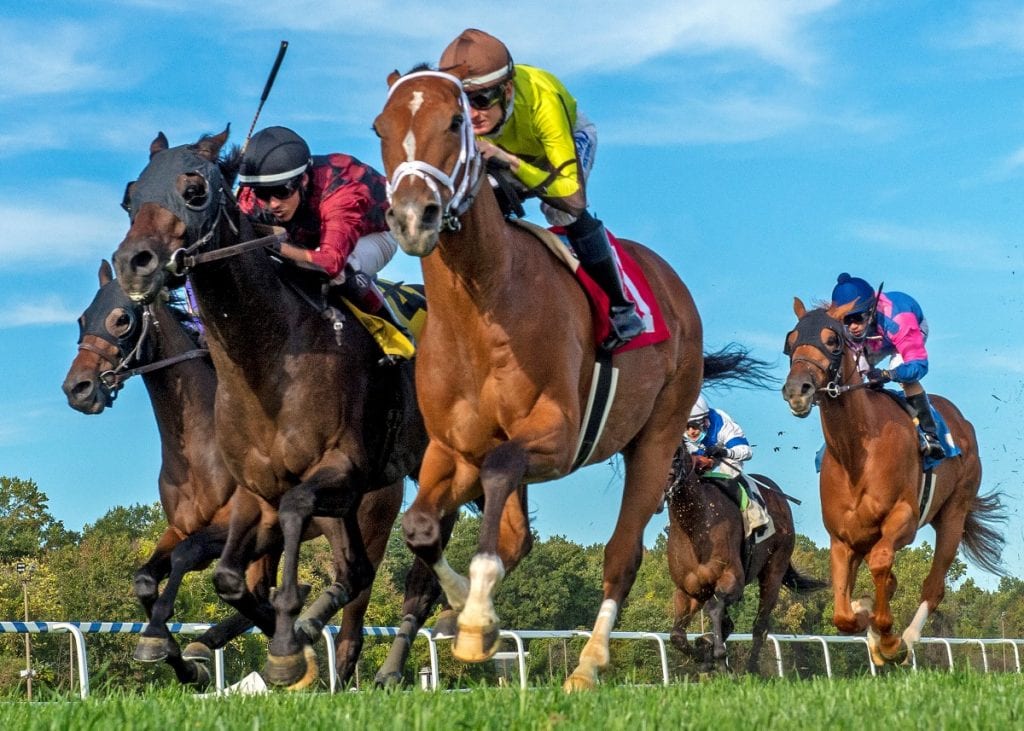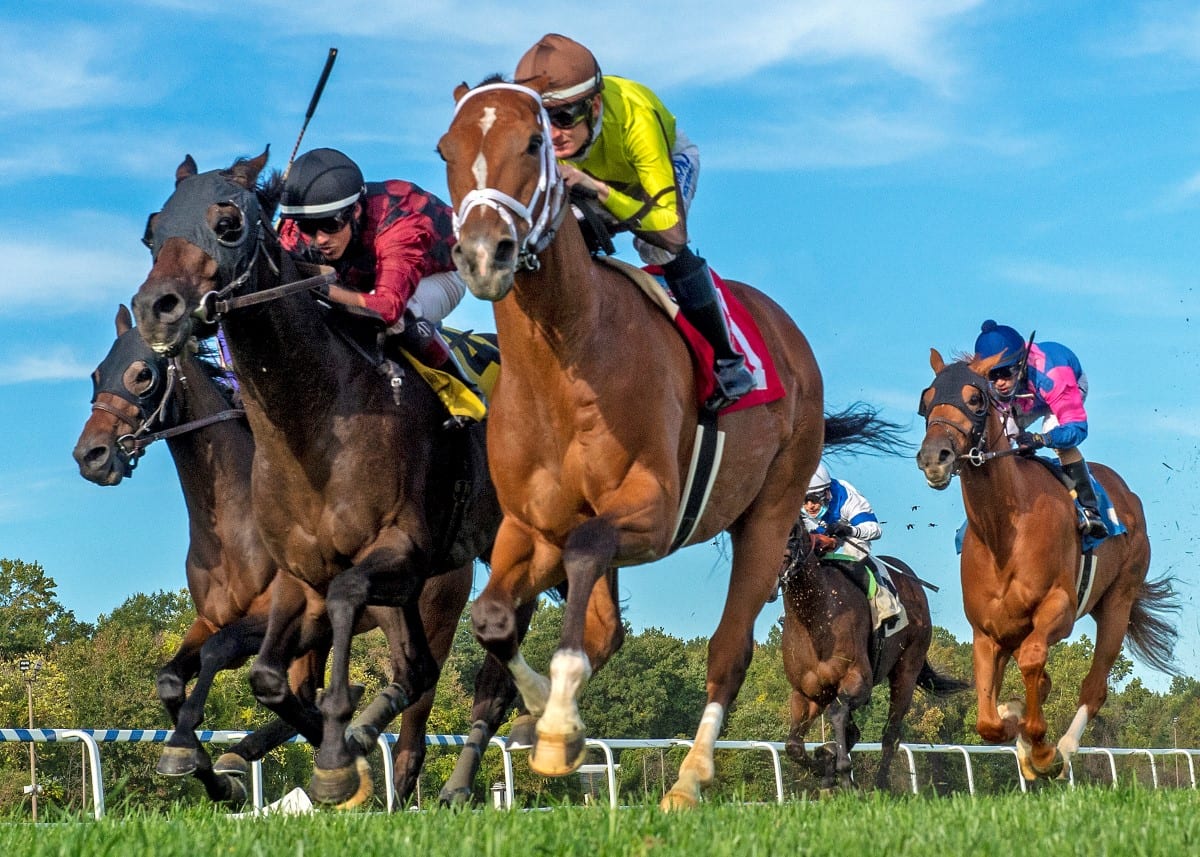 Press Release

October 10, 2020
Jockey Trevor McCarthy rode the favorite in three of Friday's five Virginia-restricted stakes at Laurel Park – and guided all three to victory to post a stakes hat trick.
Twin Creeks Racing Stables and Eclipse Thoroughbred Partners' stakes winner Largent, off at odds of 1-20, saved ground all the way around, scooted through an opening along the rail and dueled with 60-1 longshot Tolaga Bay through the stretch to emerge by a neck in Friday's $75,000 Bert Allen at Laurel Park.
The 22nd running of the 1 1/16-mile Bert Allen for 3-year-olds and up was among five turf stakes restricted to Virginia-bred/sired horses on Friday's nine-race program, preceded by the $75,000 M. Tyson Gilpin, $75,000 Brookmeade and $75,000 Jamestown and followed by the $75,000 Punch Line.
With four-time Maryland riding champion McCarthy aboard for seven-time Eclipse Award-winning trainer Todd Pletcher, Largent ($2.10) completed the distance in 1:42.06 over a firm All Along turf course layout for his fifth win from seven career starts and second in a stake.
Tolaga Bay was a stubborn second, a length ahead of Kendama in third. They were followed by Great Camanoe, Ismusbemyluckyday, Divine Interventio and River Deep.
"I had a really good break and I knew [Tolaga Bay] had some speed, as well, and they were going to want to go out there," McCarthy said. "Todd said he didn't have to be on the lead today and his race at Colonial he seemed to run pretty good off the pace. Plan B was to go to the lead and Plan A was to kind of get him to settle, and it worked out nice."
Largent tracked Great Camanoe through a quarter-mile in 23.58 seconds before settling into third as River Deep picked up the chase in second after a half in 47.94. McCarthy was still unhurried in third when Kendama made his move to get into contention following six furlongs in 1:11.93, biding his time to wait for an opening.
"Down the backside they tried to slow the pace down and I said, 'I they're going to go this slow, I have to make them work for it.' That's when I kind of went up on the inside there and made those guys kick on," McCarthy said. "I just sat chilly and tried not to panic on him. He was the best horse in the race. That day at Colonial he seemed like he could really shoot through a seam when there was one, so I just tried not to really get pressured and get panicked and take it as the race came up. He likes to fight this horse. I have to give a huge credit to [Tolaga Bay] who really put up a good race. He does everything you want him to. I'm just really happy."
McCarthy got his chance once straightened for home and set down Largent for a drive up the inside as Jevian Toledo and Tolaga Bay dug in on his outside. The top two horses gained separation from their rivals and Largent ultimately found more approaching the wire to get his second stakes win in three starts following the one-mile Edward P. Evans, also against Virginia-breds, July 29 at Colonial.
"[Great Camanoe] was kind of out the whole way and kind of wanting to bait me through there and I knew [River Deep] would kind of run out of gas and I was just starting to make my way out until Toledo saw me starting to make a move on the inside and put the pressure on the inside," McCarthy said. "I just kept telling myself to wait and something's going to open, and sure enough it did."
McCarthy completed a stakes triple by guiding Dare to Dream Stable's Embolden to a popular 1 ¼-length triumph over Lynchburg in the 5 ½-furlong Punch Line for 3-year-olds and up, hitting the wire in 1:02.17 on the Dahlia turf course.
Embolden ($3.20) gave the tandem of McCarthy and trainer Michael Stidham their second stakes win of the day, also teaming up with Tasting the Stars in the Brookmeade.
Ready to Run sprinted to the lead from his rail post chased by Embolden through a quick quarter-mile in 21.88 seconds. Embolden ranged up on the leader midway on the turn and took over the lead once straightened for home, opening up on the field and cruising to the wire under a hand ride as Lynchburg came with a late run for second. Boondoggle finished third.
Winner of the 2019 Jamestown at Colonial Downs, Embolden ran second to Largent in the Edward P. Evans to open his sophomore campaign. He dropped back to state-bred company after a pair of tries in graded-stakes, running fourth in the Aug. 29 Saranac (G3) at Saratoga and 10th in the Sept. 16 Franklin-Simpson (G3) at Kentucky Downs.
"I'm feeling very ecstatic. To win the third stake of the day with Embolden, he's been one of my favorites since I broke his maiden at Colonial. I was happy to see him back sprinting today," McCarthy said. "It was a big field so I wanted to get out as quick as I could and get position. I knew [Ready to Run] would be great speed from the rail so I wanted to lay second and stalk and get him in a good rhythm. It was a pretty hot pace but I wasn't too worried. He gave me his kick turning for home and I was very happy with him."
In the M. Tyson Gilpin Stakes, 1-5 What the Beep suffered defeat in the final race of her career, making only mild headway in the lane to finish third.
Virginia Beach, with Victor Carrasco up, won the Gilpin by a bit over a length over 43-1 outsider Tea in China, who was nearly two lengths ahead of stablemate What the Beep. Virginia Beach, trained by Mike Trombetta for Country Life Farm, paid $8.00 to win and now has two wins from four career starts.
In the Jamestown, for two-year-olds, favored Kenny Had a Notion (1-2) stalked the pace of Cool Enough, and then took over with a quarter to go, drawing away to a five-length victory. Jorge Ruiz was in the irons.
A pair of Susan Cooney trainees rounded out the triple. Point of Grace (39-1) finished second, while first-time starter Virginia Fib was third.
Kenny Had a Notion is trained by Dale Capuano for Neil Glasser and Lou Ulman. He now has two wins from three starts.
LATEST NEWS