Pimlico picks and ponderings October 3, 2020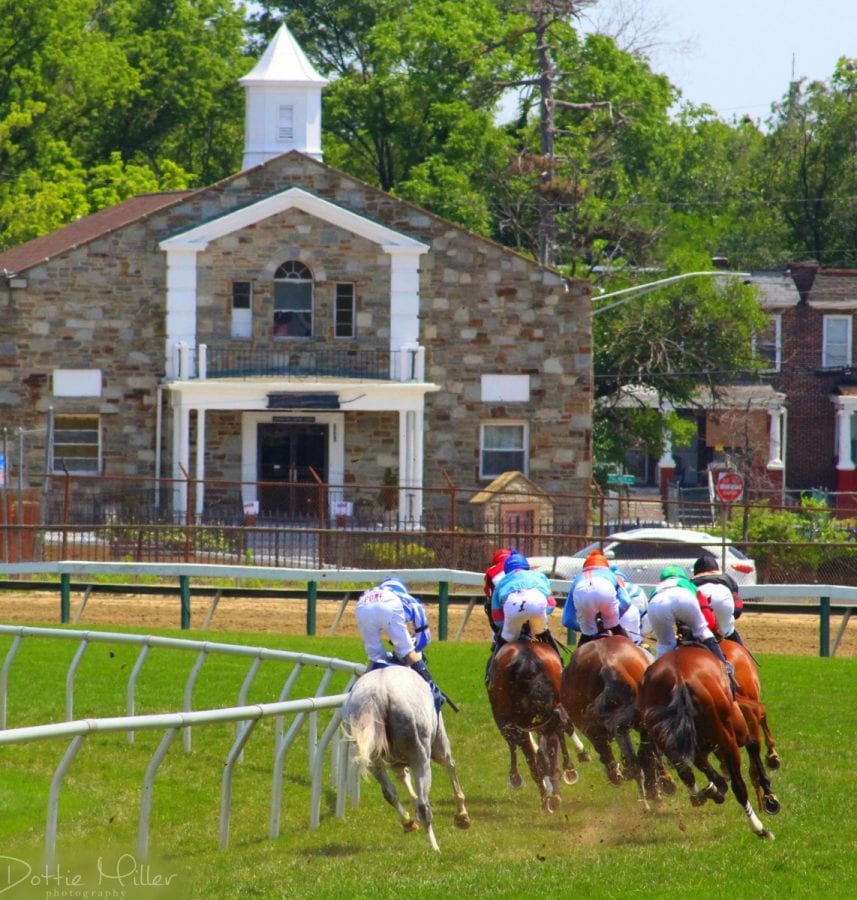 Horses round the first turn at Pimlico. Photo: Dottie Miller
In which we pick the races from Pimlico each day…
Post time: 11:00 a.m.
Carryovers: Rainbow Jackpot Pick 6 — $32,195 Super High 5 — $0 Late Pick 5 — None
Notable: Until further notice, no fans are allowed to attend the races at Pimlico. For more info, click here.
ANALYSIS
RACE 1: SELIMA STAKES, 2-YEAR-OLDS, FILLIES, 1 1/16 MILES (GRASS)
4-3-2-7
#4 Domain Expertise (5/2): Got stuck behind a slow pace on debut at Saratoga, and got outkicked in the stretch by a very well-meant stablemate. Still got second, with a strong brisnet figure of 80. If she stays close to the pace, and is able to unleash that powerful kick again, she'll be tough.
#3 Invincible Gal (3/1): Just got up to break her maiden at Saratoga, then stretched out well and finished second in the Sorority Stakes at Monmouth Park. She might have been done in by some very slow internal fractions after a fast quarter. She'll have to hope that doesn't happen again, for her rally to have maximum impact.
#2 Golden Voice (4/1): Drew off nicely to win her debut at Kentucky Downs, being eased up in the stretch in her first try going long. She's another one who could be forwardly placed. 
RACE 2: GALLORETTE STAKES, 3-YEAR-OLDS AND UP, FILLIES AND MARES, 1 1/16 MILES (GRASS)
8-7-1-3
#8 Varenka (5/1): Motion is very tough when adding blinkers, and getting Trevor McCarthy helps the cause of this stone-cold closer. She's been slowly rounding into form in her three races this year: quietly ran a gigantic race in the Matchmaker, then lost by less than three lengths over the funky Kentucky strip last out. There's not as large a sample size for how the grass will play, compared to dirt, but we did see horses come from all over the place to run well on Thursday. Looks like her closing speed won't hurt her, as such.
#7 Jabuticaba (15/1): A speedy longshot? Don't mid if I do. She held on for an allowance win two back at Colonial Downs, then got perhaps a bit too ambitious in the All Along Stakes last out. Definitely a possibility that she can get loose and leave the others reeling. 
#1 Juliet Foxtrot (7/5): How do you solve a problem like her? Brad Cox and Florent Geroux are a very dangerous trainer/jockey combo, and she's got some great speed figures. Not to mention, she'll be forwardly placed. On the other hand, she kind of runs the same race every time: she stalks the pace, then falls flat. I fear she might do the same thing here. Tread lightly at low odds. 
RACE 3: SKIPAT STAKES, 3-YEAR-OLDS AND UP, FILLIES AND MARES, 6 FURLONGS
3-1-4-6
#3 Never Enough Time (4/1): The guiding principle behind all dirt races at Pimlico will be figuring out who's most likely to get the lead. This filly looks like the fastest early, with the advantage of an inside post position and very fast early pace figures. Last out, in the Alma North Stakes, she battled through a fast pace, then drew off in the stretch and held on for the win. As long as she breaks cleanly, she will be a very tough rival.
#1 Chalon (5/2): There is one obstacle to Never Enough Time's front-running ambitions; Trevor McCarthy on a filly with a little bit of speed. She won the Incredible Revenge Stakes at Monmouth two back after setting the pace, then rated behind Never Enough Time after a stumbling start last out. That didn't go so well, as she wound up second behind that rival. Trevor knows what's up, though, and it wouldn't surprise me to see him hustle his mount to the front. From there, it could be a very different ballgame.
#4 Liza Star (3/1): Should hang on or near the pace on the outside, and from there, she has the closing kick to do some serious damage. Worth using underneath in the exotics, at least.
ANALYSIS
RACE 4: HILLTOP STAKES, 3-YEAR-OLDS, FILLIES, 1 MILE (GRASS)
5-4-9-10
#5 Evil Lyn (6/1): It would've been nice to see her hang on just a bit better last out, but that was a very fast pace, and she won't have to go as fast early here. Two back, going a mile over a wet grass course at Indiana Grand, and set the pace and battled well in the stretch to run a career-top figure. She'll get a similarly wet course here, and looks like the controlling speed. Expecting a very similar effort here. 
#4 American Giant (6/1): Got caught behind slow paces in her last two races, but still closed well to run disguised good efforts. Two back, she matched a career-high figure of 87, despite the slow pace and it being her first race off a long layoff. Should be fairly forwardly placed in this spot.
#9 Princess Grace (10/1): Undefeated in her brief career. She closed off a relatively slow pace last out, and won going away with a strong kick. Looks primed to take another step forward, which would make her very tough.
RACE 5 – MISS PREAKNESS STAKES, 3-YEAR-OLDS, FILLIES, 6 FURLONGS
5-3-4-1
#5 Mundaye Call (7/5): Blew the doors off a tough field in the Audobon Oaks two back at Ellis Park, running a supersonic figure of 107. The Eight Belles was disappointing, but she's been working well since then. While this track is speed-favoring, so was Churchill Downs that week. A very worthy favorite, though, especially if she can outrun her rivals and clear to a lone lead. 
#3 Fly on Angel (8/1): We saw Claudio Gonzalez and Angel Cruz win a stakes with a speedy horse on Friday. Can they do it again here? She went gate-to-wire to win the Charles Town Oaks last out, and impressively won an allowance at Parx two back. While Mundaye Call will be a tough foe on the lead, Fly on Angel has the advantage of position; she's breaking closer to the inside than Mundaye Call. If she can outsprint her early, we could see an upset. 
#4 Sound Machine (4/1): Was in good form at Gulfstream Park over the winter; now goes second off the long layoff. Should stalk the pace and make a move, which should get her a spot underneath, at least. 
RACE 6: DINNER PARTY STAKES, 3-YEAR-OLDS AND UP, 1 1/16 MILES (GRASS)
7-3-1-5
#7 Factor This (1/1): A two-time stakes winner already on the year, he's coming off a second-place finish in the Turf Classic at Churchill that he almost wired. Should be able to coast on the front end, which would set him up nicely for a possible trip to the Breeders' Cup.
#3 Hembree (9/2): Closed well in the Tapit last out to get third, despite a rough break. He has some of the best late pace figures in the race, and should run on well to pick up second. 
#1 True Valour (12/1): Prompted the pace and tired in each of his last few. They were not visually impressive races, but he's steadily run figures in the mid-90s. Goes second off a brief freshening, and looks to rate off the pace and hang in there.
ANALYSIS
RACE 7 – DEFRANCIS DASH, 3-YEAR-OLDS AND UP, 6 FURLONGS
1-4-5-3
#1 Admiral Lynch (7/2): Boy, there is a LOT of speed in this race. This one has the advantage of the inside post, so he should be able to get to the front and keep his rivals wide. Comes in off a huge race at Saratoga, where he ran away from a tough allowance field and earned a figure of 104.
#4 Laki (5/1): Lovable Maryland-bred is likely using this race as a prep for the Maryland Million Sprint in a few weeks. Impressively won the Oceanport Centennial four back, then stalked and battled three times over the summer at Laurel. Those races were either stakes, or allowances that might have well have been stakes. A rival he outfinished twice, Threes Over Deuces, came back to recently win a stakes at Delaware Park. He should be right on the pace on the outside of rivals.
#5 Landeskog (5/2): Looked like a monster at the end of last year, then got an easy trip to win his comeback race at Ellis. If he improves second off the layoff, he'll be a tough customer. Having Cox and Geroux as his trainer and jockey, respectively, helps the cause.
RACE 8: LAUREL FUTURITY, 2-YEAR-OLDS, 1 1/16 MILES (GRASS)
8-10-3-5
#8 Hidden Enemy (4/1): Ran huge second out, improving his figure by seventeen points and making a strong middle move into a slow pace. Any kind of improvement off that race gets him into the winner's circle.
#10 Nautilus (10/1): Another Cox/Geroux charge, and one that could slip under the radar. He's shown speed in his three most recent starts, and just missed in his lone grass try despite racing wide all the way. 
#3 Woolton Asset (9/2): Recent French invader for the Motion barn. He was on the pace in all his races there, which will help him out here. Getting an ultra-aggressive Paco Lopez aboard is also an advantage.
RACE 9 – JAMES MURPHY STAKES, 3-YEAR-OLDS AND UP, 1 MILE (GRASS)
13-10-1-11
#13 Bye Bye Melvin (6/1): He showed that he loved a soft grass track last out, closing to win the Saranac Stakes by a head with a career-top figure. His stalking style leaves him vulnerable to getting hung wide, but he's got a strong enough kick that he should at least put in a good account of himself.
#10 Don Juan Kitten (9/2): He was the one Bye Bye Melvin nosed out in his last start, after setting the pace in the Saranac. He's improved in every race this ear, and should be a major factor on the pace. 
#1 Chocolate Bar (6/1): Closed strongly to get second in an allowance at Kentucky last out, just missing a career-top. He had showed more speed in the past, but was taken out of his element after a rough break. In spite of that, he didn't miss a beat.
RACE 10 – BLACK-EYED SUSAN STAKES, 3-YEAR-OLDS, FILLIES, 1 1/8 MILES
10-8-6-5
#10 Landing Zone (6/1): It's a big jump in class, for sure. As noted, however, Claudio Gonzalez and Angel Cruz are a dangerous combo, and she's got potentially lethal early speed. I don't know if she'll hold on, but if she doesn't, it's not for lack of trying. 
#8 Hopeful Growth (8/1): Ran an impressive race in the Monmouth Oaks, stalking the pace and drawing off handily. Might've been in a bit over her head in the Kentucky Oaks, but now goes to a more realistic spot and should sit the trip. 
#6 Sharp Starr (20/1): Had a rough trip off a slow pace in the Fleet Indian Stakes at Saratoga, but boxed on well and lost by less than a length. Lightly-raced filly has room for improvement at a price.
RACE 11: PREAKNESS STAKES, 3-YEAR-OLDS, 1 3/16 MILES
3-9-4-8
#3 Art Collector (5/2): He's won five in a row, all in very impressive style, all while being on the lead. He'll encounter pace pressure here, but looks strong enough to shake them off. Not to mention, he's drawn closest to the inside of any speed horse. 
#9 Authentic (9/5): Held on to win the Kentucky Derby over a speed-favoring Churchill strip, in a race where there wasn't much speed on paper. The key here, therefore, will be how aggressive John Velazquez is. If can get Authentic over to the rail in front of the others, he could get a similar trip. If not, he might be hung wide on a fast pace. That's not great.
#4 Swiss Skydiver (6/1): Sat just off the pace in the Alabama Stakes, and rolled on to victory. It might be in her best interest to work a similar trip here.
RACE 12: UAE PRESIDENT CUP, 4-YEAR-OLDS AND UP, 1 1/16 MILES (ARABIAN RACE)
7-8-4-12
#7 Quick Sand Aa (5/2): Comes off an impressive win in the Delaware Classic, when he stalked the pace and drew off against several of the horses he'll see here. He won this race when it was held at Churchill Downs in 2018.
#8 RB Rich Lyke Me (7/2): Easily wired the field in the Texas Arabian Derby last out. That was a slow pace, even by Arabian standards, but he's gone faster early in the past, so I'm looking for him to be used aggressively and go as fast as he has to in the early stages.
#4 Iridesse (12/1): Surged to just miss at a price last out. Always runs her best race from midpack, and could come on late to get a piece at good odds.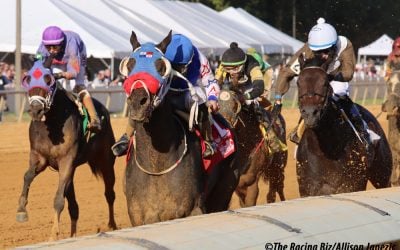 We provide full-card picks and analysis for this afternoon's races at Laurel Park.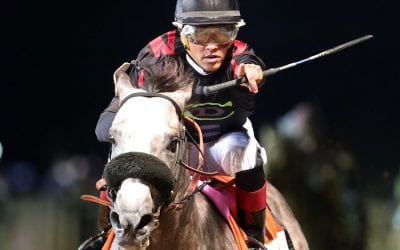 We've got Charles Town picks and preview today as the track presents its Friday card!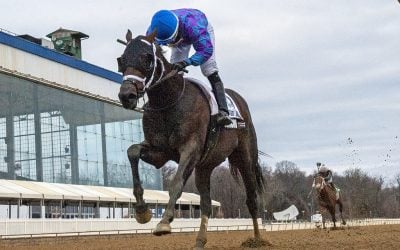 Which Laurel Park jockeys are off to hot starts? Asking for a friend; no, wait, actually asking for the betting public. Answers within…