G3 CHICK LANG HIGHLIGHTS PIMLICO THURSDAY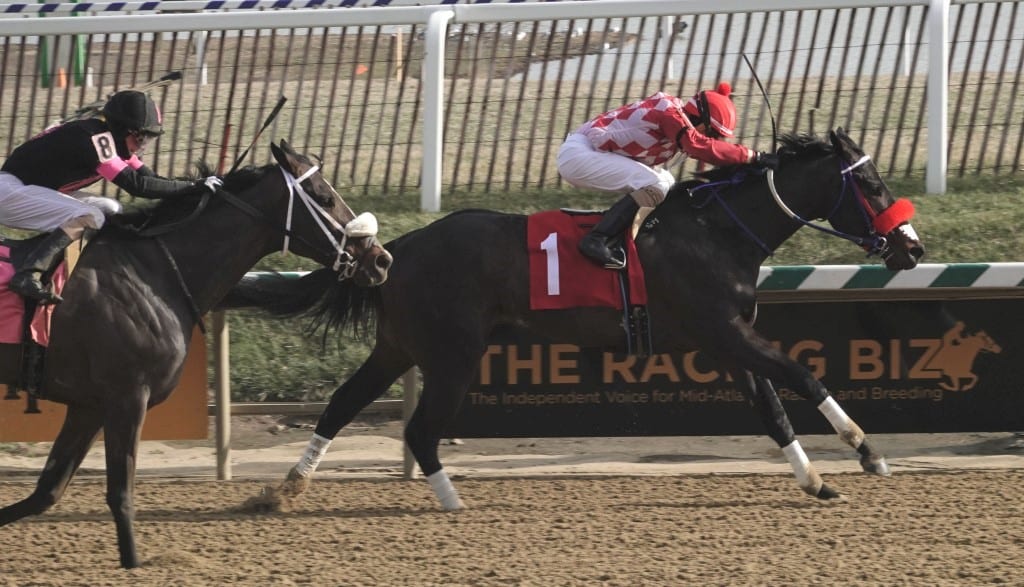 Press Release

September 30, 2020
Reeves Thoroughbred Racing's Double Crown and Euro Stable's Lebda, both two-time stakes winners, are both set to go after their first graded triumph in the $200,000 Chick Lang (G3) Thursday, Oct. 1 at Pimlico Race Course.
The 45th running of the six-furlong Chick Lang for 3-year-olds helps launch a spectacular Preakness weekend program of 16 stakes, nine graded, worth $3.35 million in purses over three days featuring the 145th running of the $1 million Preakness Stakes (G1) Oct. 3.
Also on Thursday's card are a pair of five-furlong turf sprints for 3-year-olds and up, the $100,000 Jim McKay Turf Sprint and $100,000 The Very One for fillies and mares. Post time for the first of 10 races is 12:40 p.m.
Bred in Maryland by Dr. and Mrs. Thomas Bowman and Rebecca Davis, Double Crown returns to his home state for the first time since breaking his maiden at first asking over Ournationonparade in a six-furlong maiden special weight last September at Laurel Park. Following the race, Dean Reeves purchased both horses and relocated them to South Florida with Breeders' Cup Classic (G1)-winning trainer Kathy Ritvo.
A minor foot issue kept Double Crown away from the races until April, where he overcame traffic trouble caused by Ournationonparade midway through the allowance sprint at Gulfstream Park to get up for second, beaten only a length.
"If he doesn't get bothered by my own horse I think he'd have won that race, too, so he certainly could be undefeated since we got him and before we ran last time," Reeves said. "He has definitely reaffirmed that I think he's going to be a player as he gets older, and being a gelding he should really strengthen up and be a factor."
Double Crown reeled off impressive wins in the 6 ½-furlong Roar and seven-furlong Carry Back this spring at Gulfstream, the latter earning him a short break prior to taking on older horses in the six-furlong Smile Sprint (G3) Sept. 5. He raced in contention along the rail and settled for third, 3 ¾ lengths behind winner Cool Arrow.
"He came out of the last race real good. Obviously it was tough against older horses, but I thought he showed himself well. He put up a good effort, we're just not at those times yet," Reeves said. "I think he'll get there. We think this race fits him real well. He worked the other day, just a light maintenance work, and he's good to go so we'll take a shot at it."
Double Crown, a gelded son of Bourbon Courage, has only been favored once in five starts, the Carry Back, going off at 7-1 in debut against his future stablemate, who would go on to win the Maryland Million Nursery.
"He showed a lot of tenacity to get up and win the race at Laurel and he also showed that he could sit a little off the pace. It just looked like a good strong horse and then when I went up to see him after I bought him I was really happy," Reeves said. "I thought he really had some size and scope to him and was well-muscled. He has certainly done everything we thought he could do at this point.
"This is his first real on-the-road test. We leave Sunday and we'll get in there on Monday. I think he'll like the track," he added. "He'll get around there that week and be ready to go Thursday. I'm hopeful that he takes to the track. I think he fits and so does Kathy. We all kicked it around and thought it would be a good spot."
Gulfstream-based rider Cristian Torres will be in town to ride from Post 6 of 10.
A second-out maiden winner last spring at Laurel Park before running third in the Iroquois (G3) at Aqueduct, Lebda has been well-traveled with 11 starts including four wins, one second and three thirds. He captured the one-mile Miracle Wood and 1 1/16-mile Private Terms at Laurel prior to live racing being paused in Maryland for 2 ½ months amid the ongoing coronavirus pandemic.
Lebda has gone winless since his return, finishing sixth in the Ohio Derby (G3) and Haskell (G1) – the latter behind Kentucky Derby (G1) winner Authentic – before the connections cut the 3-year-old colt back to sprints. Last out, he ran third after setting the pace in the seven-furlong Robert Hilton Memorial Aug. 28 at Charles Town.
"I didn't like how the jockey rode him because they went four lengths in front and waited for the others to come and then he started to move," trainer Claudio Gonzalez said. "[Alex] Cintron is coming back with him and he knows him, so that's going to be better for the horse.
"It's not like he needs the front," he added. "The only thing I try to tell Alex all the time is to be in the clear. I don't like him to be between horses because when it comes time to run, he has to check. He doesn't like that. I want him to break good and be in the clear."
Gonzalez said Lebda's future will be sprinting, where he has two wins, a second and two thirds in distances ranging from 4 ½ to seven furlongs. Cintron and Lebda will break from Post 5.
"He ran in some big races," Gonzalez said. "I talked with the owners and, to me, he doesn't want to run long. He runs good because he's a good horse, but for me he wants no part of the long distances. I believe he's going to be OK."
Gonzalez also entered MCA Racing Stable's Pitching Ari, second by a half-length to Relentless Dancer in the Robert Hilton Memorial Aug. 28 at Charles Town in his most recent start. Pitching Ari put together a three-race win streak over the winter but has gone winless in three starts since returning from the coronavirus break. Angel Cruz rides from Post 8.
Someday Farm's Dreams Untold hails from the same connections as his sire, 2004 Derby and Preakness winner Smarty Jones, trained by John Servis for Roy and Pat Chapman. In his previous trip to Maryland for the Miracle Wood, Dreams Untold was unruly at the gate and stumbled badly spotting the leader 15 lengths. He recovered to make a bold move into second and then tired to fifth, beaten 11 lengths as the favorite.
"He's a horse I've been very excited about from Day 1," Parx-based Servis said. "His third start down there at Laurel he just completely lost all chance leaving the gate. Then he kind of rushed up there real quick and just burned out. It was just one of those throwout races."
The nationwide pause in racing provided Servis an opportunity to give Dreams Untold a chance to recover from the Miracle Wood. He returned with a front-running allowance triumph going six furlongs June 17 at Delaware Park and will return to straight 3-year-olds after back-to-back tries against older horses, a second July 28 and a 2 ¾-length win Sept. 7 at 6 ½ and seven furlongs, respectively, against fellow Pennsylvania-breds.
"I wanted to give him plenty of time off of that race and make sure that he had recuperated. For a young horse like that to have to go through what he went through, mentally I just wanted to get that out of his system," Servis said. "We've been working with him at the gate and he's been doing much better. His first race back after COVID at Delaware, he ran really good.
"His next race back at Parx actually came up really tough. He got hooked up in a speed duel and it set up for the winner. He ran a good race that day and then came back and won pretty easy, and he's trained really good since then," he added. "I think it's time. There's not a lot around, especially now that we're getting to the end of the 3-year-old year … so we're going to take a shot."
Trevor McCarthy has the call on Dreams Untold from Post 7.
L. William and Corinne Heiligbrodt's Yaupon is undefeated in three starts, all since June 20, capped by a front-running two-length triumph in the six-furlong Amsterdam (G2) Aug. 29 over a muddy Saratoga surface. The son of champion Uncle Mo is one of two Chick Lang contenders trained by Hall of Famer Steve Asmussen along with Phoenix Thoroughbred's Little Menace, winner of the Grand Prairie Derby June 28 at Lone Star.
Also entered are Arkaan, third behind Preakness contender Pneumatic in the Aug. 15 Pegasus at Monmouth Park; Blackberry Wine, a 13-length maiden winner in March making his first start since mid-April; two-time New York-bred stakes winner Captain Bombastic; and Relentless Dancer, last out winner of the Robert Hilton Memorial for trainer Mike Maker.
LATEST NEWS