Ournationonparade marches to Md. Million Nursery win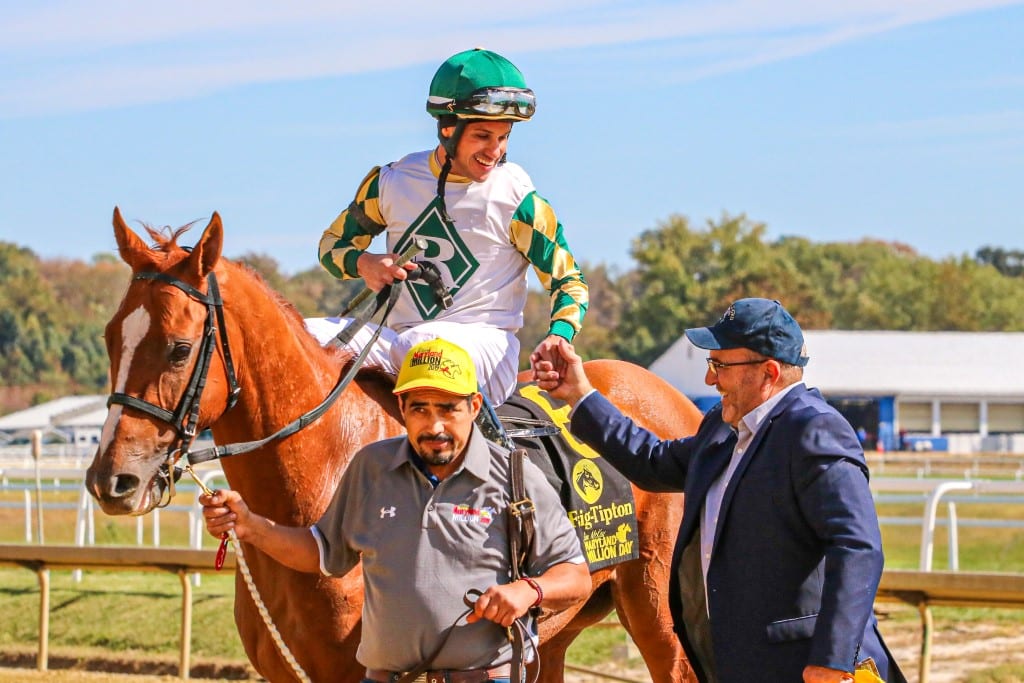 Ournationonparade and jockey Inoel Beato are greeted by trainer Bernie Houghton after winning the Md. Million Nursery. Photo by Dottie Miller for The Racing Biz.
HOW IT HAPPENED
Ournationonparade (1.10-1), making his second career start but first for Reeves Racing, LLC via private purchase following his runner-up debut, proved to be much the best in the Maryland Million Nursery to score by three and three-quarter lengths over 30-1 longshot Stone Courageous.
The gelded 2-year-old son of Cal Nation was well rated in the eary going, to the inside of rivals in a nice stalking position, was eased out entering the lane, responded well when set down past the three-sixteenths pole, asserted himself and quickly cleared from his rivals in mid-stretch and eagerly widened the margin proving to be clearly the best, paying $4.20 to WIN.
Runner-up Stone Couregous (30.90-1) was coaxed along while saving ground getting a forward postion early, took closer order at the half mile marker then swung out from behind rivals leaving the three-sixteenths pole and gave game chase to the wire.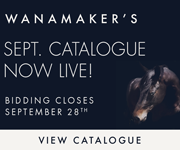 Off as the 2.50-1 second choice in the wagering, Laddie Liam raced four-wide on the turn, move up under some urging into the lane, loomed a threat past the three-sixteenths but flattened out shortly thereafter to pick up the SHOW purse. Tommy Shelby (5.60-1), between foes early, never appeared comfortable but did clear the rest of the field to salvage fourth.
Ournationonparade may be pointed to the Maryland Juvenile Futurity at Laurel in December.
Running time for the 6 furlongs was 1:09.73.
QUOTABLE
"For his first race (2nd by a neck on Sept. 8th at Laurel) he broke well, showed early speed and on his gallop out, it looked like he could go further. So when you find a horse who has speed, can settle and have a lot left in the tank, you got somebody who can go two-turns."
When asked what's next for the 2-year-old: 'That's a good question. I'll have to talk to (trainer) Bernie (Houghton) about that a little bit… kind of look at it and say, do we step out into open company and try two-turn races in New York. Do we come back here and run again, I think there's a race in December (Maryland Juvenile Futurity). We have some real opportunities and options. So we'll kick it around and see what we think."
On whether current trainer Bernie Houghton will continue to train this gelding: "For now. Bernie I talked and I said let's just take it a race at a time and think it through. I'm one of those guys who likes to sleep on it. We'll talk it through over the next few days… weeks but Bernie has done a great job with this horse there's no doubt about it."    
— Dean Reeves of Reeves Racing LLC privately purchased Ournationonarade after debut race
"My jock (Inoel Beato) gave him a great ride. He had me nervous because he was just sitting there but I could see at the head of the lane he had plenty of horse and he was just waiting. I  wanted him to just wait a little bit because he is green. I didn't want him looking at the grandstand and that kind of stuff. He's a very, very smart horse and he picks things up real easy."
When asked if he believes he'll remain the trainer of Ournationonparade: "I hope so. We haven't discussed that. It's up in the air right now. I just met Mr. Reeves today. We had lunch and had a good talk and the horse won, so we'll see."
— Trainer Bernie Houghton
FACTS AND FIGURES
Winner paid: $4.20 – $3.20 – $2.80
Winning time: 1:09.73
Margins: Three and three-quarters of a length from Ournationonparade to Stone Courageous, another three and three-quarter lengths to Laddie Liam, and another half length back to Tommy Shelby
Winner's record: 2-1-1-0, purse earnings of $65,920
CONNECTIONS
Owner: Reeves Racing, LLC.
Breeder: John E. Williams III, bred in Maryland
Pedigree: Cal Nation-Parade of Colors, by Leading the Parade
Jockey: Inoel Beato
HOW WE 'CAPPED IT
#8 – Tommy Shelby (9-2):

 

He's just one of two in here to have won twice (other is #1 but both came on turf); has an off-the-pace running style which bodes well in speedy field
#4 – The Poser (20-1):

 

Earned maiden score in gate-to-wire fashion first time with blinkers, on dirt and stretched out to more distance; that likely built stamina and confidence
#10 – Laddie Liam (5-1):

 

Maiden win was an eye-popper here last month with a 90 Brisnet speed figure which is tops in this group of 2-year-old colts and geldings
IN YOUR STABLE MAIL
Fifth-place finisher The Poser (66.50-1) bobbled at the break, spotting his rivals about four-lengths at the break, his jock Jorge Vargas, Jr. did the wise thing by not rushing his mount into contention, rather was well off the pace and made a nice late run to pick up a minor share.