TENFOLD LOOKS TO DOUBLE UP IN PIMLICO SPECIAL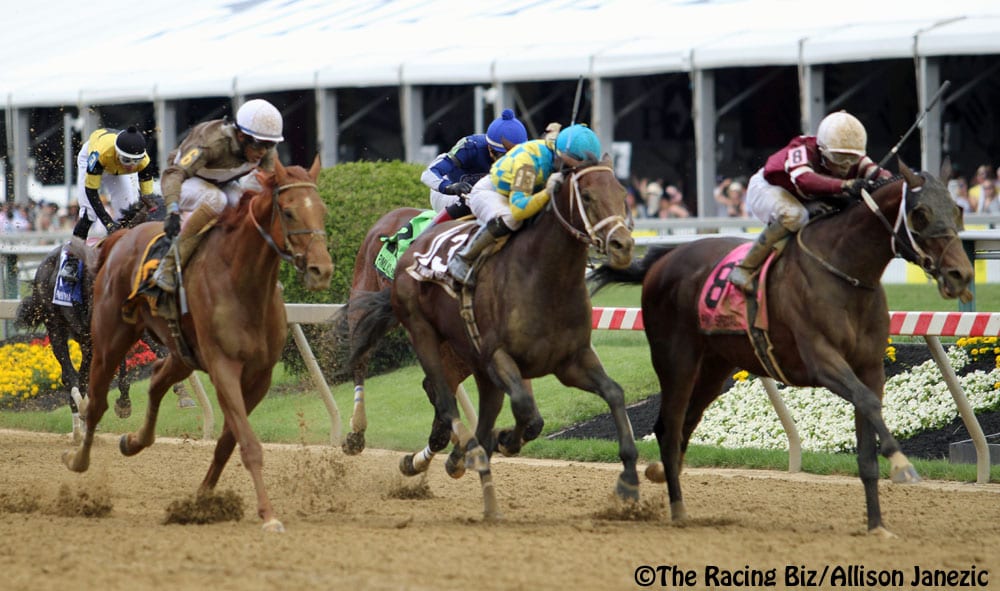 Press Release

September 29, 2020
Winchell Thoroughbreds' Tenfold, who has enjoyed some of his finest career moments at Pimlico Race Course, will get the chance once again to display his affinity for the when he returns to defend his title in the historic $250,000 Pimlico Special (G3) Friday, Oct. 2. 
The 50th running of the Pimlico Special for 3-year-olds and up, back to its original distance of 1 3/16 miles after being contested at 1 ¼ miles for the first time last year, is the headliner on a 10-race program that also serves as a preview for the Claiming Crown, offering winners an automatic berth to the main event Dec. 5 at Gulfstream Park. 
Friday also marks the midpoint of a spectacular three-day Preakness weekend lineup that boasts 16 stakes, nine graded, worth $3.35 million in purses featuring the 145th Preakness (G1) Saturday, Oct. 3. First race post time Friday is 12:40 p.m.
A 5-year-old homebred son of two-time Horse of the Year and Hall of Famer Curlin out of the Tapit mare Temptress, Tenfold can become only the second two-time winner of the Pimlico Special following the Hall of Famer Challedon, who captured back-to-back editions in 1939 and 1940. 
"The race goes back decades. It's one of the most renowned races in Maryland and it was a big deal to win it last year," Winchell racing manager David Fiske said. "We're feeling pretty good. For one reason or another, he seems to put out some of his best efforts at Pimlico." 
Tenfold came from far back to split horses in the stretch and get up by a neck in last year's Pimlico Special over favored You're To Blame, with Cordmaker another neck back in third. Tenfold was on the other side of that decision in his only other trip to Baltimore when he was third, beaten a half-length and a neck respectively by Justify and Bravazo in the fog-shrouded 2018 Preakness. 
"The Preakness in the fog was one of the most exciting races I've ever witnessed," Fiske said. "The fog added another layer of suspense, and to be that close to a Triple Crown winner. I don't think he was beaten more than a length." 
Tenfold found himself trailing all but one horse in his most recent effort, the 1 1/8-mile Charles Town Classic (G2) Aug. 28, before rallying late to be fourth and just missing third by a neck to Runnin'toluvya. 
"He doesn't tend to be all that forwardly placed anymore. His first couple races he went almost wire to wire, but at Charles Town he was just too far back and you had to be pretty close to the lead," Fiske said. "It seemed to be favoring speedier horses that night. But, you pay your money and you take your chances." 
Tenfold has won four races and more than $1.1 million in purse earnings from 19 starts, his other graded victory coming in the 2018 Jim Dandy (G2). In addition to the Preakness, he ran third in the Hollywood Gold Cup (G1) in June and the New Orleans Classic (G2) in March. 
"He worked well the other day and he's been training well. He's a big, pretty horse that's sound and always seems to be knocking on the door," Fiske said. "He always shows up. He always kind of teases us a little bit. He'll train well or he'll run a really nice race and then he doesn't back that up. But, he keeps trying. We've had some interest of late from stallion farms since he's a Curlin and out of Tapit mare and he's a big, pretty thing that is sound and durable." 
 Joe Bravo is named to ride Tenfold from Post 5 in a field of nine. 
Another multiple graded-stakes winning millionaire that ran third in the Preakness and returning for the Pimlico Special is Rupp Racing's Owendale. The 4-year-old Into Mischief colt was beaten a nose for second behind War of Will last spring, but has won three stakes since – the Ohio (G3) and Oklahoma (G3) derbies last year and the one-mile Blame May 23. He exits a runner-up finish in the 1 1/16-mile Alysheba (G2) Sept. 4 and will have Hall of Famer John Velazquez aboard from Post 8. 
Hillwood Stable's Cordmaker could be rounding into form just in time for another try at the Pimlico Special. Based at Laurel Park with trainer Rodney Jenkins and bred in Maryland by trainer Katy Voss and the late Bob Manfuso, the 5-year-old Curlin gelding had his season opener delayed until July 5 and ran fifth in his first three starts, all allowances, the latter two at seven furlongs. Last out, he was a willing third to Harpers First Ride in the 1 1/16-mile Deputed Testamony Sept. 5 at Laurel. Victor Carrasco returns to ride from Post 1. 
MCA Racing Stable's Harper's First Ride will be making his second foray into graded competition in the Pimlico Special, having had a two-race win streak snapped when he was fifth in the 1 1/8-mile Monmouth Cup (G3) July 18. Since then he closed to be second in an open allowance in the Parx mud Aug. 12 and was a popular 3 ¼-length winner of the Deputed Testamony, his seventh career win and first in a stakes. 
"He came out of the last race good and he's doing good. I was impressed with his last race. He beat a really nice horse in Cordmaker. He's run with good horses before, too, and it hasn't been easy for him but he does good," trainer Claudio Gonzalez said. "All the time this horse shows me he can improve little by little and can get better and better. I believe he can run longer than the mile. It all depends if he has a good trip. He likes to run one way. He has one pace, that's why it's very important the trip we have with him. It doesn't matter where you put him, if he's in the clear he's going to make it." 
Angel Cruz, up for each of Harpers First Ride's last two wins, gets the return call from outside Post 9. 
Michael Dubb, Bethlehem Stables and Gary Aisquith's Monongahela, a Grade 3 winner of more than $500,000 in purses, is entered to make his second start since joining Laurel trainer Brittany Russell. Winless in five tries since taking the 1 1/16-mile Swatara for Pennsylvania-breds last fall, the 6-year-old gelding ran last of four in a one-mile optional claiming allowance Aug. 20 at Delaware Park. 
"He's awesome. When we ran at Delaware I thought, 'Let's just run him because it might be a softer spot and a spot to pick his head up,'" Russell said. "I probably didn't train on him enough and long enough to really know what we had. Then he kind of ran a clunker so we kind of scratched our heads afterward. I tweaked his training routine a bit after that and he seems like he's responding. He's doing really well so I figured we'd go in and take a look." 
Russell's husband, jockey Sheldon Russell, was still recovering from a broken wrist when Monongahela last ran, but will be in the irons from Post 2. The trainer hoping their familiarity from the mornings will prove advantageous. 
"There was a getting to know him period and I think we did that. He's certainly classy and he just kind of does what he has to do in the morning," Brittany Russell said. "Then it was sort of letting the rider get to know him, which is where Sheldon comes in, so I'm hoping he might be the magic formula. He's worked him quite a few times and has kind of got him figured out. I don't know if that can translate to the afternoon, but I feel better if Sheldon's on him so at least we can get a line on where we are." 
Main Line Racing Stable and Alexandria Stable's Someday Jones is a 7-year-old son of 2004 Kentucky Derby (G1) and Preakness winner Smarty Jones with 11 career wins, three in stakes, including the 1 1/8-mile Native Dancer last December at Laurel. Beaten twice Laurel stakes over the winter before the coronavirus break, Someday Jones won his July 6 return at Delaware and was second in the 1 1/16-mile Storm Cat Sept. 7 at Parx. 
"His first race back at Delaware was good. He was probably about 75 percent and he won, and I think he's gone forward since then," trainer John Servis said. "The last race just didn't set up for him. The winner just got loose on the lead and really controlled the pace, and he made a nice run at him through the stretch and just couldn't make up any ground on him. He's coming into this race really good." 
Servis, who also trained Smarty Jones, lined up Trevor McCarthy to ride Someday Jones, a winner of nearly $650,000 in lifetime purses that has been third or better in 20 of 29 starts. They will break from Post 4. 
"He is a war horse. I had one of the owners send me his Thoro-Graph sheet for the last three, four years and he has just been the model of consistency. It's unbelievable how consistent his numbers are," Servis said. "It'd be something to have a barn full like that. He's a special horse. And he's a barn favorite. Everybody loves him." 
Plus Que Parfait, winless since taking the UAE Derby (G2) last March but most recently second in the Charles Town Derby, and multiple stakes winners Clubman, seventh in last year's Pimlico Special, and Forewarned, seventh at Charles Town, complete the field. 
The Pimlico Special was created in 1937 by Alfred Vanderbilt, the master of Sagamore Farm, as the first major stakes in the United States set up as an invitational, and was won by Triple Crown champion War Admiral. The following year, he was upset by Seabiscuit in what Sports Illustrated called the "Race of the Century." 
Revived in 1988 by the late Maryland Jockey Club president Frank De Francis, the Special's illustrious roster of winners includes Triple Crown winners Whirlaway, Citation and Assault and modern-day Horses of the Year Criminal Type, Cigar, Skip Away, Mineshaft and Invasor. 
LATEST NEWS