Justify prevails narrowly in foggy Preakness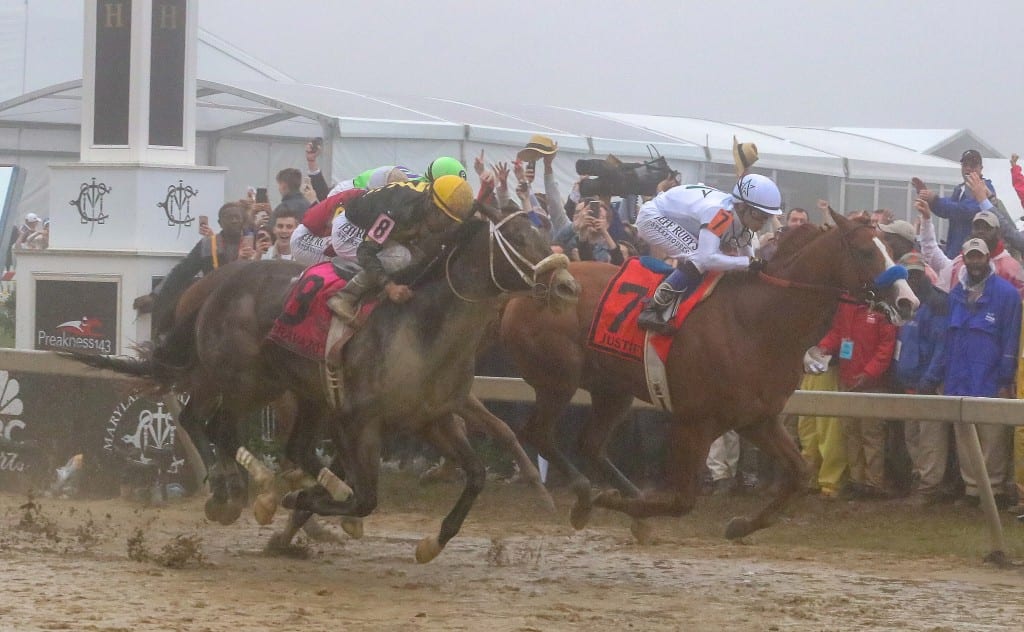 Justify held off Bravazo and won the Preakness Stakes. Photo by Dottie Miller.
by Frank Vespe
They came at Justify in waves in Saturday's 143rd running of the Grade 1, $1.5 million Preakness Stakes at aged Pimlico Race Course.
Which perhaps was appropriate after a week of sometimes torrential rains had left the track a sodden mud bog.
There was Good Magic early. Then there was Tenfold looming up in mid-stretch. And finally, there was Bravazo flying along the outside in the very shadow of the wire.
But in the end, though all four were in the photo, it was the chestnut Justify, arriving at the winning post a half-length prior to Bravazo.
"It was a nail-biter," said winning trainer Bob Baffert. "They put it to us. That was a good horse [Good Magic] and it was like they had their own private match race. Somebody had to give, and I'm glad it wasn't us."
The Preakness win, coupled with his triumph two weeks earlier in Louisville, means that Justify will head to the Grade 1 Belmont Stakes in three weeks with a chance to become the 13th Triple Crown winner — but also the second in four years, and Baffert's second.
"A dream come true," winning rider Mike Smith characterized it. "I'm on Cloud Nine."
Earlier in the week, Jose Ortiz, rider of Good Magic, had said that, while he preferred a stalk-and-pounce type of trip, he would press the matter if he needed to rather than let Justify steal off by himself.
He proved true to his word.
Justify broke alertly to make the lead as the field passed the wire for the first time, but Good Magic, the Derby runner-up trained by Chad Brown, was hustling along inside to press the early running. The two of them pushed each other through an opening half-mile in 47.19 seconds and three-quarters in 1:11.42.
With the runners fog-bound and intermittently invisible to the 134,487 in attendance at Old Hilltop, the crowd turned its attention to screens large and small. A small roar went up when the numbers on the televisions swapped places, Good Magic's number five taking over the top spot, above Justify's seven.
A larger roar followed when those numbers switched again, Justify regaining the lead.
Hitting the lane, the top pair put a gap of several lengths between themselves and their rivals. After a mile in 1:36.10, Justify had won the racelong duel with Good Magic — but then Tenfold, the lightly raced runner attempting to cap off a spectacular weekend for trainer Steve Asmussen, loomed a threat in mid-stretch.
And as quickly as that threat petered out, clear it would not overturn the order, Bravazo rallied stoutly on the outside, the late bid of the D. Wayne Lukas trainee falling a narrowing half-length short. It was a neck farther back to Tenfold, and another neck to Good Magic, who finished fourth.
Running time for the 1 3/16 miles was 1:55.93 over a sloppy, sealed main track.
Justify, the 2-5 favorite, returned $2.80 to win, while Bravazo, 15-1 at post time, returned $7.60 to place. Tenfold, 26-1, paid $6.80 to show. The exacta was good for $13.70 for a buck.
"It was unbelievable," said Kenny Troutt of WinStar Farm. WinStar owns Justify in partnership with China Horse Club International and SF Racing LLC.
"Longest race in my life," agreed Teo Ah Khing, chairman of China Horse Club.
Now, remarkably, just four years after trainer Baffert and American Pharoah snapped the 37-year Triple Crown drought, Baffert is back for another bite at the apple.
That possibility sounded good to Justify's Hall of Fame jockey, Mike Smith.
"At my age, man, what a way to ride off into the sunset," he said. "Though I don't plan on retiring any time soon."
Baffert, as is his wont, sounded a note of caution.
"He has to come out of the race well, and he's got to be training really well," Baffert said of a possible Belmont bid.
Still, it's pretty reasonable to think the son of Scat Daddy, bred by John Gunther, will be there.
"He's this big, beautiful horse," Baffert said. "But he's all racehorse."