QUALITY, FULL FIELDS HEADLINE DELAWARE OWNERS DAY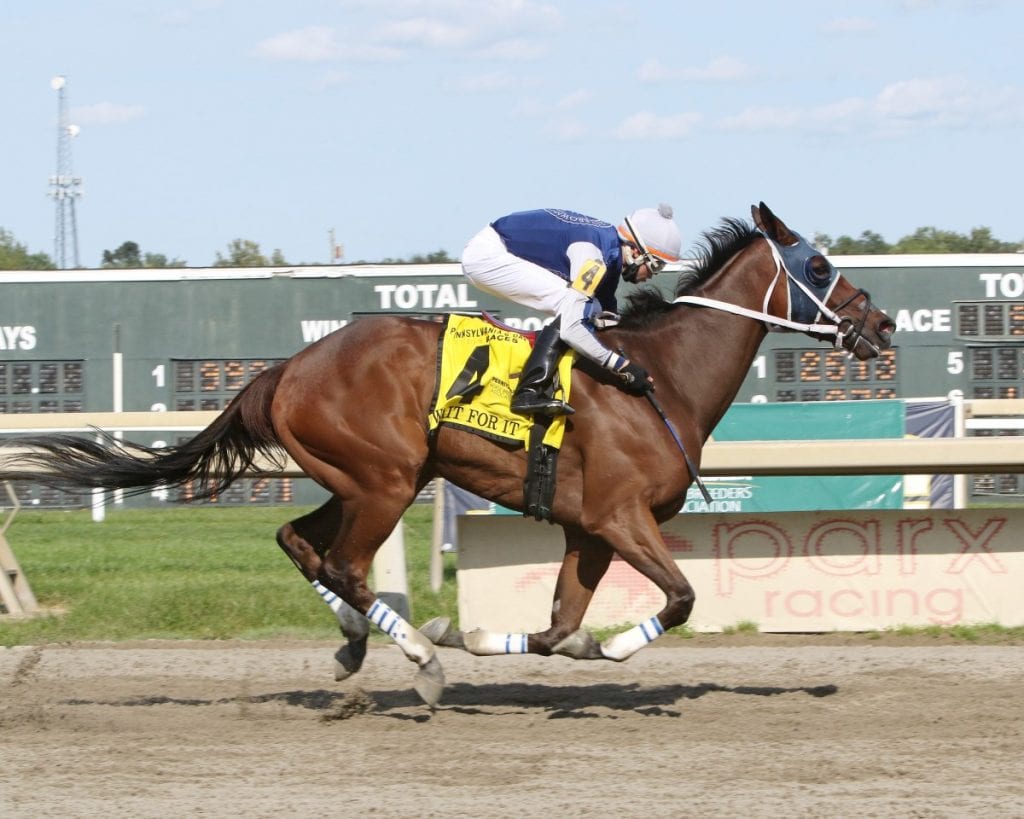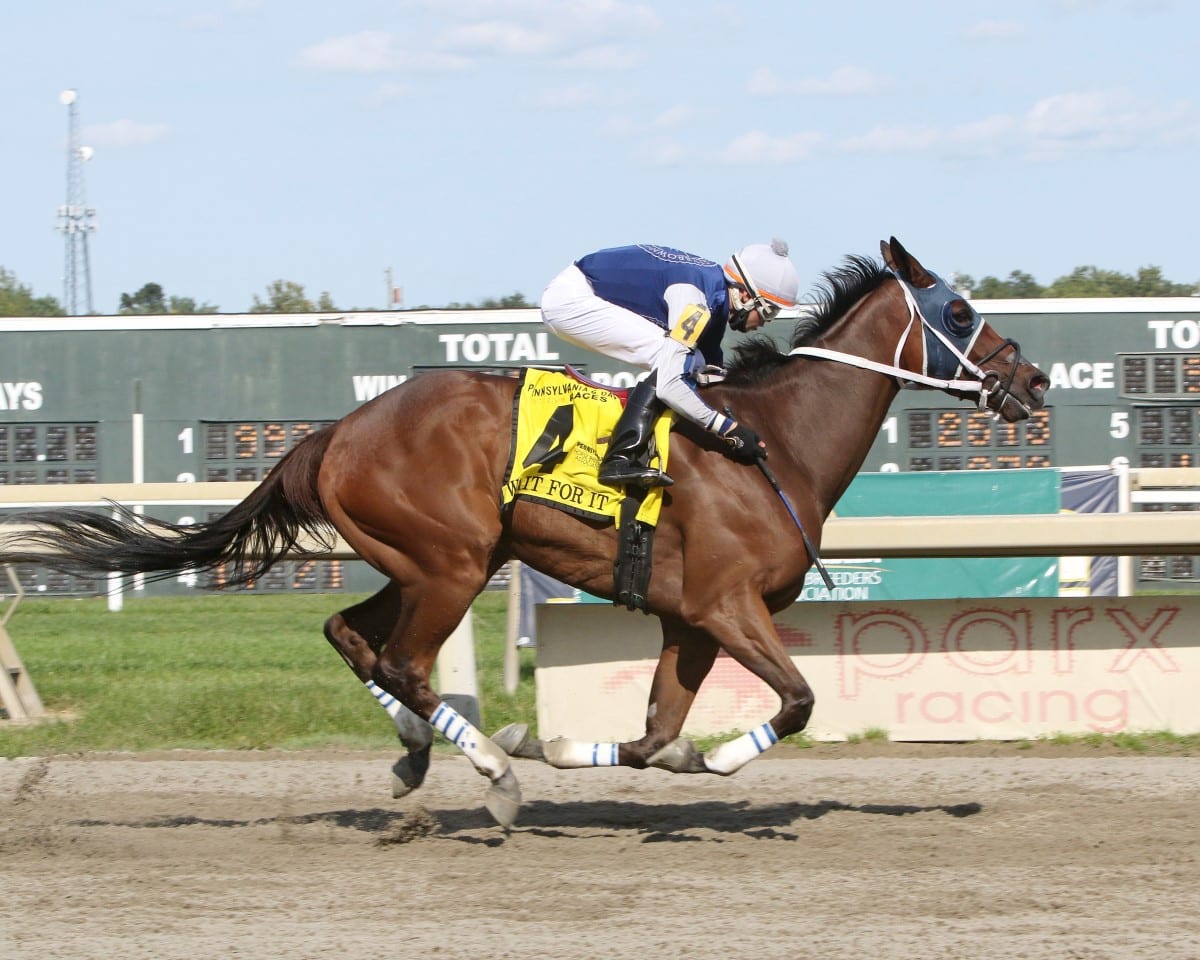 Inside the big white tent just outside of the paddock, attendees will still eat, drink and be merry, but their number will be restricted in order for the track to practice state-mandated social distancing. They'll also be required to wear masks except while seated, and temperatures will be taken upon arrival, all in an effort to thwart any Covid-19 transmission.
Despite these restrictions, however, it's certain that this special day, presented by the Delaware Thoroughbred Horsemen's Association (DTHA), will retain its festive atmosphere.
And why shouldn't it? An excellent 11-race card is on tap for Owners Day, highlighted by four $100,000 stakes for Delaware bred or Certified horses, and two $75,000 stakes restricted to horses that have started at Delaware Park during the 2020 meet. Also on tap: purses that are 50% higher than normal. First post is at 1:15 p.m.
Bessie Gruwell, executive director of the DTHA, said that the Delaware Certified program was created in 2002 to attract interest in racing at Delaware Park, and has become a lucrative way for Mid-Atlantic owners and breeders to earn extra money per race, much like state-bred programs in the region. Weanlings and yearlings must spend 90 days at a Delaware Certified farm or training facility to become eligible for purse bonuses. And Delaware lawmakers have been supportive of the Certified Program because it is tied to issues like open space preservation.
The stakes parade kicks off with the fourth race, the $100,000 Tax Free Shopping Distaff for fillies and mares at six furlongs, and continues through the ninth, the $100,000 First State Dash for 2-year-olds at 5-½ furlongs.
Most notable are the full fields and the appetizing betting fare that will be available, which in turn usually translates into big payoffs.
Fresh off a rousing wire-to-wire score in the Storm Cat Stakes at Parx Racing's Pennsylvania's Day at the Races on Labor Day is Wait for It, who now returns in the $75,000 DTHA Governors Day Handicap at one mile and 70 yards.
"Wait for It is as game as they come and just a warrior," said Bob Hutt, president of Uptowncharlybrown Stud LLC, which also owns the gelding. "He won the Storm Cat stakes as easy as he pleased."
Hutt noted that Tudox Expectations, third in the Storm Cat and beaten only four lengths by Wait for It, carries 116 pounds in the Governors Day, 10 pounds less than highweight Wait for It.
"There are others in the field that Wait For It is giving away between 10 and 13 pounds to," said Hutt. "I guess that's the price you pay for being a good horse. Hopefully he'll make his Daddy Uptowncharlybrown proud."
Abner Adorno rides Wait for It in the DTHA Governors Day for trainer Ed Coletti, Jr., and he's been tabbed at 8-5 on the morning line.
Trainer Brittany Russell may hold a hot hand as she saddles three contenders on the card, including Maythehorsebwithu, who bears the same name as the Owners Day theme. The 2-year-old son of Bullsbay runs in the 5-1/2 furlong $100,000 First State Dash for Delaware bred or Certified 2-year-olds.
"His name and the theme of the day must be a coincidence," said Russell. "I thought, I've got to run him, so hopefully it is a good omen."
Maythehorsebwithu, owned by Michael Dubb and Bethlehem Stables, broke his maiden by nearly 11 lengths in his career debut at Delaware Park July 16. The Pennsylvania-bred sports an impressive pedigree, being a half-brother to graded stakes winner Call Paul, as well as multiple stakes winner Pink Caddy. He's 5-1 on the morning line with Alex Cintron.
Another Russell trainee that bears watching is Whereshetoldmetogo, a Maryland-bred son of El Padrino that is owned by Madaket Stables, et al. and is 4-1 on the morning line in the $100,000 New Castle Stakes at six furlongs, with Cintron named.
Whereshetoldmetogo became a celebrity of sorts because of his antics in the 2018 Gallant Bob Stakes (Gr. 3) at Parx Racing, when a picture of him savaging his rival Firenze Fire inside the eighth pole quickly became an Internet sensation.
The gelding comes into the New Castle off a fourth-place effort in the Polynesian Stakes at Laurel Park September 5; prior to that, he was third in the Iowa Sprint Stakes at Prairie Meadows in July.
"He worked really nicely on September 20," said Russell. "We're hoping he steps forward off (the Polynesian), he likes Delaware, and I think we have him in a spot where hopefully he will run a big one."
Other stakes and horses to watch on Owners Day include:
Heart Full of Soul (7-2) a Maryland-bred daughter of Violence who won the Shakopee Juvenile Stakes at Canterbury Park Sept. 17 for trainer Mac Robertson, headlines the $100,000 Small Wonder Stakes for 2-year-old fillies at 5-½ furlongs with Keiber Coa named.
Pink Caddy (2-1), who runs in the $100,000 Tax Free Shopping Distaff for fillies and mares at six furlongs, scored in the Dr. Teresa Garofalo Memorial Stakes at Parx last out for trainer Randy Allen. Bronx Beauty, the show horse from that race, came back to win the Regret at Monmouth recently. This half-sister to Maythehorsebwithu won the Small Wonder Stakes at Delaware on Owners Day last year and has Abner Adorno in the boot.
Tightly Twisted (5-1) tries for a second consecutive victory in the $75,000 George Rosenberger Memorial Stakes for fillies and mares at 1-1/16 miles on turf. The 4-year-old Hard Spun filly is trained by Juanita Bennett and Jhonatan Mendoza gets the call.
LATEST NEWS