SHELDON RUSSELL RETURNS TO ACTION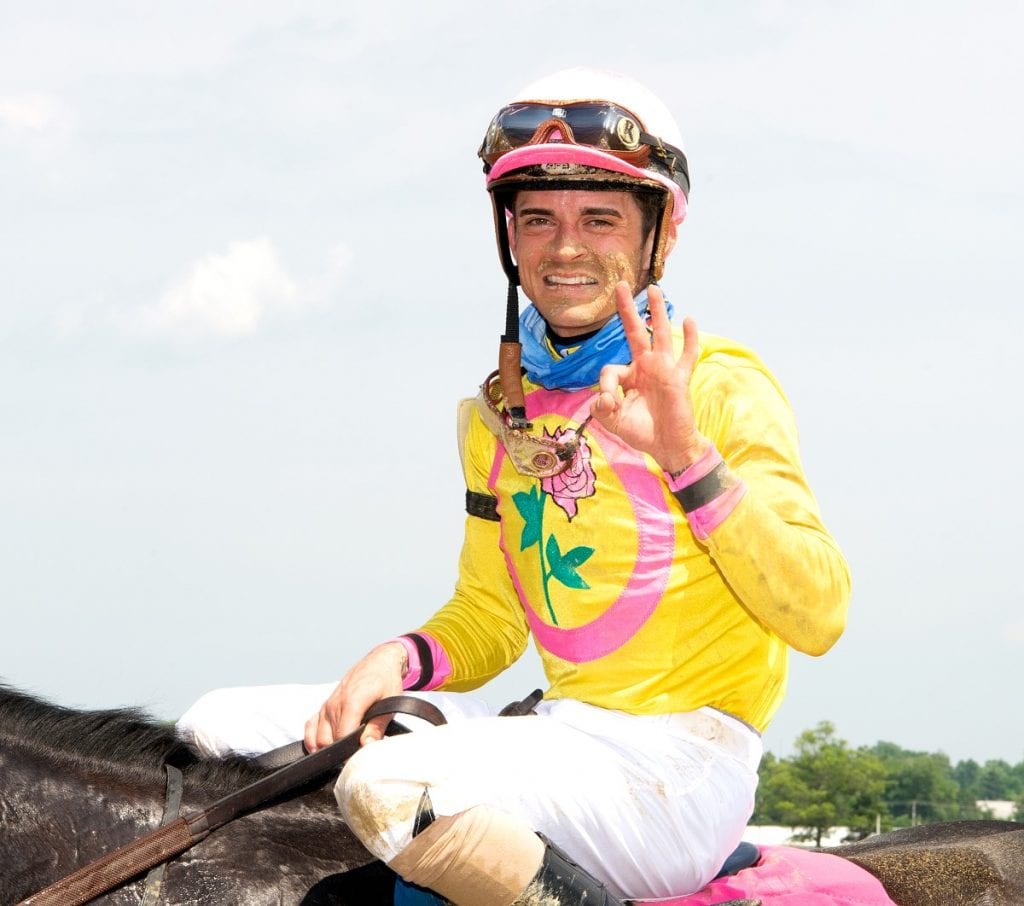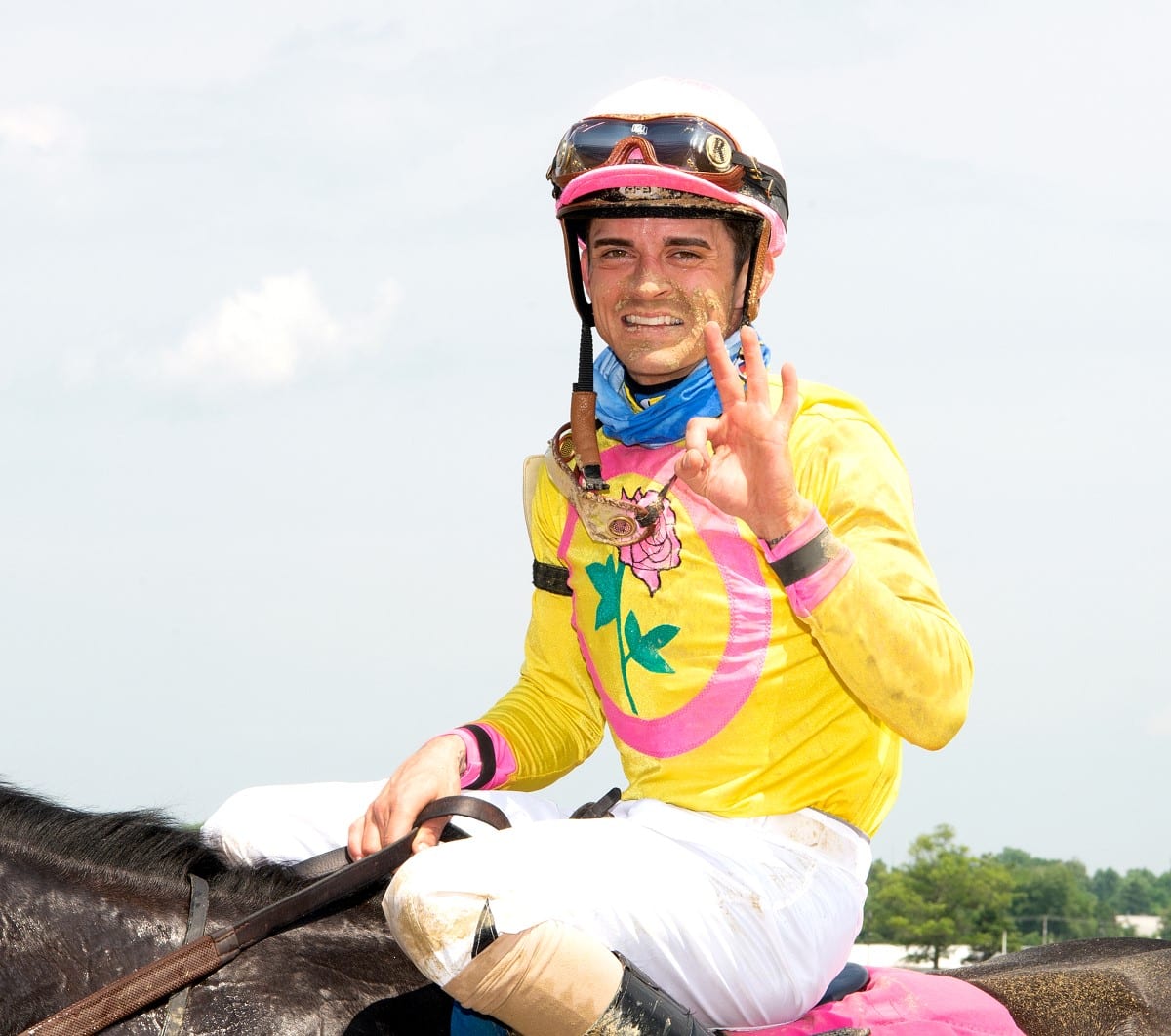 Press Release

September 24, 2020
Ten weeks after breaking his wrist in a gate mishap at Delaware Park, champion Maryland jockey Sheldon Russell returned to action aboard first-time starter Out of Sorts Thursday on opening day of the Preakness Meet at Pimlico Race Course.
Russell, who turned 33 during his absence, finished fourth as the 2-1 favorite in the six-furlong maiden special weight for 2-year-old fillies won by Mens Grille Racing's Whiskey and Rye in 1:10.88 over a fast main track. Respect the Valleys' Out of Sorts is trained by Russell's wife, Brittany.
For Russell, a seven-time meet-leading rider in Maryland who led the state in wins in 2011, it was the only mount on the eight-race card. He is named in five of 10 races Friday, all on horses trained by Jerry O'Dwyer, three of which are first or second choices on the morning line.
"It's always hard to come back from an injury. Lucky enough today I was able to ride a horse for Brittany, one that I've been galloping on the comeback trying to get fit so I was comfortable riding her. There wasn't a whole lot of pressure being a first-time starter. It's always nice to get one under your belt. I've got a busy day tomorrow so we'll hope for a bit of luck," he said. "I'm very happy with the support. Jerry and Brittany put me on some live horses already so it's great. It always makes me feel better."
Russell was hurt July 17 after being unseated by his mount, Maliceinthepalace, as the horses were loading in the starting gate. Leading Laurel Park's summer meet standings at the time, Russell landed on his wrist when he fell and X-rays confirmed the break.
Out of Sorts settled near the back of 10 horses before making a big sweeping move on the outside late to get up for fourth, less than a length behind third-place finisher Union Tatters.
"We were sort of standing in the gate a long time, but we were all standing for a long time so no excuses," Russell said. "She's only a small filly. When she broke I just opted to take my time and to be fair she finished full of run. She's definitely one to watch out for next time.
"Physically I feel good. I took the most needed time off and maybe a couple weeks extra so I feel really ready to go. I've probably been getting on horses now for 2 ½ weeks. I've been doing a lot in the mornings, galloping, jogging, two-minute licks, you name it. I even went up to Fair Hill yesterday," he added. "Just trying to get some business back. It's such a short meet here so whatever we do is just a bonus. Hopefully things will pick up when we get back to Laurel."
The six-day Preakness Meet at Pimlico runs Sept. 24-26 and Oct. 1-3, capped by a spectacular weekend offering 16 stakes, nine graded, worth $3.35 million in purses featuring the 145th Preakness Stakes (G1) Oct. 3. Racing returns to Laurel for the calendar year-ending fall meet starting Oct. 8.
Meanwhile, trainer Hamilton Smith was thrilled with the effort of Whiskey and Rye ($17.20), a daughter of Maclean's Music that dueled for the early lead in her Sept. 5 debut at Laurel, also going six furlongs, before tiring to be fourth. She had no such trouble Thursday, setting solid fractions of 23.61, 46.59 and 58.35 seconds and being geared down at the finish by jockey Victor Carrasco.
"The first time she ran she was a little disappointment to us. We thought she'd run about like she did today, to tell you the truth, but she got a little tired so I guess the trainer didn't have her quite tight enough," Smith said. "She had trained well between races so I looked for a good effort out of her today. She ran well. I was very pleased with that.
"She's got a lot of speed and I told [Carrasco] if she breaks on the lead let's try to stay there. I didn't want her to go head and head. He did what I told him to do and it worked out fine," he added. "I've dealt with 2-year-olds my whole life. That's what my brother and I do with the yearlings and the young horses, try and make something out of them. It's a lot of fun and we get a lot of pleasure out of it. We really do."
LATEST NEWS