RUNNIN'TOLUVYA OUTDUELS PENGUIN POWER IN GALL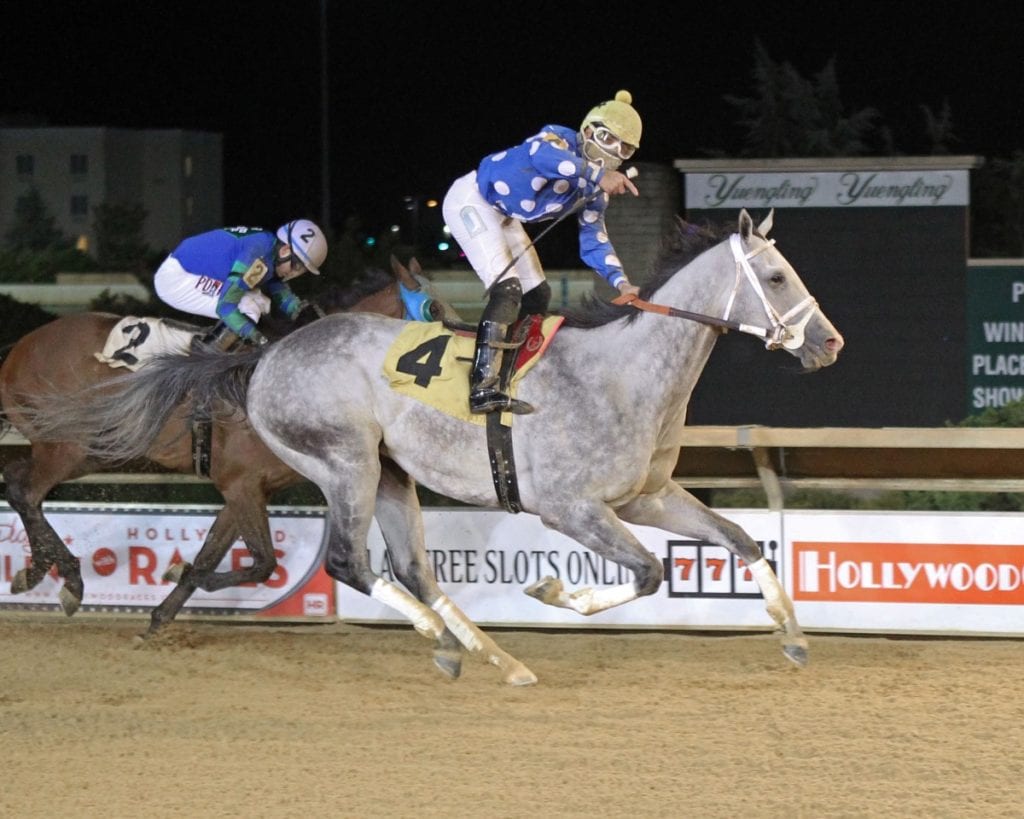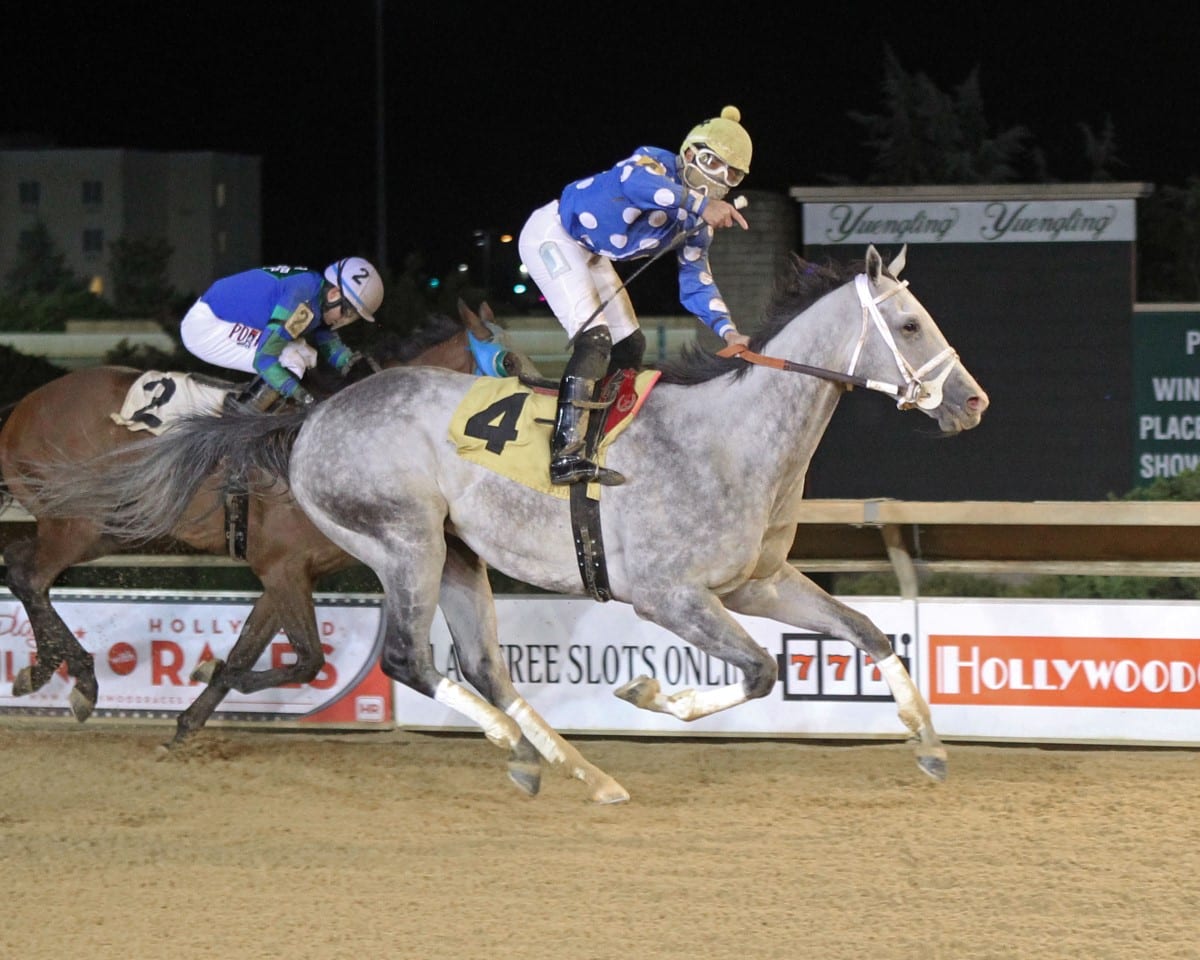 Penguin Power was the even-money favorite, while Runnin'toluvya was the 3-2 second choice in the compact field of five.
Penguin Power broke alertly but had immediate pressure from Hero's Man; those two dueled through the clubhouse turn and by the opening quarter in a swift 22.45 seconds, with Runnin'toluvya tucked neatly in third followed by Rush To The Castle and North Atlantic.
The half went in 46.25 seconds, and by then, Hero's Man was beginning to tire, while Runnin'toluvya was making his presence known in a major way.
Midway on the far turn, Penguin Power and Runnin'toluvya renewed their rivalry in genuine fashion as the two talented older males battled while well off the fence. That allowed North Atlantic to find an opening inside, and for a moment, it looked as if he might upset the apple cart.
Runnin'toluvya overhauled Penguin Power inside the eighth pole and he kept North Atlantic at bay through the lane for a length score in 1:26.06 for the seven panels.
A six-year-old Fiber Sonde gelding trained by Grams and bred by former local jockey Leslie Cromer, Runnin'toluvya posted his second win from four starts this year and he now boasts 15 victories and nearly $1.06 million from 24 career tries. Grams indicated that his next stop will undoubtedly be the West Virginia Breeders Classic, a race he won two years ago in style. Last year, however, he broke through the gate, cut his left stifle, and then finished last after pressing the pace.
"We're definitely going in the big one next month," Grams said. "He's been doing really good. I told Christian I thought there would be someone to press Penguin Power early and just take your time with him. He had a great trip tonight and I think this race set him up for the big one next month. That's been the target all along. When he breaks clean, he's tough to beat here. I really wasn't concerned about winning this race. I just wanted him to have a good trip and be tight for the big one."
"My horse broke so well, and I was just able to sit in a perfect spot," Hiraldo said. "I knew when I moved alongside Penguin Power on the far turn that I had him. My horse was just going easily. He's been doing so good in the mornings. I can't wait to ride him back in the big race next month. He's back to being his old self again."
Just as the Gall served for at least one runner as a prep for the Classic, the $50,000 Sadie Hawkins Stakes for fillies and mares plays the same role for the biggest distaff race on the WVBC card, the Cavada. This year's Sadie Hawkins was diluted by the absence of defending champion Anna's Bandit and Parisian Diva, who is scheduled to return to the track on October 1 after a brief hiatus.
Without them, much of the attention shifted to Bridging the Gap. Owned and trained by John McKee, she was the prohibitive 1-5 favorite seeking her first stakes and third straight tally overall, and she lived up to her advance billing.
When the gates opened in the Sadie Hawkins, Bridging the Gap broke alertly and met immediate pressure from Grace Elizabeth through the clubhouse turn and before the opener in 23.28 seconds, while See Ya Manana raced off the top pair. Bridging the Gap shook loose from Grace Elizabeth midway down the backside then faced pressure from See Ya Manana who loomed a menacing presence leaving the quarter pole. But that proved to be short lived.
At the top of the lane, Bridging the Gap appeared to find another gear and disposed of See Ya Manana. She then drew clear to a four-length score while stopping the timer in a solid 1:26.51. A four-year-old daughter of Fiber Sonde owned and trained by McKee, Bridging the Gap recorded her first stakes score, third straight triumph overall and now owns five wins from eight starts this year and seven victories from 12 career outings.
"I told my rider [Reshawn Latchman] whatever you do don't let one of those other fillies get past her," McKee said. "He got away from that one filly early then that other one looked like she might go by my horse. I guess he knew what he was doing, but he sure put a scare in me for a minute there."
In the second race on the card, the $50,000 Rachel's Turn Stakes for state-bred two-year-old fillies which scratched down to a field of four following the late defection of Moonlit Shadow, the full-sister to former state-bred star Moonlit Song, much of the attention was focused on That Kenney Kid, who was made the 1-2 favorite for trainer Jeff Runco. The John McKee-trained tandem of Shutupn'kissme and Theladyistrue both got solid support as the second and third choices, respectively.
After watching maiden Got Your Number get the jump, at the top of the lane, both Shutupn'kissme and Theladyistrue overhauled the longshot leader. Theladyistrue rallied best of all down the center of the track to forge a length victory as the 3-1 second choice. A juvenile daughter of Fiber Sonde owned, bred and trained by John McKee, who also saddled the race's namesake throughout her stellar local career, Theladyistrue notched her second win in four starts and more than doubled her career earnings to more than $57,000 by getting the 4 1/2-furlongs in 53.85.
"I thought they would both run well," said McKee, who watched the entire card from his home at Beau Ridge Farm. "I was surprised my one filly [Shutupn'kissme] got into so much trouble. The other one stayed clear and that allowed her to win it. But they'll both be going in the 6 1/2-furlong stakes on West Virginia Breeders Classics night [the WV Triple Crown Nutrition Breeders Classic]. I've got one or two others that I might put in there."
"She's not much in the morning," Latchman said of Theladyistrue. "But she runs well at night. My filly did not break real sharp, but I saw the other one get in trouble. When I called on her turning for home she responded. She's improved 110 percent each race."
Two races later in the $50,000 Henry Mercer Memorial for state-bred two-year-olds, 5-2 second choice Hopping Henry pressed the pace and drew away to win by a length-and-change and give his sire, Juba, his first stakes winner.
Long shot Uncle Funky broke best of all to gain command leaving the chute with Hopping Henry away well to bide his time just off the leader, with favored Pilot in Command away in fourth along the rail. Hopping Henry gained command while well off the fence entering the far turn and he continued to stay well off the rail through the turn and through the lane. Under Wesley Ho, Hopping Henry held sway for a 1 ¼-length score in 52.89 – just about a second faster than the fillies race earlier on the card.
"This horse is actually going to do much better with blinkers," said owner-breeder-trainer Michael Sterling of Hopping Henry, now a winner twice in three starts with career earnings of over $50,000. "He's been able to relax more and I think the two-turns is going to be perfect for him. We wanted to run with blinkers tonight, but the stewards wouldn't let us since he won last time out."
"Believe me, this horse will improve eight lengths with blinkers," Ho said. "He was just toying with those other horses tonight. He relaxed early but he was just looking around the whole time. I finally hit him with the whip a couple of times just before the wire. But he was probably in the eight-path by then."
LATEST NEWS