ON BREEDING: JUBA AND HIS TWITTER ACCOUNT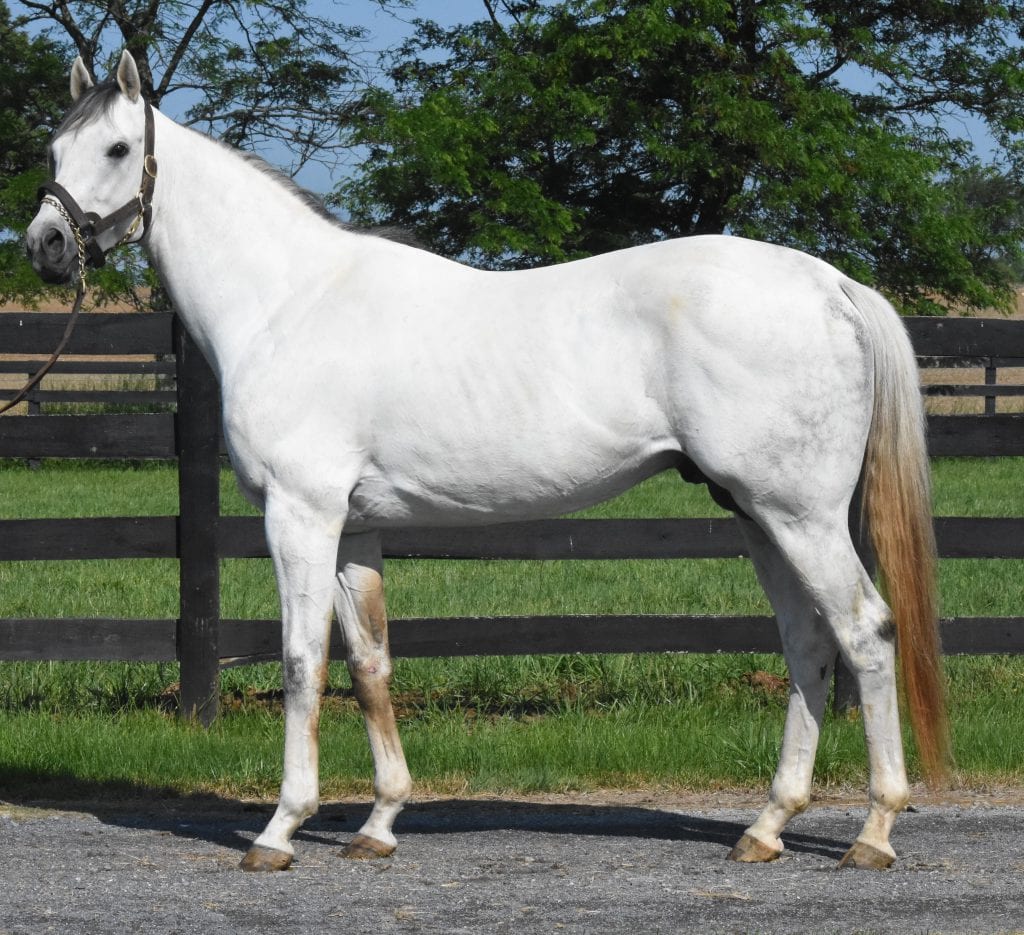 Linda Dougherty

September 2, 2020
When Hopping Henry crossed the finish line first August 15 in a state-bred maiden special weight at Charles Town Races, he might have generated more interest than any other maiden winner at the West Virginia oval this year.
That's because Hopping Henry became the first winner for his popular sire, Juba, who stands at Taylor Mountain Farm. And as an added bonus, Juba also sired the race's runner-up, Allen Can Do it.
Immediately, video clips of Hopping Henry leading Allen Can Do It to the wire popped up on the Internet, complete with robust congratulations from Juba's many fans.
Juba wasn't particularly known for his exploits on the racetrack. But he is known for his active Twitter account (@Jubacolt), which has earned him more than 4,600 followers. Centennial Farms, under whose silks Juba raced, called his Tweets "clever and kind and endlessly engaging."
After Hopping Henry's victory, @Jubacolt fired off a series of Tweets: "Whoo hoo. First win as a sire," and "A Greyacta and most importantly a Jubacta," and "So of my 6 kids who ran in last 2 nights I got a 1st a 2nd a 3rd and a 4th place finish." The latter was "liked" nearly 200 times.
Juba's Twitter account is entertaining. It's also a vehicle through which charitable donations are made to various thoroughbred organizations, including ReRun, for whom he painted Moneighs, and After the Finish Line.            
"It was only supposed to be a couple of weeks originally for the Twitter account, beginning when Juba was a 3-year-old," said the person behind @Jubacolt, who requested to remain anonymous. "But here we are with Juba's first winner as a stallion. He still has a big fan base, and Taylor Mountain Farm has endorsed keeping the Tweets going. When I posted the clip of Hopping Henry and Allen Can Do it running one-two, people went crazy."
Although Juba wasn't a stakes winner, he did take a nice set of credentials to stud with him when he was retired to Taylor Mountain in late 2016.
As a stallion prospect by Tapit, he immediately got the attention of mare owners in West Virginia. Beyond that, Juba has a bottom line heavily infused with soundness and stamina, reflecting the confluence of bloodlines from notable breeders John R. Gaines, Nelson Bunker Hunt, and Henryk de Kwiatkowski.
Juba's fourth dam, Beaconaire, a daughter of champion and leading sire Vaguely Noble, winner of the Prix de l'Arc de Triomphe, was co-bred by Gaines and Hunt. Gaines purchased a quarter-interest in Vaguely Noble upon the horse's retirement from racing. Vaguely Noble entered stud in 1969 at his Gainesway Farm in Kentucky after being syndicated for a then-record $5 million.
Vaguely Noble sired 65 stakes winners, with his most famous being champion turf horse and Hall of Fame inductee Dahlia, a Gr. 1 winner in Europe, the U. S., and Canada, as well as Exceller, also a Gr. 1 winner in those three locales.
Beaconaire was a two-time stakes winner in France, and produced 13 foals, the best of which was Gr. 1 winner and millionaire Sabin, who was bred in Virginia by Keswick Stables and Fourth Estate Stables. Purchased by Kwiatkowski for $750,000 as a Saratoga yearling, Sabin was turned over to the late Hall of Fame trainer Woody Stephens, and was a gifted two-turn turf runner, setting a new course record for a mile at Aqueduct in 1983.She won 18 of 25 career starts en route to earning nearly $1.1 million.
As a broodmare, Sabin did not replicate her success on the turf, with her best being then-ungraded National Racing Hall of Fame Stakes winner Sabina and minor stakes winner Al Sabin. Sabin was bred to Gr. 1 Belmont Stakes winner Conquistador Cielo, who campaigned for Kwiatkowski, and in 1986 produced the filly Andora, whose lone career win came at Belmont Park.
Andora fared better than her dam at stud, producing graded stakes winner Luftikus (by Meadowlake), who captured the Gr. 3 Lone Star Park Handicap and also stands at Taylor Mountain Farm, as well as stakes winner and graded stakes-placed Diversa. Interestingly, Juba's dam Adoradancer is a half-sister to Luftikus.
Kwiatkowski bred Andora to his Danzig Connection, another Belmont Stakes winner, and in 1993 she produced Adoradancer, who won only once but placed in the Klassy Briefcase Stakes on turf as a 4-year-old. Thus far, Gr. 2 winner and sire Saint Anddan has been her best progeny. Juba was foaled in 2011.
Centennial Farms purchased Juba for $250,000 at the 2012 Keeneland September yearling sale out of the Lane's End consignment. The nearly white son of Tapit made one start at two and at three before compiling a nine-race, two-win season in allowance company in New York as a four-year-old for trainer Jimmy Jerkens. In all, Juba won three times and earned $179,105 in his career.            
"Juba reminded me immensely of (1992 champion sprinter) Rubiano, who we co-owned with Lane's End Farm," said Don Little, president of Centennial Farms. "He's another horse of ours who's gone on to become a stallion, and I believe he has a great shot to be a success in West Virginia."
---
Read more of Linda Dougherty's On Breeding columns here.
---
According to The Jockey Club, Juba's first book of mares in 2017 consisted of 62 mares, with books in 2018 and 2019 comprised of 47 and 49 mares, respectively.
Longtime West Virginia horseman Michael Sterling sent his mare Phone Jazz, by Phone Trick, to Juba in 2017, with the result being the gray or roan Hopping Henry, a March foal. Phone Jazz, also trained by Sterling, won 10 of 63 starts and $107,699. She has also produced the stakes-placed Skylar's Trick, by Fiber Sonde, who's earned $106,457.
"Phone Jazz crossed really well with Juba (an A++ nick according to TrueNicks) and of course with a son of Tapit you can't go wrong," said Sterling. "From the time he was a foal, Hopping Henry was very attractive, and he really stood out. As a matter of fact, from what I've heard from other breeders, all of the Juba foals are really nice. Taylor Mountain has hit a homerun with nearly every stallion they've brought to West Virginia, so I wouldn't be surprised if Juba hits one, too."
Sterling said that Hopping Henry, named after his grandson, is a big horse and has done everything right since being put into training.
Allen Can Do It, who finished second behind Hopping Henry, is a homebred for Taylor Mountain Farm's John A. Casey, who also trains the colt. A May foal, he's out of stakes winner Let's Just Do It, by Roy, and is a half-brother to stakes-placed One More Time.            
Juba stood the 2020 season at Taylor Mountain Farm for $1,500, live foal.
LATEST NEWS