"I hope this day is not a dream": Runnin'toluvya scores in CT Classic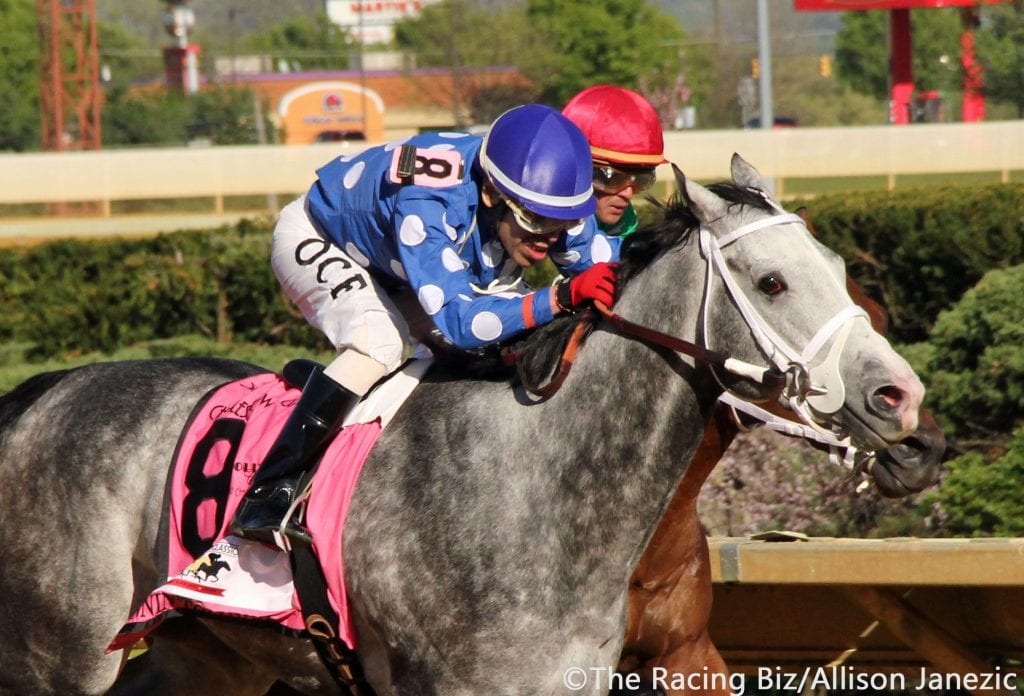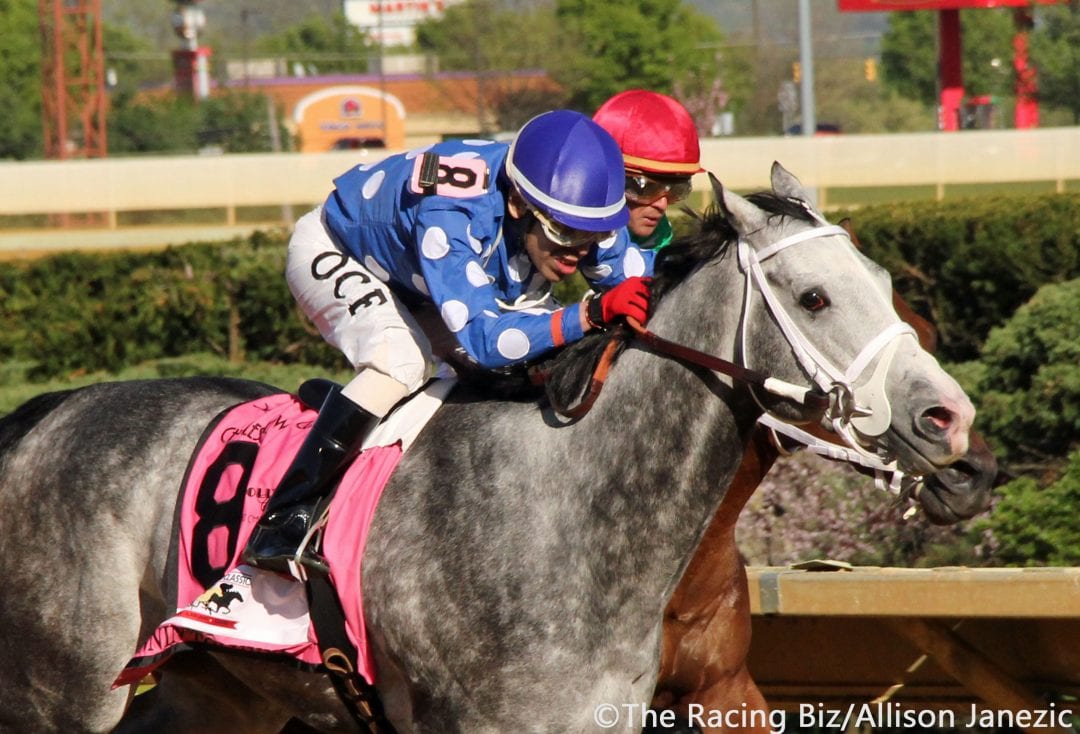 Runnin'toluvya prevailed in a thriller. Photo by Allison Janezic.
On a picturesque Saturday afternoon in the Eastern Panhandle of West Virginia, Charles Town hosted the 11th edition of the Grade II, $1 million Charles Town Classic for older runner contesting the three-turn distance of one-mile and one-eighth over a fast track. And the signature event on the calendar proved to have a decidedly local flare.
Last fall when Runnin'toluvya (Oscar Flores) dominated the $350,000 West Virginia Breeders Classic and then returned to win the $50,000 A Huevo at the same distance over the strip, trainer Tim Grams perhaps never imagined that six months later he would even earn a spot in the starting gate for the $1 million Charles Town Classic. Only one other West Virginia-bred, Lucy's Bob Boy, had attempted the Classic and he was soundly beaten, so success against state-bred company had hardly been a precursor to triumphs in open stakes.
But soon after Runnin'toluvya captured the $35,000 Russell Road overnight prep stakes in his seasonal debut on March 29, Grams quickly began to believe that the Fiber Sonde gelding had a chance in the lone, seven-figure stakes that Charles Town would offer this season. Additionally, the success of another state-bred star, Late Night Pow Wow, heroine of the Grade III, $300,000 Charles Town Oaks and more recently the Grade III, $250,000 Barbara Fritchie Stakes at Laurel Park, gave Grams an indication that Runnin'toluvya at least deserved a chance.
When the gates opened in the latest edition of the Grade II, $1 million Charles Town Classic, Diamond King (Javier Castellano) and Runnin'toluvya both broke alertly and vied for command through the far turn the passed the finish line the first time, although through somewhat modest splits of 24 flat and 48.1 through the first two calls. Rally Cry joined the fray three-wide down the backside and into the far turn, but at that point the West Virginia-bred still had plenty left in reserve and headed both rivals approaching the furlong pole.
In fact, over the final furlong the Classic evolved into a virtual match race between Runnin'toluvya and Diamond King and, much to the delight of the connections and local fans, it was Runnin'toluvya who prevailed under steady urging in the lane for a neck victory as a 9-1 shot in 1:50.56 for the one-mile and one-eighth distance. Diamond King easily held the place spot, with War Story overtaking Rally Cry late for third. Discreet Lover pulled up on the far turn and was vanned off after the race.
While owner Judy Grams was swarmed with well-wishers on her way to the winner's circle, trainer Tim Grams strolled back on his outrider pony alongside Runnin'toluvya to a very warm reception from the local gathering. Runnin'toluvya had easily solidified his status as the top state-bred older male on the grounds last fall, but he enjoyed a genuine rise to local stardom by taking the Grade II, $1 million Charles Town Classic on his home track. It was his ninth straight win, 12th tally in 16 career outings and pushed his lifetime earnings past $900,000.
"Right after he won that other race [the Russell Road overnight prep] he was doing so good, I told Judy that we had to think about going in the big one," Grams said. "Sometimes, you just have to take a chance. I mean, this horse was doing so good and you don't get many chances to run for that type of money, especially at your home track. Believe me, I would not have taken this horse on the road to any of those other tracks to face those horses somewhere else. They had to come here to our home track, so I figured why not try him."
Jockey Oscar Flores has now been aboard Runnin'toluvya during the Fiber Sonde gelding's entire prolonged win streak and Saturday afternoon the jockey, trainer and horse all notched the most lucrative and most prestigious victories of their career in one fell swoop over an oval where they have spent much of their lives.
"It was a perfect trip," Flores said. "The horse broke perfect right out of the gate and I didn't try to go too fast. I tried to relax my horse to save something for the end and the horse responded. He was training great in the morning, plus Timmy Grams is a great trainer. This is a great horse. All I need to do is control the pace and little bit. From the eighth pole home I knew I had it. What a feeling to win a race like this."
Judy Grams, who enjoyed a brief riding career at Charles Town as Judy Wolfe in the 1980's, admitted she was nervous during the week of the Classic simply because Runnin'toluvya had never attempted to face the level of foes that he was about to tackle on Saturday afternoon.
"Normally, we're not very nervous before a race," Judy Grams said. "But with this horse running in a race against those type of horses, we just wanted everyone at Charles Town to be proud of us. When he took the lead turning for home, I was just hoping that he could keep going. He's always run well in West Virginia-bred races, but he was facing so much better horses today. I'm happy for him and for everyone at Charles Town. I just hope when I wake up on Sunday morning that this day was not a dream."
On a day when Grams won the Classic with a state-bred star on his home track, perhaps it was equally fitting that Diamond King emerged as the runner-up. Trainer John Servis, forever remembered as the conditioner of Kentucky Derby and Preakness winner, Smarty Jones, began his career at Charles Town and has made a name for himself at much larger venues. Diamond King had actually won the $125,000 Federico Tesio Stakes at Laurel Park one year earlier on Classic Day and then finished a nondescript seventh in the Preakness Stakes, but he returned last March to win an allowance race at Gulfstream Park by nearly four lengths in his tuneup for the Classic.