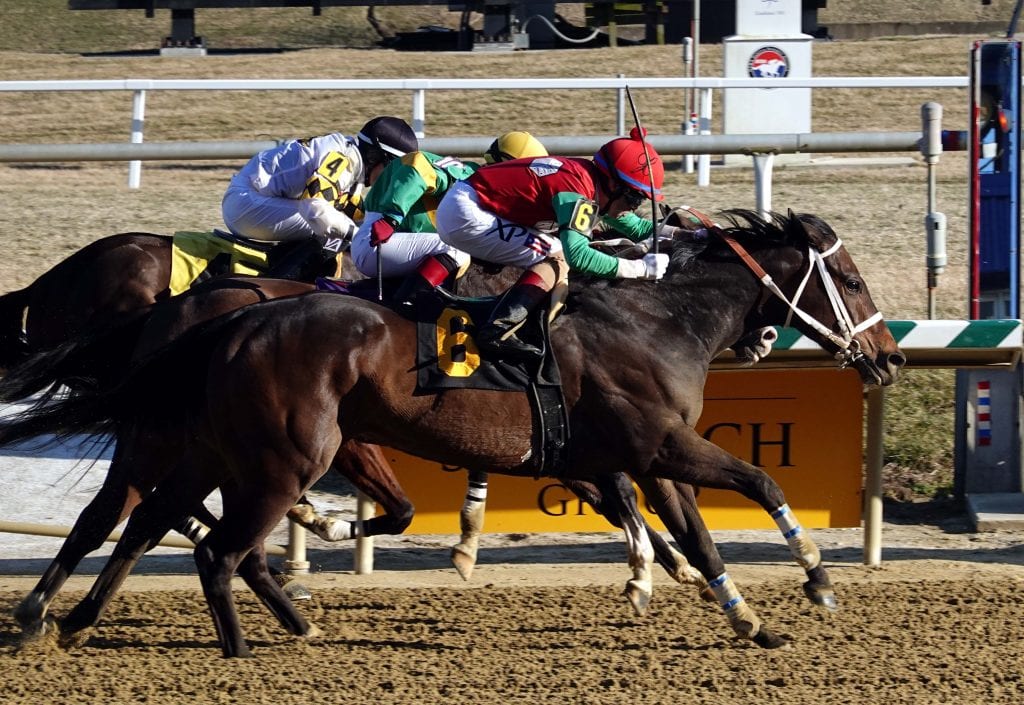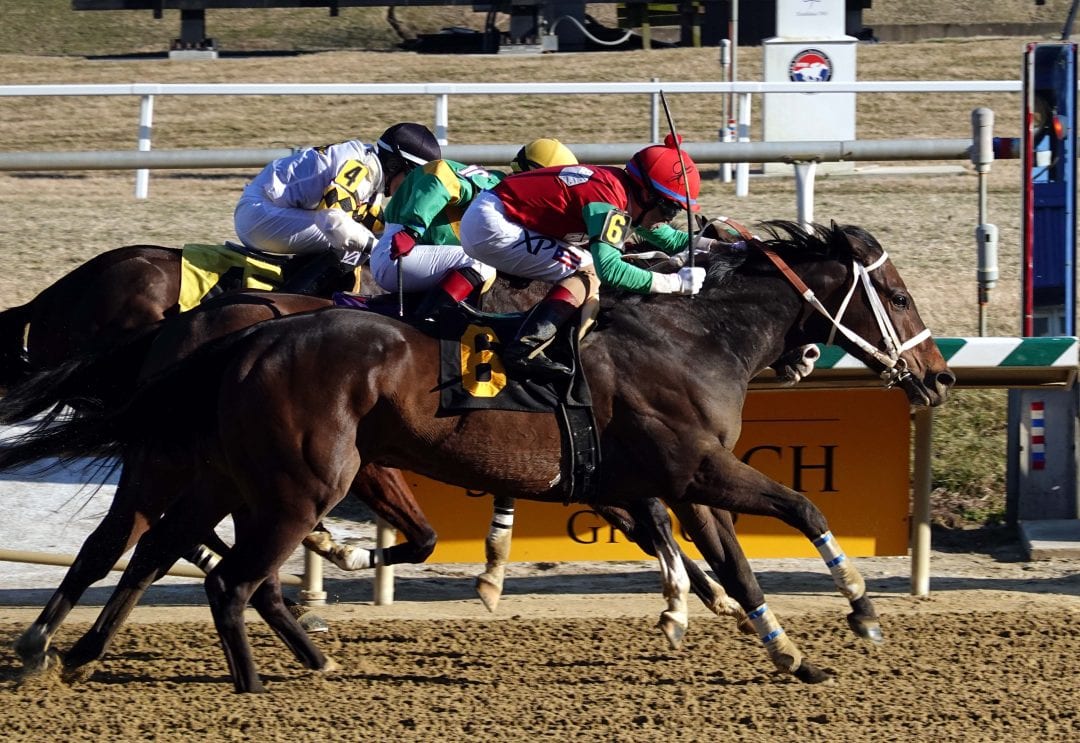 Anna's Bandit. Photo by Laurie Asseo.
In which we pick the races from Laurel Park each day…
Post time: 12:40 p.m.
Carryovers: Rainbow Jackpot Pick 6 — $0  Super High 5 — $0 Late Pick 5 — $0

Notable: Until further notice, no fans are allowed to attend the races at Laurel Park. For more info, click here.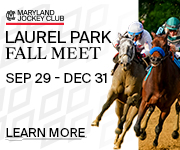 ANALYSIS
RACE 1: CLAIMING $5,000 (CONDITIONED), 3-YEAR-OLDS AND UP, FILLIES AND MARES, 6 FURLONGS
1-7-3-6
#1 Lovely Lady Lexi (7/5): Ships up from Gulfstream Park, exiting a race where she got involved in a very tough pace duel and was eased. That field consisted of some strong front-runners; in contrast, this group has a lot of cheap speed. As such, it's likely she can sit on or near the pace and take advantage when they crumble. Any of her three races prior to her most recent start would smoke these. 
#7 Silver Sides (7/2): The best of the closers in this field, she's coming off a n/w2L claiming win where she stalked a hot pace and won going away. Might get a similar setup here, and while I don't think she's good enough to overhaul Lovely Lady Lexi late, she's a good candidate to pick up the pieces the others leave behind. 
#3 Determined Mission (4/1): The classic "plod along and get a piece" type. Closed to get fourth off a very fast pace last out, beaten a few lengths. A 1-7-3 cold trifecta could be the play here: might not pay much, but each of these three look to have great setups to finish in that order.
RACE 2: STARTER OPTIONAL CLAIMING ($25,000), 3-YEAR-OLDS AND UP, 6 FURLONGS
1-4-5-2
#1 Thundershook (7/2): Jamie Ness ships in a pair from Parx; this is the better half. He ran a good figure last out around two turns, but visually, it was not an impressive effort. Two races back, at six furlongs, despite checking in the stretch, he grinded on in the stretch to win by a nose. It was also his first start in more than four months. He's run great late pace figures in each of his last three, and should rally well into what looks like a fast pace. 
#4 Storming My Way (8/1): I'm willing to excuse that last race. It was his first start in almost six months, against slightly better horses, and he got involved in a tough three-way speed duel. He had been a stalker in his races prior to that, and with some quality speed in here, I trust that Marquez will take him just off the pace and let him do his thing. Last fall, he rattled off a winning streak of five in a row between Delaware Park and Parx, and was a winner in a tough field at this track before going to the sidelines. 
#5 Stroll Smokin (2/1): The aforementioned quality speed, the X-Man's plan has to be to just gun this one right to the front. He's won three of his last five dirt races, showing speed each time out. His last dirt race was particularly impressive; he set a very fast opening quarter while vying for command, dismissed his dueling partner, and held off the closers. 
RACE 3: MAIDEN SPECIAL WEIGHT, 3-YEAR-OLDS AND UP, FILLIES AND MARES, 1 1/8 MILES
4-6-10-1
#4 Somewhere Golden: Got some wagering action in her debut on dirt, and held well to finish fourth. Should take a step forward second time on the surface. 
#6 Sing Along Suzy: Another one who got wagering action in the same race Somewhere Golden debuted in. This filly raced wide throughout in that spot and was a non-factor. Last out, she showed speed and ended up a bit closer. That change in pace makes her intriguing. 
#10 Incontrovertible: Came from way out of it to grab third in her debut, which was at six furlongs. Now, she's stretching out in distance, which should do her some good. 
g ANALYSIS
RACE 4: ALLOWANCE OPTIONAL CLAIMING (N/W2X), 3-YEAR-OLDS AND UP, 6 FURLONGS
6-1-2-7
#6 Almithmaar (5/1): Kentucky shipper goes first off the claim for Hugh McMahon. His race three starts back was ridiculously impressive: he rallied wide and wore down the leader to win at Churchill, which is not easy to do at that track. Next out, he went 1 1/16 miles and couldn't last at that distance. Most recently, he was an even fourth against a much better n/w2x allowance group at Keeneland. Has a strong middle kick and should roll on the turn.  
#1 Cerulean Springs (4/1): Deep closer goes first off the claim for Claudio Gonzalez. He ran his lowest recent brisnet figure, but his best late pace figure, in his last start, rallying late to get second. Unless he really wakes up in the new barn, I fear his rally may fall short once again, but he has to be respected for underneath spots in the exotics. 
#2 Bull Shark (2/1): Undefeated Maryland-bred made his first start off a very long layoff last out. It wasn't flashy, but it was professional: he stalked the pace and edged his way by late. To bet him, you're betting that he'll take a big step forward in his fourth career start, and his second start off the break. It's a sound proposition, but I don't know if it's worth his 2/1 morning line. 
RACE 5 – STARTER OPTIONAL CLAIMING $25,000, 3-YEAR-OLDS AND UP, 1 MILE
11-5-7-13
#11 Extra Medium: Runs for the trainer/jockey team of Gonzalez and Angel Cruz, which has been a hot one as of late. He ships in from Parx, where he was a strong-closing third last out in his first race in more six months. He might need every bit of the long stretch to get by, but it'll still be a powerful punch. 
#7 Ludicrous Mode: Broke his maiden in solid style two dirt races back, despite never changing leads. Another one with lots of late speed, his recent grass races here and at Colonial Downs show that he's taken a big step forward since coming off the layoff. 
#5 My Good Man: He's gone south in his last two dirt starts, but he steadily ran figures in the 80s on the dirt last year. I'm willing to give him one more chance, in his third start of the year.
RACE 6: ALLOWANCE (OPEN), 3-YEAR-OLDS AND UP, 7 FURLONGS
2-3-5-6
#2 Eastern Bay (3/1): Quite possibly the showdown of the meet in this race: Eastern Bay v. Laki. I'll give the slight edge to Eastern Bay, who's seeking his third win in a row. He was dominant at the n/w2x level last out, winning by 6 1/2 lengths while improving his figure for the fourth straight race. His figures aren't quite as good as Laki's, at least not yet, but he's got a powerful middle punch that should be able to outkick those of the others. 
#3 Laki (8/5): Gonzalez/Cruz is one of the big trainer/jockey combos at the meet; Damon Dilodovico and Horacio Karamanos is the other. They'll team up on this lovable gelding, who wore down the leader to win the Oceanport Centennial Stakes two back, then was second at this level last out as the favorite. If he had a clear path on the turn in that race, he may very well have won. Has to be respected.
#5 Threes Over Deuces (6/1): The runner-up to Firenze Fire in the General George Stakes earlier this year, he was outkicked by Laki in his last start, getting up for third. Two starts back, he snapped a long losing streak with a nice win against n/w2x allowance horses. He's a steady closer who's a dependable bet to hit the board, but getting by Eastern Bay and Laki in the stretch will be tough.
ANALYSIS
RACE 7 – MAIDEN CLAIMING $16,000, 3-YEAR-OLDS AND UP, 1 MILE
15-4-6-7
#15 Single Focus: He was improving his figures towards the end of last year, running a few in the 70s, before hitting the sidelines. Got a race under his belt last out at Colonial Downs, finishing third after leading briefly in the stretch. Should take another step forward here.
#4 Lifespan: Has shown speed and tired in each of his three starts, but this is also the easiest field he's ever seen. The mile might be too far for him, but if he can get a cozy enough lead, no one might be able to catch him.
#6 Tophat N Whitetie: Another one who should show speed. Trainer Lynn Ashby is a solid 5-for-12 with horses off a 46-90 day break, and it's his third start of the year, to boot.
RACE 8: ALLOWANCE OPTIONAL CLAIMING (N/W2X), 3-YEAR-OLDS AND UP, FILLIES AND MARES, 1 MILE
11-10-12-9
#11 It's the Journey: She's quickly rounded back into form, with wins in here last two, here and at Parx. That's a scary proposition for the rest of the field, considering she's earned figures in the 90s in those two races. Should have these at her mercy.
#10 Breviary: Lightly-raced filly has never lost against winners, reeling off victories in her last two. She closed well in her last start to catch a very weary leader in a three-horse photo. It's the Journey is not going to stop in the stretch like that horse did, but Breviary is nevertheless a promising filly who's a good bet to complete the exacta.
#12 Ebullient: Third in the Christiana Stakes last year at Delaware, and she received wagering action in her last dirt start, which was washed off the grass at Gulfstream Park. She tired after making a premature move, but should improve with a better-timed ride here.
RACE 9: MAIDEN CLAIMING $10,000, 3-YEAR-OLDS AND UP, 6 FURLONGS 
2-1-4-6
#2 Palace Kid (3/5): You don't see 3/5 morning lines too often, but if anyone deserves one, it's this guy. He finished second in a relatively salty race last time out, and now goes third off the layoff for Gonzalez. If he runs back to his figure of 72, the only question is how many lengths he wins by.
#1 Cold Sweat (5/1): Interesting to see Cruz take the mount on this one, rather than the Gonzalez charge. This horse has tons of speed from the inside post, and will almost certainly be gunned to the top right from the start. He set fractions that were too fast last time; ideally, Cruz will try to slow things down early on.
#4 Heart Hero (6/1): Makes his first start of the year, and drops to this level for the first time, after a few tries for $40,000. He's got grass experience, and has been working well on both surfaces, so his people might use this race as a prep for another spot down the road.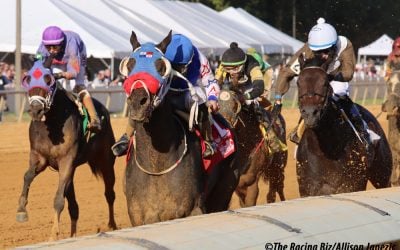 We provide full-card picks and analysis for this afternoon's races at Laurel Park.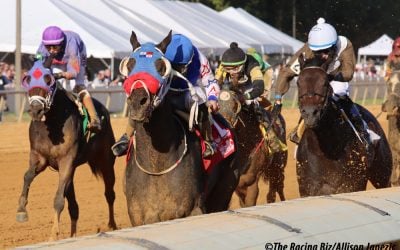 We provide full-card picks and analysis for this afternoon's races at Laurel Park.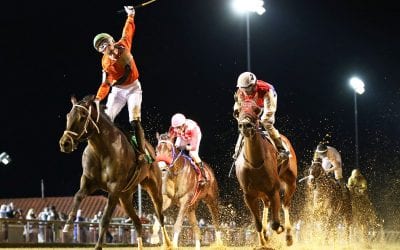 Full-card picks and analysis for this evening's live racing card from Charles Town Races!