Laurel Park picks and ponderings August 15, 2020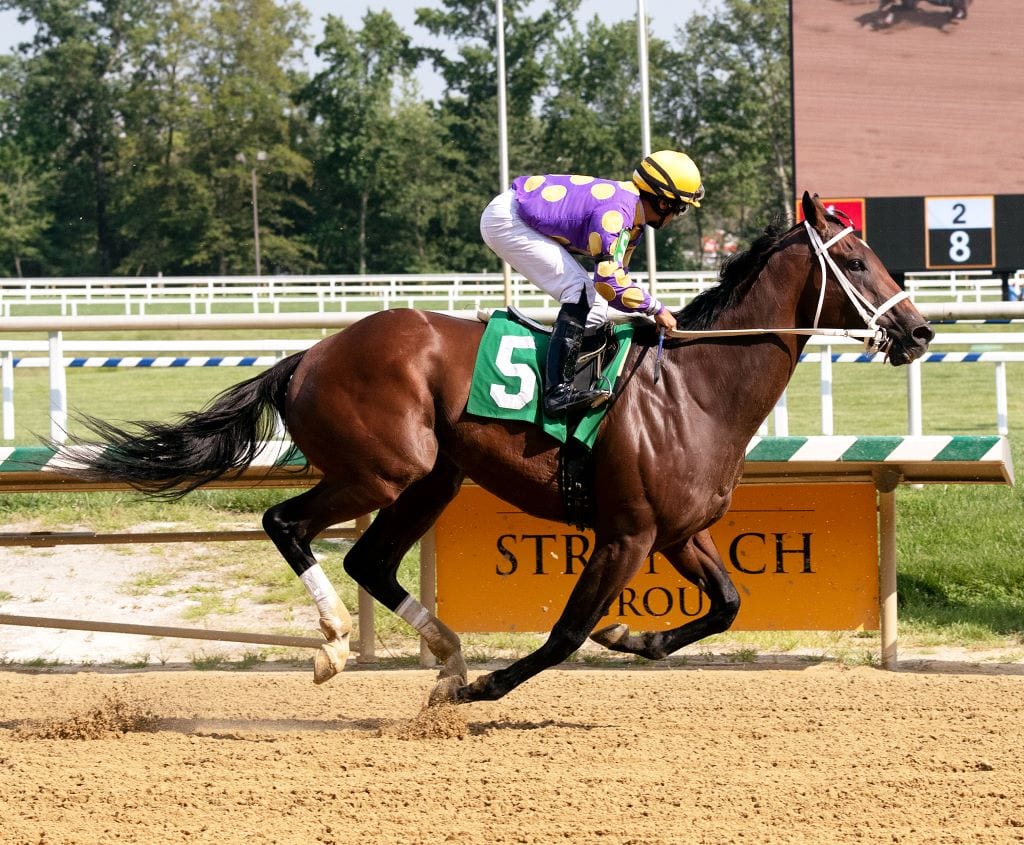 Old Time Revival.
In which we pick the races from Laurel Park each day…
Post time: 12:40 p.m.
Carryovers: Rainbow Jackpot Pick 6 — $966 Super High 5 — $0 Late Pick 5 — $0
Notable: Until further notice, no fans are allowed to attend the races at Laurel Park. For more info, click here.
ANALYSIS
RACE 1: CLAIMING $10,000 (CONDITIONED), 3-YEAR-OLDS AND UP, FILLIES AND MARES, 1 MILE
5-4-7-6
#5 Princess Georgia (9/2): Has the best last-out dirt brisnet figure in the field, having earned a 79 while finishing up the track in a starter allowance affair. This'll be her third race off the layoff, and she went right back to that lifetime-best form first off the bench. Could improve even further here. 
#4 Queen of Cause (12/1): When she gets to the lead in dirt races, she's able to cruise. When she doesn't, she doesn't run as well, notwithstanding a grass win two starts back in a race that completely fell apart. Looks like the dominant speed in here. That bodes well for her chances. 
#7 Amphirite (7/5): Claudio Gonzalez has been heating up over the past few days after hitting a bit of a rocky patch, and he sends out a live one here. In her most recent start, against similar horses, she battled on down the stretch, but couldn't quite get there and lost  by 3/4 of a length. This is an easier field here, and should be able to reel in the early leaders if they don't get too loose. 
RACE 2: STARTER OPTIONAL CLAIMING $16,000, 3-YEAR-OLDS AND UP, FILLIES AND MARES, 5 1/2 FURLONGS
5-10-11-3
#5 Grace Isabella: After a few races where she was in way over her head, she finally drops to the more reasonable starter optional claiming level. She steadily runs figures in the mid-70s/upper-80s, which would be good enough to win this one. 
#10 Lady Magica: Ness has also held a hot hand recently, hitting the board with seven of his last nine Laurel starters. Along with Starting Tour, drawn directly to her outside, she's the primary early speed of the field. This'll be her first race since February 9, but has been working well at Delaware Park. 
#11 Starting Tour: Stalked the pace in her last two races at Delaware, with good results: a win two back, a clear-cut second last out. As noted, Lady Magica is a pure speed horse, and Starting Tour is drawn right outside of her. Marquez would be well-advised to pour the pressure on Lady Magica just to her outside, then pounce and draw off. 
RACE 3: MAIDEN SPECIAL WEIGHT, 3-YEAR-OLDS AND UP, 1 MILE
1-6-2-3
#1 Flatter Me (4/5): Saratoga shipper makes his third start off the layoff for Tim Hills, and has speed figures that tower over those of the rest. It would be remarkable if he didn't crush this field. 
#6 Souper Houdini (9/2): Improved up to an 80 in his third career start, grinding on the inside to get second in maiden claiming company. He doesn't have enough early speed to contend in the opening moments, but he looks fast enough late to box on and pass some straggling rivals late. 
#2 Commissioner G (6/1): Got involved in a pace battle last out at Monmouth Park, and gave way. Two races ago, he came from off the pace in a sprint at Delaware, and finished a strong-closing fourth. There's no easy answers in a one-turn mile, but I know he'd be best advised to not get tangled up with someone else on the lead again. 
ANALYSIS
RACE 4: CLAIMING $12,500, 3-YEAR-OLDS AND UP, 5 1/2 FURLONGS
4-8-1-5
#4 Smart Step: Ran well second off the layoff to run down a loose leader who set a rather slow opening quarter. Steadily ran in the upper 80s/low 90s last year, and his figure of 85 from last out is the best in the field by five points.  
#8 Fly E Dubai: His best dirt races have come at Penn National; when he moved to the Laurel dirt a few times over the winter, his figures declined sharply. Still, he has a win over this track in the past, and gets hot-riding Angel Cruz in the saddle for the first time. Should stalk and pounce.
#1 Lion Lord: He only knows one way to run: go as fast as you can as far as you can. Last out, he was clear in the last eighth, before hitting the wall. His best recent races have come without pace pressure, and he looks fast enough to sneak away from this field and have his own way on the front end. 
RACE 5 – CLAIMING $5,000, 3-YEAR-OLDS AND UP, FILLIES AND MARES, 1 MILE
5-7-1-2
#5 Blue Suade Guitar (8/5): A bit of an interesting spot for her first race off a long layoff. She was stakes-placed at Delta Downs over the winter, and while those races aren't the toughest ones in the world, it's still kind of strange to see her in a $5,000 claimer here. Fortunately for her, no one else in this field is very strong, and if she goes back to her form over the winter, she'll have an easy time of this group. 
#7 Cassidy Avenue (3/1): Started going sour over the winter, so she was put away for a little bit by Phil Schoenthal. She wasn't a factor in her first start back, but that was on grass, and likely served as a prep for a spot like this one. Had an impressive win against n/w1x allowance foes on December 28, closing off a slow pace to win with a big figure. I'm betting that Schoenthal has her back to that level. 
#1 Petion Lass (5/1): Closed well in each of her last two races, running figures in the mid-70s both times. Unfortunately for her, there isn't a lot of speed signed on here, so she's not going to have a pace to close into. A better candidate for underneath spots. 
RACE 6: MAIDEN CLAIMING $16,000, 3-YEAR-OLDS AND UP, 5 1/2 FURLONGS
12-8-6-5
#12 Confectioner: Ran on well last out to finish second, behind runaway winner Robber Bob. That rival came back to win a n/w2L claiming race at Colonial Downs going away. He's earned figures in the 70s in his two dirt races; no one in here can come close to those. This race is his to lose. 
#8 Junior Jumper: Got fanned five-wide in the stretch of his most recent dirt start, and held on for a non-factoring fourth. He's run figures in the low 70s in the past, and makes his third start of the year here. If he gets back to that form, he can finish underneath Confectioner. 
#6 Got You Beat: Lightly-raced gelding drops in class from the $40,000 level, after getting himself involved in a torrid speed duel last out. He ran a career-best figure of 68 when debuting at 6 1/2 furlongs, and struggled when stretching out to a mile. Cutting back should help.
 ANALYSIS
RACE 7 – CLAIMING $5,000 (N/W2L), 3-YEAR-OLDS AND UP, 6 FURLONGS
3-2-5-1
#3 Irishtown (5/1): Outside of one bad effort where he ducked out at the start, he's been steadily running figures in the 70s, and made up tons of ground for a heroic second place finish at 34/1 last out. I don't like how many tries he's had at the n/w2L level (four at this meet), but he's rounding into peak form, and will be tough.
#2 Talented Dr. B (5/2): Goes first off the claim for Ricardo d'Angelo, who is 26% with that angle, albeit in a rather small sample size. He's cutting back in here from a mile, and should do his best running towards the end. 
#5 Five Card Draw (3/1): Stays at the n/w2L claiming level, but drops from the $16,000 claiming price. Steadily runs figures in the high 60s, which aren't good enough to contend at that upper class, but down here, he should fit in snugly. Look for him to be midpack early on. 
RACE 8: ALLOWANCE  (N/W1X), 3-YEAR-OLDS AND UP, 5 1/2 FURLONGS
7-1-4-5
#7 Francatelli: He impressed in his only dirt start so far, zooming out to the lead, setting a furious pace, and holding on well for a clear-cut second. There's lots of speed in here, but he looks fast enough to outrun them all. A major player for sure. 
#1 Padrino's Heart: If the race does fall apart on the front end, this guy is the most likely candidate to pick up the pieces. He usually sits just off the pace, and if he can rate on the rail while the rest of the pure speedsters duke it out, he'll get first run should they fall apart. I would've liked to see him show more punch last out at Delaware, but at least he didn't back up. 
#4 Xmasinthecity: In his dirt debut last out, he chased a free-running rival around to get a clear-cut second. He hasn't raced since that November outing, but his workouts ever since have been strong. Another one who could take advantage of a pace meltdown. 
RACE 9: MAIDEN CLAIMING $25,000, 3-YEAR-OLDS AND UP, 5 1/2 FURLONGS
3-8-5-2
#3 Xtremelyexclusive: Stalked the pace and tired in his last dirt start against better at Gulfstream Park, still running in the mid-70s. Steve Klesaris should have this one ready to go first time up from Florida. 
#8 Native Courage: Going from maiden special weights at Charles Town to this level here is probably about an equidistant class change. Closed well to get third last out, running a career-high figure by ten points. Can he keep the improvement going?
#5 Cool Hand Coop: Would've been a deserving odds-on choice if this race had stayed on grass; his recent form on that surface would bury these. He's shown some life on dirt, too: in his most recent dirt race, back in January 2019, he prompted the pace and led briefly in the stretch of a mile contest at Gulfstream Park. Any spark of ability in a race like this is welcome, and that qualifies as a spark.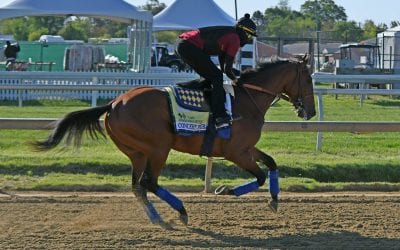 The fourth Kentucky Derby future wagering pool will kick off Friday, and 2yo champ Forte is the top individual choice on the morning line.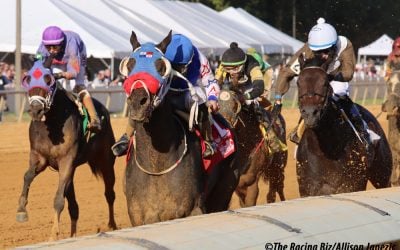 We provide full-card picks and analysis for this afternoon's races at Laurel Park.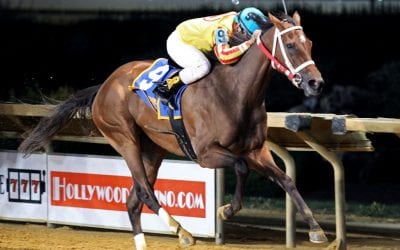 We provide picks and analysis for this evening's card at Charles Town Races.