WHO TOPS LATEST TOP MIDLANTIC JOCKEY RATINGS?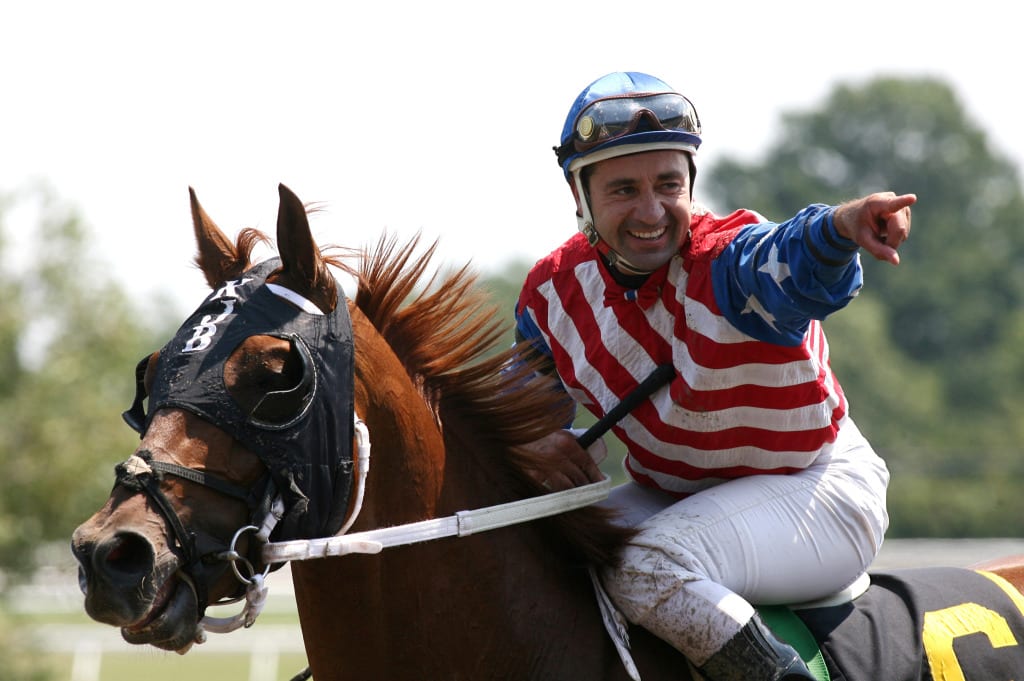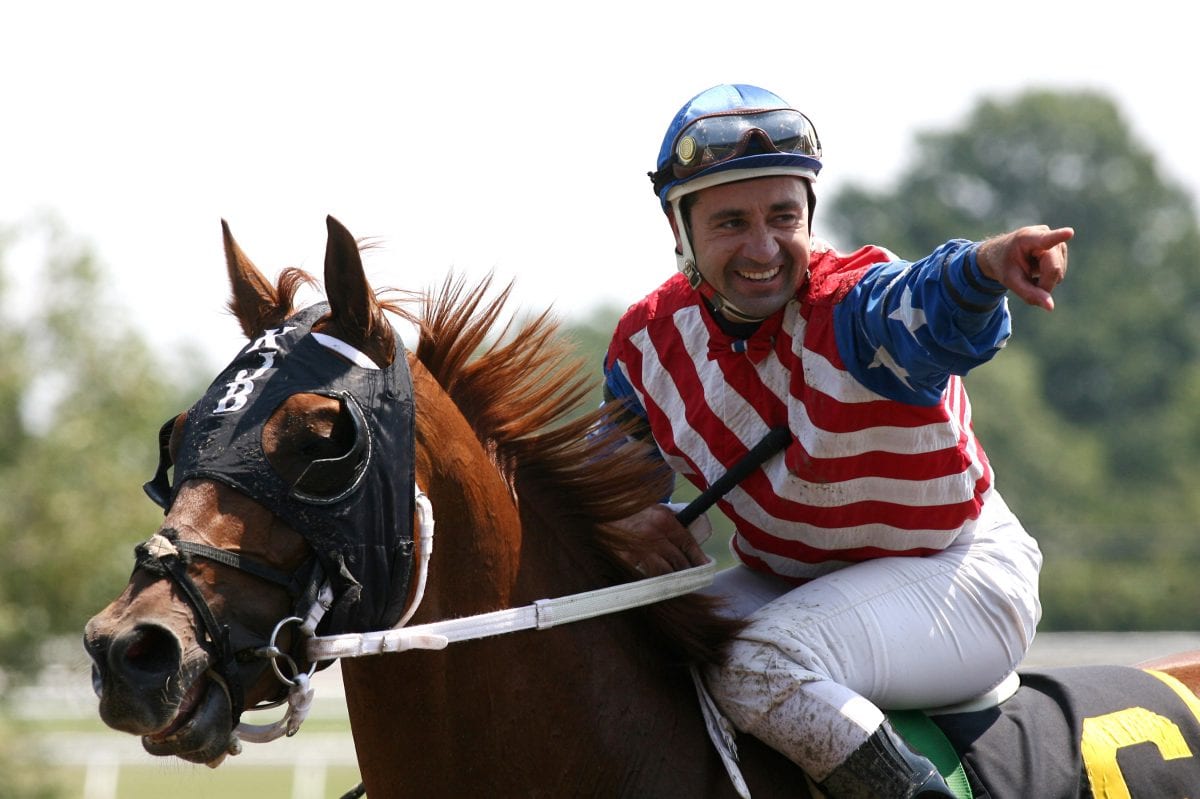 Frank Vespe

August 13, 2020
With 17 wins from 55 starts during the Monmouth Park meet – among them four stakes triumphs, including in the Grade 1 United Nations – journeyman rider Joe Bravo has moved to the head of the class in the Top Midlantic Jockey ranks through August 10.
Bravo has 5.433 points. That leaves him well clear of Edwin Gonzalez, whose efforts, primarily at Penn National and also at Delaware Park, have given him 37 wins and 4.684 points.
The ranks are compiled by comparing each jockey's performance in three metrics – win percentage, earnings per start, and $2 wagering return on investment – to the average of the top 25 jockeys by starts at that track. The average of the top 25 at each track ranges from approximately 2.40 points to 2.70 points. The average for the top 121 riders — those with at least one win and at least 20 starts at at least one track — was 2.717.
Bravo ranked second on the list a week ago, while Gonzalez was third. Both were behind Jeremy Laprida, who after an 0-for-10 week has dropped from first to 12th with 3.910 points.
Bravo and Gonzalez are followed by a pair of Charles Town-based riders in Arnaldo Bocachica (4.559 points) and Christian Hiraldo (4.515). Third and fourth this week, they ranked fourth and fifth a week ago.
A pair of riders based at Parx Racing are fifth and sixth in the rankings. Angel Castillo, with 16 wins from 78 starts, ranks fifth, while Mychel Sanchez, who leads that track in starts (133) and wins (32) is sixth with 4.373 points.
They are followed by Delaware Park-based Carol Cedeno. She has 38 wins from 168 starters, good for 4.019 points. Cedeno moved up from 14th to eighth after a week in which she won with eight of 27 starters.
Feargal Lynch is the top Laurel Park-based rider, with 3.887 points and an overall rank of 14th.
Only two riders are among the top 25 by starts at more than two tracks. Trevor McCarthy, who, remarkably enough, qualifies at four different tracks, ranks 15th overall with 3.876 points. He has 52 wins from 233 starts. And Tyler Conner qualifies at three different tracks; his 17 wins from 142 starts have him ranked 61st overall with 2.428 points.
The list includes all trainers among the top 25 by starters – including ties – at Charles Town, Colonial Downs, Delaware Park, Laurel Park, Monmouth Park, Parx Racing, and Penn National. It includes only races contested since May 15.
What did last week's list look like?
TOP MIDLANTIC JOCKEY RATINGS
| RANK | JOCKEY | RATINGS POINTS | STARTS | WINS |
| --- | --- | --- | --- | --- |
| 1 | Bravo Joe | 5.433 | 55 | 17 |
| 2 | Gonzalez Edwin | 4.684 | 113 | 37 |
| 3 | Bocachica Arnaldo | 4.559 | 159 | 47 |
| 4 | Hiraldo Christian | 4.515 | 111 | 23 |
| 5 | Castillo Angel | 4.481 | 78 | 16 |
| 6 | Sanchez Mychel J | 4.373 | 133 | 32 |
| 7 | Lopez Paco | 4.217 | 114 | 35 |
| 8 | Cedeno Carol | 4.019 | 168 | 38 |
| 9 | Caballero Hector | 3.970 | 58 | 8 |
| 10 | Pennington Frankie | 3.969 | 91 | 22 |
| 11 | Acosta J D | 3.947 | 118 | 21 |
| 12 | Laprida Jeremy | 3.910 | 43 | 9 |
| 13 | Montano Jose | 3.896 | 44 | 8 |
| 14 | Lynch Feargal | 3.887 | 61 | 12 |
| 15 | Mccarthy Trevor | 3.876 | 233 | 52 |
| 16 | Thorpe Darius | 3.831 | 95 | 19 |
| 17 | Russell Sheldon | 3.784 | 110 | 21 |
| 18 | Karamanos Horacio | 3.636 | 145 | 25 |
| 19 | Alvarado Jr Roberto E | 3.611 | 72 | 11 |
| 20 | Pimentel Julian | 3.607 | 88 | 16 |
| 21 | Crispin Alexander | 3.605 | 79 | 18 |
| 22 | Toledo Jevian | 3.589 | 186 | 30 |
| 23 | Gallardo Antonio A | 3.542 | 88 | 16 |
| 24 | Beato Inoel | 3.519 | 75 | 13 |
| 25 | Whitacre Grant | 3.453 | 31 | 4 |
| 26 | Suarez Angel | 3.438 | 155 | 22 |
| 27 | Chiappe Ricardo | 3.409 | 78 | 14 |
| 28 | Wolfsont Andrew | 3.389 | 65 | 11 |
| 29 | Latchman Reshawn | 3.375 | 172 | 28 |
| 30 | Peltroche Fredy | 3.307 | 79 | 11 |
| 31 | Silvera Ruben | 3.297 | 113 | 17 |
| 32 | Ho Wesley | 3.221 | 117 | 18 |
| 33 | Rodriguez Jaime | 3.202 | 65 | 10 |
| 34 | Marquez Charlie | 3.184 | 163 | 23 |
| 35 | Peterson Ferrin | 3.159 | 82 | 17 |
| 36 | Almodovar Gerald | 3.120 | 123 | 20 |
| 37 | Pedroza Brian | 3.071 | 38 | 6 |
| 38 | Lopez Antonio | 3.047 | 147 | 18 |
| 39 | Rosales Victor | 3.026 | 85 | 10 |
| 40 | Villa-Gomez Huber | 3.021 | 30 | 4 |
| 41 | Perez Xavier | 2.956 | 113 | 15 |
| 42 | Boyce Forest | 2.944 | 91 | 15 |
| 43 | Diaz Vladimir | 2.943 | 53 | 7 |
| 44 | Ferrer Jose C | 2.894 | 86 | 12 |
| 45 | Batista Luis A | 2.861 | 131 | 19 |
| 46 | Otero William P | 2.855 | 53 | 8 |
| 47 | Cora David | 2.827 | 73 | 10 |
| 48 | Coa Keiber J | 2.724 | 52 | 7 |
| 49 | Gonzalez Silvestre | 2.702 | 71 | 9 |
| 50 | Haddock Dexter | 2.695 | 74 | 8 |
| 51 | Lyapustina Tais | 2.635 | 61 | 7 |
| 52 | Rivera Javier | 2.600 | 41 | 5 |
| 53 | Adorno Abner | 2.588 | 117 | 14 |
| 54 | Gomez Kevin | 2.579 | 96 | 8 |
| 55 | Hernandez Julio A | 2.573 | 103 | 18 |
| 56 | Carrasco Victor R | 2.558 | 84 | 9 |
| 57 | Mejia Tomas B | 2.551 | 64 | 8 |
| 58 | Cruz Angel | 2.494 | 119 | 12 |
| 59 | Montanez Rosario | 2.457 | 70 | 7 |
| 60 | Davis Katie | 2.438 | 52 | 5 |
| 61 | Conner Tyler | 2.428 | 142 | 17 |
| 62 | Torres Jomar | 2.352 | 95 | 11 |
| 63 | Diaz Jr Sunday | 2.304 | 160 | 18 |
| 64 | Juarez Nik | 2.304 | 89 | 11 |
| 65 | Larrosa Gustavo | 2.301 | 95 | 9 |
| 66 | Ocasio Luis M | 2.282 | 72 | 8 |
| 67 | Bisono John | 2.220 | 24 | 3 |
| 68 | Scampton Brittany | 2.205 | 48 | 2 |
| 69 | Nunez Anthony Y | 2.205 | 64 | 7 |
| 70 | Ruiz Jorge | 2.202 | 114 | 11 |
| 71 | Panaijo Jorge | 2.188 | 42 | 2 |
| 72 | Villegas Jerry | 2.171 | 72 | 7 |
| 73 | Rodriguez Angel R | 2.170 | 82 | 9 |
| 74 | Corujo Leonardo | 2.169 | 28 | 2 |
| 75 | Rosado Johan | 2.166 | 102 | 10 |
| 76 | Bowman Adam | 2.150 | 68 | 7 |
| 77 | Maldonado Ramon R | 2.142 | 82 | 6 |
| 78 | Cintron Alex | 2.112 | 152 | 17 |
| 79 | Vargas Jr Jorge A | 2.087 | 57 | 5 |
| 80 | Diaz Jr Hector R | 2.075 | 103 | 13 |
| 81 | Labarre Rebecca G | 2.058 | 59 | 6 |
| 82 | Ortiz Yomar Orlando | 2.003 | 95 | 7 |
| 83 | Mangalee Navin | 2.002 | 33 | 3 |
| 84 | Hernandez Jann N | 1.916 | 30 | 3 |
| 85 | Garcia Wilmer A | 1.906 | 64 | 5 |
| 86 | Lopez Charles C | 1.903 | 29 | 4 |
| 87 | Whitney Dana G | 1.846 | 65 | 4 |
| 88 | Inirio Maicol J | 1.846 | 80 | 7 |
| 89 | Chaves Manuel | 1.842 | 20 | 1 |
| 90 | Trotman Keimar | 1.837 | 88 | 6 |
| 91 | Rodriguez Victor | 1.813 | 83 | 4 |
| 92 | Flores Jr Laureano | 1.813 | 31 | 2 |
| 93 | Rodriguezcastro LA | 1.786 | 51 | 5 |
| 94 | Hamilton Weston | 1.703 | 104 | 4 |
| 95 | Schneider Joseph | 1.686 | 67 | 5 |
| 96 | Milan Gerardo | 1.685 | 76 | 6 |
| 97 | Whisman Avery | 1.543 | 110 | 8 |
| 98 | Castillo Isaac | 1.516 | 82 | 5 |
| 99 | Morales Kelvin O | 1.491 | 100 | 6 |
| 100 | Mena Raul | 1.491 | 85 | 8 |
| 101 | Delgado Carlos J | 1.483 | 121 | 10 |
| 102 | Simpson Jason | 1.481 | 92 | 5 |
| 103 | Maragh Romero Ramsay | 1.414 | 37 | 4 |
| 104 | Rivera Edwin | 1.403 | 79 | 4 |
| 105 | Spanabel Skyler | 1.334 | 45 | 3 |
| 106 | Rodriguez Edilberto | 1.324 | 25 | 1 |
| 107 | Centeno Daniel | 1.229 | 50 | 3 |
| 108 | Lopez Erick | 1.216 | 20 | 1 |
| 109 | Vargas Jr Jorge L | 1.205 | 43 | 2 |
| 110 | Halliday Vince | 1.161 | 42 | 2 |
| 111 | Rosado Roberto J | 1.103 | 43 | 2 |
| 112 | Salgado Anthony | 1.090 | 51 | 3 |
| 113 | Betancourt Jose R | 1.054 | 43 | 1 |
| 114 | Davis Jacqueline A | 0.976 | 50 | 2 |
| 115 | Rocha Wladimir | 0.965 | 76 | 2 |
| 116 | Batista Jose A | 0.906 | 45 | 2 |
| 117 | Berticelli Lucas E | 0.866 | 50 | 2 |
| 118 | Hernandez Carlos J | 0.738 | 82 | 3 |
| 119 | Medina Jaime | 0.687 | 42 | 1 |
| 120 | Marrero Carlos | 0.558 | 53 | 1 |
| 121 | Rojas Jose F | 0.452 | 41 | 1 |
LATEST NEWS