WHO TOPS LATEST TOP MIDLANTIC JOCKEY RATINGS?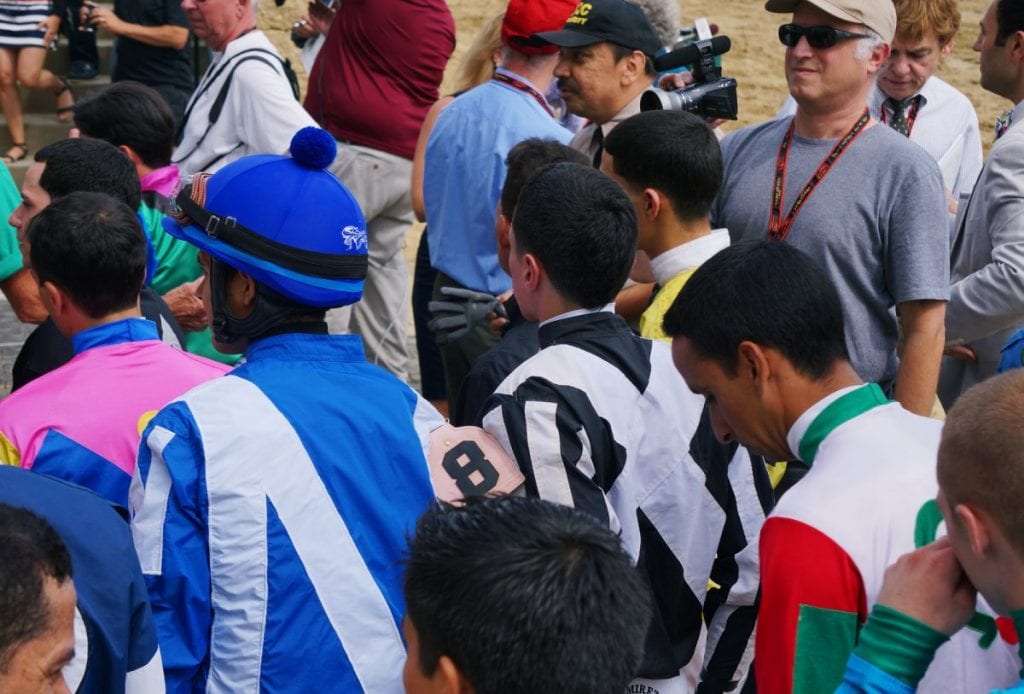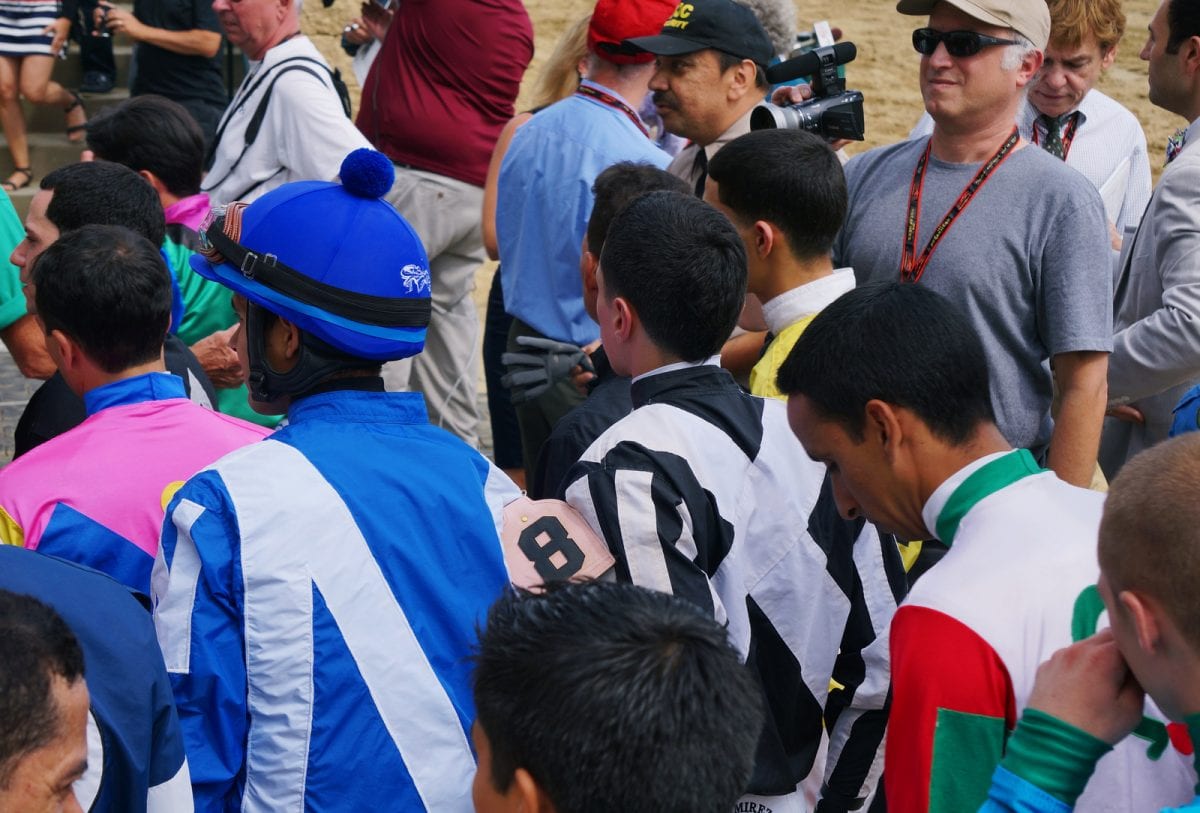 The rating system compares each rider to the average of the top 25 riders by starts at that track in the areas of win percentage, earnings per start, and wagering return on investment (that is, what a $2 win wager on every one of the rider's starts would have returned the bettor). Only jockeys that have made at least 20 total starts are included on the list.
We have made two tweaks to the calculations. First, we now base the calculations on the top 25 riders at each track by starts, limiting it to those that have won at least once, rather than the top 25 by wins.
Second, each rider's rating is now a composite rating including their scores from all tracks in the region at which they ride. Thus, for example, rather than there being three different scores for Trevor McCarthy – who'd been riding at Laurel, Monmouth, and Delaware – he now has a single combined score.
The average for all riders with at least 20 combined starts is 2.71 points. The top 47 riders all exceed that total, ranging from Laprida's 4.947 to the Delaware-based Abner Adorno, with 2.756.
At the other end of the list are 10 riders with scores under 1.00.
Arnaldo Bocachica, who is fourth overall, has 4.447 points to lead the Charles Town contingent of riders. He's just ahead of Christian Hiraldo (4.423 points), who is fifth overall.
Apprentice rider Alexander Crispin is the region's top bug rider and also the leader of riders at Delaware Park. He has 15 wins to date, and his 3.946 points put him in ninth overall.
Feargal Lynch and Sheldon Russell, who are in 10th and 12th places overall, respectively, head the riders based at Laurel Park. Lynch's 3.942 points stem from a 20% strike rate and high earnings per start, while Russell, who is currently out with a wrist injury, has 3.830 points.
The list includes all racing action through Sunday, August 2. It does not include racing at Colonial Downs, which to date has just four programs complete.
What did last week's list look like?
TOP MIDLANTIC JOCKEY RATINGS
| RANK | JOCKEY | TRACKS | STARTS | TOTAL POINTS | RATING |
| --- | --- | --- | --- | --- | --- |
| 1 | Laprida Jeremy | 2 | 33 | 163.2531596 | 4.947 |
| 2 | Bravo Joe | 1 | 47 | 224.1181398 | 4.768 |
| 3 | Gonzalez Edwin | 2 | 100 | 466.2967846 | 4.663 |
| 4 | Bocachica Arnaldo | 1 | 151 | 671.5642572 | 4.447 |
| 5 | Hiraldo Christian | 1 | 102 | 451.0970978 | 4.423 |
| 6 | Lopez Paco | 2 | 105 | 452.8769922 | 4.313 |
| 7 | Sanchez Mychel J | 2 | 134 | 573.2815652 | 4.278 |
| 8 | Castillo Angel | 1 | 65 | 266.9482759 | 4.107 |
| 9 | Crispin Alexander | 1 | 59 | 232.8043077 | 3.946 |
| 10 | Lynch Feargal | 1 | 61 | 240.4788255 | 3.942 |
| 11 | Montano Jose | 1 | 44 | 168.7470468 | 3.835 |
| 12 | Russell Sheldon | 2 | 110 | 421.2763183 | 3.830 |
| 13 | Beato Inoel | 1 | 64 | 244.2625048 | 3.817 |
| 14 | Cedeno Carol | 1 | 141 | 537.6574888 | 3.813 |
| 15 | Caballero Hector | 1 | 52 | 197.4646944 | 3.797 |
| 16 | Gallardo Antonio A | 1 | 77 | 290.357954 | 3.771 |
| 17 | Alvarado Jr Roberto E | 1 | 59 | 217.0088001 | 3.678 |
| 18 | Pimentel Julian | 1 | 78 | 286.2343607 | 3.670 |
| 19 | Mccarthy Trevor | 3 | 200 | 727.7338266 | 3.639 |
| 20 | Karamanos Horacio | 1 | 133 | 482.9667293 | 3.631 |
| 21 | Acosta J D | 1 | 112 | 403.6583868 | 3.604 |
| 22 | Silvera Ruben | 1 | 103 | 365.5767499 | 3.549 |
| 23 | Toledo Jevian | 2 | 167 | 586.291338 | 3.511 |
| 24 | Almodovar Gerald | 1 | 112 | 382.0308338 | 3.411 |
| 25 | Wolfsont Andrew | 1 | 56 | 190.8548146 | 3.408 |
| 26 | Suarez Angel | 1 | 130 | 441.17817 | 3.394 |
| 27 | Ho Wesley | 1 | 109 | 367.7468152 | 3.374 |
| 28 | Thorpe Darius | 1 | 86 | 288.3470995 | 3.353 |
| 29 | Rosales Victor | 1 | 76 | 254.6157451 | 3.350 |
| 30 | Peltroche Fredy | 1 | 79 | 257.1427329 | 3.255 |
| 31 | Ferrer Jose C | 1 | 71 | 231.0365731 | 3.254 |
| 32 | Pedroza Brian | 1 | 35 | 112.634374 | 3.218 |
| 33 | Pennington Frankie | 2 | 79 | 250.1936174 | 3.167 |
| 34 | Latchman Reshawn | 1 | 156 | 491.2961201 | 3.149 |
| 35 | Lopez Antonio | 1 | 134 | 420.4666871 | 3.138 |
| 36 | Otero William P | 1 | 47 | 146.6719926 | 3.121 |
| 37 | Whitacre Grant | 1 | 20 | 62.35909773 | 3.118 |
| 38 | Villa-Gomez Huber | 1 | 29 | 88.10100947 | 3.038 |
| 39 | Diaz Vladimir | 1 | 46 | 137.329603 | 2.985 |
| 40 | Marquez Charlie | 2 | 148 | 437.406818 | 2.955 |
| 41 | Batista Luis A | 1 | 121 | 355.0090723 | 2.934 |
| 42 | Lyapustina Tais | 1 | 56 | 160.9749426 | 2.875 |
| 43 | Cora David | 1 | 64 | 183.274742 | 2.864 |
| 44 | Conner Tyler | 2 | 100 | 283.4646983 | 2.835 |
| 45 | Peterson Ferrin | 1 | 64 | 177.9188722 | 2.780 |
| 46 | Ocasio Luis M | 1 | 56 | 154.9277987 | 2.767 |
| 47 | Adorno Abner | 1 | 99 | 272.8691832 | 2.756 |
| 48 | Centeno Daniel | 2 | 66 | 177.6769014 | 2.692 |
| 49 | Chiappe Ricardo | 1 | 66 | 176.7949571 | 2.679 |
| 50 | Perez Xavier | 2 | 100 | 263.2240167 | 2.632 |
| 51 | Panaijo Jorge | 1 | 33 | 85.89911975 | 2.603 |
| 52 | Carrasco Victor R | 2 | 84 | 216.7720854 | 2.581 |
| 53 | Gomez Kevin | 1 | 86 | 221.7873305 | 2.579 |
| 54 | Mangalee Navin | 1 | 23 | 59.09231725 | 2.569 |
| 55 | Davis Katie | 1 | 45 | 113.5558271 | 2.523 |
| 56 | Montanez Rosario | 1 | 70 | 174.1512267 | 2.488 |
| 57 | Scampton Brittany | 1 | 41 | 100.451842 | 2.450 |
| 58 | Ruiz Jorge | 1 | 80 | 195.0362564 | 2.438 |
| 59 | Gonzalez Silvestre | 1 | 62 | 150.6258642 | 2.429 |
| 60 | Rodriguez Angel R | 1 | 66 | 160.0582163 | 2.425 |
| 61 | Nunez Anthony Y | 1 | 52 | 123.8678078 | 2.382 |
| 62 | Rosado Johan | 1 | 94 | 222.725624 | 2.369 |
| 63 | Torres Jomar | 2 | 78 | 184.7096462 | 2.368 |
| 64 | Flores Jr Laureano | 1 | 23 | 54.32347168 | 2.362 |
| 65 | Villegas Jerry | 1 | 65 | 151.617193 | 2.333 |
| 66 | Haddock Dexter | 1 | 65 | 150.8031861 | 2.320 |
| 67 | Rivera Javier | 1 | 38 | 86.1058539 | 2.266 |
| 68 | Hernandez Julio A | 1 | 87 | 191.3662043 | 2.200 |
| 69 | Larrosa Gustavo | 1 | 88 | 191.9467643 | 2.181 |
| 70 | Bowman Adam | 1 | 59 | 127.6748725 | 2.164 |
| 71 | Vargas Jr Jorge A | 2 | 53 | 114.3517282 | 2.158 |
| 72 | Coa Keiber J | 1 | 24 | 51.7048245 | 2.154 |
| 73 | Mejia Tomas B | 1 | 55 | 118.3478662 | 2.152 |
| 74 | Diaz Jr Hector R | 1 | 88 | 186.8347309 | 2.123 |
| 75 | Cintron Alex | 2 | 138 | 282.342333 | 2.046 |
| 76 | Ortiz Yomar Orlando | 1 | 83 | 169.0299061 | 2.037 |
| 77 | Rodriguez Jaime | 1 | 45 | 90.12078541 | 2.003 |
| 78 | Whitney Dana G | 1 | 59 | 115.2108818 | 1.953 |
| 79 | Diaz Jr Sunday | 1 | 147 | 286.4087357 | 1.948 |
| 80 | Juarez Nik | 1 | 72 | 138.5627312 | 1.924 |
| 81 | Garcia Wilmer A | 1 | 53 | 100.0432369 | 1.888 |
| 82 | Inirio Maicol J | 1 | 69 | 129.935876 | 1.883 |
| 83 | Boyce Forest | 1 | 56 | 105.1101802 | 1.877 |
| 84 | Hamilton Weston | 1 | 97 | 174.5446735 | 1.799 |
| 85 | Rodriguez Victor | 1 | 83 | 148.128245 | 1.785 |
| 86 | Cruz Angel | 1 | 104 | 178.1729618 | 1.713 |
| 87 | Maldonado Ramon R | 1 | 77 | 131.4497871 | 1.707 |
| 88 | Castillo Isaac | 1 | 65 | 110.7063598 | 1.703 |
| 89 | Trotman Keimar | 1 | 80 | 135.131784 | 1.689 |
| 90 | Whisman Avery | 1 | 86 | 142.7137517 | 1.659 |
| 91 | Schneider Joseph | 1 | 67 | 110.898609 | 1.655 |
| 92 | Simpson Jason | 1 | 80 | 131.9341079 | 1.649 |
| 93 | Bisono John | 1 | 22 | 34.62830499 | 1.574 |
| 94 | Delgado Carlos J | 1 | 112 | 172.3633777 | 1.539 |
| 95 | Rivera Edwin | 1 | 69 | 105.6627388 | 1.531 |
| 96 | Morales Kelvin O | 1 | 94 | 142.6473969 | 1.518 |
| 97 | Milan Gerardo | 1 | 62 | 93.93803004 | 1.515 |
| 98 | Spanabel Skyler | 1 | 36 | 50.99483998 | 1.417 |
| 99 | Rodriguez Edilberto | 1 | 23 | 31.80068789 | 1.383 |
| 100 | Labarre Rebecca G | 1 | 30 | 40.56895237 | 1.352 |
| 101 | Halliday Vince | 1 | 36 | 47.74983324 | 1.326 |
| 102 | Vargas Jr Jorge L | 1 | 37 | 48.50359741 | 1.311 |
| 103 | Rosado Roberto J | 1 | 35 | 44.0693511 | 1.259 |
| 104 | Hernandez Jann N | 1 | 27 | 33.08703587 | 1.225 |
| 105 | Mena Raul | 1 | 70 | 78.08106645 | 1.115 |
| 106 | Rocha Wladimir | 1 | 71 | 70.55723471 | 0.994 |
| 107 | Davis Jacqueline A | 1 | 50 | 48.50853035 | 0.970 |
| 108 | Salgado Anthony | 1 | 47 | 40.93003338 | 0.871 |
| 109 | Medina Jaime | 1 | 32 | 27.11106401 | 0.847 |
| 110 | Rodriguezcastro LA | 1 | 41 | 29.38014022 | 0.717 |
| 111 | Batista Jose A | 1 | 35 | 24.95796745 | 0.713 |
| 112 | Hernandez Carlos J | 1 | 66 | 43.35368554 | 0.657 |
| 113 | Berticelli Lucas E | 1 | 44 | 27.13835086 | 0.617 |
| 114 | Maragh Romero Ramsay | 1 | 27 | 15.69317696 | 0.581 |
| 115 | Rojas Jose F | 1 | 34 | 17.76395393 | 0.522 |
LATEST NEWS