WHO LEADS TOP MIDLANTIC TRAINER RANKS?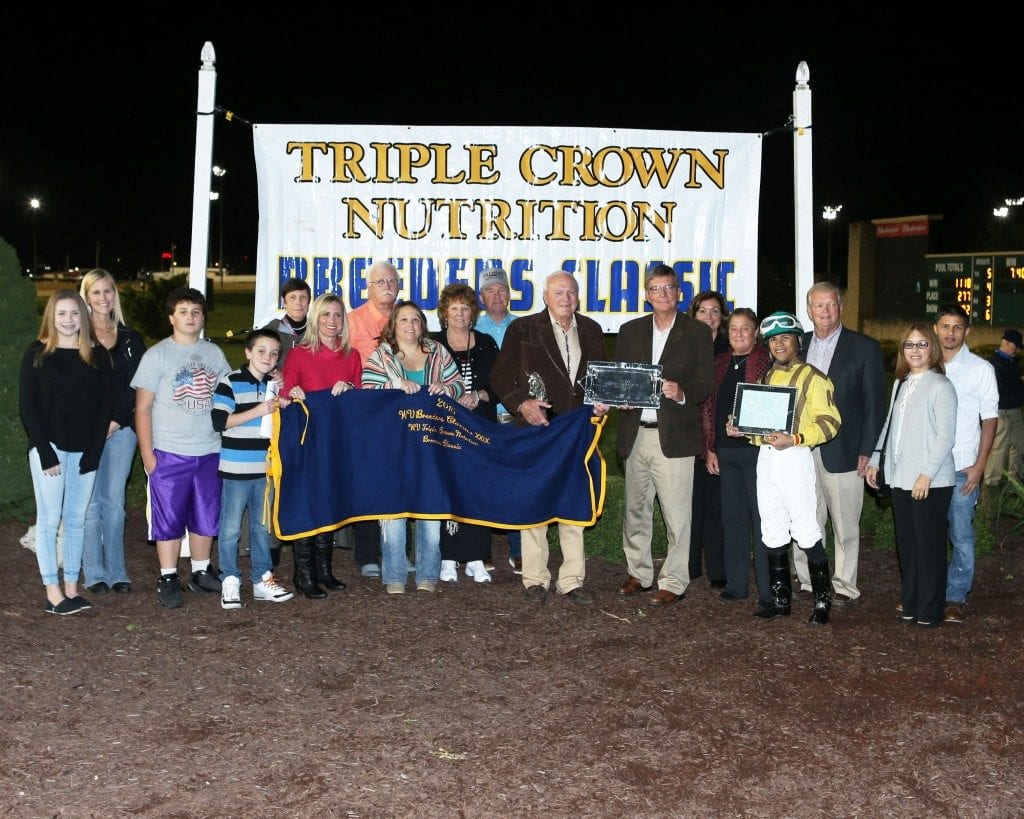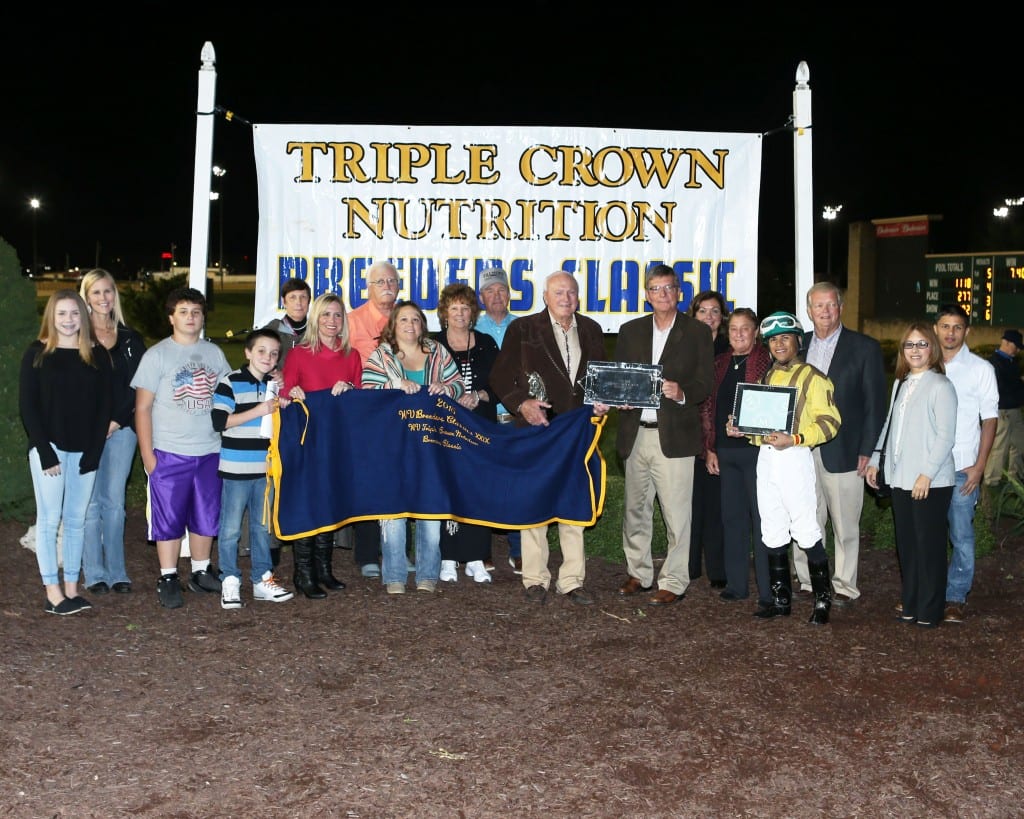 Farrior, who has won with 19 of 47 starters at Charles Town, has 5.452 points and a clear lead in the region – nearly a half-point ahead of current runner-up Bernie Houghton. Farrior has led the ranks all three weeks.
The ranks are compiled by comparing each trainer's performance in three metrics – win percentage, earnings per start, and $2 wagering return on investment – to the average of the top 25 trainers by starts at that track. The average of the top 25 at each track ranges from approximately 2.60 points to 2.72 points.
Farrior is one of three Charles Town trainers in the top 10 of the ranks. In third place overall is Kevin Patterson, who has won with 12 of 27 starters (44%) and has 4.681 points. Patterson had not made sufficient starts to appear on the list prior to this week. John McKee, who is 15-for-60 at Charles Town, is sixth with 4.444 points, up from 12th a week ago.
---
How did the Top Midlantic Trainer ranks look last week?
---
Houghton, the Penn National-based trainer who is second, was fourth a week ago. He has 4.957 points to lead all trainers at his track.
The Hall of Famer Jerry Hollendorfer is the top-rated Monmouth-based trainer in the latest rankings and is fifth overall with 4.503 points. He has eight wins at the Shore track, four behind meet leader Kelly Breen, who has 12. Breen is ranked 23rd overall with 3.518 points.
The Delaware Park-based Anthony Pecoraro, who was second a week ago, has dropped to seventh with 4.342 points. That leaves him slightly ahead of Mark Reid (4.322 points), who is second at Delaware and ninth overall. Reid was fifth overall last week.
---
Who's the Top Midlantic Jockey?
---
Graham Motion leads the Laurel Park training contingent – though based at Fair Hill, he's made 28 starts at Laurel – and he has 4.323 points, good for eighth overall, down one spot from last week. Brittany Russell is second among Laurel trainers and 11th overall.
Michael Stidham is 10th overall and first among those trainers who qualify at two or more different tracks. Stidham has made 20 starts at Monmouth Park and another 15 at Delaware, and overall he's won with nine of 35 starters. He has 4.213 points and rose one spot during the week.
The list includes all trainers among the top 25 by starters – including ties – at Charles Town, Delaware Park, Laurel Park, Monmouth Park, Parx Racing, and Penn National. It includes only races contested since May 15. It does not include Colonial Downs, which has raced too few days thus far.
TOP MIDLANTIC TRAINER RANKINGS
| RANK | TRAINER | RATINGS POINTS | STARTS | WINS |
| --- | --- | --- | --- | --- |
| 1 | Farrior Anthony | 5.452 | 47 | 19 |
| 2 | Houghton T Bernard B | 4.957 | 43 | 12 |
| 3 | Patterson Kevin S | 4.681 | 27 | 12 |
| 4 | Vega Richard | 4.538 | 26 | 6 |
| 5 | Hollendorfer Jerry | 4.503 | 21 | 8 |
| 6 | McKee John D | 4.444 | 60 | 15 |
| 7 | Pecoraro Anthony | 4.342 | 21 | 6 |
| 8 | Motion H Graham | 4.323 | 28 | 6 |
| 9 | Reid Mark J | 4.322 | 22 | 7 |
| 10 | Stidham Michael | 4.213 | 35 | 9 |
| 11 | Russell Brittany | 4.072 | 31 | 9 |
| 12 | Casey James W | 4.067 | 44 | 9 |
| 13 | Casey John A | 4.052 | 49 | 10 |
| 14 | Coker Jr Gerald A | 4.038 | 34 | 6 |
| 15 | Kulp Brandon L | 3.903 | 39 | 12 |
| 16 | Whylie Herold O | 3.902 | 23 | 6 |
| 17 | Huston Rory K | 3.893 | 41 | 6 |
| 18 | Wyner Harold | 3.852 | 27 | 6 |
| 19 | Shanley Timothy | 3.844 | 35 | 6 |
| 20 | Demasi K A | 3.792 | 69 | 15 |
| 21 | Servis John C | 3.720 | 25 | 6 |
| 22 | Robb John J | 3.706 | 52 | 12 |
| 23 | Breen Kelly J | 3.518 | 45 | 12 |
| 24 | Robertson McLean | 3.515 | 46 | 12 |
| 25 | Camejo Jose M | 3.475 | 32 | 7 |
| 26 | Vazquez Juan C | 3.386 | 48 | 9 |
| 27 | Walters David | 3.286 | 33 | 6 |
| 28 | Trombetta Michael J | 3.257 | 57 | 9 |
| 29 | Merryman Ann W | 3.201 | 35 | 4 |
| 30 | Figgins III Ollie L | 3.195 | 66 | 14 |
| 31 | Ness Jamie | 3.186 | 208 | 50 |
| 32 | Rubley Kelly | 3.182 | 40 | 7 |
| 33 | Potts Wayne | 3.159 | 71 | 12 |
| 34 | Salvaggio Mark V | 3.156 | 33 | 8 |
| 35 | Klesaris Steve | 3.147 | 21 | 4 |
| 36 | Dini Michael | 3.139 | 30 | 8 |
| 37 | Runco Jeff C | 3.101 | 125 | 24 |
| 38 | Mcmahon Demelza | 3.049 | 28 | 6 |
| 39 | Pino Michael V | 3.036 | 42 | 9 |
| 40 | McBurney Patrick B | 3.024 | 37 | 5 |
| 41 | Keefe Timothy L | 2.966 | 30 | 4 |
| 42 | Martin Silvio L | 2.942 | 26 | 4 |
| 43 | Kreiser Timothy C | 2.924 | 49 | 11 |
| 44 | Dilodovico Damon R | 2.905 | 53 | 10 |
| 45 | Lynch Cathal A | 2.900 | 39 | 7 |
| 46 | Grams Timothy C | 2.887 | 47 | 9 |
| 47 | Graci Kimberly A | 2.867 | 49 | 9 |
| 48 | Reid Jr Robert E | 2.784 | 22 | 3 |
| 49 | Cibelli Jane | 2.690 | 29 | 6 |
| 50 | Gonzalez Claudio A | 2.677 | 163 | 26 |
| 51 | Caison Jody L | 2.673 | 32 | 5 |
| 52 | Farro Patricia | 2.670 | 57 | 9 |
| 53 | Gorham Michael E | 2.669 | 29 | 5 |
| 54 | Velazquez Daniel | 2.609 | 26 | 5 |
| 55 | Corrales Jose | 2.606 | 53 | 10 |
| 56 | McMahon Hugh I | 2.597 | 54 | 8 |
| 57 | O'Dwyer Jeremiah | 2.536 | 32 | 5 |
| 58 | Contreras Javier | 2.528 | 74 | 9 |
| 59 | Potts Jr Ron G | 2.524 | 24 | 3 |
| 60 | Gaudet Lacey | 2.523 | 36 | 4 |
| 61 | Schoenthal Phil | 2.522 | 32 | 3 |
| 62 | Sanchez-Salomon R | 2.497 | 34 | 6 |
| 63 | Smith Hamilton A | 2.411 | 55 | 5 |
| 64 | Stites Flint W | 2.379 | 42 | 5 |
| 65 | Carlisle John C | 2.376 | 43 | 8 |
| 66 | Coletti Jr Edward J | 2.348 | 32 | 3 |
| 67 | Guerrero Juan Carlos | 2.332 | 23 | 3 |
| 68 | Diaz Jorge | 2.331 | 32 | 5 |
| 69 | Lucas Anthony | 2.322 | 30 | 4 |
| 70 | Reynolds Joan A | 2.307 | 30 | 5 |
| 71 | Mancilla Carlos A | 2.296 | 35 | 2 |
| 72 | Capuano Dale | 2.295 | 46 | 7 |
| 73 | Salvaggio Jr M W | 2.230 | 24 | 2 |
| 74 | Delgado Jose H | 2.200 | 42 | 8 |
| 75 | Lake Scott A | 2.127 | 74 | 9 |
| 76 | Bennett Gerald S | 2.110 | 23 | 3 |
| 77 | Brown Ronney W | 2.065 | 127 | 14 |
| 78 | Carvajal Jr Luis | 2.056 | 34 | 5 |
| 79 | Tobin Edwin L | 2.027 | 41 | 3 |
| 80 | Spina Chuck | 2.005 | 29 | 3 |
| 81 | Pickett Crystal G | 1.980 | 45 | 6 |
| 82 | Sweezey J Kent | 1.972 | 24 | 4 |
| 83 | Milian Carlos J | 1.909 | 31 | 4 |
| 84 | Linder Jr Louis C | 1.823 | 44 | 7 |
| 85 | Magee Kieron | 1.775 | 57 | 7 |
| 86 | Obed-Letts Keturah E | 1.744 | 34 | 3 |
| 87 | Sacco Gregory D | 1.727 | 20 | 2 |
| 88 | Joy Kevin J | 1.707 | 32 | 4 |
| 89 | Mcclellan Erin C | 1.618 | 29 | 3 |
| 90 | Cronk Samuel F | 1.593 | 26 | 2 |
| 91 | Zalalas Michael | 1.559 | 30 | 2 |
| 92 | Kravets Bruce M | 1.536 | 41 | 4 |
| 93 | Collins Timothy M | 1.408 | 40 | 2 |
| 94 | Mazza Joseph W | 1.297 | 20 | 1 |
| 95 | Madrigal Sr Rodrigo | 1.283 | 21 | 1 |
| 96 | Bailes W Robert | 1.283 | 32 | 2 |
| 97 | Dominguez Mario A | 1.248 | 29 | 2 |
| 98 | Allen III A Ferris | 1.198 | 38 | 2 |
| 99 | Correa Jr Alex A | 1.130 | 36 | 3 |
| 100 | Galvan Baltazar | 1.076 | 26 | 2 |
| 101 | Serey Jr Mario | 1.028 | 32 | 2 |
| 102 | Ingram Adam L | 0.906 | 27 | 2 |
| 103 | St Lewis Uriah | 0.888 | 20 | 1 |
| 104 | Taylor Joseph | 0.863 | 39 | 2 |
| 105 | Ryan Derek S | 0.782 | 22 | 1 |
| 106 | White Donald R | 0.773 | 25 | 1 |
| 107 | Pimental John I | 0.762 | 20 | 1 |
| 108 | Boggs M Joanna | 0.761 | 32 | 1 |
| 109 | Mosco Robert | 0.616 | 28 | 1 |
| 110 | Bobadilla Jose F | 0.518 | 41 | 1 |
| 111 | Jones Jr Michael E | 0.440 | 48 | 1 |
| 112 | Einhorn Skip | 0.410 | 34 | 1 |
LATEST NEWS