TRAINER WAYNE POTTS NABS FIRST STAKES WIN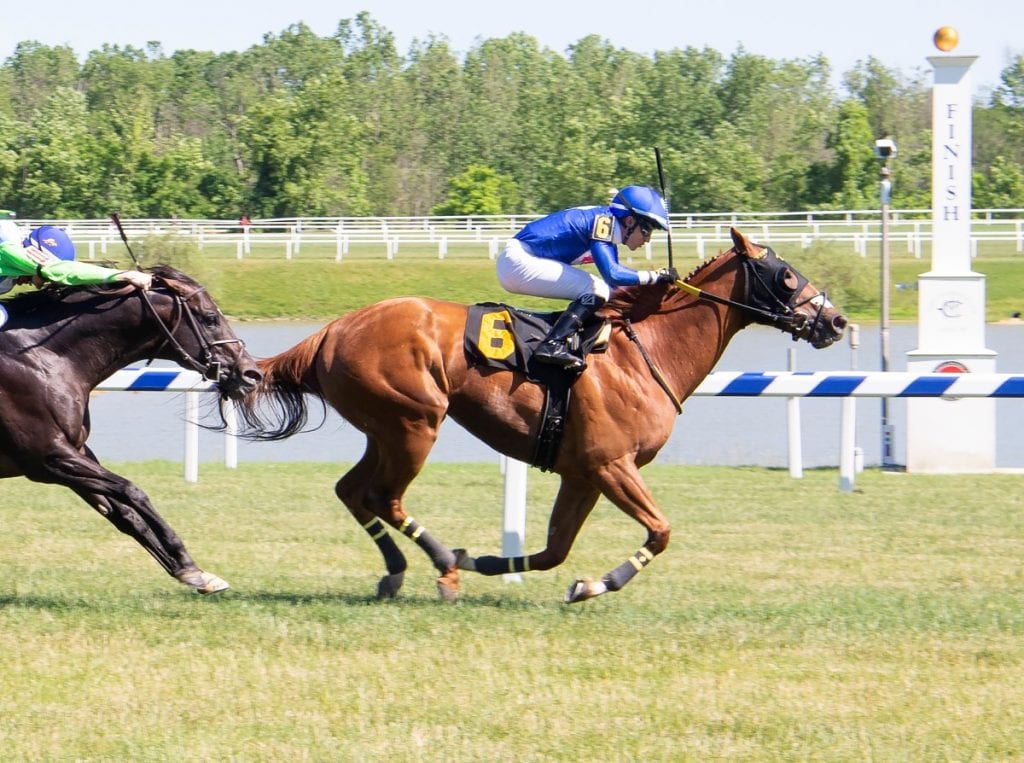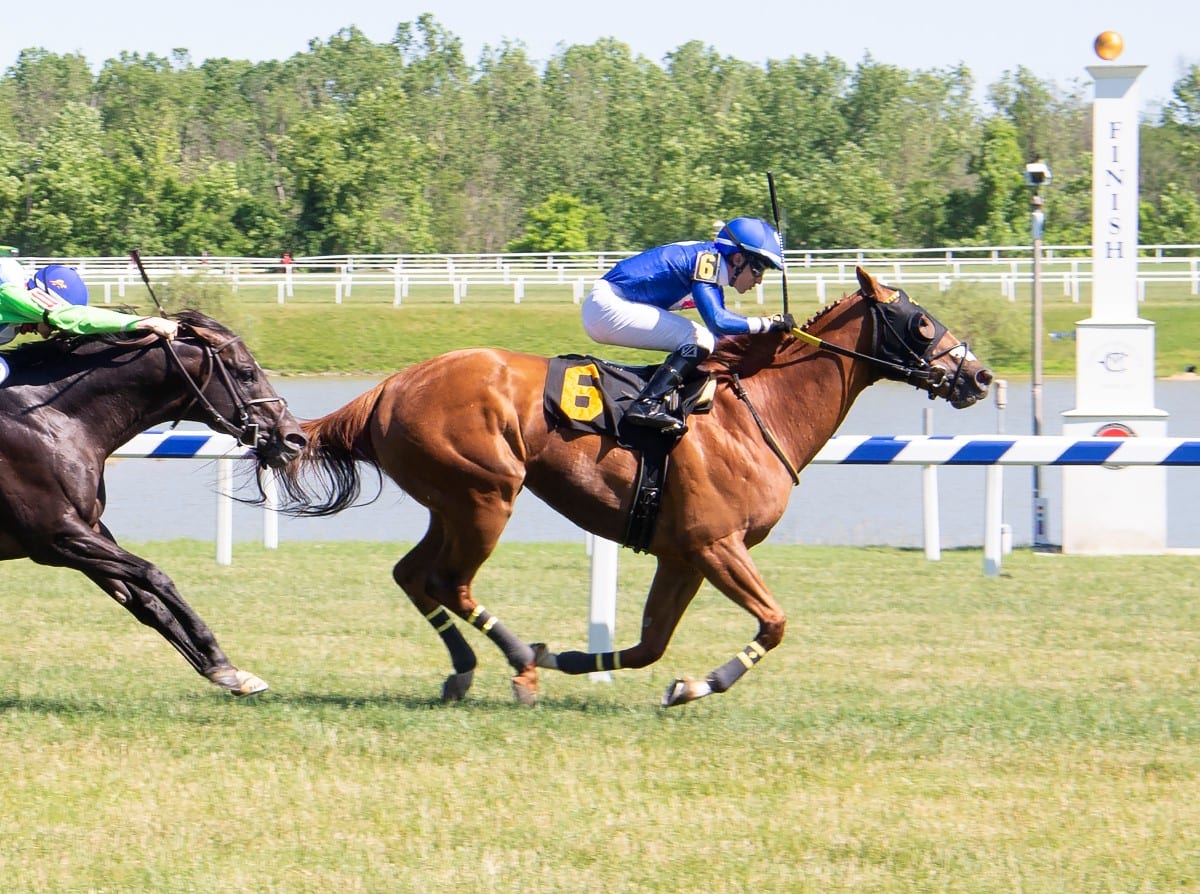 Press Release

August 12, 2020
It wasn't conventional, but it was memorable. As the years go by, Laurel Park-based trainer Wayne Potts will have no trouble recalling the circumstances of his first career stakes win.
The milestone victory happened Aug. 8 in Saratoga, when Raj Jagnanan's 8-year-old gelding American Sailor finished second in the $200,000 Troy (G3) but had his number put up following the disqualification of first-place finisher Imprimis for interfering with Shekky Shebaz, who ran third.
Potts's breakthrough in the 5 ½-furlong turf sprint for older horses also came as part of Saratoga's Travers (G1) program, the biggest of its summer meet.
"I couldn't dream of anything better," Potts said. "I've had 12 or 13 seconds … but this was my first one. To knock them both out at the same time, a stakes and a graded-stakes … at Saratoga … on Travers day … it's unbelievable.
"I had dinner [that] night and my phone was beeping and dinging. As I'm walking my horse around waiting for the decision by the stewards, my phone's going off non-stop," he added. "I had an outpouring of support from everybody just for finishing second in the race, and then when they put us up it was such a different feeling. I wish the stands would have been packed to get that experience but to get national TV coverage and to have that happen, it's fantastic."
Potts, a 39-year-old native of Rockville, Md. who went out on his own in 2004 after working four years for Charles Town-based trainer David Rose, said he received 374 text messages following the race. Perhaps his most notable prior runner was No Brakes, who in 2016 was the nation's top 11-year-old runner.
"I was on my phone until almost midnight [that] night trying to respond to everybody and then [the next] morning. It was great. Trainers from Maryland messaging me … the support that I got was amazing," Potts said. "To the guys in Maryland and where I started back at Charles Town and Shenandoah [Downs] I'd say, 'Guys, keep dreaming. It can happen.'
"I started with one $500 horse. I started from the ground up, cleaning stalls and hotwalking, and I got to where I am today," he added. "Again, I can't take all the credit. My owners are behind me. My help at the barn, they work endless hours. My assistants, I couldn't do it without them. I give them just as much credit as I give myself."
Potts hauled American Sailor from Laurel to Saratoga and back himself, giving his stable star a few days off before bringing him back to the track. After getting the winter off for the first time in three years, American Sailor returned with an optional claiming allowance victory June 8 at Laurel, more than seven months following his 2019 finale.
"That race made me feel really good about him. I fought tooth and nail. My owner at first didn't want to give him the time, he wanted to go to Sam Houston like we had been doing," Potts said. "It took a good 30 days for it to finally sink in and he said, 'You know what, if that's what you want to do go ahead and do that,' so I turned him out.
"He told me [after the race] and he messaged me again [the next] morning and said, 'I have to tell you, the best thing you ever talked me into doing was giving the horse the time off,'" he added. "He came back and he looks fantastic. He looks so good after giving him the time to drop his head and be a horse for the 60 days we gave him. It was great to see the flesh on him coming back. He really filled out and he's really muscled up. It was the right thing to do."
Jagnanan was also on hand at Saratoga for the win, the 15th of his career for American Sailor, who saw his career bankroll swell over $500,000. Potts claimed American Sailor for $25,000 in September 2017 at Suffolk Downs, lost him for a $7,500 tag the following summer and got him back shortly afterward when Jagnanan purchased him privately.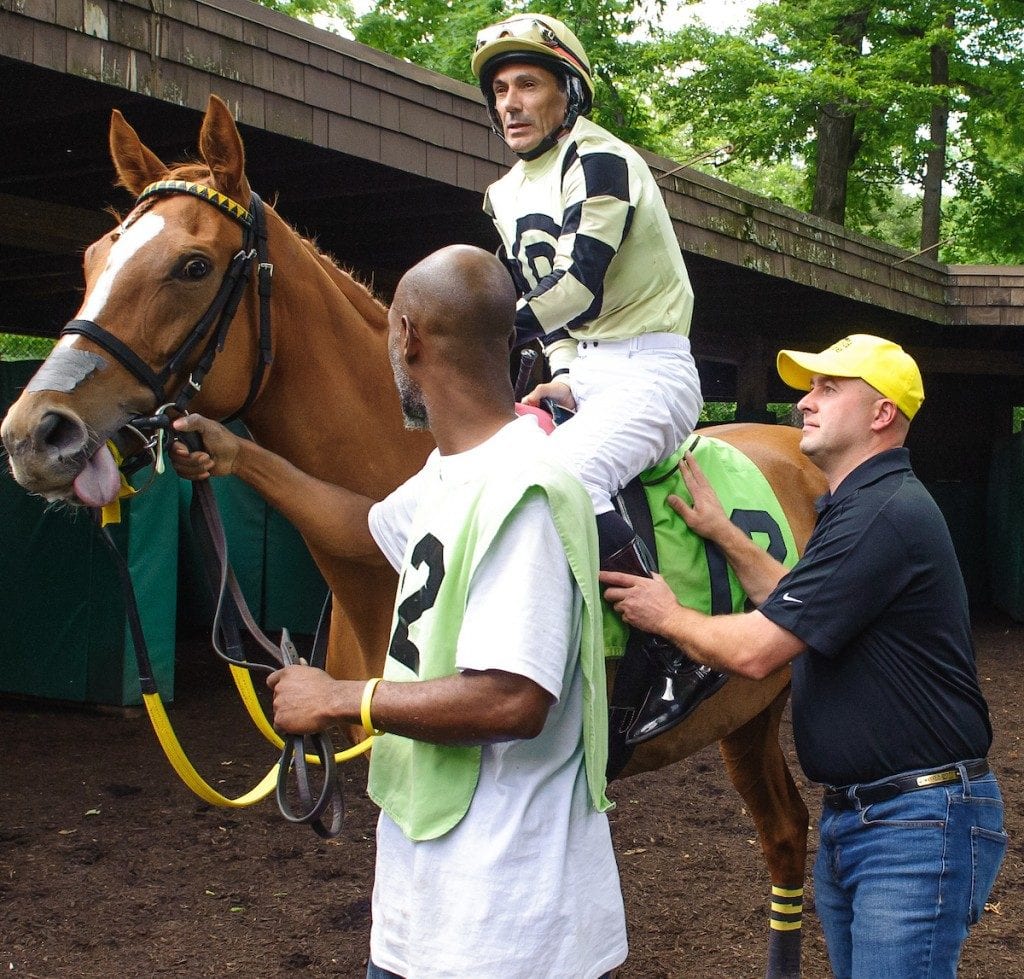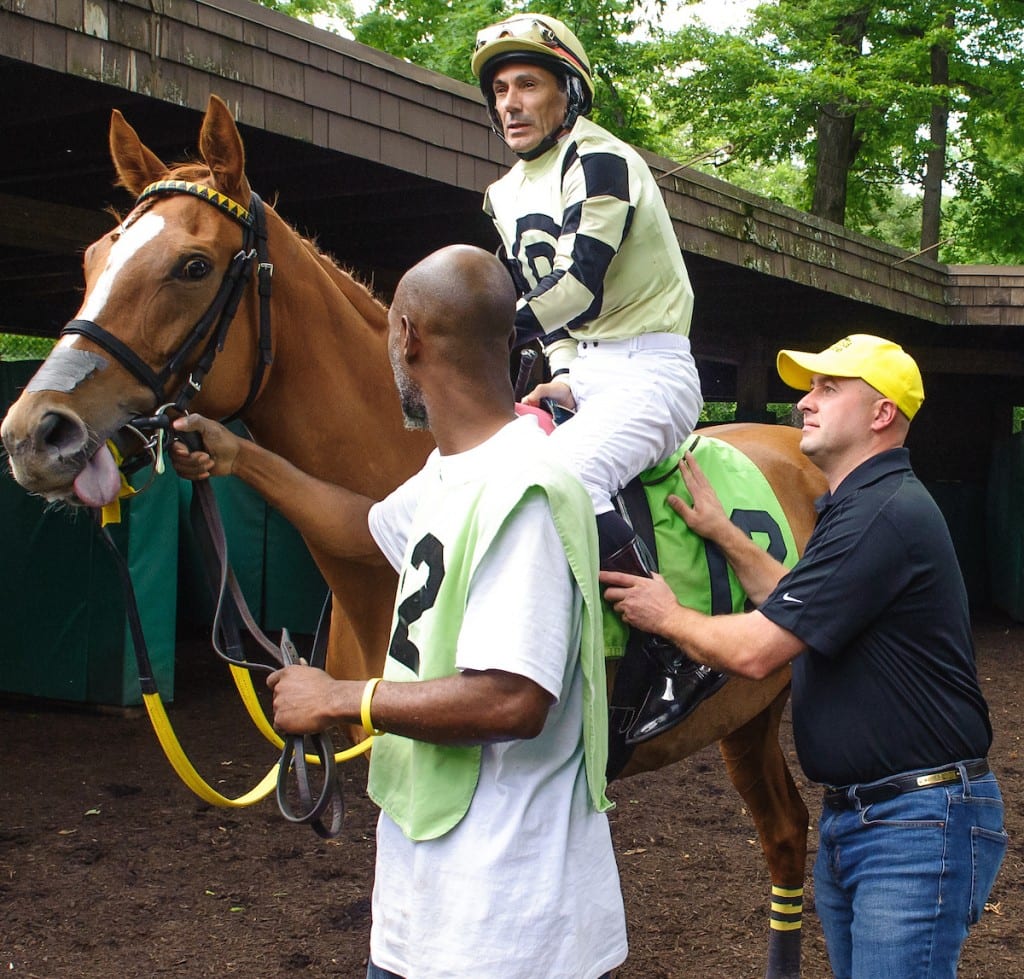 Since their reunion, American Sailor has put together a record of 5-3-1 from 13 starts for Potts with purse earnings of more than $400,000, the bulk of his races having come at Laurel or Pimlico Race Course.
"Maryland racing is no joke. Maryland racing is very, very tough. Lots of good horsemen, lots of quality horses, lots of good trainers. Maryland racing is very, very competitive," Potts said. "This horse, he means a lot to me. I'm taking [the DQ win] and running with it. I've been disqualified from races before and I was a little upset about it and the guys that got the win were smiling and walking away, so that's what I'm going to do."
Potts said he will take his time finding a spot for American Sailor to run back. Laurel will be hosting the $100,000 Laurel Dash for 3-year-olds and up sprinting six furlongs on its world-class turf course Monday, Sept. 7 during the extended summer meet.
"We're going to play it by ear," he said. "I'm going to take the next week, week and a half to see how he comes back and then get him back on the racetrack and go from there. I'm in no rush to wheel him right back."
Potts was quick to credit Maryland Jockey Club outrider and ex-jockey Kaymarie Kreidel and current Laurel-based rider Tais Lyapustina with American Sailor's development. Lyapustina is recovering from a spill at Laurel three hours before the Troy was run.
"Kaymarie gallops the horse for me and Tais works him all the time for me. The two have done a great job with him. Believe it or not, a guy cannot gallop him. He doesn't get along with them. He's a ladies' man. Both of those ladies have done a fantastic job," Potts said. "I actually spoke to Tais [the next day]. She said she was a little sore but everything's well. Nothing was broken, which was great news for herself and me. I use her a lot at Laurel."
LATEST NEWS