Who's the top Midlantic jockey?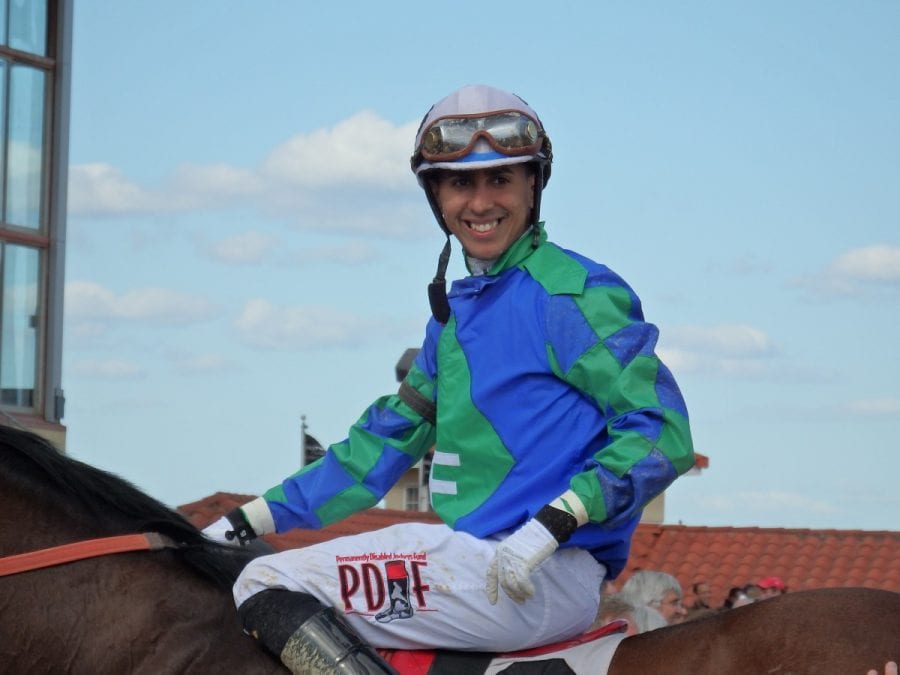 Frank Vespe

July 24, 2020
Who's the hottest mid-Atlantic jockey?
You don't see him outside of his home track much, but you could do worse than betting on Arnaldo Bocachica. The Charles Town-based Bocachica leads the region in our jockey ratings with 6.389 points, through racing of July 22.
The ratings take into account a rider's win percentage, earnings per start, and wagering return on investment. They are based on track averages (average is 3.0) and adjusted to minimize the impact of any one of those areas. The list is limited to riders who have made at least 20 starts at a given racetrack, and those riders who have made 20 or more starts at more than one track have multiple listings.
The list includes only races conducted since May 15.
Bocachica is the dominant rider at Charles Town, with 39 wins in the last couple of months – twice as many as any other rider. He also wins at a gaudy 30 percent clip, and his earnings per start of $4,869 are just about double the track's average. But his wagering ROI — -16% — is only average.
Overall, Boca's 6.389 points leave him a bit ahead of the Delaware Park version of Jevian Toledo (6.284 points) and another Delaware rider, seven-pound apprentice Alexander Crispin (6.246).
Small differences are significant in this ratings system. The largest gap between a leading jockey and the second-place rider at that track is that between Edwin Gonzalez (5.223) and Andrew Wolfsont (4.099) at Penn National, a gap of 1.124 points. Gonzalez has more than twice as many wins as any other rider – 22 to nine for Julio Hernandez – and is also best in win percentage and earnings per start.
Jersey Joe Bravo, with six wins from 28 starts and a gaudy earnings-per-start figure of $23,313, leads the Monmouth Park colony with 5.701 points. Paco Lopez, who leads that track with 17 wins, is rated second, with 5.436 points.
Apprentice Victor Rosales tops the Laurel Park colony, which is crowded at the top. He has 5.026 points, powered in large part by his +71% wagering ROI; his mounts have earned the bettors about double what they would, on average, have been expected to earn. That leaves him just ahead of meet-leading winner Sheldon Russell (4.975) and veteran Feargal Lynch (4.901).
Angel Castillo, fourth at the Parx Racing meet with 12 wins, leads the standings here with 3.506 points. That leaves him just ahead of Mychel Sanchez, whose 22 wins are tops at the track; he has 3.348 points.
Only one rider has made at least 20 starts. That's Trevor McCarthy, who's made 80 starts at Laurel (4.32 points), 86 at Delaware (4.221), and 28 at Monmouth (3.805). No jockey will suffer more from the coronavirus-inspired jockey travel restrictions than will McCarthy.
JOCKEY RATINGS
| RANKING | JOCKEY | STARTS | TOTAL POINTS | TRACK |
| --- | --- | --- | --- | --- |
| 1 | Bocachica Arnaldo | 128 | 6.389 | CT |
| 2 | Toledo Jevian | 20 | 6.284 | DEL |
| 3 | Crispin Alexander | 28 | 6.246 | DEL |
| 4 | Bravo Joe | 28 | 5.701 | MTH |
| 5 | Hiraldo Christian | 92 | 5.466 | CT |
| 6 | Lopez Paco | 57 | 5.436 | MTH |
| 7 | Gonzalez Edwin | 60 | 5.223 | PEN |
| 8 | Ho Wesley | 85 | 5.140 | CT |
| 9 | Acosta J D | 97 | 5.116 | CT |
| 10 | Rosales Victor | 57 | 5.026 | LRL |
| 11 | Cedeno Carol | 101 | 4.991 | DEL |
| 12 | Russell Sheldon | 96 | 4.975 | LRL |
| 13 | Lynch Feargal | 60 | 4.901 | LRL |
| 14 | Alvarado Jr Roberto E | 39 | 4.860 | DEL |
| 15 | Montano Jose | 44 | 4.852 | CT |
| 16 | Peltroche Fredy | 79 | 4.671 | CT |
| 17 | Almodovar Gerald | 92 | 4.375 | CT |
| 18 | Ferrer Jose C | 42 | 4.356 | MTH |
| 19 | Mccarthy Trevor | 80 | 4.320 | LRL |
| 20 | Suarez Angel | 96 | 4.243 | DEL |
| 21 | Mccarthy Trevor | 86 | 4.221 | DEL |
| 22 | Wolfsont Andrew | 37 | 4.099 | PEN |
| 23 | Lyapustina Tais | 47 | 4.034 | LRL |
| 24 | Torres Jomar | 39 | 4.009 | MTH |
| 25 | Lopez Antonio | 113 | 3.964 | CT |
| 26 | Otero William P | 35 | 3.909 | PEN |
| 27 | Thorpe Darius | 69 | 3.870 | CT |
| 28 | Latchman Reshawn | 131 | 3.837 | CT |
| 29 | Mccarthy Trevor | 28 | 3.805 | MTH |
| 30 | Gallardo Antonio A | 43 | 3.788 | MTH |
| 31 | Karamanos Horacio | 101 | 3.780 | LRL |
| 32 | Toledo Jevian | 115 | 3.768 | LRL |
| 33 | Carrasco Victor R | 60 | 3.735 | LRL |
| 34 | Perez Xavier | 49 | 3.720 | LRL |
| 35 | Marquez Charlie | 96 | 3.578 | LRL |
| 36 | Castillo Angel | 65 | 3.506 | PRX |
| 37 | Villa-Gomez Huber | 24 | 3.435 | DEL |
| 38 | Diaz Jr Hector R | 51 | 3.412 | MTH |
| 39 | Pedroza Brian | 25 | 3.353 | DEL |
| 40 | Sanchez Mychel J | 95 | 3.348 | PRX |
| 41 | Beato Inoel | 53 | 3.341 | PEN |
| 42 | Pennington Frankie | 56 | 3.217 | PRX |
| 43 | Cintron Alex | 41 | 3.215 | DEL |
| 44 | Chiappe Ricardo | 49 | 3.176 | PEN |
| 45 | Vargas Jr Jorge A | 23 | 3.160 | MTH |
| 46 | Silvera Ruben | 82 | 3.151 | PRX |
| 47 | Pimentel Julian | 57 | 3.150 | LRL |
| 48 | Adorno Abner | 69 | 3.132 | DEL |
| 49 | Rosado Johan | 67 | 3.105 | LRL |
| 50 | Montanez Rosario | 70 | 3.090 | LRL |
| 51 | Cora David | 47 | 3.087 | PEN |
| 52 | Marquez Charlie | 24 | 2.995 | DEL |
| 53 | Caballero Hector | 41 | 2.956 | PRX |
| 54 | Diaz Jr Sunday | 122 | 2.883 | CT |
| 55 | Batista Luis A | 103 | 2.867 | CT |
| 56 | Peterson Ferrin | 31 | 2.855 | MTH |
| 57 | Trotman Keimar | 61 | 2.855 | CT |
| 58 | Ocasio Luis M | 39 | 2.833 | PRX |
| 59 | Conner Tyler | 57 | 2.733 | PEN |
| 60 | Gomez Kevin | 63 | 2.732 | LRL |
| 61 | Ruiz Jorge | 72 | 2.713 | LRL |
| 62 | Rodriguez Victor | 76 | 2.690 | CT |
| 63 | Villegas Jerry | 57 | 2.666 | CT |
| 64 | Davis Katie | 40 | 2.613 | LRL |
| 65 | Larrosa Gustavo | 75 | 2.574 | CT |
| 66 | Boyce Forest | 51 | 2.511 | LRL |
| 67 | Scampton Brittany | 32 | 2.495 | PEN |
| 68 | Simpson Jason | 68 | 2.473 | CT |
| 69 | Castillo Isaac | 38 | 2.416 | MTH |
| 70 | Rivera Javier | 30 | 2.284 | CT |
| 71 | Conner Tyler | 34 | 2.259 | DEL |
| 72 | Gonzalez Silvestre | 45 | 2.199 | PRX |
| 73 | Bowman Adam | 48 | 2.185 | PRX |
| 74 | Inirio Maicol J | 47 | 2.163 | PEN |
| 75 | Hamilton Weston | 84 | 2.153 | LRL |
| 76 | Hernandez Julio A | 62 | 2.139 | PEN |
| 77 | Ortiz Yomar Orlando | 59 | 2.112 | LRL |
| 78 | Nunez Anthony Y | 38 | 2.106 | PRX |
| 79 | Schneider Joseph | 67 | 2.079 | CT |
| 80 | Mejia Tomas B | 33 | 2.070 | MTH |
| 81 | Juarez Nik | 49 | 2.012 | MTH |
| 82 | Haddock Dexter | 48 | 1.952 | PRX |
| 83 | Diaz Vladimir | 37 | 1.882 | PEN |
| 84 | Maldonado Ramon R | 67 | 1.852 | CT |
| 85 | Whisman Avery | 75 | 1.742 | LRL |
| 86 | Rodriguez Angel R | 48 | 1.707 | PRX |
| 87 | Delgado Carlos J | 93 | 1.682 | CT |
| 88 | Morales Kelvin O | 76 | 1.644 | CT |
| 89 | Centeno Daniel | 50 | 1.587 | DEL |
| 90 | Carrasco Victor R | 24 | 1.562 | MTH |
| 91 | Rocha Wladimir | 61 | 1.545 | CT |
| 92 | Cintron Alex | 80 | 1.527 | LRL |
| 93 | Bisono John | 21 | 1.359 | PRX |
| 94 | Milan Gerardo | 49 | 1.262 | PRX |
| 95 | Batista Jose A | 21 | 1.254 | MTH |
| 96 | Garcia Wilmer A | 29 | 1.202 | MTH |
| 97 | Davis Jacqueline A | 44 | 1.128 | PEN |
| 98 | Hernandez Carlos J | 44 | 1.029 | MTH |
| 99 | Vargas Jr Jorge L | 28 | 1.020 | PEN |
| 100 | Mena Raul | 44 | 0.967 | DEL |
| 101 | Whitney Dana G | 46 | 0.922 | PEN |
| 102 | Cruz Angel | 78 | 0.902 | LRL |
| 103 | Rojas Jose F | 20 | 0.816 | PEN |
| 104 | Rodriguezcastro LA | 32 | 0.733 | PRX |
LATEST NEWS