KIRSTEN SWAN PROVES TRIPLE THREAT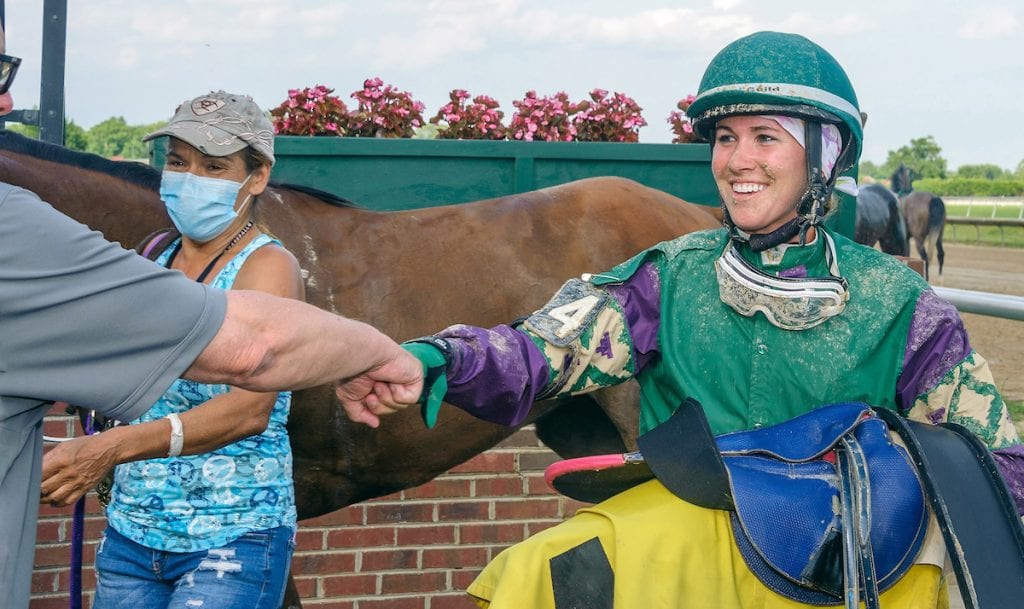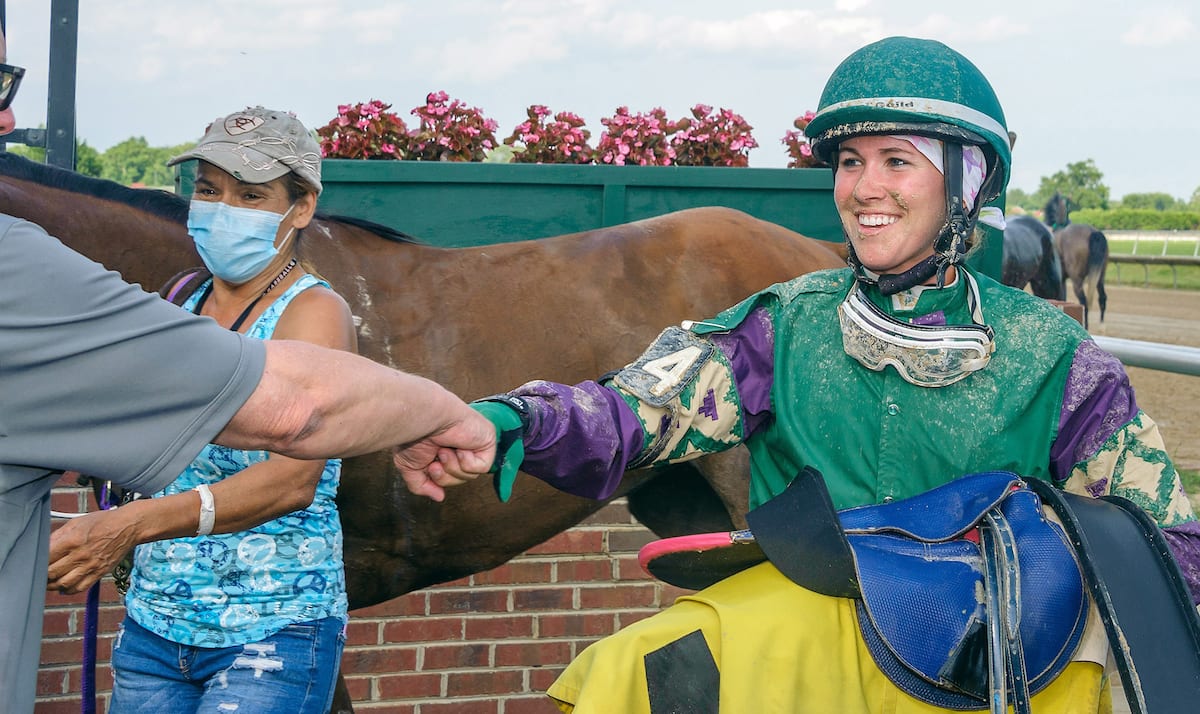 Teresa Genaro

July 30, 2020
When Kirsten Swan decided that she wanted to finish high school early and become a professional jockey, her parents were all for it.
"My dad got me an agent at Penn National," she said. "It was the winter of 2009, and he said, 'It's a good spot for you. They like girl bug riders there.'"
And her dad would know: he is jockey Scott Spieth, who rode six races at Presque Isle this week, winning once and finishing in the top three in four of them. In his long career, Spieth has won more than 4,800 races.
Her mother, Rhonda Swan Spieth, stopped riding races in 2015 after getting an injury.
"I kind of wished they would have slowed me down a little bit," said Kirsten this week. "I got my jock's license at 17, before I was even out of high school."
Her parents had moved to Ohio when Detroit Race Course closed in 1998 and were based at Thistledown. Swan would head to the track before school, earning high school credit and a paycheck, attend her required classes, then ride at Thistledown in the afternoon and Mountaineer Park at night.
Neither she nor her parents could imagine then the ride that racing would take her on.
Swan owns, trains, and rides, both Thoroughbreds and Arabians. She's got a four-horse stable, two horses of her own and two for other owners; two are Arabians, two Thoroughbreds. She lives and works out of trainer Lynn Ashby's Marlyn Meadow; working with horses there would take her to Santa Anita, Lone Star Park, and Dubai.
"She's a natural horsewoman," said Ashby. "I saw her galloping and asked if she'd like to come work for us. She's really good with nervous horses and problem horses; she's got a calmness, a Zen-like quality to her that relaxes them."
Swan rides races for Ashby and Jamie Ness; she also serves as a kind of assistant trainer on the farm. But it was with one of her own horses that she found the spotlight on July 23 at Delaware Park. 
Breeders Alan Kirshner and Deborah Mihaloff were frustrated when Arabian races at Delaware weren't filling, so not uncommonly for them, they leased some of their horses to other trainers. The Virginia-bred Deemed A Mistress was among them, and she went to Swan.
"Arabian racing is a very small group," said Swan. "There are only five trainers at Delaware, and the breeders had too many maidens, so they had to spread their horses around to get the race to go."
An unraced four-year-old filly doesn't exactly inspire confidence at the betting windows, and she went to the post at nearly 64-1, tied with Jolly Good MHF as the longest shots on the board in the seven-horse field.
She didn't run like a longshot.
Settling in fifth position, Swan took the filly wide at the quarter pole and sailed home to win by 1 3/4 lengths. It was Swan's first win as a trainer.
"It was really nice," said Swan, characteristically understated and economical with her words.
Ashby's First Classs was second, completing a $464.40 exacta.
That made Swan one of the rarest of racing rarities: one person owning, training, and riding a winning horse.
Remarkably enough, the very next day, 53-year-old Luis Rivera accomplished the same feat at Monmouth Park, guiding 6-1 Strawberry Red to victory in a claiming event.
"Everyone gets to celebrate this: the owner, trainer, and jockey," Rivera joked afterwards, according to a press release.
The 2014 Darley Champion jockey for top Arabian rider, Swan has ridden four races this year and entered four horses as a trainer. She keeps her horses at the farm, preferring to ship in from Middletown, Delaware and keep her horses where she can give them turnout time.
"I help Jamie at the farm," she said. "I save on fuel if I don't have to drive to Delaware Park every day. I gallop for both Jamie and Lynn. I can't just train full-time; there has to be some cash flow to help pay the bills."
"She does it all," said Ashby, "and she's such a hard worker. I was thrilled for her when she won. She's got a wonderful following on Facebook, and she's just really cool and special. There's nobody more deserving."
LATEST NEWS