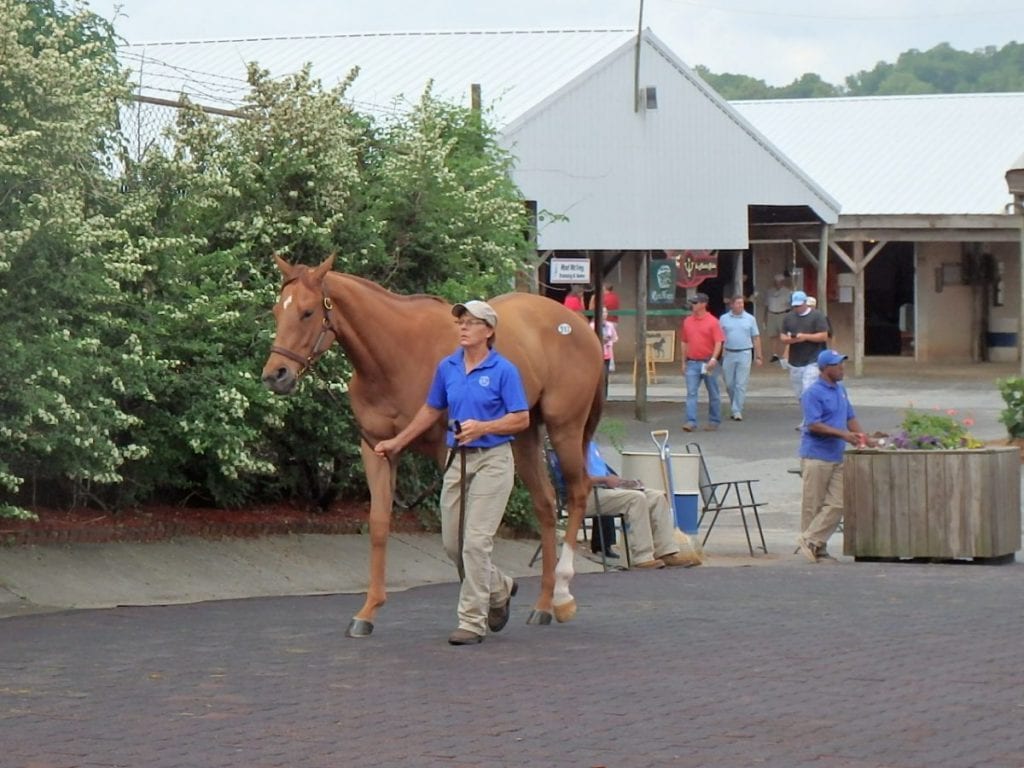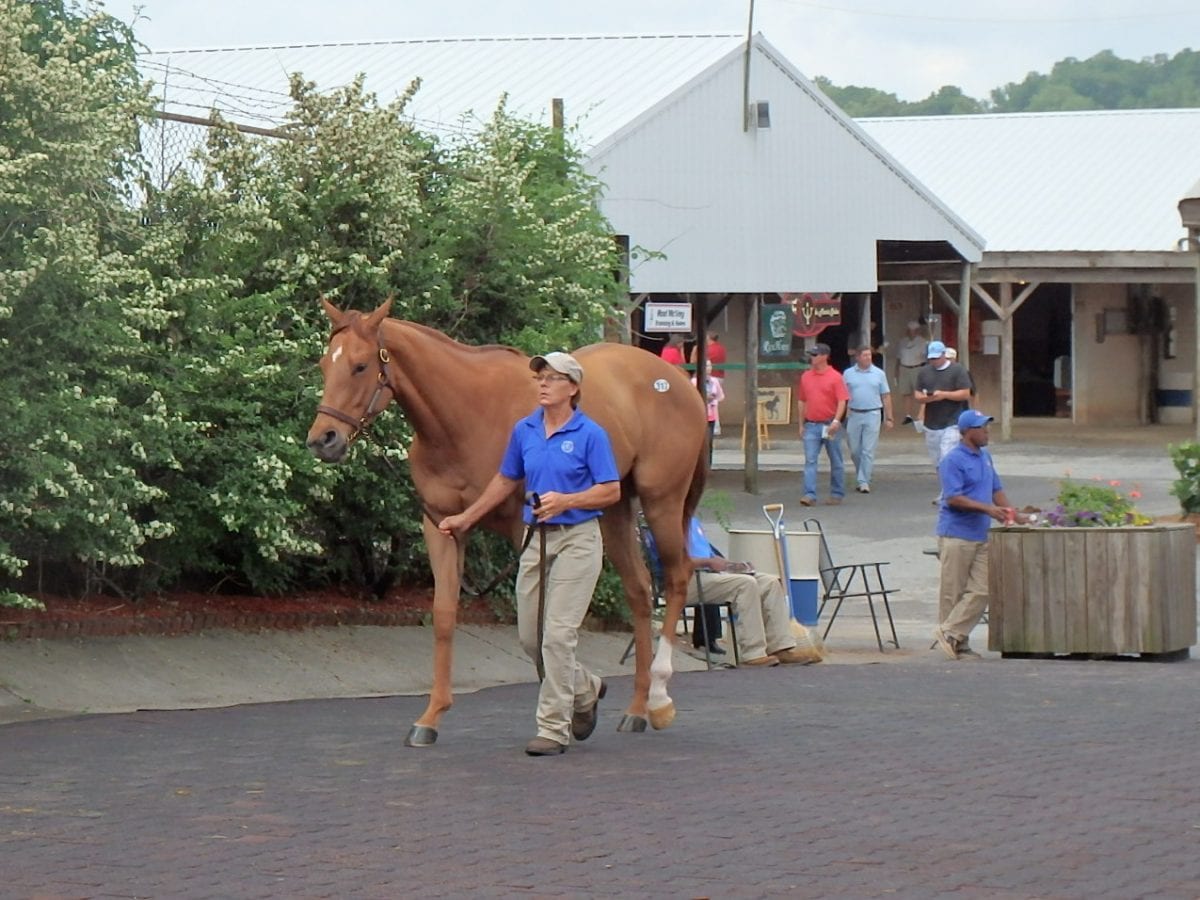 It was only three months ago that a barn fire took the lives of 15 young thoroughbreds on the Pennsylvania farm of consignor Clovis Crane.
Most of those horses were scheduled to be entered in the Fasig-Tipton Midlantic 2-year-olds in training sale at Timonium, set for June 29 and 30 (with the Under Tack Show on June 24 through 26) leaving many wondering whether he would have a consignment at all.            
But Crane is back with eight 2-year-olds, thankful that he's been able to move forward both personally and professionally.
"I'm not a guy who'll lie down and take it," said Crane of his misfortune. "We're pulling ourselves together even though I lost so much in one fell swoop."
Firefighters determined that there wasn't a definitive reason for the blaze that engulfed his Lebanon County barn, he said, although they believe it was electrical in nature. The barn was insured, but none of the horses. Three of the 15 horses that perished were owned by clients, with the other 12 jointly owned by Crane and clients.            

It's been a bitter pill to swallow, yet Crane is excited about the 2-year-olds that he's brought to Timonium.
"I think my Blame colt (Hip 87) is awfully special," he said. "And my Speightstown filly (Hip 387) and my Super Saver colt (Hip 12) are very fast."
The Blame colt, a Kentucky bred, is out of the stakes-placed Speightstown mare Little Sandy, whose two foals to race are both winners. This is the family of graded stakes winners and sires Explicit, Flying Victor, Vying Victor and Sharp Victor.
The dam of the Super Saver filly, Greenback Forest (by Forestry), is a half-sister to Grade 1 winner and millionaire Elloluv, while the Speightstown colt is out of the multiple stakes winner and graded stakes-placed Angelica Zapata, from a family replete with blacktype winners.
Crane also has three Pennsylvania-breds – a Jump Start-Lovely Senorita filly (Hip 92); an El Padrino-Town Talk filly (Hip 322) and a Fed Biz-Dream Realized filly (Hip 505).
The Midlantic sale features 40 Maryland-breds, 26 Pennsylvania-breds, two West Virginia-breds, six Virginia-breds, and one New Jersey-bred.
Cary Frommer, who has consigned juveniles to the Midlantic sale for many years, again brings a solid draft to the 2020 venue.
Frommer will have 26 head go through the ring, among them nine Maryland-breds and three Virginia-breds.
Because of the delay of the sale because of Covid-19 – it originally would have been just over a month ago — it was difficult keeping the 2-year-olds in peak condition for the Under Tack show, she said.
"All of us (consignors) were impacted more by not knowing what we were doing with the horses, not just the delay of the sale," said Frommer. "We didn't even know if there would even be a sale, and keeping the horses fresh was a pretty big challenge."
Frommer said that one 2-year-old she's especially high on is a Maryland-bred daughter of Upstart (Hip 173), out of Plum, by Pure Prize. Plum captured the Maryland Juvenile Filly Championship and is the dam of two winners to race; the filly was bred by Dark Hollow Farm.
"Ever since I've had her, I've considered her one of the best," said Frommer. "She's gorgeous, kind and talented – my brightest star."
Frommer is also offering a Delaware Certified, Maryland-bred son of Lookin at Lucky (Hip 311), bred by Dr. and Mrs. Thomas Bowman, Ricky L. Buckley and Joshua Dreiband. The gelding is out of Thrill Seeker, by Housebuster; she is a half-sister to Gr. 1-placed and multiple stakes winner Aggadan ($860,406). This is the family of Gr. 1 winners World Approval, Miesque's Approval, Revved Up, and Za Approval.
This is the first time that 2-year-olds by Uptowncharlybrown, one of Pennsylvania's leading sires, will be offered at a 2-year-olds in training sale. Both are owned by the Uptowncharlybrown Stud LLC of Bob Hutt, and consigned by Grassroots Training Center in Ocala, Fla.
The two Pennsylvania-bred fillies are Hip 50, who is out of the winning Cowtown Cat mare Its My Town, and Hip 149, the first foal out of the First Defence mare One Fast Chick, a six-time winner of nearly $200,000.
"They're grand-looking powerful fillies that have been training lights out at Grassroots Training Center," said Hutt. "They're well balanced with good hips, that travel smoothly without any wasted motion, and are built for speed. Whoever is lucky enough to submit the winning bid(s) will be getting a filly about 30 days away from the entry box."
Sire power has always been a hallmark of the Midlantic sale, and this year is no exception despite the later start date.
Eight sons and daughters of American Pharoah figure to be front and center, as well as progeny of young sires Exaggerator, Not This Time and Violence, and proven stalwarts Medaglia d'Oro, Into Mischief, Candy Ride (ARG), Curlin, Distorted Humor, Kitten's Joy, Malibu Moon and Tapit.
A plethora of Grade 1 winners have emerged from this sale, including 2018 grads Mucho Gusto, who won the Pegasus World Cup Invitational; Spun to Run, who captured the Breeders' Cup Dirt Mile, and 2017 grads Got Stormy, winner of the Matriarch Stakes, and recent Acorn Stakes winner Gamine, who sold for $1.8 million from the consignment of Bobby Dodd, Agent.
According to Fasig-Tipton, the Midlantic sale has produced eight Grade 1 winners from January 2019 to present day, more than any other 2-year-olds in training sale in the country. All three sessions of the Under Tack Show begin at 8 a.m., while both sale sessions commence at 11 a.m. Fasig-Tipton will offer online bidding for the first time; those wishing to bid online should visit here and establish a Fasig-Tipton online bidding account.
LATEST NEWS