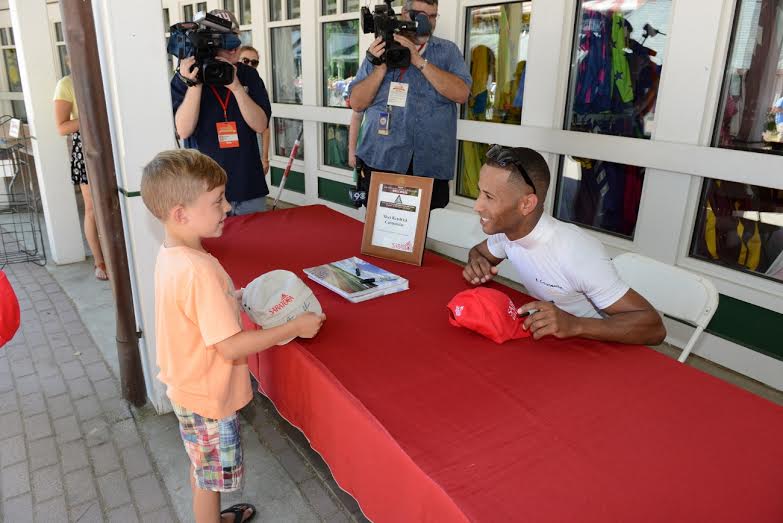 George Floyd was killed by Minneapolis police officer on Kevin Chauvin on May 25. Floyd's death was the latest in a long series of police killings of African-Americans, a roster that's included names like Breonna Taylor, Philando Castile, and many others.
Within days, protestors took to the streets across the country. Within a week, the National Football League (May 30), the National Hockey League (May 31), and NASCAR (June 2) had all released statements acknowledging Floyd's death and decrying racial injustice.
Where was racing? The first time that a Thoroughbred racing entity mentioned the matter was on June 2, when Woodbine tweeted,
The Stronach Group, aka 1/ST Racing, followed up with a two-tweet announcement, tagging many of its additional accounts.
The next day, when racing resumed at Belmont Park after the Covid-19 suspension, the New York Racing Association (NYRA) honored those who had been affected the pandemic.
The jockeys, most of whom are people of color, added another tribute, going down on one knee in an allusion to Colin Kaepernick's protests against police brutality. Later in the day, NYRA updated its message:
None of these organizations put out a press release with these statements. When contacted to elaborate on their decisions, a representative for The Stronach Group, whose properties include Laurel Park and Pimilco, said that the organization preferred to let the tweet stand for itself.
Conversations about racism, injustice, and inequality in racing are rarer than decisions to lower takeout, and a quick look at industry organizations suggests why.
The board of the National Thoroughbred Racing Association is comprised of almost entirely white men. Two of its 16 staff members are people of color.
The board of the Breeders' Cup is made of 13 white people, one person of color.
All the directors of The Jockey Club are white.
All the trustees of the Thoroughbred Owners and Breeders Association are white, and all but three are men.
The picture is similar at major racetrack operators like the New York Racing Association, The Stronach Group, and Churchill Downs, Inc.
In November 2018, OwnerView (a joint venture of The Jockey Club and TOBA) held a conference at which one of the panels was titled "State of the Industry and the future of Thoroughbred racing." All five panelists were white men.
It was jockeys Kendrick Carmouche, who is African-American (and who released an emotional cri de coeur about police brutality in this country) and John Velazquez, who is Puerto Rican, who told NYRA officials that they also planned to take a knee to honor the protestors when the riders were asked to participate in a moment silence to honor those affected by Covid-19,
"In our jockeys' room, we've got people from everywhere, all different colors," said Velazquez. "It's about equality and human rights. There's been so much happening in the last few months, and no one in racing had done anything. It was time for racing to step up to the plate."
"Silence is what I expected," said Barry Spears, an active racing social media presence who is African-American and who has blogged for BetAmerica. "I'm surprised that tracks did what they did, and I'm proud of The Stronach Group for what they're trying to do."
Spears now lives in Florida, several hours north of Gulfstream Park. When he was a kid, growing up in public housing in Trenton, NJ, he used to visit his grandparents in Brooklyn and go to the races at Belmont and Aqueduct.
"When I was eight, I learned to read the Daily Racing Form," he said. "I was hooked."
His family subsequently moved from Trenton to a predominately white area in northeastern Massachusetts.
"I went to an all-boys school, and I was the only black person in my class," he recalled. "That experience helps me in dealing with people on horse racing Twitter. I've been seeing this kind of thing forever."
When he was 16 years old and a newly licensed driver, for example, he was pulled over at gunpoint because the officers thought the car was stolen.
He has long noticed the lack of black people on the frontside of most racetracks, other than those working security, maintenance, or food service. As a handicapper himself, he is disheartened by the few people of color who are track handicappers. He has not infrequently been exposed to racist comments on social media and in person, followed by nastiness when he tries to point out why those comments are problematic.
He recounts a story he says happened several years ago. He was at Churchill Downs for night racing after playing in a Derby Wars tournament. He said he and about 20 other people were in a suite with access to a private betting area when Spears, who described himself as a "6'4" black dude with braids," was approached by a Churchill staffer asking to see some sort of verification that he was allowed access. He remembered that he explained that he was with Derby War and showed her his ticket, but she continued to insist that he leave.
"The Derby Wars people were great and shut down the situation," said Spears. "They complained so much that the supervisor came over later and apologized to me." 
Text messages to a person at Derby Wars to confirm the story were not returned.
Spears finds the virtual absence of any people in color in racing's executive suites all the more galling given the integral roles that blacks and Latinos play elsewhere in the sport.
"Black jockeys dominated the sport in the 19th and early 20th centuries," he said. "Now there are not that many black people in the game at all, and while there are a lot of Hispanic people on the backstretch, there are very few in the forefront of the sport."
Alicia Hughes agrees.
"The sport exists because of people of color," she said. "It still exists on the back of people of color. They're a vital part of our industry, but while racing is so multi-cultural in that respect, the people at the top of so homogeneous. Where is the conversation about race? Who is talking about that?"
The director of NTRA communications, Hughes identifies as bi-racial. She grew up in southeastern Connecticut, and her father is of Polish descent while her mother is black.
"When conversations happen about the sport of horse racing and its future, people of color almost never have a seat at the table," she said. "We need to start that by acknowledging this."
And for at least one person in the industry, proclamations and statements don't come close to real acknowledgement.
This person is one of several people of color contacted for this article who would speak only on the condition of anonymity, saying that they didn't believe that their employers would support their speaking about the issue on the record and that they feared professional retribution.
"These big statements are laughable when you look at these organizations' boardrooms and employees," the person said.
The person also pointed out that at a number of racetracks, such as Aqueduct, people of color often make up the majority of on-track customers. And Churchill Downs and Pimlico Racecourse, for example, are located in predominantly black neighborhoods.
But, said this person, when it comes to giveaways and other perks, those populations are often overlooked. In New York, for instance, the majority of giveaways happen at the 40-day meet at Saratoga Race Course, whose on-track customers are overwhelmingly white. Giveaways at Aqueduct are few and far between.
"The racing industry is very insular," the person said. "You can't deny the significance of the contributions that African-Americans have made from the beginning. It's such a shame that those contributions, in the past and now, are brushed over or neglected."
So now what? The protests are diminishing. The statements have ceased. What, if anything, will racing industry entities do to address the lack of diversity, equity, and inclusion in the sport? And do they even want to address it? Is it a priority?
We'll explore that in Part 2 of this series.
LATEST NEWS