Laurel Park picks and ponderings March 15, 2020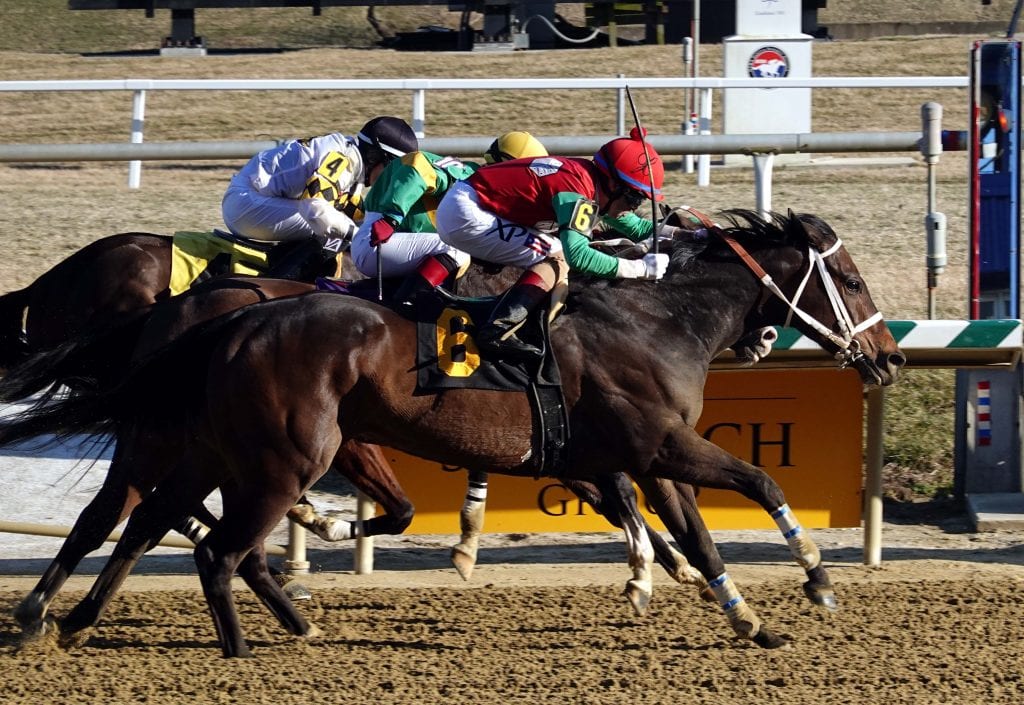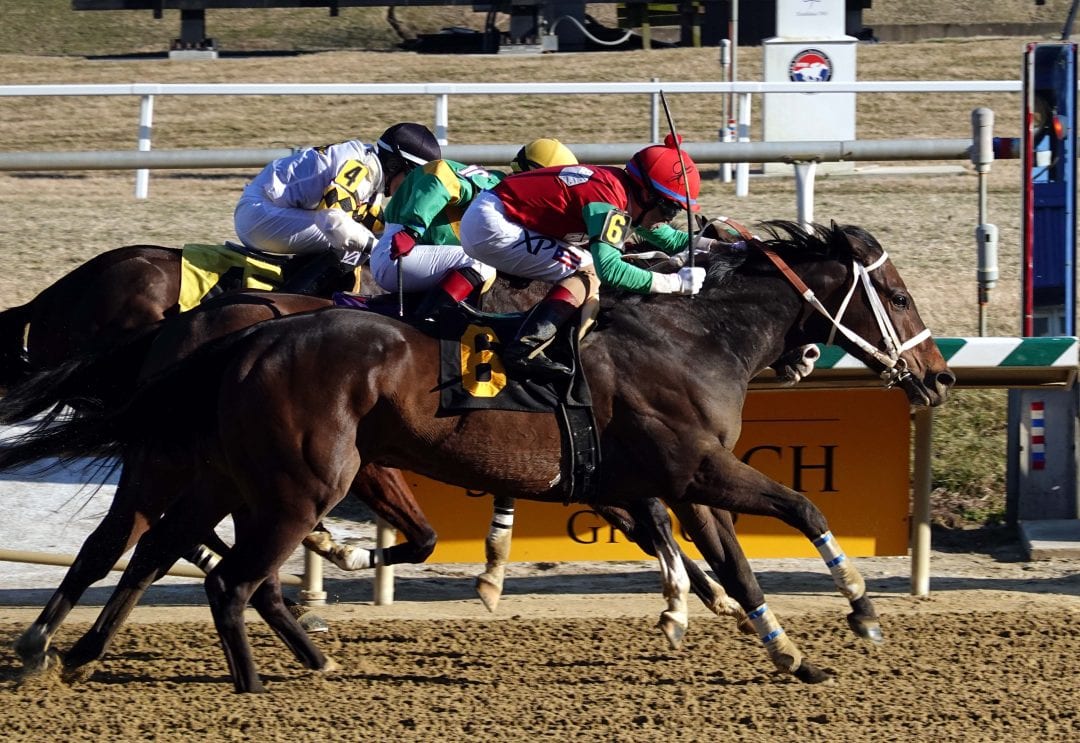 Anna's Bandit. Photo by Laurie Asseo.
In which we pick the races from Laurel Park each day…
Post time: 1:10 p.m.
Carryovers: Rainbow Jackpot Pick 6 — $16,494; Super High 5 — $1,160; Late Pick 5 — None
Notable: Until further notice, no fans are allowed to attend the races at Laurel Park. For more info, click here.
ANALYSIS
RACE 1
6-5-4-3
Hard to get excited about the obvious chalk in here, at least not at the prices you can expect to get. #5 Khalos Vision (7-5) certainly ran well last time to be second against similar, but the Dale Capuano trainee has lost twice at this level, including last time at 1-5, and is stretching out from 5 1/2 furlongs to 1 1/16 miles… Have him on the ticket, by all means, but we'd like fewer question marks before taking probable odds-on… We'll take a bit of a swing with #6 Micro Margarita (5-1); she makes her first start in the Gonzalez barn after making limited impact in NY, but perhaps the change of scenery can help… Wondering if trainer Ricky Sillaman can get #4 Hoss Kitten (15-1) back on track; this one ran a couple good ones in the Gonzalez barn, but his two since the claim have been, let's say, suboptimal; the value should be there…
RACE 2 
7-1-5-6
You gotta figure that the favorite, #7 Bucked Tooth (7-5), is the one they'll have to reel in; he's got all kinds of early lick in a race without much of that, and he's shortening up to a 5 1/2-furlong distance he's thrived at… We're gonna draw a line through that last one for #1 Looks Good (10-1), who was up the track at long odds vs. much better; he ran just fine two back against similar and makes his second start in the Robb barn today… 
RACE 3 
8-2-4-5
Let's see if the speedy #8 Baron of Bluegrass (5-1) can rediscover his better form; last time out he was a bit too keyed up, broke through the gate, showed speed but not surprisingly emptied out; breaking from the outside today, you assume they'll try to grab the lead or press the pace, depending on the break… Speaking of horses with questions, there's #2 Air On Fire (8-5); trainer Linda Rice claimed this one from Jason Servis three back, but his two in the Rice barn have not been particularly good; if he can get back to his earlier form, he'll win here, and even a repeat of his two-back fifth against better might be enough, but, I dunno, you want short odds on a horse like this? Draw a line through that last for #4 Shadow Boxer (9-2), who just ran a bad one and was eased late; he can improve…
ANALYSIS
RACE 4
1-3-6-2
Chalk it is, as #1 Sierra Leona (8-5) drops from a win against $8,000 company; trainer Gaudet claimed this one for a nickel, turned around to win against better (as the 6-5 choice), and drops back to the nickel spot, where this mare figures tough… #6 Miss Aliphant (7-2) galloped against lesser last out, makes her first start in the Magee barn, and usually runs well at this mile trip…
RACE 5
3-1-6-4
In a field with plenty of early speed types, a runner who may get the advantage is #3 It's the Journey (5-2); this one makes his first start in the Ness barn, Ness legs up go-to rider McCarthy, and this G3-placed runner has all kinds of back class… The drop from Md-bred allowance company to conditioned nickel claimers ought to help #1 Catonsville (7-2) rediscover his better form; when last seen against similar, he just missed after leading most of the way; he might be the speed of the speed here… 
RACE 6 
1-5-6-2
Trainer Carlos Mancilla has cooled off a bit (2-for-his-last-16) after a blazing-hot start to the year, but it wouldn't be a surprise to see #1 Top Me Off (7-2) to get him back on track as he drops from much better to this spot… #5 Successful Zip (5-2) has kept much better company than this his last few and here lands in perhaps the right spot; the concern is the declining recent efforts, so we'll leave him on the ticket but not on top… #6 Big Boots (3-1) just missed against similar last time and rates a shot here; trainer Magee is 24% second off the claim…
ANALYSIS
RACE 7
3-9-2-1
Despite the scratches, there's still plenty of speed in here, and the only runner who looks to be running late is #3 Two L's Meow (5-1), who didn't run especially well last time but makes his second start in the Ness barn, has beaten similar, and should get the right setup in here… 
RACE 8 
1-7-4-8
The question in the nightcap is pretty simple: how does #3 Glengar (5-2) come back? He's been away a year and has some OK works in the tank, including a bullet half-mile on February 9; on the other hand, new trainer Magee has just a middling record off long layoffs (and it's worse when the horse is making his first start in the barn), and this one is dropping out of $25k starter company not just to $10,000 but is also running at the bottom of the claiming range, in for $8,000; if he returns as he was, he wins, but given the negatives, we'll try to beat him (and he's kind of an all or nothing horse: you either think he wins, or he's nowhere)… #1 Coffee Please (7-2) crushed bottom maidens last out and makes his first start in the Sanchez-Salomon barn today; after a dozen cracks, maybe the lightbulb's gone on…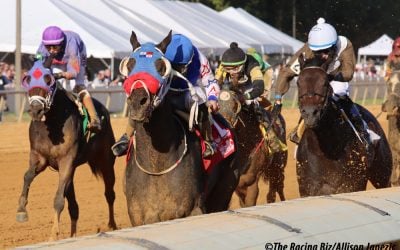 We provide full-card picks and analysis for this afternoon's races at Laurel Park.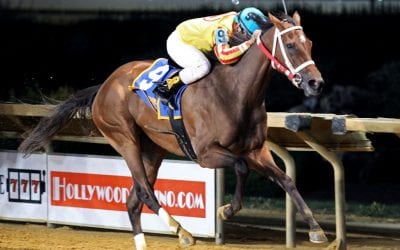 We provide picks and analysis for this evening's card at Charles Town Races.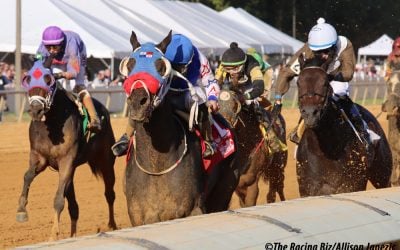 We provide full-card picks and analysis for this afternoon's races at Laurel Park.