Laurel Park picks and ponderings March 8, 2020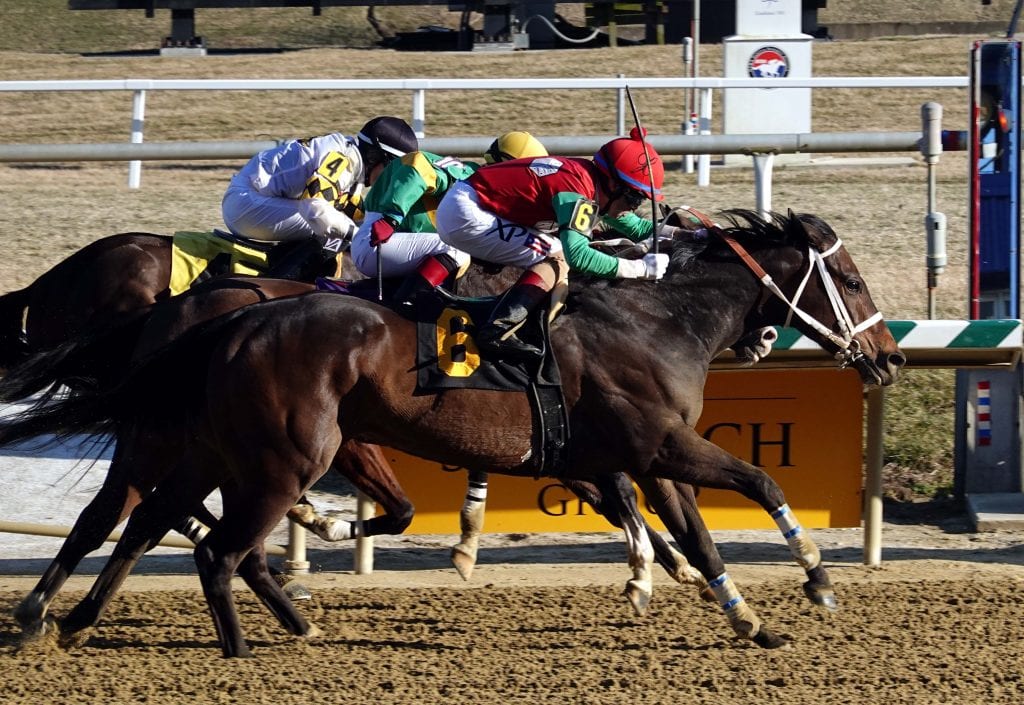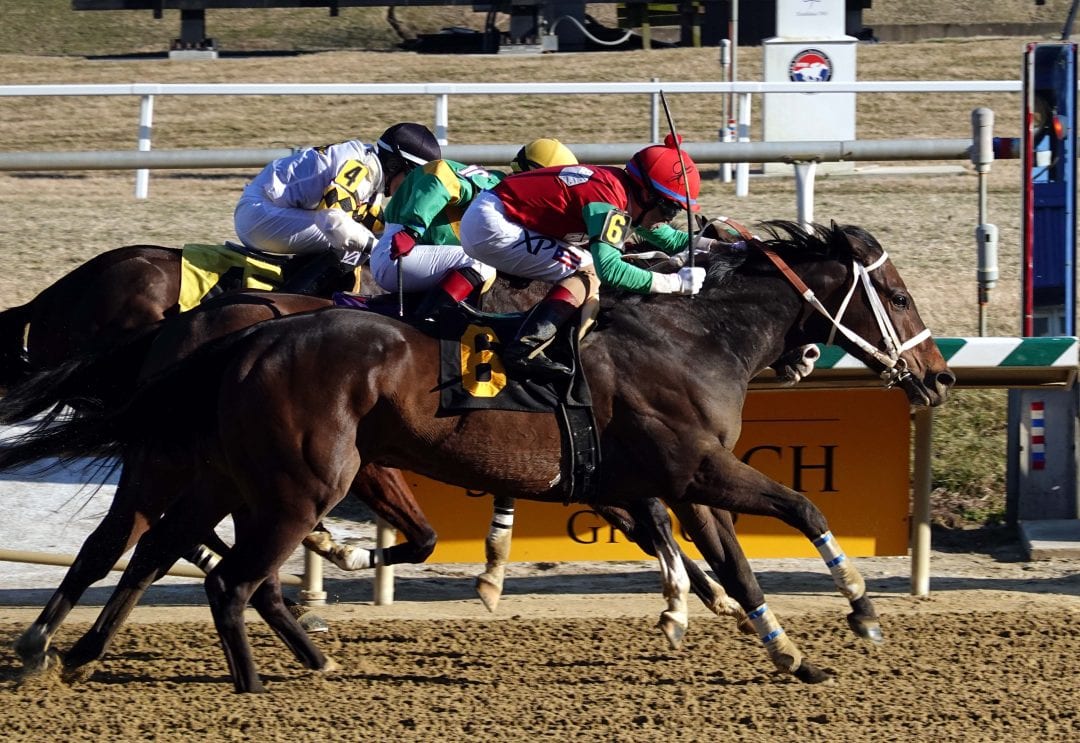 Anna's Bandit. Photo by Laurie Asseo.
In which we pick the races from Laurel Park each day…
Post time: 12:25 p.m.
Carryovers: Rainbow Jackpot Pick 6 — $11,555; Super High 5 — $1,125; Late Pick 5 — $7,206
Notable: Happy International Women's Day! Women should play a significant role in today's card, and if you're looking for some hunch plays, female jockeys Tais Lyapustina (races 3, 4, and 8) and Rebecca LaBarre (race 8) both have mounts, as do several female trainers: Aimee Hall, Kate Demasi, Marilyn McMullen, Valrie Smith, Joan Reynolds, Paige Rodriguez, Lacey Gaudet, and Michelle Nevin. Good luck to all!
ANALYSIS
RACE 1
7-5-2-3
The scratch of the favorite makes this a more wide-open affair, and we'll give a shot to #7 Ace Nine Nine (7-2), who rallied a bit last time in his first start in more than two months; leading rider McCarthy picks up the ship-in mount, and look for this one to be a bit more involved early than he was last time… #5 Nautical Nature (5-1) has shown improved speed in his last couple with good gate rider Acosta up, and he might have a chance to control this one early; he's faded late in his last two and will try to keep it going this time… Trainer Kieron Magee wins 21% of the time first off the claim while rising in claiming price, as he's doing with #2 Big Boots (9-2), recently second versus lesser…
RACE 2 
3-2-1-4
Pretty good effort last out by #3 Carey Times (8-5), who was up on the pace early, eased back nearing the half pole, and continued to chase willingly to the end; a repeat of that would probably make him a winner today… If the pace heats up – and it could, with #3 D C Fireman (2-1) likely to be pressing or even leading Carey Times early – the most likely beneficiary would be #2 Justwaveandsmile (5-2), who ran just evenly to be third last time, a length-and-change behind Carey Times…
RACE 3 
4-6-1-5
Here's the thing about top choice #4 Flirtation Walk (7-2); she's been a faint-hearted speed horse for much of her career with no real ability to pass horses, but last time out, she broke alertly, dropped back and seemingly out of contention, began to move on the turn, and then closed stoutly while wide on the course to get up for second, beaten less than a length; we hadn't seen that from her any time recently, and perhaps it presages a move forward… #6 Barbsgray Lion (5-2) continues to be in decent form, with three in-the-money finishes from her last four… This is a pretty wide-open affair, though, so in your multi-race bets, you'll want to spread out a bit…
ANALYSIS
RACE 4
7-5-2-3
Where's the speed coming from in this claiming contest? Longshot #1 Best Offer (20-1) looks to provide a bit, and more importantly, so does #7 Hayne's Fever (4-1); the latter got cooked early in a poor performance last out when chasing Awesome Fu, who won his fifth straight that day; he looks to be controlling speed here and may be tough to reel in late… The late-running #5 Bob's My Uncle (9-5) and even later-running #2 Monkey's Medal (7-2) both have been running well against similar, but both could be at the mercy of what's happening up front…
RACE 5 
3-2-4-6
New condition here — a $50,000 claiming race for three-year-old fillies — which slots it in below a first-level allowance but above all the claiming conditions, so the first thing to look for would be a horse who's already knocked down her first allowance condition… but there aren't any of those, so it's on to Plan B… We'll try for a mild upset with #3 Elizabeth T (9-2); this miss makes her first start in the Gonzalez barn (30% first off the claim while moving up the ladder) and also may be the controlling speed in here after her easy, front-running maiden score last time… Gonzalez has a double-barreled shot here, also adding #6 Calypso Ghost (7-2), who figures to be running mid-pack and has gradually been moving up the ladder… Another option here is #4 Win Then Grin (7-2), who defeated $25k claimers three back and just missed last out against Calypso Ghost… We're not inclined to take the favorite, though you may be (and we won't try to talk you out of it); the Trombetta-trained #1 Lookin Dynamic (5-2) has been well beaten three straight at the allowance level, twice locally, and now drops out of it; would've liked to see her be a bit more competitive before accepting short odds…
RACE 6 
4-7-2-3
Speaking of pretty wide-open events, this nickel claimer fits the bill, with a 7-2 favorite in #7 Close the Deal, who finished third against similar last out after pressing the pace… We're gonna put our money behind #4 Eye of the Wildcat (5-1); the TJ Aguirre trainee made a huge move while wide last time, making the lead late before having to settle for second behind a runner who was able to slip through inside and draw away; this one was clear of the rest, and a repeat could be good enough… The show horse from that contest was Close the Deal, who'll be on the ticket… We kinda think #2 Princess A'go Go (9-2) caused some of her own difficulty last time when trying to slip through a narrow opening at the top of the lane — she got bounced around pretty good — but it was nevertheless a better-than-it-looks effort, and she can contend here…
ANALYSIS
RACE 7
5-1-3-6
We'll eat the chalk here with #5 Barrister (7-5); the Lacey Gaudet trainee ran a good one to be second last time versus the promising Uncle Mo colt Plot the Dots while well clear of the rest and gets Lasix on today… We'll give a crack to #1 Prevail Upon (5-2); the Graham Motion trainee has been gelded since a pretty good rallying try in November, and Motion wins 14% of the time off similar layoffs while putting horses in route races…
RACE 8
5-3-1-4
In a race with plentiful early speed, who'll pick up the pieces? Possibly none of these — maybe a speed horse, like, say, #3 Girl Drama (6-1) will stay on — but if one does, let's try for an upset with #8 Saratoga Style (8-1); this one makes her first start in the Potts barn after some pretty dismal tries in NY, but has perhaps better efforts in her background, should get the race shape she wants, and offers an enticing price… As for Girl Drama, this one ran a better-than-it-looks race last time, battling it out up front early and sticking with it to the very late stages; the opening half-mile of that race for these bottom-level runners was faster than that of a second-level allowance for fillies and mares later in the day… Favored #1 Dean's Ticket (9-5) is fine and certainly can win here on the drop out of open company, but she's very much just a horse, and taking short odds on her on top seems pointless…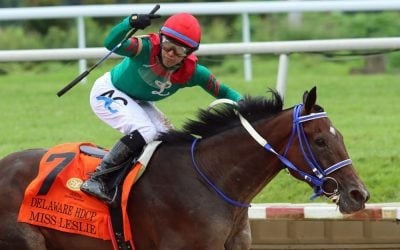 Racing returns to Delaware Park May 24, and we return with Delaware Park picks and analysis for the track's 86th racing season.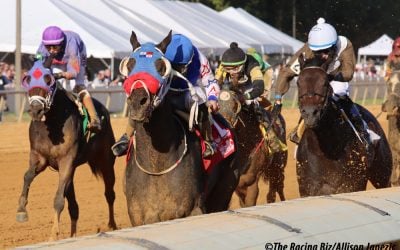 We provide full-card picks and analysis for this afternoon's races at Laurel Park.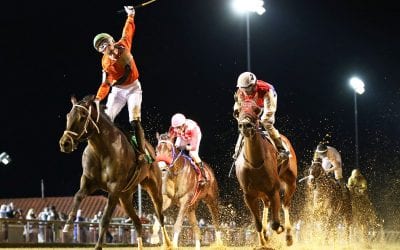 Full-card picks and analysis for this evening's live racing card from Charles Town Races!