Laurel Park picks and ponderings March 1, 2020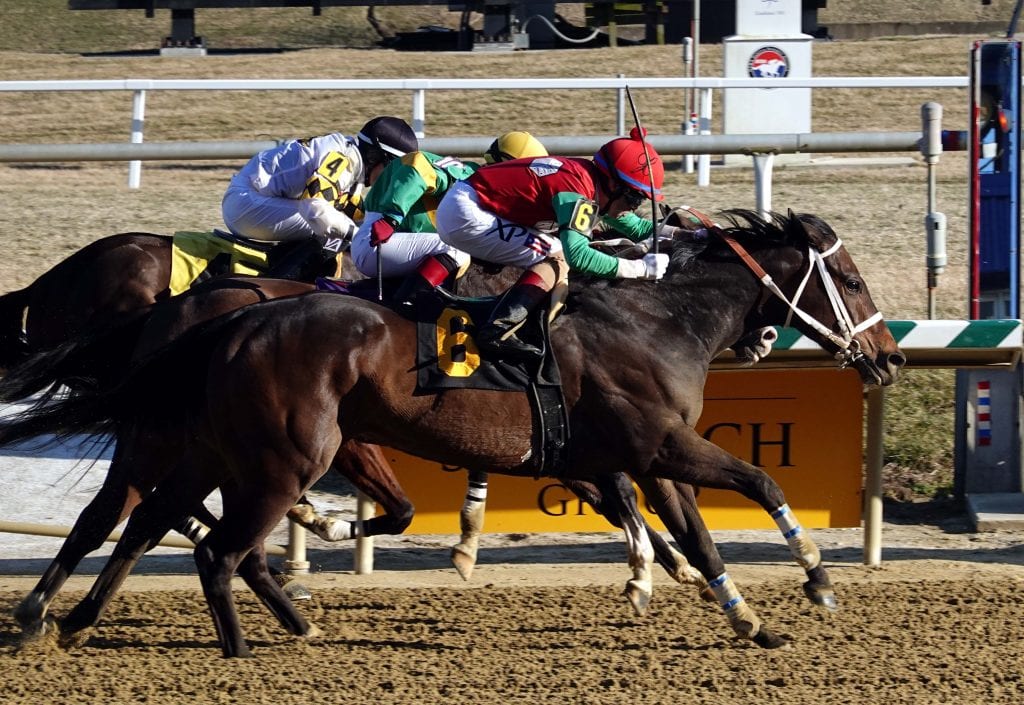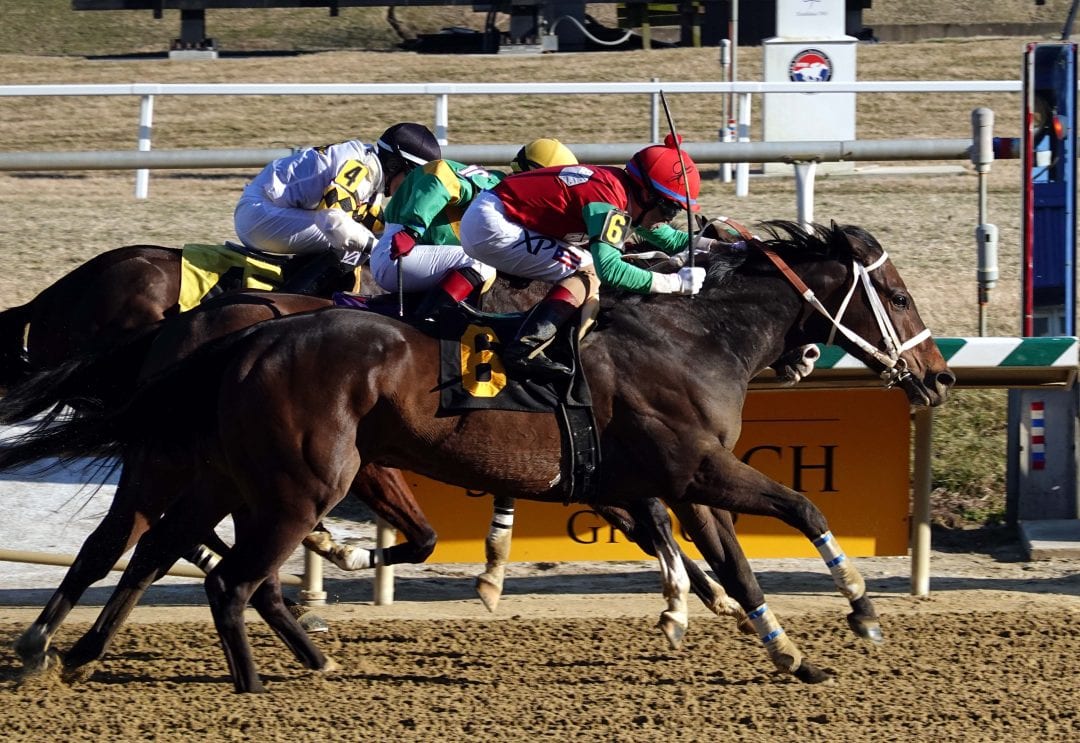 Anna's Bandit. Photo by Laurie Asseo.
In which we pick the races from Laurel Park each day…
Post time: 12:25 p.m.
Carryovers: Rainbow Jackpot Pick 6 — $6,499; Super High 5 — None; Late Pick 5 — None
Notable: 
ANALYSIS
RACE 1
2-6-5-1
Keep calm and eat the chalk in the opener; #2 Don'tbaggagecheck (1-1) takes an aggressive but not inappropriate drop after getting thrashed by better three straight; trainer Albert goes hunting a win here with a horse whose better (and possibly even worse) efforts are good enough… #6 Blue Sky Venezuela (5-2)  can improve in second off the claim for Tessore, who attracts leading rider McCarthy; this one's probably better on turf but might still offer some value in this spot, so keep an eye on the toteboard…
RACE 2 
4-6-1-5
First time off the claim for Gonzalez with #4 Kickstartmyheart (4-1) who ran well enough last time out against $25,000 maidens; Gonzalez is 31% first off the claim with maiden claimers and catches a manageable group here… Favored #1 Guilia Ammannati (9-5) certainly is a contender, but short odds not recommended: she'll make her first start since August, first on dirt, and first in the DePaz barn (4-for-23 1st with the trainer), and that's a lot of firsts to accept favoritism on a horse… #6 Hydra (3-1) ran credibly in her last, and trainer Robb (32% 2nd off the claim) switches to go-to rider Perez; this one may appreciate getting back on a fast track for the first time since December 2018…
RACE 3 
8-3-2-4
Let's take a swing at an upset in this bottom maiden event…. #8 Bandolini (8-1) showed a bit of speed last time for the opening half-mile before backing out while wide on the turn and today drops to the bottom level; he has better efforts in his past, though, trainer Geralis is 3-for-21 (14%) second-off-long layoffs, and we like that he waived the claiming tag last time; seems to suggest he liked what he was seeing in the morning… #3 Coast to Coast (9-5) and #4 Goodluckchuck (5-2) both ran second against similar last time, the latter chasing a 3-10 favorite… #2 Leading Man (5-1) might appreciate this distance and has generally seemed to like shortening up from a mile to sprint distances in the past…
ANALYSIS
RACE 4
5-7-3-6
The late-running #5 Lady Rozina (7-2) missed by less than a length last time against similar; all three to run back from that contest have finished in the exacta, including two who won and the winner, Hand Rail, who ran second on 2/29… Trainer Jamie Ness doesn't have a great record bringing horses back from long layoffs (2-for-15), but we like to see that he's protecting #7 Two Carat (4-1); though she's a cheaper horse, that suggests he thinks she still has some wins in her…
RACE 5 
8-2-3-4
The favorite in here, #2 Whats the Chances (2-1), certainly ought to be on the ticket; the Despite the Odds gelding has been working well enough, and trainer Trombetta has a 17% strike rate with debut maiden claimers; the problem is the likely odds; when taking first-timers in bottom company, you want to get paid a little bit (these aren't horses that'll have big reputations behind them), and that's not likely to happen here… So we'll look for slightly better odds with #8 Fifty Seven Chevy (3-1), who finished second last time against similar while well clear of the rest; the only horse to run back graduated next out, and that was the last-place finisher… 
RACE 6 
2-4-1-3
No question that #4 Twixy Cat (4-5) deserves to be the favorite in this $25k claimer after some pretty OK tries against better, including last out a fourth-place finish in an allowance behind Bodeflex, who's posted back-to-back 80+ Beyer speed figs… But what's fun about 4-5? Let's take a look at #2 Tappin Honor (8-1); this runner impressed on debut, winning by a half-dozen at Santa Anita while earning a 70 Beyer, but has not run particularly well since; however, that last may be better than it looks; he won the early speed duel, and while others came and picked up the pieces, the horse he bested in that duel returned to win next out… #1 Forfiftyfiverocket (7-2) has beaten similar a couple of times… Not totally sold on #3 Inside Risk (7-2), who nevertheless remains on the ticket; he looked to be on the best part of the track last time, running outside the leader on what seemed to be an outside-preferred day, but he couldn't get by and had to settle for second; plus, while that rival came back to win again, it was once again in a four-horse field…
ANALYSIS
RACE 7
2-1-7-4
#6 Savour the Moment (2-1) is a good example of the kind of favorite we're always going to toss, while understanding we're gonna lose some of those bets; her body of work says she fits here, and trainer Cal Lynch knows how to win (and legs up go-to rider McCarthy); so why toss? This is a runner whose connections dropped $40,000 on her in November on a day when she ran credibly; so you have to ask why they're dropping her in for $25,000 today. Plus, she looks to be a turf horse, and if they waited just a few more weeks, they could run her back in a two-other-than on turf, where she'd look just fine, but instead they drop her in today and risk taking a loss on her (and not on her preferred surface); again, she could win, and if she does, you take your lumps and understand that's how the game goes, but if you have too many questions about a horse's presence in the race, it's best to toss the horse or avoid the race altogether… Instead, we'll shoot for another upset special: #2 Special Included (12-1) ran a pretty blah race last time out, but it's important to understand how much tougher that $25,000 starter condition is at PRX than this one is at LRL; while this is for horses that have never won three, that one's for horses that have never won four or have never won a race other than maiden, claiming or starter; the horse that won her last, Wicked Awesome, entered off an 11-length allowance win at PEN, and on this one's best day, when second at that same level back in May, the winner had just won an allowance at AQU; if nothing else, the class relief should help… As a general rule, when trainer Lacey Gaudet moves horses up off the claim, they tend to be well meant, and that's the case with #7 Nine Martinis (6-1), who also gets blinkers on…
RACE 8
2-6-1-7
We're chomping on the chalk with #2 Vee's Super Star (2-1), who's a good example of an apple falling a long way from the tree; he's a half-brother to 2004 Eclipse champion two-year-old Declan's Moon, here arriving at the bottom… A good example of past performances not telling you the whole story is #6 V for Violence (5-2); the pp's indicate he sold at autction in 2017 for $90,000, which is true; what they don't tell you is he's been offered in two subsequent auctions, once not reaching his reserve (after getting a top bid of $29,000) and, this past December, selling for $3,000 at the Fasig-Tipton Midlantic December Mixed Sale; why this matters is that a $90,000 horse debuting for $10,000 is an automatic toss, while a $3,000 horse debuting at that level is just where he belongs; trainer Farrior is 4-for-18 with first-timers in maiden claiming company…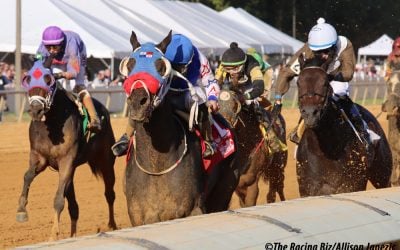 We provide full-card picks and analysis for this afternoon's races at Laurel Park.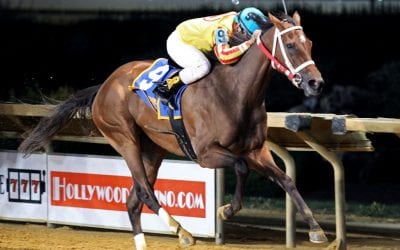 We provide picks and analysis for this evening's card at Charles Town Races.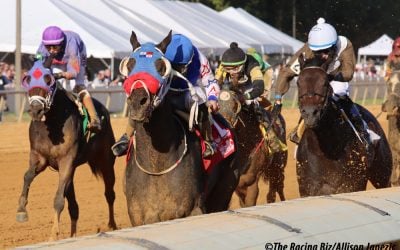 We provide full-card picks and analysis for this afternoon's races at Laurel Park.