Mare Uniformly Yours paying increasing dividends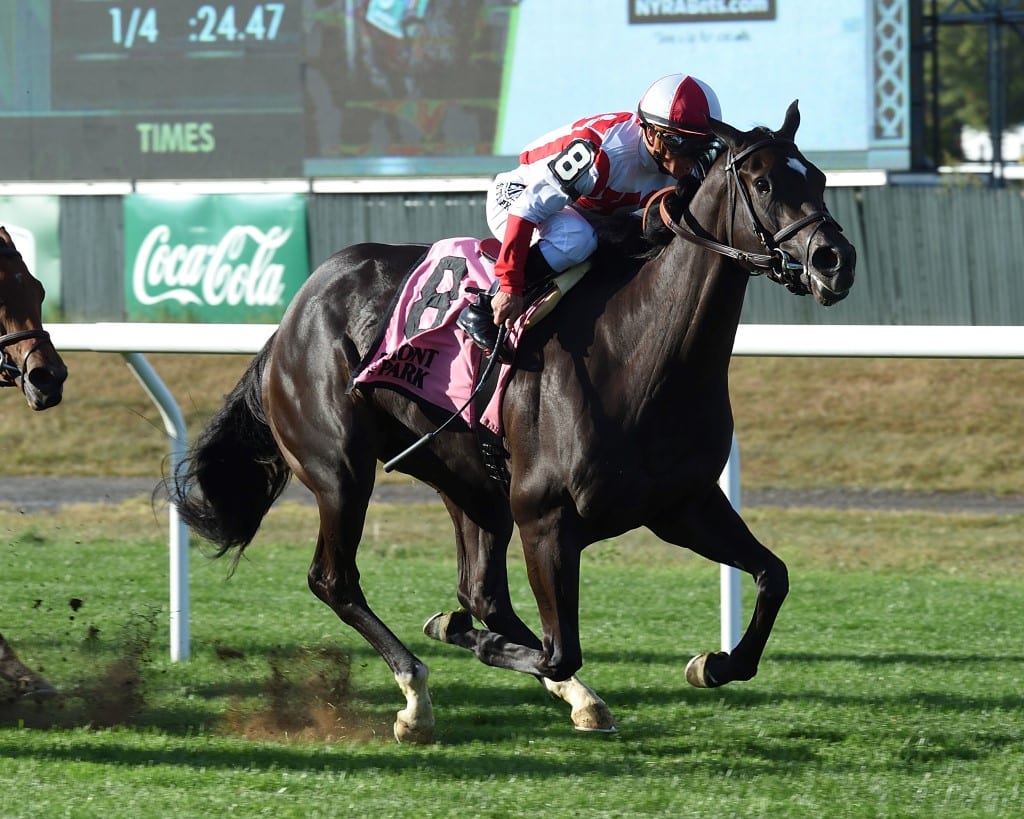 Selflessly broke her maiden in the Grade 2 Miss Grillo Stakes. Photo by Janet Garaguso/NYRA.
On Sept. 29, a two-year-old Maryland-bred filly named Selflessly won the Miss Grillo Stakes (G3) at Belmont Park. The win did not go unnoticed by Rick Nichols, the vice president and general manager of Shadwell Farm.
About five weeks later, he and Shadwell shelled out half a million dollars for the filly's weanling half-brother, perhaps a record price for a Maryland-bred weanling at auction, at the November Keeneland sale of breeding stock.
"He's a very nice individual," said Nichols earlier this month. "And he had a nice update when his half-sister won the Miss Grillo."
Very nice, indeed.
The bay colt was bred by George Louis Doetsch Jr. at his Marama Farm, in Clarksville, MD and born on April 4, less than a year ago. His entrance was not what one might call "grand."
"The mare ended up having him out in the field," said Wanda Jones, who manages the farm. "I knew he was very nice as soon as I saw him, but I also knew that things could change."
In partnership with John Mayer, who owns Nursery Place, a breeding farm in Kentucky, Jones purchased the weanling's dam, Uniformly Yours (Grand Slam), out of the Fasig-Tipton Kentucky February Mixed Sale in 2014, paying $100,000 for her in foal to Ghostzapper. That foal, Enchanted Ghost, now five, won last year's Maryland Racing Media Stakes at Laurel Park; the year before, she won the Wide Country Stakes, and her lifetime record shows earnings of $217,000 and four stakes placings.
She sold as a yearling for $75,000 to Men's Grille Racing at the Fasig-Tipton Midlantic Fall Yearling Sale; three months ago, in the same sale at which her half-brother sold for $500,000, Enchanted Ghost brought $335,000, sold to Double Bridges. Most recently, she was third in the Geisha Stakes at Laurel in January.
In 2016, Jones and Mayer arranged for Uniformly Yours to be bred to More Than Ready, and her 2017 foal, Selflessly, became a graded stakes winner in her second start after being purchased by Nick de Meric for $190,000 for 2019 Eclipse Award-winning owners and trainer Klaravich Stable and Chad Brown. She finished fifth in the Breeders' Cup Juvenile Fillies Turf (G1) and is unraced since then.
It was Jones who made the call to breed Uniformly Yours to More Than Ready.
"Selflessly was the first major decision I made for the farm," said Jones. "Enchanted Ghost kind of put us on the map, but when John and I decided to breed to More Than Ready, we escalated to where we are now."
Uniformly Yours' 2018 foal, another filly, this one by Honor Code, sold for $100,000 at last year's Keeneland September yearling sale, going to Samantha Siegel's Jay Em Ess Stable.
Which brings us to the pricey weanling, who is by Kitten's Joy.
"Kitten's Joy is Kitten's Joy," said Mayer of the decision to breed Uniformly Yours to him. "He works great with Grand Slam mares—he's had five stakes winners from Grand Slam mares. And she's a very, very big mare, tall and well-developed, while sometimes Kitten's Joys tend to be a little smaller. We thought it was a good cross and we took a shot."
When, shortly after foaling, Uniformly Yours returned to Nursery Place (she was bred back last year to Kitten's Joy), the foal, as is typical, went with her.
"John called me and said, 'Wanda, this is a really nice colt,'" Jones recalled. "I said, 'Yeah, I know.'
"He repeated, 'Wanda, this is a nice colt.'
"I asked him how Uniformly Yours was, and he said again, 'Wanda…this is a NICE colt. This is the type of horse the bigwigs would be breeding.'"
Seven months later, on the grounds at Keeneland, some of the biggest buyers in racing agreed.
"We had about 12 pinhookers and four end users looking at him," said Mayer. "We put a reasonable reserve on him, about half of what he eventually brought."
The colt is still in Kentucky with Shadwell, and sadly for those wishing to see the Maryland-bred in Maryland, he is unlikely to return to the state of his birth. Nichols said that he will likely head to Dubai to be broken, then go to a trainer in Europe.
"Kitten's Joy is turf, and the yearling's half-sister is good on turf," he said. "Sheikh Hamdan [Bin Rashid Al Maktoum, owner of Shadwell Farm] comes in September to look at the yearlings, and we'll make a decision then. But more than likely, he'll be based in Europe."
Uniformly Yours will return to More Than Ready after foaling this year, so perhaps the disappointed Midlantic racing fans will have, in the next couple of years, some other expensive Maryland-breds to watch, in addition to Selflessly. And while Doetsch has received offers to buy the mare, Jones, who estimates her value in the $750,000 to $1 million range, doesn't expect him to sell.
"She's once in a lifetime for both of us," she said.
Now 10, the Ontario-bred Uniformly Yours earned just under $2,000 in six starts; she never made it to the winner's circle. She's one of just a handful of mares at the farm, and she's already made one of Jones' dreams come true.
"When I came to the farm, I told Mr. Doetsch that I wanted to accomplish two things: to breed a horse that would run in one of the big races, and to breed a horse that sold for $1 million.
"Selflessly ran in the Breeders' Cup, so we've accomplished that," she continued. "And half a million is pretty damn close. It's kind of unheard of what this mare has done for us."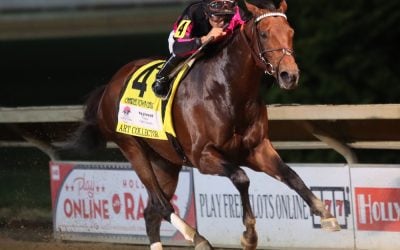 Art Collector's win in Saturday's Grade 1 Pegasus got us wondering: which winners of the Charles Town Classic had the best careers after their Classic win?