Mid-Atlantic racing roundup, January 15, 2020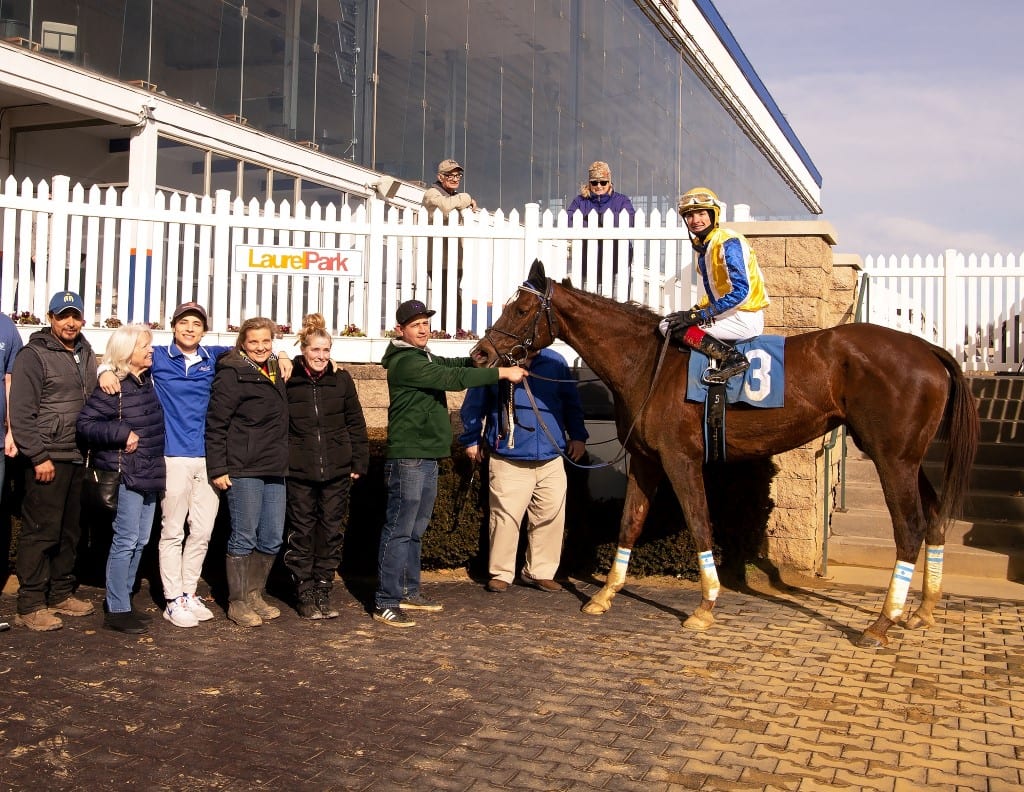 LAUREL PARK
In his eighth career mount, Charlie Marquez got his first riding win in Thursday's second race. He got the most out of his horse, Sierra Leona, as he battled on the lead early and down the stretch late to win by ¾ of a length. The 16-year-old Marquez began riding in July 2019, at Parx, but has not had consistent mounts until the new year. So far at the Laurel winter meet, he's won once from thirteen starters.

Maryland-bred three-year-old filly Long Point Beach won her second in a row in Friday's fifth race, an allowance for three-year-old fillies, in a 12/1 upset. She set a respectable pace on the front end, while encountering consistent pressure. In the stretch, 11/1 Dancer's Melody drew right up alongside her, but Long Point Beach held sway to win by a neck, going the mile in 1:40.06. Jevian Toledo rode for owner Five Hellions Farm and trainer Lacey Gaudet.

Blue Eyed Girl blew the doors off the field in Saturday's feature, winning a n/w2x allowance optional claiming race by 6 ½ lengths. She rated off early leader My Star Potential, then pounced on the turn. Without any serious competition in the stretch, she pulled away from the rest, going the 6 ½ furlongs in 1:16.63 seconds. That's her third win in a row, and her fifth triumph in her last seven races. It wouldn't be a surprise to see her in stakes company next. She's owned by Morris Kernan and M-Z Racing Partnership, trained by Marcos Zulueta, and was ridden by Alex Cintron.

Another young Maryland-bred impressed on Saturday. The three-year-old gelding Pitching Ari won his third straight in the 7th race, taking a n/w1x allowance by 1 ¼ lengths. As he usually does, he came from behind, closing from sixth place to win going away. He's owned by Joe Besecker, trained by Claudio Gonzalez, and was ridden by J.D. Acosta. 

Trainer Claudio Gonzalez has been on a hot streak, winning at least one race every day of the racing week, and he added a Monday triumph at Parx Racing. As a result, he's taken charge of the trainer standings, leading with seven wins. Dale Capuano and John Robb are tied for second, with four victories apiece. Ham Smith has two wins thus far in 2020 — but one of them gave him 2,000 in his career. That winner, with Sweet Home Dixie, came with a horse bred in his home state, bred and owned by brother Goree, and sired by his lone Derby starter, Done Talking.

Two wins for Trevor McCarthy keep him atop the jockey standings, with nine wins.Three riders are tied for second with four wins apiece.
CHARLES TOWN RACES
Nekia's First Lady impressed in the opening night feature on Wednesday, improving her career mark to 2-for-2 in a n/w1x allowance for 3-year-old fillies. Sent off as the even-money favorite in the field of six, she pressed front-runner Owner's Suite, before moving up nearing the half-mile point and taking charge. She won the 6 ½ furlong affair by 1 ½ lengths, getting the distance in 1:21.60. Vince Halliday was the winning jockey, for owner Bruce Snipes and trainer Steve Epley.

2019's leading jockey, Arnaldo Bocachica, picked up where he left off Thursday night, scoring a riding hat trick. He won race 3 with Mountaineer shipper Halfway, followed by a score in race 4 aboard Relaunching. He completed the three-bagger with Power Forward in the 6th race.

Mean Bean blew up the toteboard in a shocker in Charles Town's first stake of 2019, the Mint Mission Overnight, which took place Saturday.

Bocachica paces the jockey standings so far, with seven wins. Carlos Delgado is in second place, with four victories.

Jeff Runco is tied atop the training standings, along with Paul McEntee. They each have three winners, with McEntee starting the season 3-for-6.
PARX RACING
Flashndynamite impressed in victory in Tuesday's feature race, a n/w1x allowance going long for fillies and mares. She moved to the lead towards the inside as the field had traveled three-quarters of a mile and drew off from there for a dramatic seven-length win. That marked the first win of 2020 for the 5-year-old mare, in what was already her second start of the season. She's owned by Kasey K Racing Stable and Michael Day, trained by Michael Moore, and was ridden by Silvestre Gonzalez.

Three-year-old fillies battled it out in Monday's allowance feature, and it went to Sunday Inn in a photo finish over Tiz Gracie. The two were involved in a three-way speed duel in the early stages, and continued their battle in the stretch as they turned for home. Sunday Inn got the best of her rival late, and won by a neck. The top two finished 2 ¼ lengths over third-place finisher Lady Lucy Lu. Tyler Servis trained the winner, for Someday Farm. Anthony Nunez was up.

Mychel Sanchez is currently in front in the jockey race, with seven wins, two ahead of three others.

Joseph Taylor had just one training win this week, but he remains atop the trainer standings, with four wins.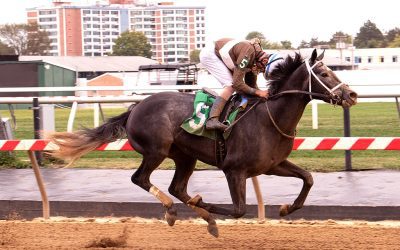 Last year's champion 2-year-old Maryland-bred made his first sophomore start in impressive fashion, winning the PImlico allowance feature.