Hamilton Smith earns 2,000th training victory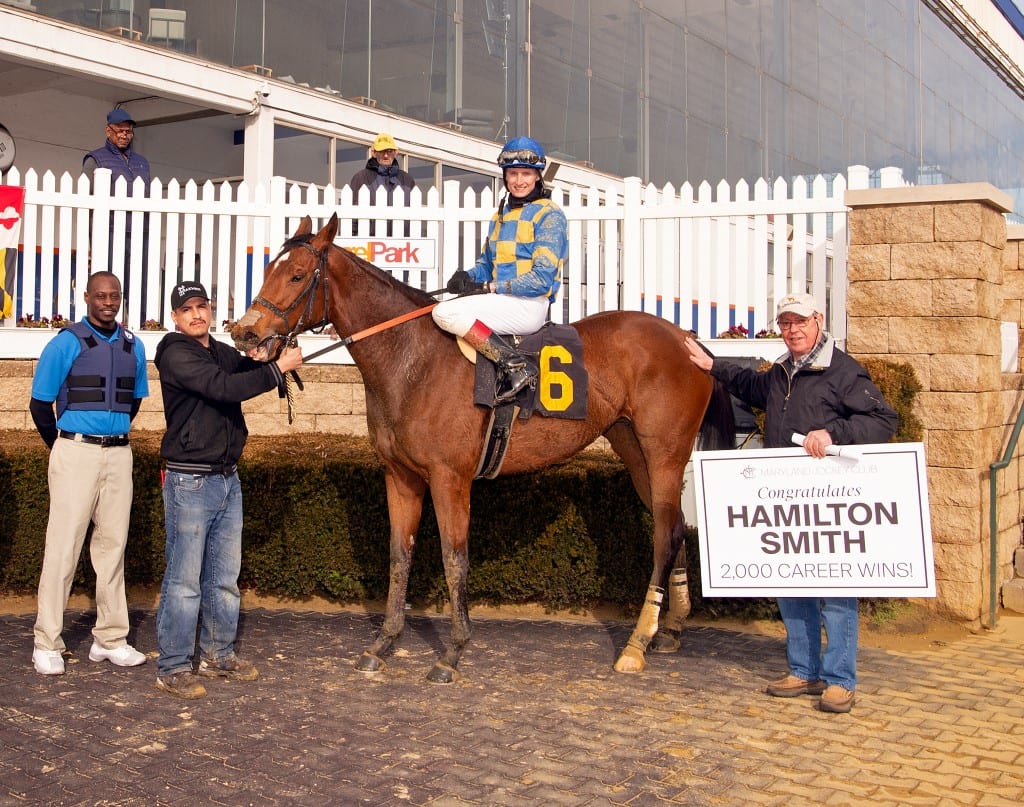 Happy winner's circle after Hamilton Smith gets his 2,000th training victory with Sweet Home Dixie. Photo by Jim McCue, Maryland Jockey Club.
Trainer Hamilton Smith has been training in Maryland for more than 40 years, but the tug of his native South Carolina remains as strong as ever: from his rumbling accent to his lifelong partner in the game, brother Frank "Goree" Smith, who runs the Elloree (SC) Training Center and who seasons (and winters) many of the horses that populate Smith's Laurel Park barn.
So it was apropos that, when the nearly-75-year-old Smith reached the 2,000 win milestone January 10, it was with a South Carolina-bred filly bred and owned by Goree. And named — honestly, you can't make this up — Sweet Home Dixie.
"It's a great thing to happen, I'll tell you that," Smith said after Sweet Home Dixie's five-length victory under jockey Trevor McCarthy. "When I got started I never thought I'd be around to win 2,000 races. I'm really glad to win it with a South Carolina-bred horse."
Smith entered 2020 just two shy of the milestone, and he wasted little time achieving it. Bye Bye Bertie got him to the cusp of 2,000 on January 4, and Sweet Home Dixie was just his fourth starter since.
"I got a lot of help along the way, I'll tell you that: from the ground help right on up to the owner and everybody," Smith added. "I'm proud of it. I really am."
Smith's 2,000 wins, in a career that began in 1977, have come in just shy of 13,500 races. His horses have earned about $41 million. For the most part, those wins and dollars have come the hard way: via hard-knocking horses competing in the Mid-Atlantic.
His richest runner, Humoristic, earned a shade over $525,000, including a pair of Grade 3 events. Humoristic, a daughter of Sefapiano bred and owned by Mrs. Arturo Peralta-Ramos, one of his longtime owners, is one of four graded winners Smith has trained.
The most prominent of those was Done Talking, a son of Broken Vow bred and owned by Skeedattle Associates, who parlayed a win in the 2012 Grade 3 Illinois Derby into a spot in that year's Kentucky Derby, in which he finished 14th. That was Smith's lone Derby starter.
Oddly — or perhaps appropriately — enough, Done Talking is the sire of Sweet Home Dixie.
"That's another feather in the hat, so to speak," Smith said. "Everything worked out great. Pretty unique, I have to admit."
Smith points to Big Rut, a Kokand gelding he trained for James Peters, Jr., as the horse who "really got me started with the better horses." Big Rut had his breakout year in 1996, winning five stakes that season.
But really, it's his remarkable consistency that has brought Smith accolades. Every year since 2000 but one, his runners have earned between $1 million and $2 million; the lone exception was 2014, when they earned about $2,011,000.
Smith credits his owners for sending him good stock, and his help for their work in the barns turning prospects into racehorses. But most of all, he credits hard work, and his brother.
"We kind of started down there [in South Carolina] together years ago, my brother and I," Smith recalled. "We were getting on yearlings, we were 11 or 12 years old. We've been working together ever since. It's been a pleasure, put it that way."
HAMILTON SMITH FILE
Born 1/29/45, Orangeburg, SC
Training career began in 1977
Career record 13,487: 2,000-1,907-1,824, earnings of about $41 million
Major owners have included Mrs. Arturo Peralta-Ramos, Mr. William Backer, Skeedattle Associates, Michael Harrison, DVM, Mens Grille Racing, et. al.
Graded stakes winners

Humoristic (2005 and 2007 runnings of the G3 Violet)
Fork Union Cadet (1986 G3 Woodlawn Stakes)
Blind Date (2009 G3 Virginia Oaks)
Done Talking (2012 G3 Illinois Derby)

Top earners

Humoristic ($526,862)
Talk Show Man ($456,556)
Debbie Sue ($400,265)
Done Talking ($399,090)
Big Rut ($397,414)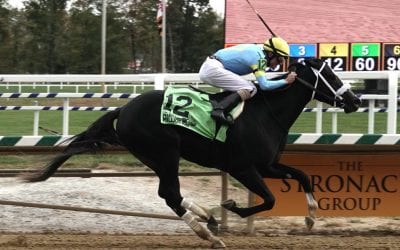 In her first move since winning the Maryland Juvenile Filly by a dozen lengths, Hello Beautiful showed trainer Brittany Russell "just what we wanted."