Laurel Park picks and ponderings December 15, 2019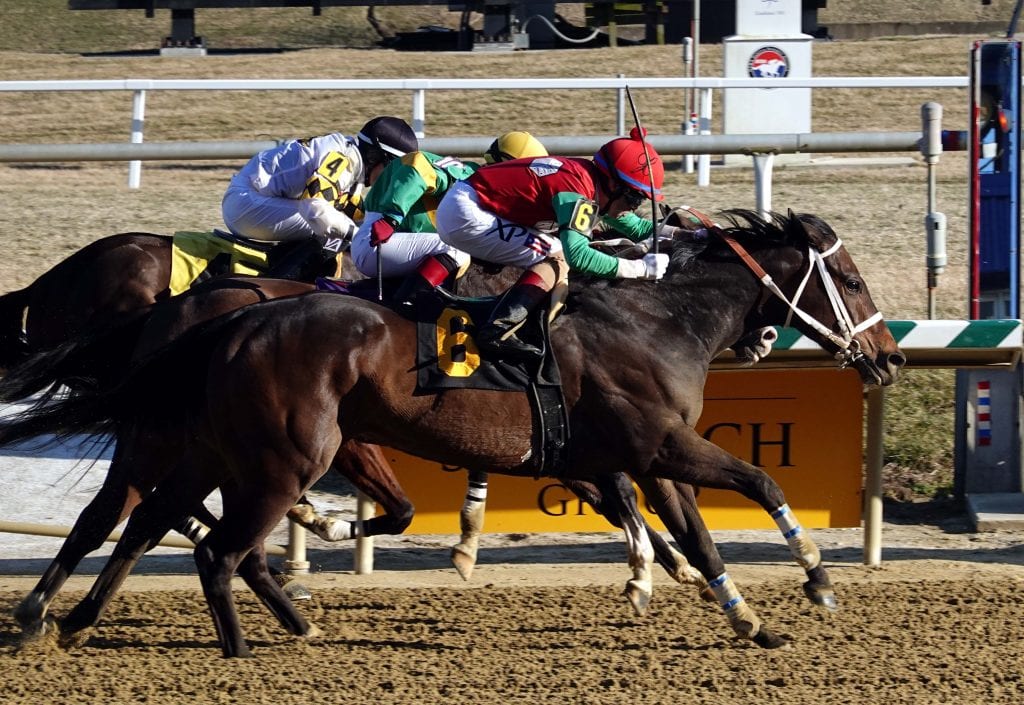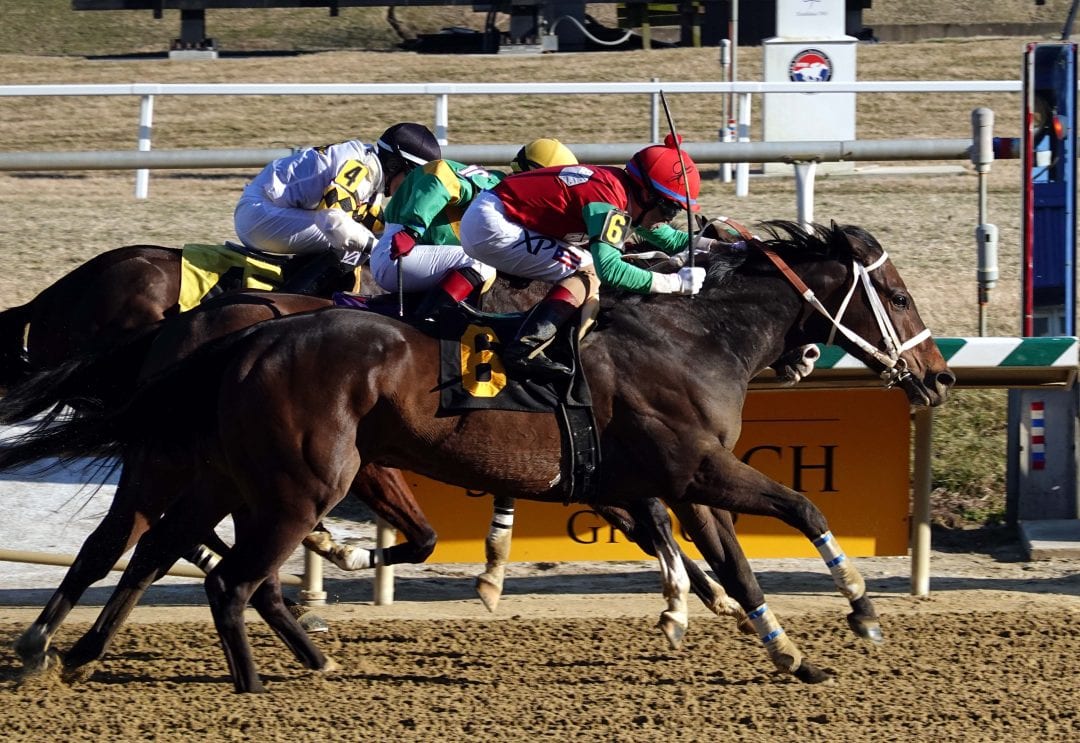 Anna's Bandit. Photo by Laurie Asseo.
In which we pick the races from Laurel Park each day…
Post time: 12:25 p.m.
Carryovers: Rainbow Jackpot Pick 6 — $15,973; Super High 5 — $373; Late Pick 5 — $15,170
Notable: 
ANALYSIS
RACE 1
6-3-7-8
We're munching on the chalk to kick off the card with #6 Gottaflathaveher (7-5), who's run competitively at this level twice previously and catches a manageable field today; the O'Dwyer-Russell trainer-jock combo has a 21% strike rate with a positive ROI… #3 Tapdancing Girl (12-1) didn't show much on debut against better but can move forward in her second start… #7 Redeemed Spirit (2-1) gets blinkers on afte a decent try at this level and makes her second start off a six-month break…
RACE 2 
4-8-2-1
We'll draw a line through that last and give another try to #4 Day the Music Died (15-1); he's making his first start in the Sandoval barn and should be in a spot where he can compete — he was 3-1 last time out at this level — after breaking his maiden for $40,000 and then winning for $16,000 two back… Favored #8 Hargus (5-2) just missed last out when dropped to this level and should be in front early… The Sillaman barn sent out a longshot winner Saturday at Laurel, but #2 Higher Purpose (7-2) would be much less of a surprise in this spot; the four-time winner is moving up off a win and claim…
RACE 3 
5-6-2-7
Top choice #5 Casper Slew (3-1) (by Ghostzapper – get it?!?) ran evenly last out against better and now lands in a spot where he should be competitive; he can move forward in his first start following a four-month break and is reunited with McCarthy, who won on him two back… Not sure the cutback does him any favors, but #6 Maranatha (4-1) just missed at this level last out and should find a mid-pack spot today… What should be a less-than-fast track ought to move #2 Ziggy Mon (6-1) up; the Hugh McMahon trainee ran a huge one to be third — by less than a length — three back in allowance company at 14-1 on a sloppy strip… #7 The Magical One (7-2) obliterated his bottom-level maiden rivals on debut but has been away five months since; let's see what trainer Gonzalez has up his sleeve for this Smarty Jones gelding…
ANALYSIS
RACE 4
1-8-9-7
The favorite in this bottom-level maiden event is #9 Gone Home (2-1), who has the best figs here and has finished second against better than these; but he also hasn't done anything to get excited about and has failed in 10 tries to date to earn his diploma, making him the kind of horse you try to beat… Let's see if #1 Nonna's Glory (9-2) can make some noise here; the Jerry Robb-trained Outflanker gelding makes his debut and has some pretty solid works on his ledger to date; he's the first foal out of a Great Notion mare who ran second in her only career start… #8 Just Chill Out (15-1) and #7 Irishtown (5-2) ran in the same race last time and finished less than a length apart; may as well take the more enticing odds on the former, who's also more lightly raced…
RACE 5
1-5-3-6
PICK FIVE STARTS HERE: In his debut, #1 Benintendi (8-5) had all the earmarks of a "could be any kind" horse; a $270,000 auction purchase, he's a half-brother to graded stakes winner She's Indy Money, went off at 9-5, and romped home by almost nine lengths; if there's a chink in the armor, it's worth nothing that he got away with modest fractions on the front end, strolling through a half-mile in 47.32 seconds — he figures to see more pressure early today against this seasoned group — but he came home in a swift 16.85 seconds for the last three-sixteenths after making a quick move to put daylight between himself and his rivals; he'll be singled on more than one Pick 5 ticket today… The most interesting price play in this spot is #3 Royal Crusader (20-1); the Giant Oak gelding had, race-after-race, shown a bit of early speed before backing out; last time, he dropped way back before making a bit of a move to make up some ground; that was his first start in three months, and he can move forward today…
RACE 6 
9-4-10-1
Good try last time out for top choice #9 Courtesy Shuffle (4-1), who cleared off to the lead in the lane after a wide journey throughout but could not seal the deal; he might be able to lock it down against this group… #4 Mayas Miracle (10-1) hasn't impressed in three tries to date but gets O'Dwyer's go-to rider Russell in the irons… Favored #10 Calypso Ghost (5-2) showed nothing last out but on the cutback and the switch to the Gonzalez barn may be able to recapture his prior form…
ANALYSIS
RACE 7
7-4-5-6
Nothing wrong with that last effort from #7 Bird King (2-1), who ran second by a length to Laddie Liam, who came back to win the Maryland Juvenile Futurity and then was sold for $450,000; that was a willing try, and it's notable that Parx riding ace Mychel Sanchez comes down for just the one mount… #4 Super John (5-2) led for a long way in that race before fading to third but may take early pressure from a couple of others in here in this spot… The speed fig wasn't much, but that was a pretty good-looking effort from #5 McElmore Avenue (15-1), who came from the clouds to score last out; the top six to run back from that race have posted two wins and three runner-up finishes in their follow-ups… 
RACE 8 
8-4-7-3
In her second start after an eight-month break, the speedy #8 Kateandlillian (7-2) cruised to a maiden score, and trainer Dale Capuano moves aggressively to double up by dropping her down to the bottom level today; some moisture in the track would be her friend… If rider Kevin Gomez, who takes the mount on #4 Lady Rozina (6-1) today, can save some ground, that would aid the cause of a runner who ran a solid race last time despite being hung out wide on the turn… Big drop for #7 Vampish (2-1), who ran respectably against better last out and may prove too tough for these…
RACE 9
3-7-1-4
In his debut #3 Lotto (8-5) caught one of the most impressive local maiden winners of the year in Benintendi, who runs earlier on today's card; that race has produced a next-out winner, and this one rates a major chance here on the two-level drop for Kieron Magee, who won a couple yesterday… #7 First Fighter (15-1) can outrun those long odds as he drops a level off a debut that wasn't terrible… You can't ignore favorite #1 Start With Yes (6-5), who has the best figs here and has run competitvely against better, but he's 0-for-12, which makes short win odds unappealing…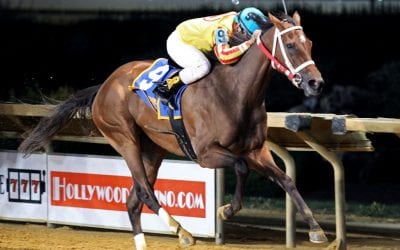 We provide picks and analysis for this evening's card at Charles Town Races.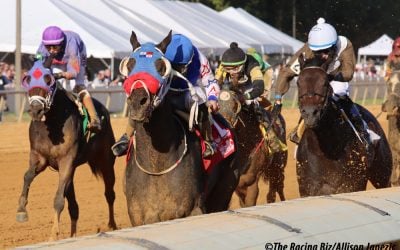 We provide full-card picks and analysis for this afternoon's races at Laurel Park.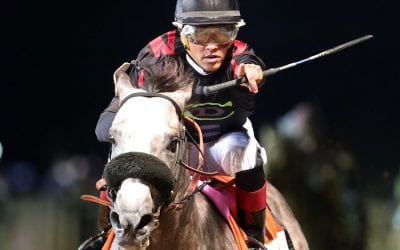 We've got Charles Town picks and preview today as the track presents its Friday card!