All heart: Port Louis taking Haynes on unexpected joyride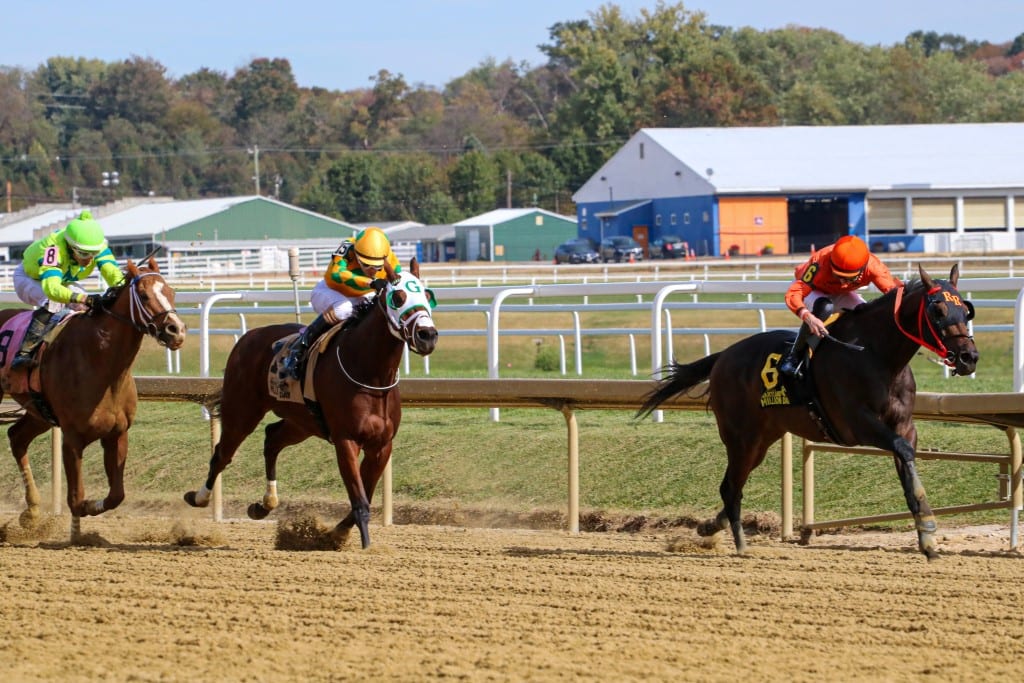 A peek over his shoulder tells jockey Avery Whisman that Port Louis is homefree to win the Maryland Million Starter Handicap at Laurel Park. Photo by Dottie Miller.
When Port Louis — 67-1 at post time — poked his head in front in the final furlong of the Maryland Million Starter Handicap October 19, Vicki Irons had a very particular response.
"I cried," she said.
Irons is Port Louis' exercise rider and groom and, not coincidentally, the fiancee of trainer Bob Haynes, who calls her his "left arm and right arm."
Jockey Avery Whisman was pretty happy, too. It was the first stakes win for the five-pound apprentice.
"It was incredible. I mean, about two jumps before the wire, I knew that we were going to win the race," Whisman recalled. "I kind of stood up a little bit, his ears pricked forward. He knew that he won the race, and he was enjoying the moment. I was enjoying the moment. Just a sigh of relief, you know."
"It's an undescribable feeling and for people that don't have horse racing in their blood, we can tell them about it but they don't know," Haynes agreed. "Until you got it, until you have this disease, this addiction…"
It was Haynes's first win as a trainer, and it came in just his second start.
Bob Haynes's name is not unfamiliar to longtime Maryland racing fans. The 65-year-old Haynes, who races as Rob Ry Farm, as an owner campaigned millionaire Heros Reward, who ran fifth in the 2008 Breeders' Cup Turf Sprint, and 2006 Maryland Million Classic winner Due.
The former gave Haynes his greatest wins — including three graded victories — but it was after the latter's Maryland Million victory that Haynes issued his description, following a reporter's question, of the experience of owning racehorses.
"I said, 'It's like skiing down a mountain backwards on rocks,'" he recalled. "I said, 'Most of the time, it's the agony of defeat. Every once in a rare moment, like right now, it's the thrill of victory.'
"But, it's few and far between so you got to embrace it. You got to embrace it and appreciate it when it's your turn and don't get too high on the highs. Don't beat yourself up and get too low on the lows."
ON THE BUCKET LIST
It's good advice, and not just in racing.
In fact, earlier this year, Haynes found himself in need of just such advice, after his heart problems landed him in surgery.
"Had open heart surgery on February 7, they cut me open," he recalled. "I went to rehab in April; I was real weak, real weak, and went to rehab for four months. And then on July 28 my grandson was born, Roy."
Haynes describes the cardiac rehab as "literally what saved my life." But it seems like it was the birth of his grandson that spurred him to start living again — and to pursue training horses, something he described as on his "bucket list" despite his success as an owner and in other fields.
"When my grandson was born, I told Vicki, I said, 'Look, Roy's here.' I said, 'All's we got to do now is get a horse,'" he remembered. "And I'd been looking, I had been looking every day, every day, every day, every day, and it just so happened that there was a horse that day that I was really interested in."
IN FOR A NICKEL
Horses like Port Louis — bottom-level claimers — are a dime a dozen at every racetrack in America. When Haynes grabbed him, for $5,000, in July 28, he was the only one to drop a slip.
By that time, Port Louis, a four-year-old Despite the Odds gelding, had won just three of 22 starts and compiled earnings of less than $100,000. What he was, however, was sound; Port Louis made 12 starts in 2018 and has made 13 to date this year.
Bred by Louis Merryman's Anchor & Hope Farm operation, Port Louis began his career racing for trainer Ann Merryman — Louis' aunt — and then for her son Michael.
But earlier this year, Port Louis found himself on the claiming treadmill, shifting barns regularly: trainer Lucia Garibay grabbed him for $5,000 in March. A month later, the late Donald Souder paid the same amount for the gelding. Two months after that, Anthony Farrior grabbed him.
And then it was Haynes's turn.
"You know, everybody did a good job taking great care of this horse," Haynes said. "The Merrymans, Ann Merryman, Michael Merryman, Louis Merryman, they laid out a strong foundation for this horse, and he's so kind to be around. We just got lucky and we took the right horse at the right time."
He paused.
"That's what it comes down to," he added.
"IF YOU'RE IN THE RACE, YOU HAVE A CHANCE
The bettors completely ignored Port Louis heading into the Maryland Million, and with good reason. In his first start with Haynes — which came about five weeks after the claim — he'd run a solid second, but against beaten $5,000 claimers. The Million race shaped up to be considerably tougher.
But jockey Avery Whisman approached it with confidence.
"It was from just the fact that I knew Vicki well because I saw her every morning and I knew she was doing a good job with him," Whisman said. "I knew they spent a lot of time with him every day, really take their time, and put a good base on him. He was working well."
A week prior to the big race, Port Louis breezed a speedy half-mile in 46 1/5 seconds at Laurel, the fastest of 36 workers that day. Irons said she was surprised how quickly her charge had gone because he'd done it so easily.
It told the team that their horse was ready, even if it didn't necessarily mean that he was good enough.
Haynes said there were "like eight or nine horses" in the race who'd run faster than Port Louis ever had, some much faster. Bettors thought there were even more; they made him the second-longest shot in the 13-horse field.
"The day of the race, Avery came in the barn early in the morning and he said to Vicki, 'Let's get in the winner's circle,'" Haynes recalled. "'Let's get in the winner's circle.'"
"That's the thing with horse racing," Whisman said. "If you're in the race, you have a chance."
Port Louis engaged in a lengthy duel with 3-1 second choice Sparty before inching away to a length-and-a-half victory in 1:23.21 for seven furlongs. He returned his few backers $137 on a two-dollar win wager.
"YOU'VE PUNCHED YOUR TICKET"
Haynes's pursuit of his dream is off to quite a start. After a second in starter allowance company November 23, Port Louis — the only horse in the barn at the moment — has now raced three times with a first and two seconds.
He might add another horse at some point, and he might even be willing to take on an owner other than himself. Or not; he calls himself an "old man who wants to stay relaxed," and owners bring headaches along with their money.
Spending plenty of time with his one-horse stable seems to be paying dividends. Port Louis is as good right now as he's ever been.
"The horse is so proud of himself," Irons said, two weeks after the Maryland Million.
"They know when they do well, and he's just happy and he's just very proud," Haynes agreed.
Heros Reward, the best horse Haynes ever owned, has a permanent home at his Laytonsville (MD) farm. The plan for Port Louis is — when it's time — for him to join Heros Reward in the pasture.
"He's not going to run in a claiming race again in his life," Haynes said. "When he gets a little sour and he wants a little time off, he's going to go to Rob Ry Farm, our farm. And when it's time for him to tell us, 'I don't want to do this anymore,' I've already told him, I said, 'Listen, man, this ride is not only me and Vicki, it's you. It's you. So you punched your ticket, you punched your ticket for the rest of your life.' And that I'm proud of. That I'm proud of."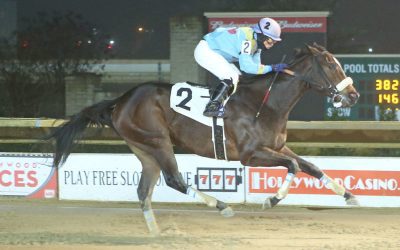 Chromatic Lass got a belated start to her career, but she's opened some eyes with back-to-back dominant scores at Charles Town Races.