Laurel Park picks and ponderings November 11, 2019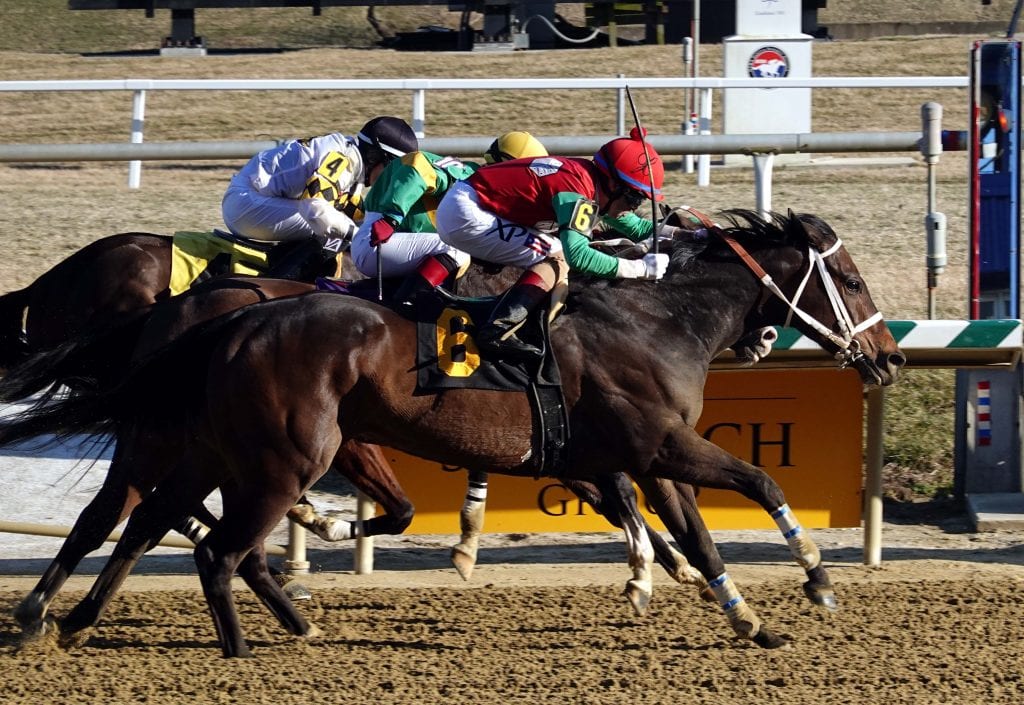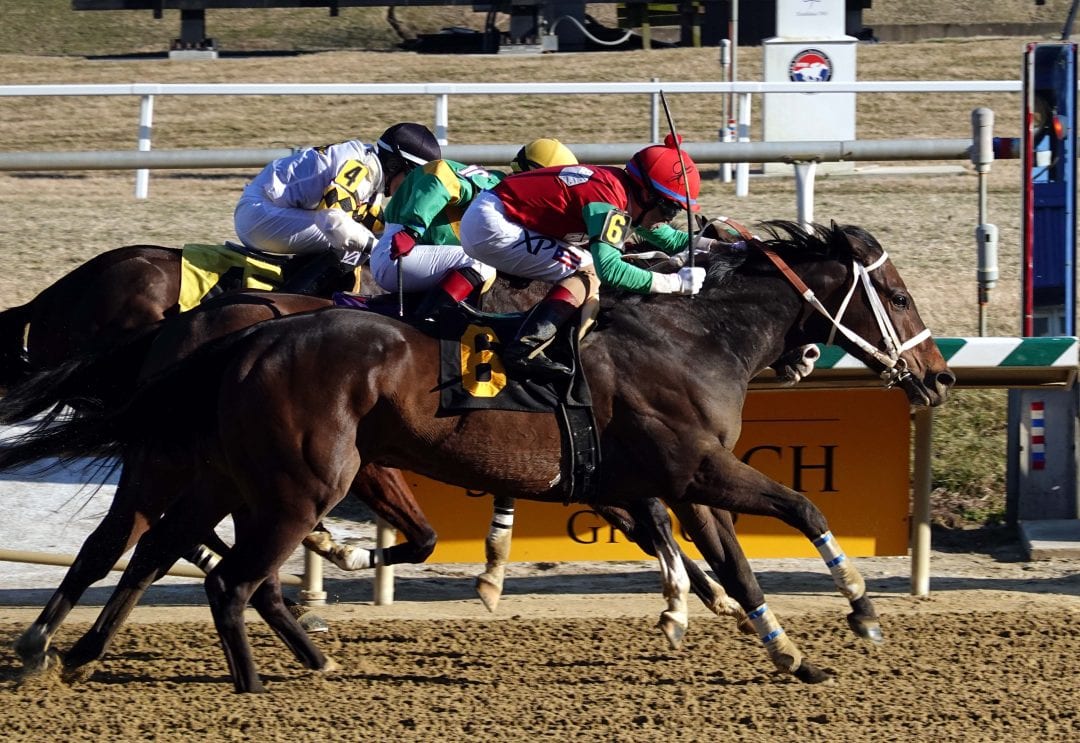 Anna's Bandit. Photo by Laurie Asseo.
In which we pick the races from Laurel Park each day…
Post time: 12:25 p.m.
Carryovers: Rainbow Jackpot Pick 6 — $1,087; Super High 5 — $733; Late Pick 5 — $4,069
Notable: Happy Veterans' Day, and thanks to all for their service!
ANALYSIS
RACE 1
1-5-4-2
In both of her starts to date, #1 Princess Anne (7-2) has run on willingly despite trouble lines; last time out, she had a terrible journey into and through the first turn but still stuck with it to the end; if rider Rosales can find a spot to run today, she can get the money here… #5 Lady Fire (5-1) ran evenly sprinting on the turf on debut and now drops a step; the switch to dirt shouldn't be an issue, and normal second-race improvement would put her in the mix… #4 Super Donna G (3-1) is another dropping from the $40,000 level; she ran evenly last out sprinting there and may appreciate the added ground today…
RACE 2 
1-10-5-8
Her debut was fine — a fifth-place finish against maiden special rivals — but #1 Margie's Band (5-2) had no answers in her follow-up and now takes a three-level drop in her first start in over nine months; trainer McMahon is 8-for-45 with horses dropping and returning from long layoffs… That last start was a mess for #10 Carson City Coin (12-1), who reared at the break, stumbled into a rival, rushed up into contention, and then stopped and was eased; let's give her one more crack at a generous price today… #5 Data Princess (7-2) has pretty good turf form, and if she can transfer it to the main track, will have something to say about the outcome…
RACE 3
1-2-7-6
Not in love with our top selection in this nickel claimer, as #1 Life in Flash (6-5) has lost at this level twice now, but then again, no one else here has better credentials; last time out she gave willing chase behind a class-dropping winner who was 4-5… #2 Slowpoke (10-1) certainly has lived up to her name thus far in her career; note that she did skip a condition last out, facing never-won-three rivals, and should appreciate getting back where she belongs today… 
ANALYSIS
RACE 4
10-8-1-9
Decent try last time out for #10 Fiduciary Values (3-1), who gave willing chase to a runner, Fanniebellefleming, who tired to second that day and came back to win earlier this weekend; drop down to the nickel level won't hurt this one at all, as she arrives at her lowest level to date… #8 Auriga (5-2) tries the main track for the first time and has a half-sibling who was graded stakes-placed on the dirt… We'll give one more try to #1 Tiz Madness (15-1), who makes her third start after a one-year break; if she can get back to earlier form, she'll contend…
RACE 5 
10-7-1-5
A number of the obvious players in this claiming contest want the early lead, which makes you wonder: who'll come running late? One possibility is #10 Junipero Avenue (6-1). This Trombetta-trained son of Kitten's Joy has a number of pretty good efforts on the lawn, and his couple dirt tries aren't bad, either; the barn has been clicking at a 22% rate the last 90 days, and hot-riding Ruiz is up; look for a mid-pack trip and a late run… First time in the Gonzalez barn for #7 King Leo (6-1), who figures to be on the engine and has some better efforts to run back to… Another mid-pack sort is #1 Lookin At Blessing (9-2), who drops down to this level in his second try in the Farrior barn…
RACE 6
2-1-6-8
Speaking of races with speed, there is pretty much nothing but speed in this allowance sprint. That all may set it up for the race's only confirmed late runner, #2 Captain Thunder (10-1), who has run credible races on the turf and here tries the main track for the first time; if he takes to it, he'll have a big shot… Thinking that #1 Stroll Smokin (6-1) will be gunning for the early lead today; he'd been enjoying good success on the lead or just off it until last time, when a mid-pack trip didn't exactly pan out… #6 Ziggy Mon (7-2) and #8 Runforthemunnings (5-2) both cut the right profile to win this race and should be involved from the first jump…
ANALYSIS
RACE 7
5-4-8-11
Trainer Jose Corrales claimed #5 Bobby G (5-2) for $5,000 back in February and has since guided him to a year in which he's won five times and earned over $100,000 – pretty nice return on investment; he's made a lot of hay in these races, with three of those wins coming in starter allowance company, and he can make it four as he drops out of allowance company today… His form's a bit in and out, but on his better days, #4 Purimeter (12-1) contends at this level, and trainer Breen and rider McCarthy have a 26% strike rate… Curious to see if #11 Divine Interventio (15-1) can bounce back; late last year and early this year, he was in a nice groove against better, but his three tries since returning from a five-month break aren't great, and now he's plunging from two-other-than company to this level…
RACE 8 
6-5-8-7
The lone dirt try for #6 Mine to Hold (3-1) wasn't terrible, a fifth-place finish at the $25,000 level; the winner from that event, Paisley Singing, has subsequently been second and third in allowance company; dropped down to the bottom today, this looks like a spot from which he can graduate… #5 First Draft (5-1) tries the main track for the first time after middling grass races, and his breeding says that should be fine… 
RACE 9
7-9-5-6
Trainer Cal Lynch is 9-for-43 dropping horses from maiden special weight to maiden claiming company, and that's what he's doing with #7 Silent Fluidity (5-2), who was a pretty good second last time out… We're going to keep #9 Vow to Dance (12-1) on the ticket; she hasn't shown much in two starts to date but gets blinkers on today… #5 Not My Money (3-1) has run a bunch of pretty good races on the turf, and her lone dirt try was good, as well; that may be enough in this spot…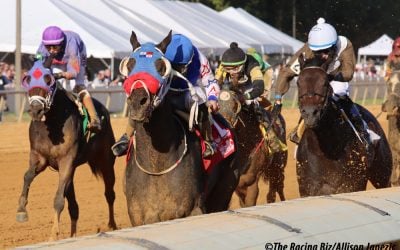 We provide full-card picks and analysis for this afternoon's races at Laurel Park.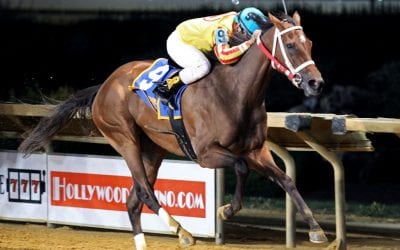 We provide picks and analysis for this evening's card at Charles Town Races.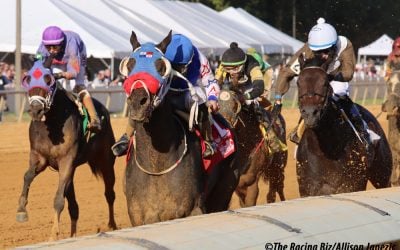 We provide full-card picks and analysis for this afternoon's races at Laurel Park.