Joe Mishak looking to fulfill his – and others' – dreams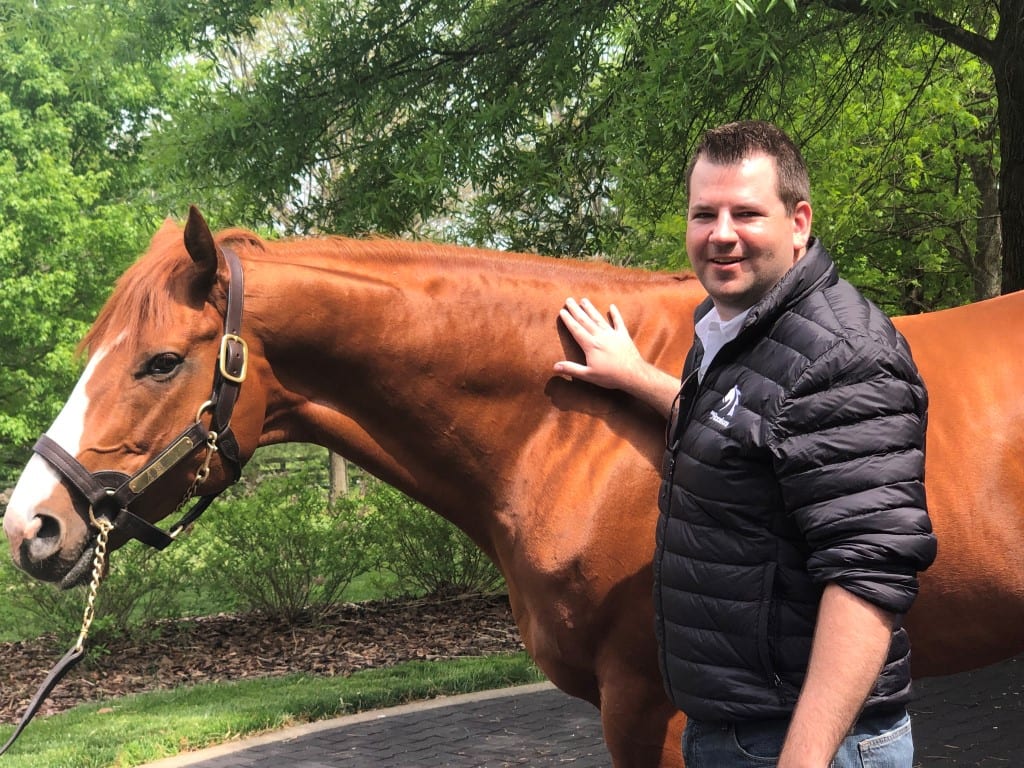 Joe Mishak and friend. Photo courtesy of Joe Mishak.
When Joe Mishak was growing up in northeast Philadelphia, only a short drive from Parx Racing in Bensalem, little did he know that his introduction to horse racing there would lead to a career in the sport, and ultimately participation at its highest levels.
Mishak is the racing operations and owner experience manager for MyRacehorse.com, a new venture that offers shares and microshares in well-bred thoroughbreds that they co-own with partners such as Spendthrift Farm, Taylor Made Farm's Medallion Racing, and other major players in the sport.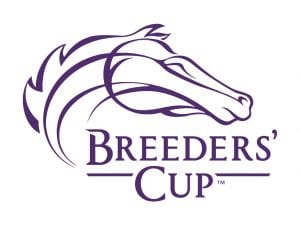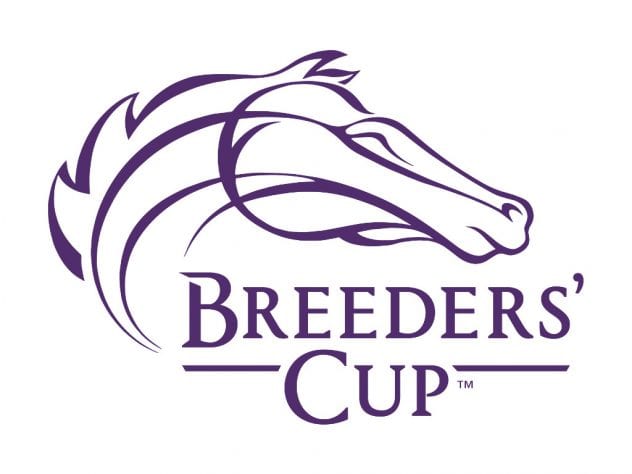 Mishak is at the Breeders' Cup this weekend with two MyRacehorse.com fillies – 3-year-old Street Band, recent winner of the Gr. 1 Cotillion Stakes at Parx who runs in the $2 million Longines Distaff on Saturday, and 2-year-old Lazy Daisy, winner of the Gr. 2 Pocahontas Stakes at Churchill Downs, who'll go in the $2 million Juvenile Fillies on Friday.
Street Band, whom MyRacehorse.com bought into after she won the Gr. 2 Fair Grounds Oaks in March, earned an all-expenses paid trip to the Breeders' Cup thanks to her Cotillion victory in late September, which was a Breeders' Cup "Win and You're In" event. Trained by J. Larry Jones, who was a mainstay at Delaware Park for many years, Street Band defeated a salty group of fillies in the Cotillion, including Kentucky Oaks winner Serengeti Empress and Alabama Stakes winner Guarana.
Mishak, 35, grew up spending afternoons at Parx, which whetted his appetite for the sport.
"A friend of mine was a neighbor of Ron Glorioso (the first trainer to set up shop at newly-built Keystone Racetrack in 1974), and I ended up owning a few horses with him," said Mishak. "I graduated from La Salle University (in Philadelphia) with a degree in accounting, but I found that auditing and accounting wasn't for me. I wanted to be a part of racing, and I started thinking of ways I could get involved."
Mishak decided to enroll at the University of Arizona's Racetrack Industry Program, which has helped launch the careers of many prominent horsemen and racing executives, and wrote his thesis on racing partnerships. He was interested in finding a better way to get new owners involved, to give them a chance to participate and experience the thrills of the sport.
After moving to Washington State with his wife, Mishak received a call from Michael Behrens, who also had a vision of bringing new fans into the industry with the founding of MyRacehorse.com.
"The business started almost two years ago, and our network of people in the industry wasn't huge," said Mishak. "At first, we partnered on some claiming and allowance horses, and as the business matured we realized that fans wanted to enjoy the highest levels of the game, with higher quality horses, but at an affordable price."
MyRacehorse.com developed a new product, the microshare, or 0.01 percent, which gives the average person a chance to buy into a horse with an outstanding pedigree and trained by a top horseman, at an affordable price point without any additional expenses. Currently on the MyRacehorse.com web site and app (available on Apple and Google Play) are yearlings by Tapit ($65 for each microshare) and American Pharaoh ($100 for each microshare), as well as the 2-year-old colt Wayne O, a son of Into Mischief ($95 for each microshare), and many others.
Buying microshares gives owners get updates and videos on each horse, as well as backstretch and farm tours, and access to the winner's circle. Because of the high number of owners for each horse (Lazy Daisy currently has 562 owners, with 150 attending the Breeders' Cup) a raffle is held for paddock access. Parties and paid events on race day are also held.
New owners also have the opportunity to buy five percent, or premium shares, in MyRacehorse.com offerings, which gives perks above and beyond the microshare level, including a dedicated concierge on race day, among others.
In short, it's the experience, not the promise of riches, that MyRacehorse.com sells its customers.
"I love to teach people about the industry," said Mishak. "It's very rewarding. And we often see that this is the fulfillment of a dream for many of them."
To that end, Mishak will be hoping to give the many owners of both Street Band and Lazy Daisy a weekend they will remember forever should either filly win her respective Breeders' Cup race.
In the Distaff, Street Band breaks from post 3 with Sophie Doyle aboard, and has been tabbed a 10-1 shot in the talent-heavy field, which includes such stars as Midnight Bisou (the 2018 Cotillion winner and race favorite at 6-5), Seregenti Empress, Paradise Woods and Dunbar Road.
Lazy Daisy, trained by Doug O'Neill, is 12-1 on the morning line in the Juvenile Fillies, and will face a wide-open contingent headed by Donna Veloce, British Idiom, Bast, and Wicked Whisper. Rafael Bejarano will ride.
It's been a long journey from owning claiming horses with Glorioso at Parx to the Breeders' Cup at Santa Anita for Mishak. But if Mishak has his way, it's a journey that's just beginning.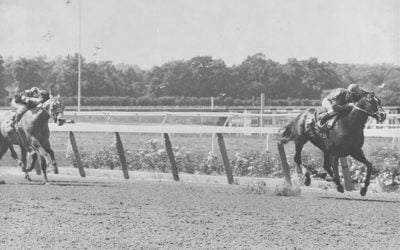 In a new BackTracks: Maryland-bred Star de Naskra gave owner-breeder Jiggs Lancaster his first stakes winner in a long career — and then a whole lot more.