Street Band, Sophie Doyle making noise together in Cotillion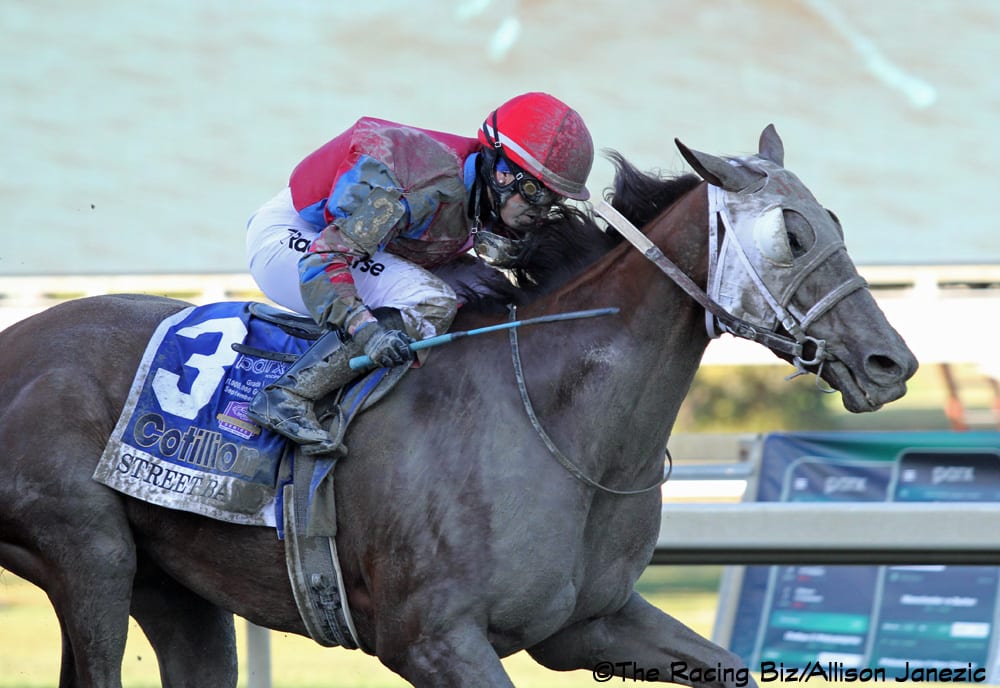 Street Band. Photo by Allison Janezic.
Every week or so this summer, Sophie Doyle has gotten in her car and driven the five hours from Arlington Park to Churchill Downs to breeze Street Band. She's been in the saddle for the filly's last nine starts, four of them wins, three of them third-place finishers.
She first started getting on the filly las fall at Fair Grounds, riding her in the morning for trainer Larry Jones, who also owns Street Band in partnership with his wife Cindy and Ray Francis; other partners include Medallion Racing and MyRaceHorse Stable. The filly had been ridden first by Alex Cintron in Delaware, then by Gabriel Saez at Ellis Park and Keeneland.
"It's not like I put Sophie on her in the morning because I wanted her to have this horse," said Jones, standing in the winner's circle at Parx on Saturday afternoon after Street Band won the Grade 1, $1 million Cotillion. "But when I saw how the horse acted with her, I thought, 'Ain't no reason to separate them.'"
Good call, Larry.
The Cotillion is Street Band's first Grade 1 win. It's also Sophie Doyle's, and those hours in the filly's saddle, during races and in the morning, may well have made the difference as the three-year-old took down even-money Guarana to win by 2 1/4 lengths, paying $17.40.
Guarana hung on for second, with longshot Horologist 3 3/4 lengths further back in third place. Multiple Grade 1 winner Bellafina was fourth, and second betting choice Serengeti Empress, the winner of this year's Longines Kentucky Oaks (G1), finished sixth.
Doyle and Street Band were so far behind the early leaders—Jaywalk, Bellafina, Serengeti Empress—that they weren't visible on the TV screen, running more than a dozen lengths off the lead. Though the jockey had heard that she should avoid the rail at all costs, she had been heartened by Mike Smith's rail-riding win on Coal Front, earlier in the card in the Parx Dirt Mile.
She stayed inside as she began her initial move on the backstretch, then threaded her way through horses, eventually swinging wide around the final turn.
"She was a little bit worked up in the paddock and the post parade," said Doyle. "After she broke from the gate, there was so much speed in the race, I decided that I wasn't going to rush her off her feet and I'd let her carry me up into the race. I wanted her to creep into the race in her own time."
Doyle said that the chestnut filly "naturally" took her to the outside and described her late run as an "explosion."
"She came up alongside Guarana, matched her, and got her head down," said Doyle. "She was game all the way to the wire. She's tough."
And so is her 33-year-old rider, who has ridden in the U.S. for less than a decade. Discouraged by what she saw as the lack of opportunity for women riders, Doyle left her native Britain because she believed that owners and trainers in the U.S. would be more likely to ride her.
Doyle started her U.S. riding career in earnest in 2014; she'd ridden here a handful of times before that, but it was in 2014 that she began riding regularly. She got her first graded stakes win on Fioretti in the 2015 Thoroughbred Club of America Stakes (G2) at Keeneland; her other three graded stakes have all come on Street Band, first in the TwinSpires.com Fair Ground Oaks (G2), then in the Indiana Oaks (G3).
Three of Street Band's owners—the Joneses and Francis– bred her; the filly is out of the Street Cry (IRE) mare Street Minstrel, who was also trained by Jones, and by Istan. She's a half-sister to six-figure earning Liberty Lane, and now, she's also a millionaire.
"She relaxes under Sophie," said Jones. "Sophie has a calming demeanor, more like the European style, and I think that's what she wanted."
Never questioning her decision to make a 10-hour round trip to breeze a horse, Doyle said that her knowledge of Street Band definitely contributed to their win.
"If I didn't know her so well, I might have panicked and rushed her up," said the jockey, holding a bouquet of yellow roses in the winner's circle. "I might have tried to chase the speed."
Instead, she was patient, confident of her mount's talent, staying cool despite the myriad pressures that attend a race like the Cotillion, which is a "Win and You're In" race for the Breeders' Cup Distaff.
"She really proved how good she is," said Doyle. "She deserves to be in these Grade 1 races."
The rider might well have been talking about herself.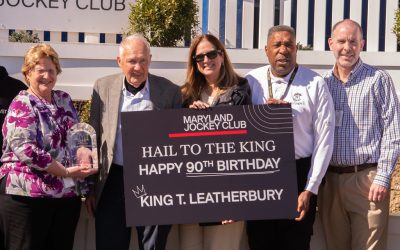 Hall of Fame trainer King T. Leatherbury, 90 years old today, was feted with a small ceremony at Laurel Park.