In Focus: Wagering Pennsylvania Derby Day 2019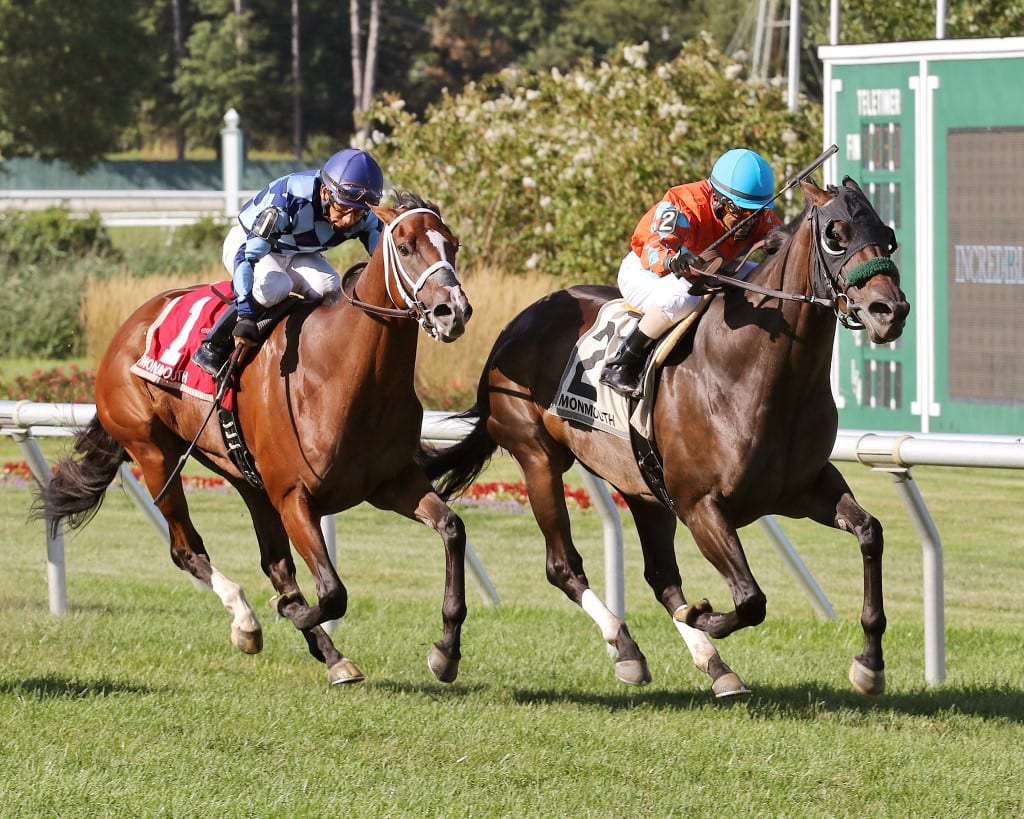 Goldwood. Photo By Nicole Dankanich/EQUI-PHOTO.
Our In Focus Guide offers the most in-depth analysis and commentary to the seven Pennsylvania Derby Day stakes at Parx Racing! The first two of these, the Alphabet Soup (race 5) and Plum Pretty (race 6) are at the bottom of the page.
RACE 7 – TURF AMAZON
RACE PARTICULARS: Race 7 (3:28 pm EDT), $150,000 guaranteed purse for fillies and mares 3-years-old and up, 5 furlongs (turf)
THE FIELD (post position order, with program #)
#1 Boos (6/5): The slightly weaker half of the Duarte entry, but she'd be an imposing presence even on her own. She battled gamely against a stakes-quality group at Belmont Park last out, falling short by 1 ½ lengths. Has been close in each of her last three, but hasn't been able to get over the hump in a while.

#2 Wildcat Combat (15/1): This mare's people are probably doing a rain dance right about now. She's much better on dirt than on grass; her only race on the lawn in recent times was a non-threatening sixth in the Politely Stakes. I'm expecting her to show speed and fade.

#3 Miss Gossip (5/1): Narrowly missed pulling off a titanic upset in the Smart N Fancy Stakes, losing by a length at 33/1. Her first two races of the year, both at Saratoga, were very sharp, and she could be even better third off the layoff.

#1A Goldwood (6/5): The turf sprinting star of the mid-Atlantic. She won four stakes races this summer at Monmouth Park, withstanding early pace duels and drawing off each time. Interesting that Jose Ferrer did not come over for this race, rather, Paco Lopez picks up the mount. Still, she could probably win with the average fan on her back.

#4 Folk Magic (20/1): She hasn't been close against dirt claimers as of late, so unless she REALLY wakes up on grass, I'll have to pass.

#5 Rocky Policy (10/1): Recent California shipper was a non-factor in the Safely Kept Stakes last out. She ran big races in SoCal early in the year, though, so a big race in her second start back on the east coast isn't impossible. Mike Smith, primarily here to ride Improbable in the Pennsylvania Derby, picks up the mount.

#6 Stetson Gold (20/1): Won a starter allowance in impressive gate-to-wire fashion last out, with a career-best figure. However, this is a much better field, and the chances of her getting an easy trip like that again are close to nonexistent.

#7 Enthusiastic Gal (8/1): New York invader has been dull in her last three races. I have to imagine she'll be outkicked once again.

#8 Change of Control (4/1): Hasn't been seen since fast-closing second in the Stormy Blues Stakes back in July at Laurel. This 3-year-old won a stakes for her age group at Churchill Downs in May, and is tackling elders for the first time here.

#9 Too Much Tip (12/1): Set blazing fractions in the Smart N Fancy Stakes at Saratoga last out, and cracked under the pressure. She'll have to slow it down a bit early if she wants to win this one.
THE PICKS
#1A Goldwood: Queen of MTH should take show on the road
#3 Miss Gossip: Makes third start off layoff
#5 Rocky Policy: Mike Smith in the irons won't hurt
#8 Change of Control: Tackles elders for first time, owns stake win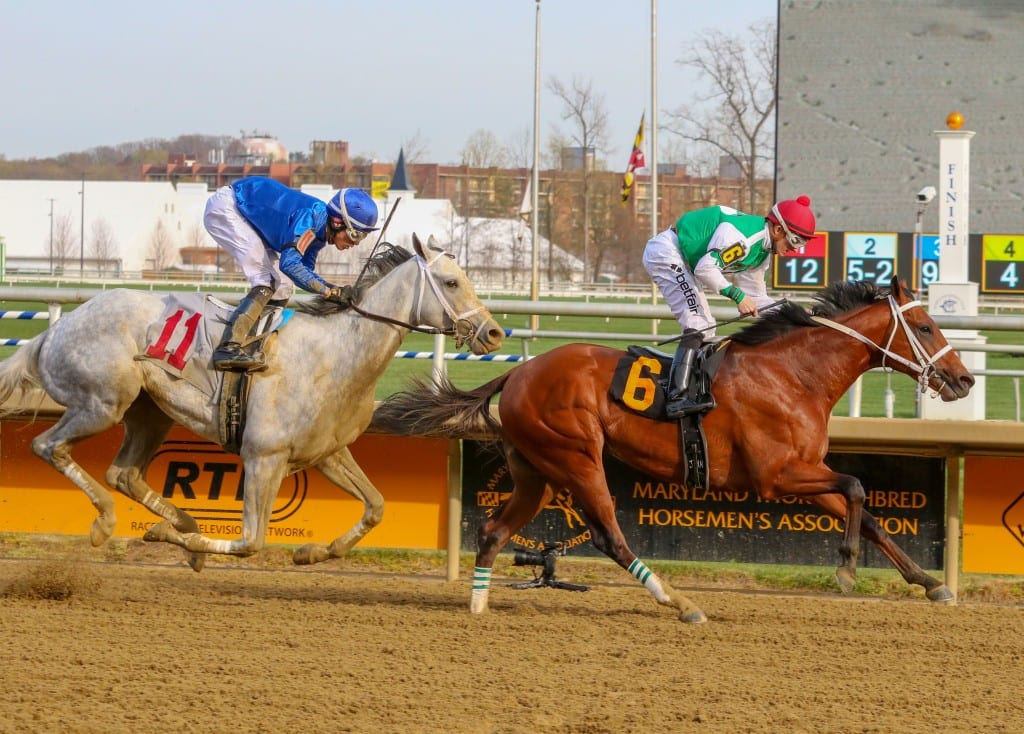 Diamond King took the 2017 Federico Tesio Stakes. Photo by Dottie Miller.

Race 8 — PARX DIRT MILE S.
RACE PARTICULARS: Race 8 (4:00 pm EDT), $150,000 guaranteed purse for 3-year-olds and up, 1 mile
THE FIELD
Grasshoppin (20/1): Has been a well-beaten second in each of his last two starts, and his figures look to be a cut below those of the contenders.

Forewarned (15/1): Takes a big drop in class after two tangos against grade 1 horses at Saratoga. He battled gamely three starts back at this track, then got up to win a n/w2x allowance four back. His brisnet figures have steadily been in the mid-to-high 90s, which would probably be good enough at least to contend in this one.

Bonus Points (8/1): Had a tune-up race last out, a non-threatening fifth on the grass in a race where he was severely pace-compromised. He won the John Campbell Stakes over the winter at Laurel, and followed it up with a strong third in the Harrison Johnson Stakes. Who knows if he can find that form again, though?

Monongahela (3/1): Scored a smashing victory in the Iselin Stakes two starts ago. He's run a brisnet figure of 100 or better four times in the last six starts. In fact, the only time he's run less than a 98 in the past 12 months was when he was an over-his-head sixth in the Whitney Stakes. He's going to be tough to beat, as long as he shows up.

Wild About Deb (30/1): If he can't beat starter allowance horses, I have my doubts about him defeating this bunch.

Coal Front (1/1): The almost-certain early speed of the field, he won three graded stakes in a row in a four-month stretch. However, he hasn't been the same since returning from Dubai, with speed-and-fade showings in two straight starts. I'd tread lightly.

Golden Brown (10/1): A three-time stakes winner at Monmouth Park over the summer, he's cross-entered in the Kelso at Belmont Park, and the Baltimore-Washington Turf Cup at Laurel. He'd have the best shot of success in this race, as he's been in career-best form on dirt as of late. He sat a great trip and ran a huge figure in the Charles Hesse Handicap last out.

Diamond King (5/1): Another speed-and-fade type, he'll have to try and clear to the lead from the outside post. Not an easy task with Coal Front drawn to his inside.
THE PICKS
#4 Monongahela: Veteran usually shows up
#7 Golden Brown: Versatile NJ-bred entered in 3 different races, could factor in each
#6 Coal Front: Speedster looking to return to pre-Dubai form
#2 Forewarned: Should appreciate class relief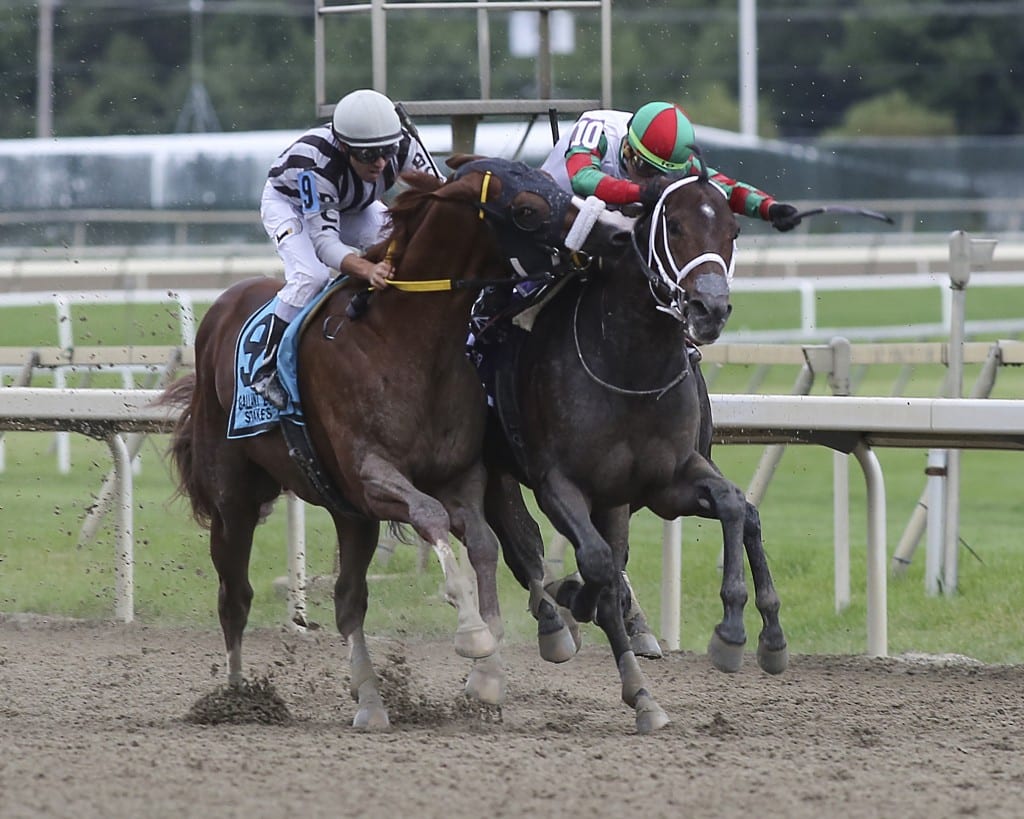 Whereshetoldmetogo narrowly missed winning — and taking a chomp out of Firenze Fire — in the 2018 G3 Gallant Bob. Photo By Taylor Ejdys/EQUI-PHOTO

Race 9 — GRADE 2 GALLANT BOB STAKES
RACE PARTICULARS: Race 9 (4:34 pm EDT), $300,000 guaranteed purse for three-year-olds, 6 furlongs
THE FIELD
War Tocsin (20/1): His two stakes tries earlier in the year ended poorly, and I don't think this will end any better.

War Bridle (20/1): He's been in good form against weaker, most recently demolishing an open claiming group with a big speed figure. However, he's going to get a major class shock here.

Trophy Chaser (6/1): Ran huge first off the layoff at Gulfstream Park, with a career-high speed figure in an easy win. He's never raced nearly as well away from Gulfstream, so I don't quite know what to make of him.

Strong Will (10/1): Yet another horse who has impressed against weaker, he smashed an allowance field at Mountaineer Park in his last race. His routes have not been impressive at all, and it looks as if six furlongs is right in his wheelhouse.

Bethlehem Road (10/1): He reeled off three wins in a row to begin his career, but has rapidly soured since then. Maybe cutting back to a sprint will do the trick.

Landeskog (7/2): Scored a nice comeback victory at Del Mar last out, recovering from a dull performance in the Woody Stephens Stakes two races back. Should be a major early pace factor.

King Jack (2/1): Passed up a likely large check in the Allen Jerkens so that he could get beaten by Improbable around two turns last out. He's shown a lot of promise sprinting, and this will be his first time against stakes company around one turn. Interestingly, usual jockey Mike Smith jumps off to ride Bulletin; Joel Rosario picks up the mount.

Get Hammered (12/1): Midwest star has been visually impressive in his races at Arlington Park and Canterbury Park, but he's never run a competitive speed figure. He must take a big step forward to win this one.

Bulletin (4/1): He makes his first start on dirt after five starts on the grass. He was brilliant as a two-year-old, but has disappointed in his last two. I can't take low odds on a horse in career-worst form trying something new.
THE PICKS
#7 King Jack: Sprinting looks to be best game
#6 Landeskog: Should be pace presence
#3 Trophy Chaser: Can he take his show on the road?
#4 Strong Will: Has crushed lesser, now tested for class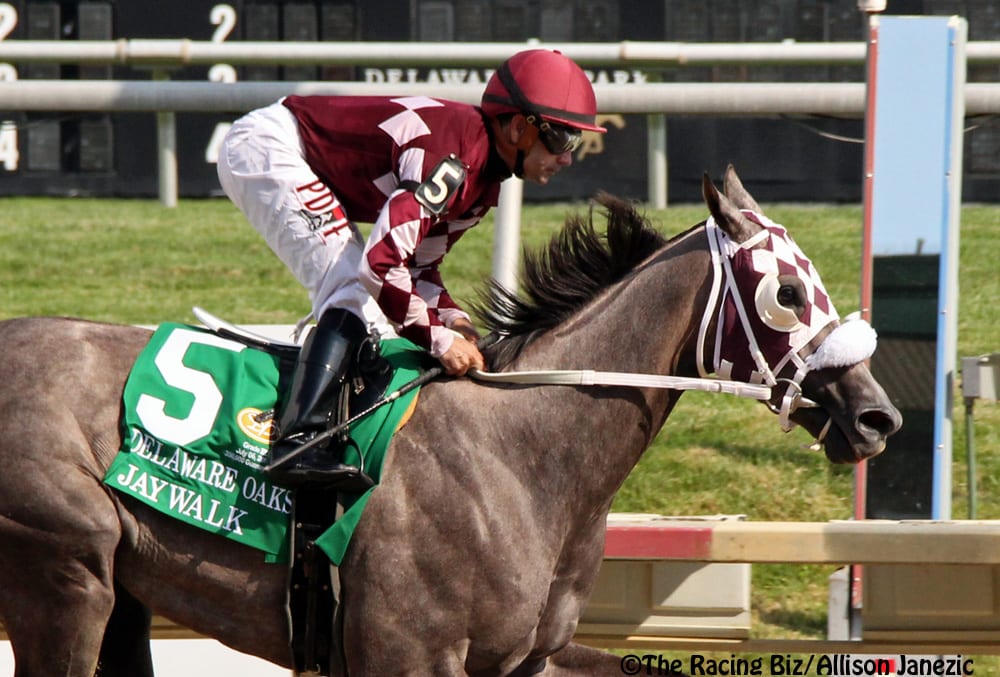 Jaywalk and Joe Bravo won the G3 Delaware Oaks. Photo by Allison Janezic.
Race 10 — GRADE 1 COTILLION STAKES
RACE PARTICULARS: Race 10 (5:14 pm EDT), $1 million guaranteed purse for 3-year-old fillies, 1 1/16 miles
THE FIELD
Serengeti Empress (7/2): The Kentucky Oaks winner rematches with Guarana, and makes her first start off a brief break. This speedster has an excellent post position for her front-running style, and should be forwardly placed by Irad Ortiz. Also should enjoy going around two turns.
Afleet Destiny (30/1): Was outkicked in the Cathryn Sophia Stakes last out, and has been overmatched against stakes company all year long.
Street Band (8/1): Won the Indiana Oaks two starts back, then was a game third in the Alabama Stakes last out. She's raced against Serengeti Empress three times this year, and in two of those the good version of her rival showed up, and this one was outrun. Worth a look for the underneath spots.
Jeltrin (12/1): An impressive winner of the Cathryn Sophia last out, she's going to get a stiff challenge on the lead from Serengeti Empress. She almost certainly won't get away with a 48 second half mile, like she did last time. That was a career-best race, and I'm suspicious as to if she can repeat it.
Collegeville Girl (20/1): Stretches out around two turns for the first time, after an impressive seven-furlong win last out. Could be improving at the right time.
Horologist (15/1): Jersey-bred filly has won four races in a row, and battled gamely last out to defeat Jaywalk in the Monmouth Oaks. Gets her toughest class test to date in this spot.
She Makes Me Smile (50/1): Feasted against much weaker at Monmouth Park earlier in the year, but was a total non-factor when well-beaten in the Cathryn Sophia.
Guarana (9/5): This much-hyped filly was impressive when going one mile in the Acorn Stakes two back, but was struggling in the stretch when going nine furlongs in the 1 ⅛ mile Coaching Club American Oaks. She now gets the happy medium distance of 1 1/16 miles. I'm expecting her to be forwardly placed, and at least in contention turning for home. I just don't know if she wants to go around two turns, and at low odds, I'd much rather look elsewhere.
Sweet Sami D (20/1): She was a clear-cut third behind Horologist and Jaywalk last out, and I don't see why she'll be closer to those two today.
Bellafina (6/1): Once the darling of the division, she was well-beaten in both the Kentucky Oaks and the Test Stakes. She was the favorite both times, to boot. While impressive early in the year, it doesn't look as if she's matured with the rest of her crop.
Jaywalk (6/1): This John Servis-trained filly returns to the site of her maiden win, which spawned a campaign that cumulated in a Breeders' Cup victory. Since then, she hasn't quite been the same, with only a perfect-trip win in the Delaware Oaks to her credit. It won't be easy to clear to the lead from the outside post.
THE PICKS

#1 Serengeti Empress: Speedster may play "catch me if you can"
#6 Horologist: Arrives with four straight wins, triumph over Jaywalk last out
#3 Street Band: Win spot probably a stretch but worth a look in exotics
#10 Bellafina: Onetime belle of the ball has some catching up to do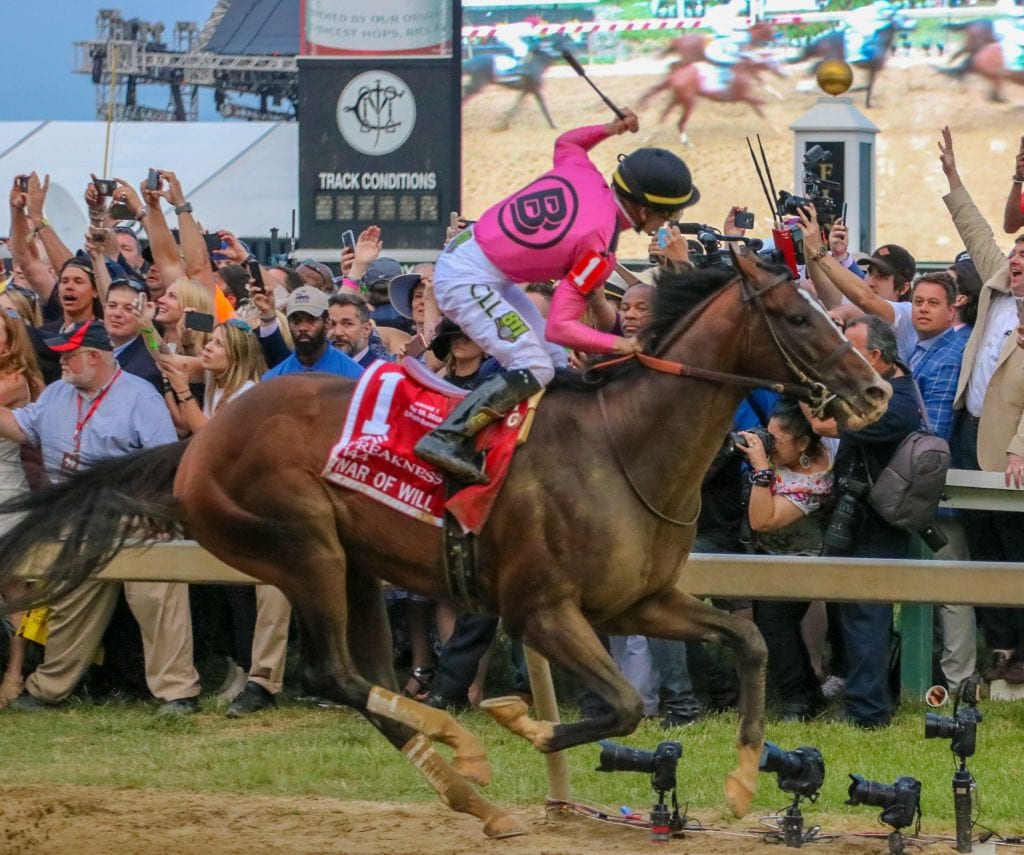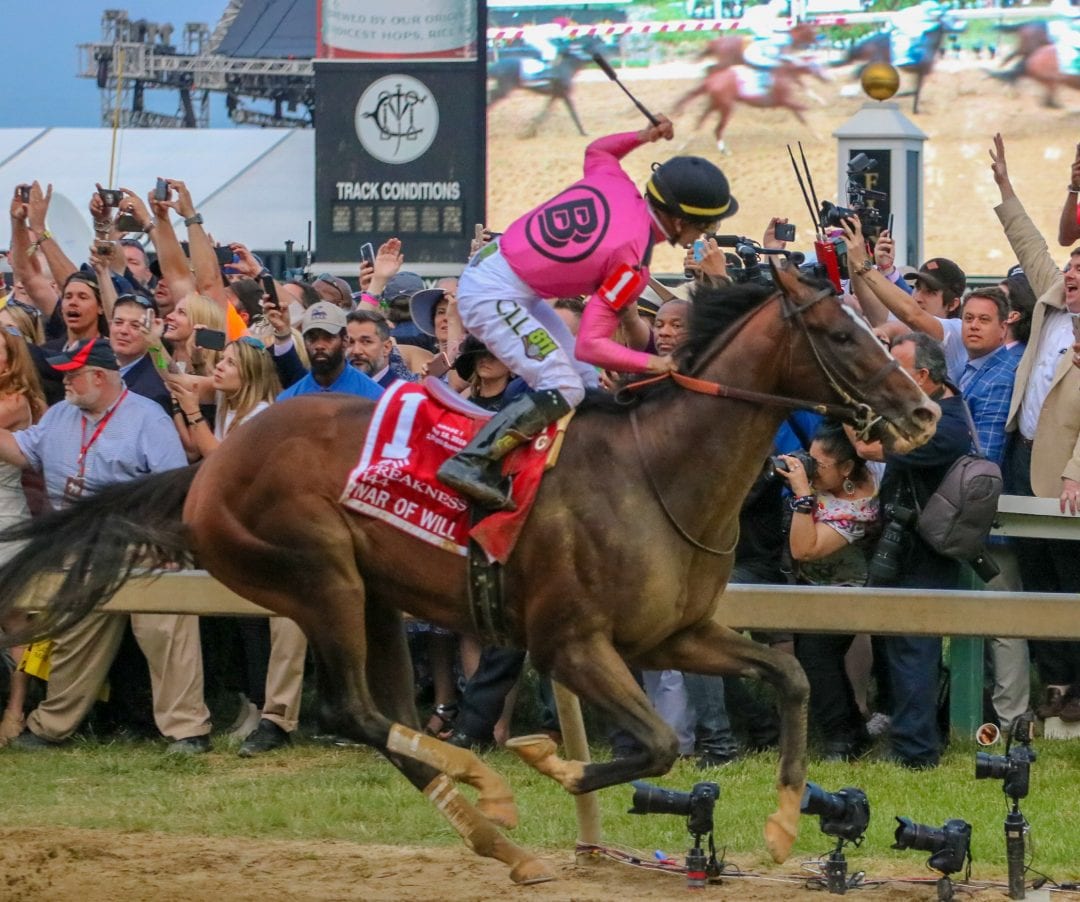 War of Will won the Preakness. Photo by Dottie Miller.
Race 11 — PENNSYLVANIA DERBY
RACE PARTICULARS: Race 11 (5:48 pm EDT), $1 million guaranteed purse for three-year-olds, 1 1/8 miles
THE FIELD
Math Wizard (8/1): He's been an also-ran on the 3-year-old B-circuit all year, and I don't think this race will prove any different for him.
Improbable (3/1): The favorite in both the Kentucky Derby and the Preakness Stakes, he recently returned to the races with a gift-wrapped win in the Shared Belief Stakes at Del Mar. He ran a lifetime-best figure in that race, but it was such a soft spot, it would have been more shocking if he didn't win like that. He'll get a tougher test here, and as the likely favorite, I'll look elsewhere.
Shanghai Superfly (30/1): There are probably SOME worse ways to spend $5,300 than to enter a horse like this in the Pennsylvania Derby, but I can't think of any.
War of Will (5/1): He won two stakes over the winter at Fair Grounds, was probably the best horse in the Kentucky Derby, then won the Preakness. He hasn't been the same since then, but he's been working very well getting ready for this race. He could fly under the radar and go off at a decent price.
Spun to Run (8/1): Ran a big race in the Smarty Jones Stakes last out, battling down the stretch to win by a head. This late-blooming three-year-old is a good candidate to round out the exotics at a good price.
Mr. Money (4/1): A winner of four graded stakes in a row, he's been very impressive in all of them, pouncing on the leaders and drawing off each time. He handled nine furlongs with consummate ease last out, so the distance should not be an issue. He's been waiting a while for a crack at grade 1 company, and I expect him to take full advantage of the opportunity.
Maximum Security: Will scratch
THE PICKS

#6 Mr. Money: Gets chance to "announce his presence with authority"
#4 War of Will: Working well, seeking return to spring form
#5 Spun to Run: Late-developing sophomore offers value
#2 Improbable: Needs to prove he's back before short odds acceptable
Race 5– ALPHABET SOUP HANDICAP
RACE PARTICULARS: Race 5 (2:24 pm EDT), $100,000 guaranteed purse 3-year-olds and up (PA-bred), 1 1/16 miles (turf)
Taxable Goods (12/1): He ran a career best race when on the front end in the Find Stakes last out, under almost impossibly good circumstances. Came back down to Earth a bit when finishing second at Parx last out, but even so, he's in career-best form and should sit a great trip.
Chilly in Charge (5/1): Was ridiculously wide in his grass debut last out, but still closed solid ground to finish second. Now stretches out around two turns on the lawn for the first time; he's raced very well going long on dirt in the past. Still a bit of a question mark.
Smooth B (10/1): Raced very well in his only attempt at two turns on the grass, finishing second in the Crowd Pleaser Stakes at Parx last summer. His recent grass form hasn't been that great, however. Another mystery.
Charmn Charlie Ray (30/1): Hasn't been close against weaker in his last three. He'd need a miracle.
Papal Law (15/1): Went gate-to-wire last out against Pennsylvania-breds, and ran a huge figure over the Laurel PArk grass two starts back. Felix Pinero comes up from Maryland to ride this gelding. If he can get a clear early lead, he'll be very difficult to beat.
Pumpkin Rumble (5/2): The classiest member of the field, he's finished third in two grade 3s at Woodbine in his only starts of the year. He couldn't last 1 ½ miles in his last race, but if past form is any indication, 1 1/16 miles should be much more to his liking.
Brevard Place (20/1): Closed well two starts back at Colonial Downs, but was a complete non-factor there last out. Which version of him will show up? The good version is good enough to possibly score a piece of the exotics.
Sweet Bye and Bye (9/2): Jose Ortiz, here to ride Guarana in the Cotillion, has also picked up the mount on this Steve Klesaris filly. She showed a lot of early speed last year when dominating this track, but hasn't quite found her best form as a 4-year-old. She hasn't gone long on the lawn since a win in the Crowd Pleaser last year, so maybe she just needs this type of race to wake up. Will watch her with interest.
Missin the Big Dog (15/1): Based on his recent form, he will probably be missin' the top four.
Saratoga Jack (6/1): He hasn't won a race since 2017, and tends like to wilt after showing early speed. However, he cannot be ignored, as he will impact the early pace scenario, for better or worse.
Someday Jones (MTO): Unless a sprinkler breaks, don't expect to see this main-track-only entrant race.
My Friend Frank (8/1): Has rattled off four wins in a row against weaker, on both dirt and synthetic. While he's a cool horse, he will have to step it up to win this race.
SELECTIONS: 5-8-6-1
Race 6 — PLUM PRETTY STAKES
RACE PARTICULARS: Race 6 (2:56 pm EDT), $100,000 guaranteed purse for fillies and mares 3-years-old and up (PA-bred), 1 1/16 miles
Rose Tree (5/1): Makes her first start since April 27, when she was a total non-factor in the Foxy JGB Stakes. Last fall, she showed good form, including an impressive come-from-behind win at Gulfstream Park West. I'm suspicious of her first off the layoff, however.
Imply (2/1): She won this race impressively last year, and is a perfect 4-for-4 against Pennsylvania breds this year. Both of her wins over the synthetic were sharp, stalking the pace and drawing away. She's going to be tough.
Trolley Ride (7/2): Finished a decent third behind Imply in the Northern Fling Stakes at Presque Isle Downs two starts back, then pulled off a big upset last out in a sprint allowance. Her career-best race came at Parx early in the year, and she's been in career-best form as of late.
Hay Buck (20/1): Well-beaten in each of her last two races, and there's not much reason to believe this will be any different.
Mill and Gloria (6/1): Has been in steady form all year long, consistently running good dirt figures. She always stalks the pace, but it's a coin toss as to if she can keep up with the leaders or not. Against a rival like Imply, she might get outkicked.
Diva Drama (15/1): Got on a mini hot streak over the summer, with two straight wins. However, she laid an egg against stakes company last out, and has declined in each of her last three races.
Sweet Maggie Mae (10/1): This deep closer is almost entirely at the mercy of the early pace. She's made some strong rallies this year, including a dominating six-length win two starts back, but that was against weaker horses than she'll see here. Definitely a strong candidate for underneath, not so much for the win.
Trace of Grace (9/2): Disappointed at Laurel Park last out, but tends to do her best running at Parx, anyway. In fifteen starts here, she's hit the board twelve times.
SELECTIONS: 2-8-3-7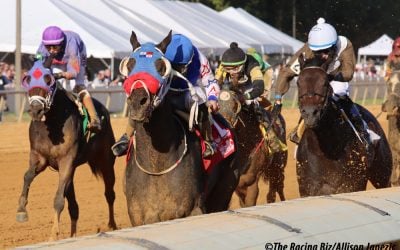 We provide full-card picks and analysis for this afternoon's races at Laurel Park.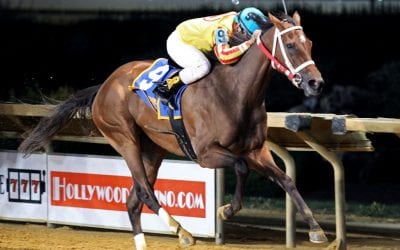 We provide picks and analysis for this evening's card at Charles Town Races.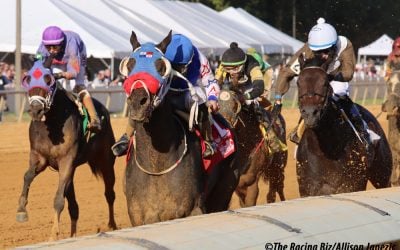 We provide full-card picks and analysis for this afternoon's races at Laurel Park.