Five things we learned on Maryland Pride Day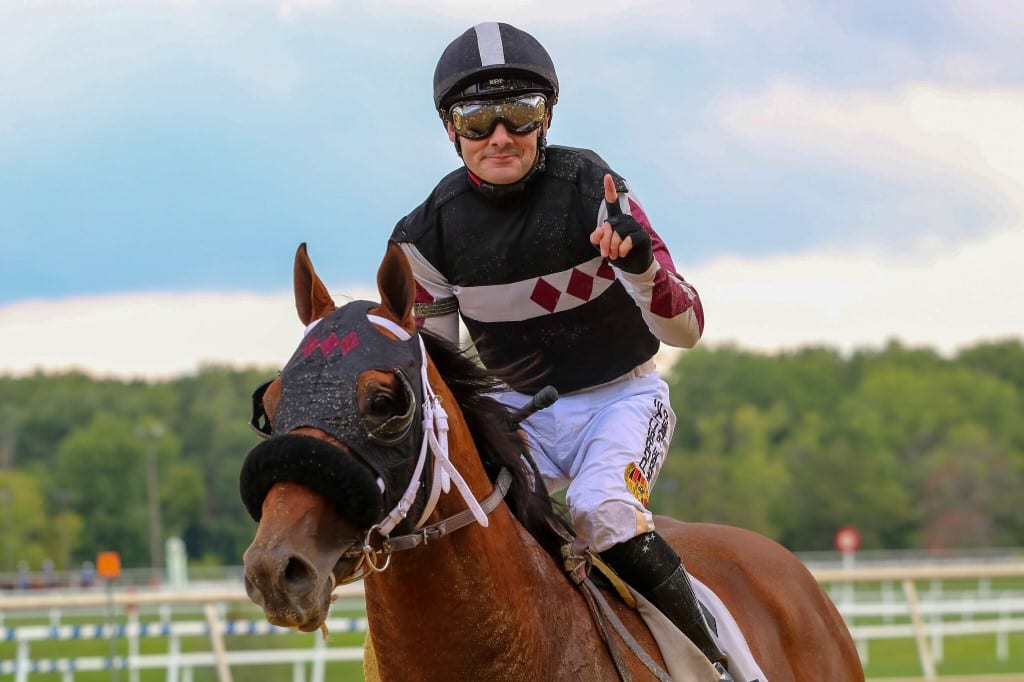 Feargal Lynch and Where Paradise Lay won the Star De Naskra Stakes. Photo by Dottie Miller.
A day at the races can be a learning experience, and so it was that we came away with some learnin' from Saturday's Maryland Pride Day.
To wit:
PRETZEL POWER
The sports  teams at Freeport (IL) High School are known as the Pretzels.
No, seriously. You could look it up.
The silks of John and Cheryl Banner, owners and breeders of All Brandy Stakes winner My Sistersledge are adorned with the image of a pretzel on the back, and both Banners were wearing pretzel pins in the winner's circle. So we asked: why the pretzels?
"I'm from a small town in Illinois, and my high school mascot are pretzels," Cheryl Banner explained. "We are the Freeport Pretzels. My hometown is so excited about My Sistersledge, the other horses, and that – and John was very nice to let me put a pretzel on our silks."
The All Brandy victory was My Sistersledge's third in stakes company, eighth overall, and gave her more than $400,000 in career earnings.
Her other two stakes wins have come in the Maryland Million Ladies, and a threepeat in that event is the fall target, the Banners said.
ENGLISH MINISTER IS A GOOD DUDE
At an age — nine years old — when most horses are on the downside, English Minister appears to have taken a big draught from the Fountain of Youth. 
The gelded son of English Channel, who won just four of his first 50 career starts, has now won four straight and in Saturday's Find Stakes scored the first added-money victory of his career.
It's patience rewarded for trainer Mike Trombetta's team, said assistant trainer Mel Williams.
"Mike found really good spots for him (at Presque Isle Downs), he got good trips," Williams said. "And I think he got his head in front, he got a lot of confidence, and Julian does a really good job in judging the pace on this horse, and he's pretty push button."
In the Find, English Minister wore down longshot Taxable Goods to win by a neck while the mutliple graded winner Just Howard raced near the pace but came up empty in the lane to be fourth.
"He's a good dude, he tries every time," Williams added. "He's a barn favorite for sure."
MEET INTRODUCED
Introduced seems to have the makings of a terrific turf horse; now it appears she might be more than OK on the main track, too.
In a renewal of the Miss Disco shortened by two scratches — including that of morning line favorite Never Enough Time — Introduced outslugged the improving Bunting to win by a half-length, with the runner-up three clear of the show horse, Past Perfect.
The running time of the Miss Disco was a sharp 1:10.14. That was notably faster than the 1:10.69 of the three-year-old boys in the Star De Naskra three races prior.
Though Introduced has run faster, and kept better company on the turf than on the dirt, two of her three wins have come on the main track.
WHERE PARADISE LAY IS A FAMILY AFFAIR
Trainer Stanley Hough shipped the Sagamore Farms homebred Where Paradise Lay to Laurel Park for Saturday's Star De Naskra. It marked the first time the Maryland-bred son of Into Mischief had raced in his home state.
The same could not be said for Where Paradise Lay's dam, Walkwithapurpose. Also a Sagamore homebred, the daughter of Candy Ride made five of seven career starts at Laurel, where she went five-for-five, including three stakes wins.
"When they said they were bringing him down for this the whole team was really excited," said Sagamore Racing's chief of staff, Jocelyn Brooks. "When they said he was coming here, I said, 'He's going to run like his mom.'"
And so he did, biding his time under Feargal Lynch before slipping through inside to win by a half-length in 1:10.69 for six furlongs.
"Really special to see him run like that here, especially on Maryland Pride Day," Brooks said. "It's fun to win anywhere, but to win at home is really special."
IT'S NOT NEWS, BUT JULIAN PIMENTEL CAN RIDE A LITTLE BIT
Pimentel, a 38-year-old originally from Colombia, had his first Kentucky Derby mount earlier this year with Win Win Win, who finished mid-pack.
On Saturday he enjoyed one of the most productive afternoons of his career, winning four times, three of them in stakes. 
Pimentel won both turf stakes, taking the All Brandy with My Sistersledge and the Find with the revitalized English Minister. He completed the hat trick with a win aboard Introduced in the Miss Disco.
 "This was definitely a memorable day." Pimentel said.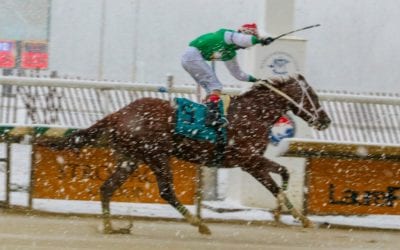 The nominations for the Barbara Fritchie Stakes upcoming at Laurel Park include several local runners, among them last year's show horse Fille d'Esprit.