Colonial Downs: Familiar winners cap eventful weekend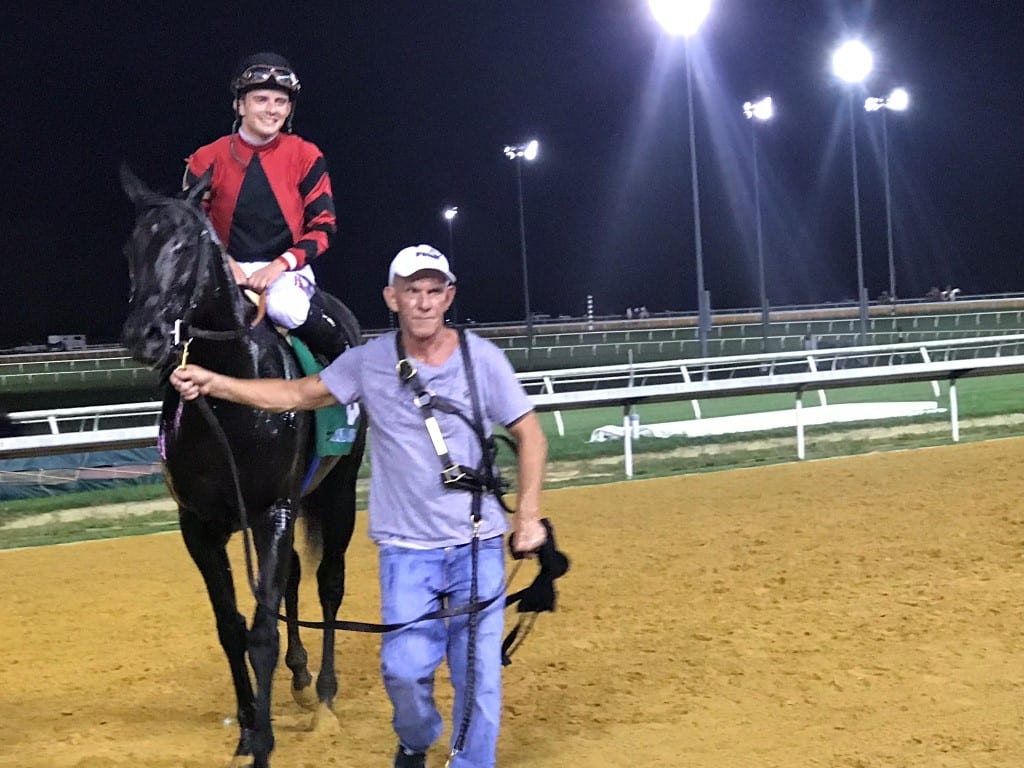 Extravagant Kid and Sheldon Russell won the Da Hoss Stakes. Photo by Nick Hahn.
The second weekend of Colonial Downs started with lightning strikes on Thursday afternoon and ended with stillness on Saturday night.
Saturday's big noise came from the racing and not the weather.
In the featured event, jockey Sheldon Russell swung Extravagant Kid around the field as part of a sustained run to drive clear by a length to win the $75,000 Da Hoss Stakes for "Da Ross," owner David Ross (DARRS, Inc.).  Ross, who is leading in the owner standings with four wins and $154,600 in earnings, was quick to share praise with his partners after the race.
"This horse is really cool.  He's got tactical speed, he's just very intelligent and he's got that great one run.  It's just perfect," Ross said. "So Sheldon did a wonderful job and (trainer) Brendon Walsh, I just can't say enough good about everything he's done with this horse. Congrats to the team."
Ross has long been a fixture in the Colonial Downs owner standings, and he's the president of the Virginia Horsemen's Benevolent and Protective Association (HBPA). Ross previously won the Da Hoss with Pass Play in 2007 run when it was run at a mile. 
"I'm a Virginia resident," he added. "I can't tell you how pleased I am about this. He beat some very good horses too. That makes it even more special."
Extravagant Kid now has earnings over $630,000 in 36 career starts and has won three of his five starts in 2019.  The six-year old gelding was sired by Kiss the Kid out of the With Distinction mare Pretty Extravagant.
Extravagant Kid stopped the timer at 1:02.08 in the Da Hoss, now run at 5 ½ furlongs on the turf. That wasn't far from Dreaming of Anna's track record on the turf course of 1:01.63, set back in 2006.  Favored Justaholic (9-5) with Jose Ferrer aboard finished second, a length behind Extravagant Kid (2-1).
"It's always nice to cap these three days off with a nice stakes win," added Russell after the race. "I'm staying busy, staying healthy and I'm enjoying this nice, new runaround."
Russell and his wife, Brittany, are expecting, with her due date in two weeks.  In between races, not surprisingly, Russell has been pre-occupied.
"It's difficult being away from the wife," said Russell, who is circulating on mounts at Laurel and Delaware Park.  "I keep checking my phone after every race to making sure she's ok.  So far, so good."
While Ross and Russell are familiar to racewatchers of Colonial Downs, the connections of Chesapeake Stakes winner Mr. Jagermeister were to many brand new. It was the first journey to the Virginia track for jockey Leandro Goncalves and trainer Valorie Lund.
"I came because I was looking for a place to run this horse," said Lund, who was encouraged by stakes coordinator Shane Burke take a shot on Mr. Jagermeister in the Chesapeake.  Lund and Burke had crossed paths before when Burke worked at Portland Meadows. 
Goncalves dueled Julio Correa aboard Old Time Revival out of the gate and later turned back Horacio Karamanos aboard Lewisfield.  Mr. Jagermeister maintained the lead throughout the six furlongs, setting early fractions in 22.35 and 45.19 finishing in 1:09.69.   The four-year old colt by Atta Boy Roy out of Frangelica by Corinthian has now completed the rare winning circuit of Colonial Downs, Canterbury Park, Turf Paradise and Oaklawn Park.
"He's getting better with age.  I didn't really expect him to run at all at two, but he wouldn't let me not run him," recollected Lund. "And even at three, I was conservative with him.  I went, you know what, he's not going to be good till he hits four. This is his year. He'll get better yet."
There were 246 registered Minnesota-breds foaled, like Mr. Jagermeister, in 2015. That's about twice as many Virginia-breds of that same year but only about one percent of foals in the nation that year, meaning that Minnesota-breds are a pretty rare sight in New Kent.
"I foaled this mare that my sisters and I are partners on in Minnesota because that's where I had been running in the summer," said Lund.
While Mr. Jagermeister won the Chesapeake Stakes, it wasn't the most impressive performance on the dirt Saturday night. That belonged to John Jones, who reset the track record at a mile to 1:34.28, breaking the mark of Chedi in 2011.
Nancy Lee Farms bred John Jones who is by Smarty Jones out of Chrusciki by Polish Numbers.  Laucey Gaudet trains the gelding for owner Matthew Schera.  Jockey Julio Correa delivered the mark-setting performance.
Action on Saturday evening was within the rails, yet earlier in the weekend impediments occurred outside the rails that presented a test to management in Colonial's comeback season. 
The weekend opener was delayed on Thursday evening some 25 minutes when lightning kept striking within 10 miles of the grounds. The major deluge that struck nearly the entire greater Richmond area only generated minor rainfall in New Kent, though.
An hour and a half prior to the first race on Friday evening, the area finally received the rainfall it had been eluding.  A squall flushed out, reported in some nearby neighborhoods as much as 1.75 inches of rain in a half-hour timeframe.  When racing started, the turf was listed as "good" and the dirt "fast".
The rollercoaster weekend reached an apex on Friday evening when the overheating of elevator equipment triggered an alarm that forced the building to be cleared prior to the start of the sixth race.  Fortunately, track officials had reviewed a such a scenario with New Kent County Emergency Services.  Emergency vehicles were quickly on scene and arrived with sirens off and lights minimized, fortunate as there were nine thoroughbreds walking the Colonial Downs paddock, just over the fence from the parking lot.  With patrons filing out on the adjacent apron, excited thoroughbreds could have become an issue.  The response appeared to have been rehearsed.
"New Kent Fire is a phenomenal group to work with," said Colonial's Vice President of Racing, Jill Byrne.  "They are on our system, and we were erring on the side of caution.  It was an effort prepared a long time in advance.  New Kent was very prepared and professional on how to handle the situation." 
After about a half-hour check of the building, it was reopened. While some patrons returned inside, many did not.
"People came out and then stayed out and continued to enjoy the evening," said Byrne.
The reopening of Colonial Downs has yielded a winner in each race and a story on every face.  It has imported the horses of nationally known trainers and small outfits like.
"I'm really pleased with the support of the horsemen.  It's been a melting pot of racing.  They are coming from everywhere and running in the meet. I started seeing it leading up to this," reported Byrne of the first two weeks.  "It's been a fun product for fans and people to wager on."
Jamie Ness leads the trainer win count with five wins followed in order by Michael Stidham (3), and Phil  Schoenthal, Brendan Walsh, Thomas Vance, Michael Trombetta and David Nunn with two wins each.
Jockeys Russell and Mychel Sanchez have skippered six wins each, with Horacio Karamanos gathering four.
On-track wagering at Colonial Downs is still a work in progress, but management has responded to early complaints. An opening weekend matter of long lines at the windows was met with mobile wager takers and additional windows in the past week. In the upcoming week, look for more ambassadors to be more prevalent working with the many newcomers that have been showing up.
"We made an adjustment from week one to week two, and we will make others from week two to week three," explained Byrne.  "Using Ambassadors to help with automated machines and fan education, it's something we need to continue to improve upon.  We want to listen to the customer, recognize the issue and address it."