On breeding: No headache for Hangover Kid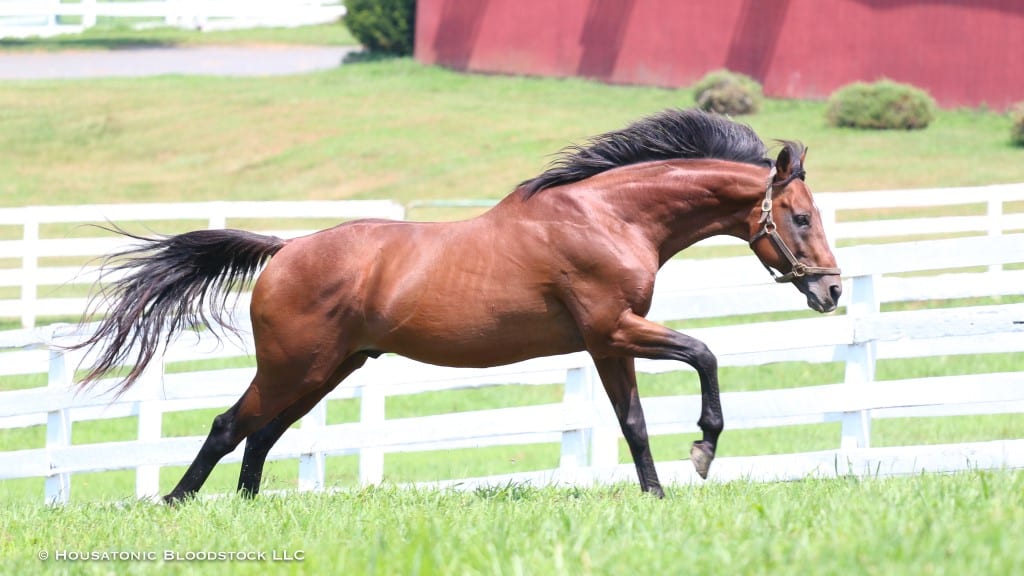 Hangover Kid. Photo by George Adams/Housatonic Bloodstock LLC.
Last month we touched on four Maryland sires with their first juveniles running in 2019, all of whom now have at least one winner to their credit and one of which — Bourbon Courage — had a Grade 3-placed runner at Saratoga as well.
But it is the freshman sire with by far the least representation in his first crop — not to mention the least precocious pedigree — who has come closest to a stakes winner so far.
Murmur Farm's Hangover Kid is the sire of just a half-dozen two-year-old offspring of 2019, compared to numbers in the forties and higher for his fellow Maryland-based freshmen. But it was Hangover Kid who was nevertheless represented August 4 by Miss J McKay, who crossed the wire first in the Colleen Stakes at Monmouth Park, although she was subsequently disqualified to third for having veered across the paths of the second- and third-place finishers in the stretch.
Miss J McKay, whose original owner died the night that the filly was foaled at Murmur Farm in Darlington, blossomed from a $1,500 Fasig-Tipton Timonium weanling to a $55,000 yearling at the same venue ten months later. Subsequently bought back for $85,000 at a two-year-old in-training sale this spring, Miss J McKay broke her maiden first-time out going 5 1/2 furlongs on the dirt at Laurel on July 5, despite a three-wide trip and a Trevor McCarthy hammerlock in the final sixteenth.
Trainer Cal Lynch then wheeled the Maxis Stable runner back in the $75,000 Colleen going five furlongs on the grass, and despite the change in surface the result was much the same — disqualification notwithstanding — as Miss J McKay flashed good speed to race with the pace early before kicking away from her rivals in the lane under jockey Jorge Vargas.
While her versatility is certainly attributable to Hangover Kid — himself a dual surface winner and a son of Lemon Drop Kid, whose offspring include Grade 1 winners on dirt, turf and synthetic surfaces — one assumes Miss J McKay must get her precocity from elsewhere.
That's because Hangover Kid did not make his first start until he was three-years-old, did not win his first stake until he was five-years-old, and then scored his signature victory in the Grade 2 Bowling Green Handicap at six. His average winning distance was a stout 10.26 furlongs.
When asked if, in light of the foregoing, she had any expectation that Hangover Kid would have an early-maturing, sprint-winning juvenile to his credit, Murmur's Audrey Murray laughed.
"I know, I know," she chuckled, mentioning that she still owns three of Hangover Kid's two-year-olds herself, all of which she has taken her time getting to the track because of the stallion's own later-maturing tendencies, allowing, "But maybe I made a mistake" in not pushing harder.
Mrs. Murray can be forgiven for having exercised patience with Hangover Kid's offspring, as his own racing profile was much in keeping with what one would have expected from a son of the Belmont Stakes winner Lemon Drop Kid. Although Lemon Drop Kid did win the Grade 1 Futurity Stakes as a juvenile, his offspring tended to require maturity and distance to show their best. In addition to Hangover Kid, his top runners have included the likes of turf marathoners Beach Patrol, Somali Lemonade, Citronnade and Cannock Chase, plus two-time Pacific Classic winner Richard's Kid, as well as the Kentucky Oaks winner Lemons Forever.
Interestingly, Miss J McKay's female family does not offer a ready explanation for her precocity, either. Her dam, Bally Kiss, never hit the board in five races, all at four-years-old, while her second dam failed to find the frame in three starts, although she did start twice at two. Meanwhile, Miss J McKay's broodmare sire, Street Boss, didn't debut until September of his sophomore season.
Wherever she gets it from, Miss J McKay has already demonstrated plenty of juvenile aptitude in her short career, as well as signifying that her sire has perhaps been under-patronized so far. But, although his next three crops will be even smaller than his first, Mrs. Murray says the phone has already been ringing for Hangover Kid's services in 2020 — proving that at stud as well as in his racing career, Hangover Kid may turn out to be worth the wait.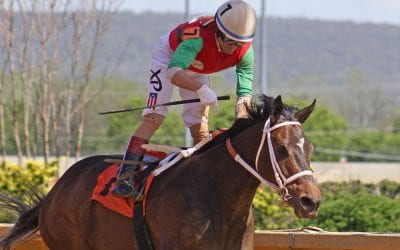 Anna's Bandit, an 11-time stakes winner of more than $800,000, delivered Maryland's first foal of 2023, a colt by Tapit.