The wit and wisdom of D. Wayne Lukas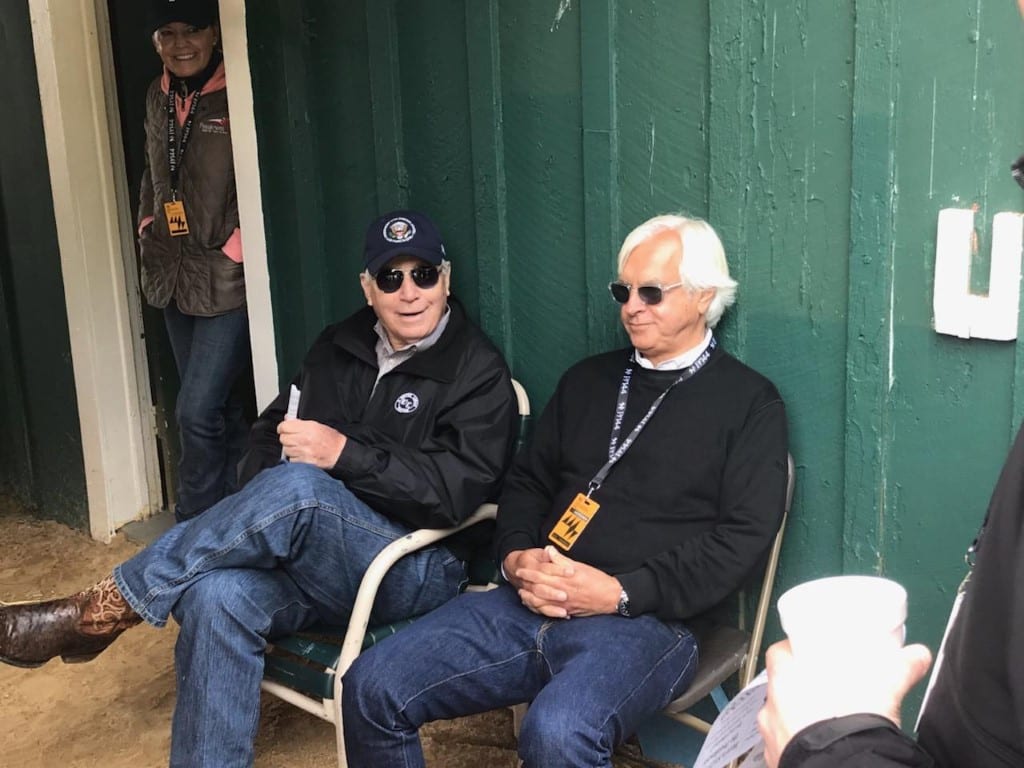 D. Wayne Lukas and Bob Baffert have a visit at Pimlico. Photo by Nick Hahn.
Trainer D. Wayne Lukas, at 83 years old, has seen just about everything happen in the Preakness. On Saturday, he will saddle Market King as his 44th Preakness starter over the last 39 years. The first time he brought a starter, he won it with Codex in 1980 over Genuine Risk in an outcome disputed for weeks after its running.
With now thirteen starters slated for this year's edition as many late decisions surfaced to enter with a Triple Crown void Lukas jumped on an opportunity.
"We got some good talent here," complemented Lukas. "Not having the Derby winner here, whoever was put up, whether it was Country House or the other horse, not having him here has brought a little bit of vanilla to this whole race. We got the right riders; we got the best trainer in the world here (Baffert)."
Those who underestimate Lukas do so at their own risk, even with horses that don't appear to fit in Triple Crown class. It's nothing new for Lukas to bring horses here to overachieve.  Many considered Bravazo outclassed — on paper — in last year's foggy Preakness. A 15-1 outsider, he ran second and was moving well on superbeast Justify late.
"Out of the fog came my horse and I thought we were going to spoil the party," Lukas recalled.
While sitting along the back wall of the stakes barn, many of his upcoming competitors within his sightline, Lukas described how Justify, while in the two or three path, was out of sight of Bravazzo, who was in the 7th or 8th path maybe wider. Stretch duels are usually side-by-side tussles, and Lukas saw separation as a factor, a point that even Justify's jockey Mike Smith mentioned after the race.
"When horses get close to each other, they get competitive. If I had been closer, we might have spoiled the party there. But that's why we don't mail them in, we have to run them," Lukas said, before he couldn't resist a joke. "What we really did was run down to the quarter pole and waited for him to come around."
On this year's unrealistic longshot, Lukas said that Market King shipped in beautifully and is doing well and very alert, not a strange response expressed by even the greenest of trainers. Lukas liked Market King's efforts in the Rebel Stakes and Bluegrass Stakes — up to about the quarter pole.
"My question is, and I get more realistic as I get older," Lukas interrupted himself. "I never was realistic when I first got here, but I'm getting better at it. The 1 3/16th [mile distance] is a question, I think. He might be a really good miler. If you going to stretch a horse out and see if they can run it, this is the best place. This track lends itself to maybe speed holding on a little longer."
Lukas didn't saddle a horse in the Kentucky Derby two weeks ago at Churchill Downs, but that doesn't mean he wasn't watching. As to the Derby disqualification…
"I've avoided making comment on it," Lukas said, before he offered one. "These are all my friends and I'm the oldest guy here by far. So whatever I say may carry hopefully a little credence. I have a thought on it. The minute they hit the quarter pole, I wish the stewards would have hit the inquiry light to say, 'We're going to look at it.' The general public couldn't understand how the eventual winner Country House on the outside, who wasn't bothered, got the win and the other horse was taken down. Unless you are a hardcore bettor or race fan, that was not really explained. If the stewards had thrown the light to say we're going to look at this, then I think the big picture would have been a lot clearer because there was a lot of activity down inside, but you put up Country House who wasn't bothered, you confuse the issue a quite a bit. Somebody should have thrown the light."
Lukas has nearly started as many horses in the Preakness (43) as all the trainers in this year's running combined (44), even including Baffert. He advises younger trainers not deviate from the techniques that brought them to Triple Crown races; something tempting to attempt while observing more experience trainers during the lead up.
"The biggest advice I give the guys are that are in the first time Derby or Preakness, it is easy to get caught up in the hype and change up what got you there or what you know is the best thing, such as mirroring the techniques of other successful trainers," warns the onetime basketball coach. "I watched some of the young guys at the Derby, and I just drew a line through those horses. They're going to get a hell of an education here come Saturday. It's a game of experience. There's no How-To book. There is nowhere to look up, 'How do you win the Preakness?' Go talk to Lukas and Baffert."
Lukas has nothing but praise for the only trainer with more Preakness wins than he: Baffert.
"We've had great luck here," Lukas said. "Bob and I train a lot alike. We've got 13 of them between us, and I think our style of training lends itself well to this type of race and this track."
Lukas has been a perennial for the middle gem for nearly 40 years, a run that began in the era when then-Philadelphia 76er Julius Erving would ask him questions about horse racing. Former Michigan football coach and athletic director Bo Schembechler was with him when his 1999 Derby winner Charasmatic won the Preakness, underestimated again, at 8-1.
"I'd love to see [Dr. J] again," Lukas said. "We developed a friendship over the Preakness, I developed a lot of friendships here over the years at the Preakness, like Pete Herrmann, who coached basketball at the Naval Academy."
Outside of horse racing, professionals haven't always heeded the opinions of Lukas. In earlier days, Lukas, in Louisville, bonded with then-Indiana University basketball coach Bob Knight. 
Lukas shared how Knight would have him sit in the third row at his practices to critique them on a legal pad.
"I'd lay it on his desk," chuckled Lukas. "He never looked at it." 
When they partnered on ownership of a horse named after an English writer, Knight, known for his often-testy relationship with the media, exclaimed, "For Christ's sake, I get a horse and it's named after a writer?"
Lukas, however, took some of the General's advice.
"Bobby taught me something right away," Lukas tells. "When you're in practice, never shoot with the kids. They'll always think you were a good player until you do that. Don't ever expose yourself by picking up a basketball. As a coach don't ever shoot. They'll find out how bad you were."
That's not a problem the old coach ever has to worry about around the racetrack.