Catholic Boy prays Dixie not for Just Howard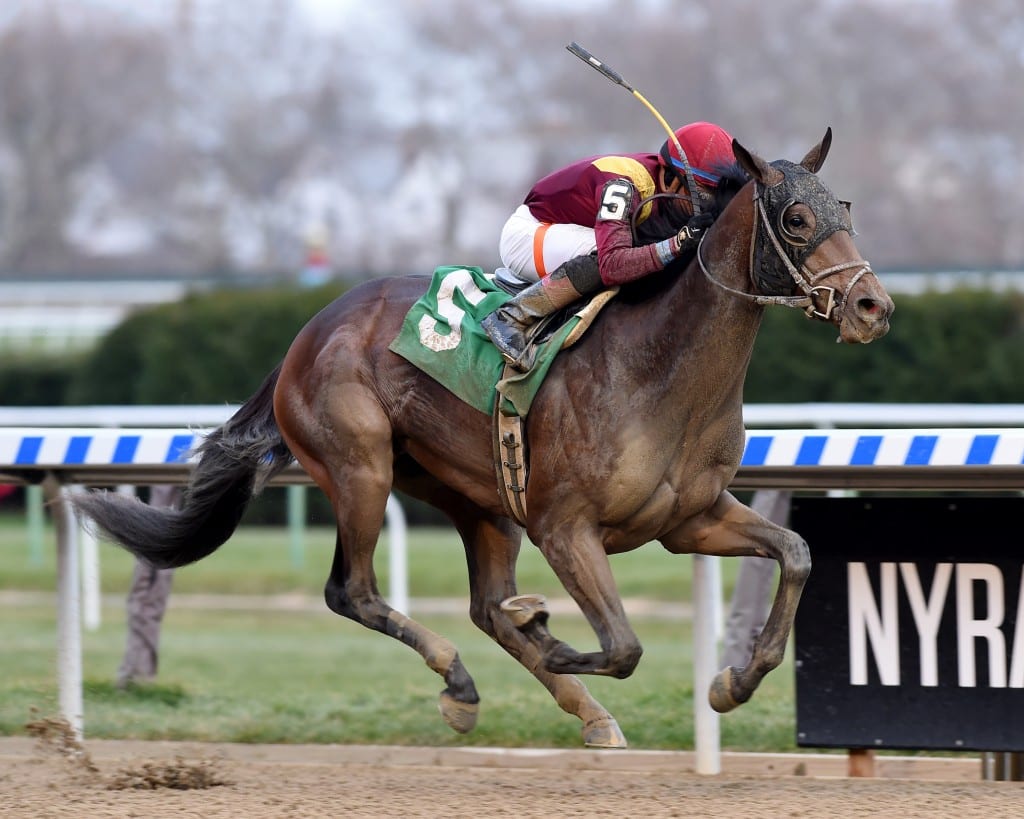 Catholic Boy won the Remsen. Photo by NYRA.
Neighborhood trainers at two very different stages in their careers are signed up to square off in the Grade 2 Dixie Saturday afternoon.
Northern Virginia-raised Jonathan Thomas hasn't had his trainer's license very long but will saddle favored Catholic Boy (3-1) for the first time this year in the race run just prior to the Preakness. Catholic Boy has earned over $1.8 million in his career, tops in the field — almost exactly half of Thomas' career earnings $3.681 million.
Veteran trainer Graham Motion, on the other hand, has trained the earners of more than $120 million in his remarkable career, including 2006 Dixie winner Better Talk Now and 2003 champ Dr. Brendler. Motion has also skippered a Kentucky Derby winner in Animal Kingdom in 2011 and has nine different millionaires, and he'll send out relative longshot Just Howard (10-1).
"We're really excited about giving him a chance to run," Thomas said about Catholic Boy. "We're thrilled about giving him a break over the winter. It's always great to give him time off. The Dixie is a great spot to get him started."
Catholic Boy has shown unusual versatility, New York Grade 1s on turf and dirt. Though he ran poorly in the Breeders' Cup Classic, finishing 13th of 14, he had entered that race with consecutive wins in the Grade 1 Travers (on dirt) and Grade 1 Belmont Derby (on turf).
"He's shown his adeptness on both surfaces," said Thomas. "One, it gave him an opportunity to show his athleticism, and two, his generosity as a racehorse. He's a very honest racehorse. If there was a third surface he could run on, we might look at that too."
Thomas likes the Dixie (on turf) as a starting point because it fits well into the calendar for a possible start in the Suburban Handicap (on dirt). Hey, it's proven effective-that's his style.
"Personally, for me and for the team, it's a privilege to participate at the pinnacle of the sport", said Thomas referring to Catholic Boy's win in the Grade One Travers, (on dirt).
Sired by More Than Ready out of the Bernardini mare Song of Bernadette, Catholic Boy is owned by Robert LaPenta, Madaket Stables, Sienne Farm and Twin Creeks Racing Stables, LLC.
Just Howard is just owned by Skeedattle Stable and his sired by English Channel out of the Alphabet Soup mare Aruban Sandwich. Owner of five wins from 17 starts, Just Howard had a bito of a tough 2018. Of his five starts, two, including the Dixie, were taken off the turf and two others were contes,ted on soft or yielding ground.
"He had a bit of an unlucky year last year especially with the weather and the Dixie being taken off the grass," recalls Motion. "He's a straightforward horse. I threw him a little bit in the deep end."
After a considerable campaign to break his maiden, Just Howard rattled off three consecutive stakes wins before trying his hand without success in upper graded stakes company in California. Then the year turned wet when he returned back East for several races.
Though Just Howard didn't have a great trip in his 2019 debut when finishing fourth in the Henry S. Clark at Laurel Park, Motion is optimistic about the return to Pimlico, where Just Howard broke his maiden.
"I think the race is coming together to be very competitive," said Motion. "This a more of a level of this caliber. He's back on his game and he should be tough being home in Maryland again. I hope the weather cooperates. I think they deserve it here in Maryland. I'd like to see close to the assemblance of a good, firm turf course."
Interestingly enough, both runners have connections to Colonial Downs and the Virginia Derby.
Thomas' father, J. D. Thomas, is the pyro-maestro who burns the Colonial Downs turf course each spring in Virginia, the course where Just Howard's sire English Channel, won the Colonial Turf Cup and Virginia Derby in 2005. Motion acknowledged having some "bad beats" in the Virginia Derby when it was run at Colonial Downs, yet how fitting is it that the best race of Just Howard's career was in the race formerly known at the Virginia Derby when it was run in Maryland at Laurel as the Commonwealth Derby. Just Howard is the only winner of the race to be sired by the winner of the race.
Catholic Boy possesses an apparent class edge on his rivals, but whether that will yield a victory is a different question.
"By no means is the Dixie going to be an easy race," acknowledged Thomas.