Md. Racing Commission bolsters vet coverage for Preakness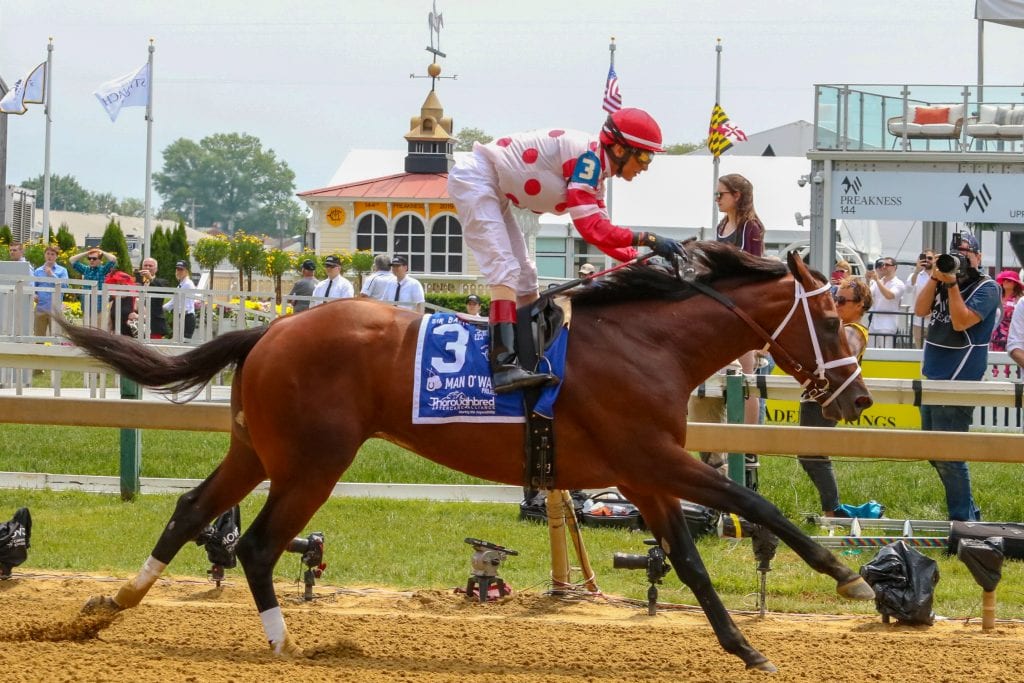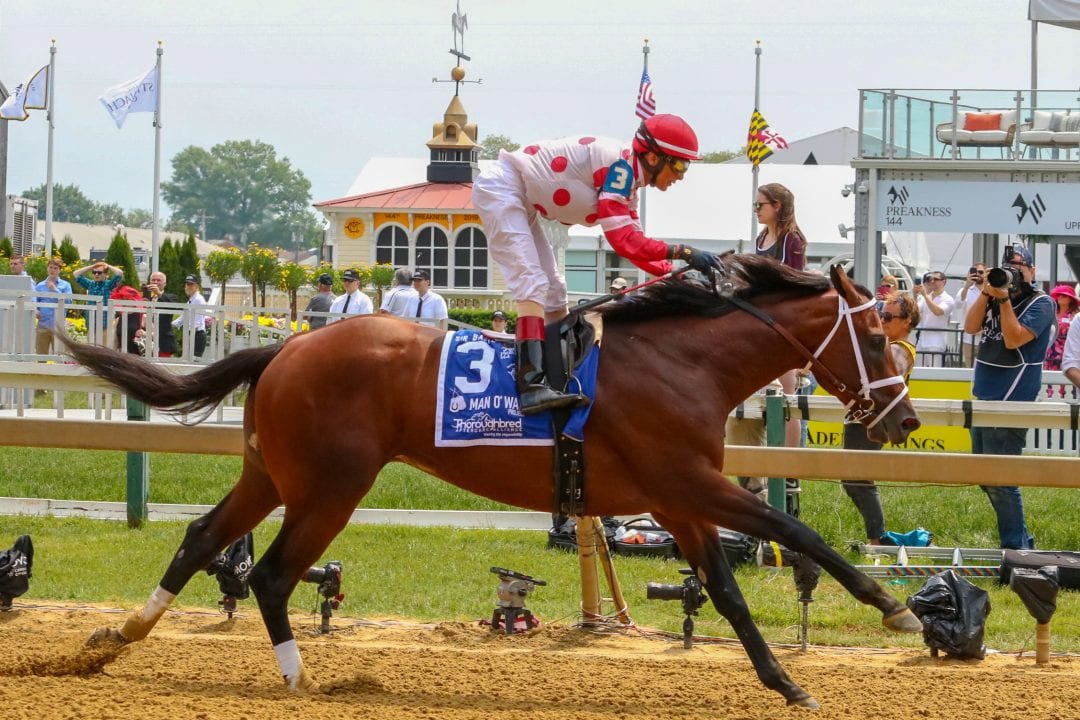 King for a Day won the Sir Barton Stakes on the Preakness undercard. Photo by Dottie Miller.
Shortly before 6:48pm at Pimlico Race Course, equine veterinarians will fan out across the track. This is common practice, every race, every racing day, when vets take up positions near the paddock, the starting gate, the backside, and the detention barn.
But this afternoon, departing from the Maryland Racing Commission's standard operating procedure, an additional four veterinarians will be watching, one at the head of the stretch, one at the 7/16 pole, and two on the backside.
"We wanted to be prepared to react if we need to," said Mike Hopkins, executive direction of the Commission. "In addition to the racing commission veterinarians, we have four private vets who have volunteered to help us."
Admitting that no one at the track can prepare for everything, Hopkins said that given the unusual circumstances of the Preakness—an occupied infield, additional traffic, vehicles, and people—the commission wanted to be in a position to get a veterinarian to an injured horse as quickly as possible.
"When a horse goes down, it's disturbing and sad," said Michael Algeo, chairperson of the Commission. "We want to be able to respond immediately, to be able to calm the horse and to sedate and treat him."
"We're very much aware happening in the industry," he continued, referring specifically to the equine deaths at Santa Anita earlier this year. "In conjunction with Mike [Hopkins] and other members of the commission as well as other stakeholders, we expanded our safety protocol membership to include additional voices and reviewed our current protocols."
Both Hopkins and Algeo stressed that the commission has prioritized safety for a number of years, especially following a spike in equine fatalities at Pimlico and Laurel Park several years ago, after which they implemented some of the recommendations of the New York Task Force on Racehorse Health and Safety.
"We adopted their medication rules and implemented stricter pre-race exams," said Hopkins. "Trainers are required to report corticosteroid injections, and if a horse is claimed, the injection report goes to the new trainer. We now have two harrow breaks during training horses, and every horse that dies undergoes a necropsy by the Maryland Department of Agriculture."
While Maryland doesn't have an injury database as New York does (it was established in 2009), it does report all injuries to The Jockey Club for inclusion in its equine injury database, and Hopkins said that injury reports can be made available to the public upon request.
Additionally, steps have been implemented to protect jockeys from trainer repercussions if they express concern about a horse on the track.
"The vets will take the heat," said Hopkins. "We know that jocks don't like to report a horse because trainers will call them out. The trainers don't have to know the jockey was concerned."
On Friday at Pimlico, Congrats Gal collapsed and died of what is suspected to be a heart attack after running in the eighth race. While Hopkins conceded that predicting such an event is difficult if not impossible, Maryland Racing Commission vets listen to a horse's heart and lungs during the morning pre-race exam.
"We're probably not going to hear anything, but if you don't listen, you don't know," he said.
One noise that comes across loud and clear this weekend at Pimlico is the thudding bass from the much-touted infield entertainment, entertainment that comes with sudden cheers from tens of thousands of people and flashes of light, often close to where horses are loading into the gate. Across the track and six stories up, the floor vibrates and the lights are eye-catching for humans; it's hard to think that horses wouldn't be affected.
On Saturday afternoon, Tim Ritvo, chief operating officer of The Stronach Group, spoke briefly to reporters, reiterating TSG's commitment to safety.
"We're looking at ourselves all the time to see what we and the sport can do to improve," he said. "We're going to work with industry stakeholders to roll out [increased safety protocols] in all our racing jurisdictions."
In March, Belinda Stronach, TSG's chairwoman and president, announced that Santa Anita would begin to implement the elimination of race-day Lasix and the restricted use of whips during races. According to Ritvo, TSG will also work to bring those protocols to Gulfstream Park, to Laurel Park, and to Pimlico…should there continue to be racing at Pimlico after this year.
Though the resistance of horsemen's associations and other groups means that such changes will not be implemented easily, it would be fairly simple for The Stronach Group to eliminate the infield crowd noise that could easily spook horses.
In 2014, trainer Kenneth Wirth said that the "Big Board" in the infield at Churchill Downs was responsible for the death of his mare Never Tell Lynda, claiming that a noise from the screen caused her to rear, fall, and hit her head.
Some Preakness observers have looked askance at the entry of Market King in the Preakness. Though the D. Wayne Lukas-trained colt was placed on the vet's list after being a vet scratch at the gate of the Pat Day Mile two weeks ago, he was cleared to run by Kentucky equine medical director Dr. Mary Scollay.
The increased veterinary presence will be for the Preakness Stakes only, not the other 13 races on the card nor the 14 races on Friday, and Algeo suggested that the commission and its safety committee intend to examine the possibility of adding veterinary staff on other race days.
"We saw in the Kentucky Derby that regulations and requirements and safety protocols should be across the board, for every race," said Algeo. "Procedures shouldn't be different just because it's a Triple Crown event."