Lexitonian rallies to take Chick Lang in blanket finish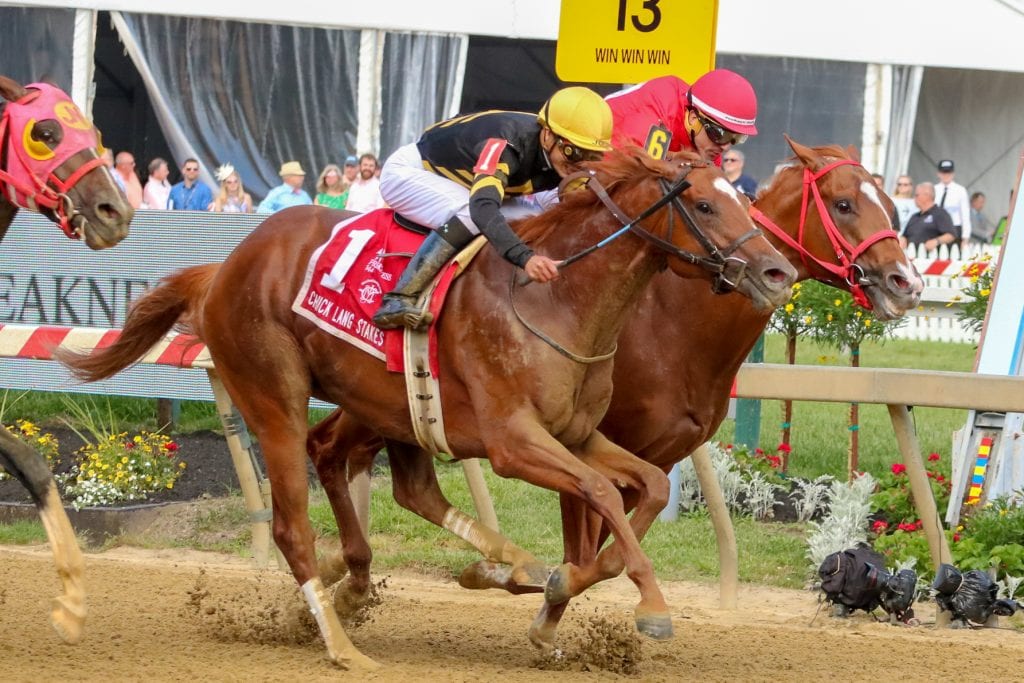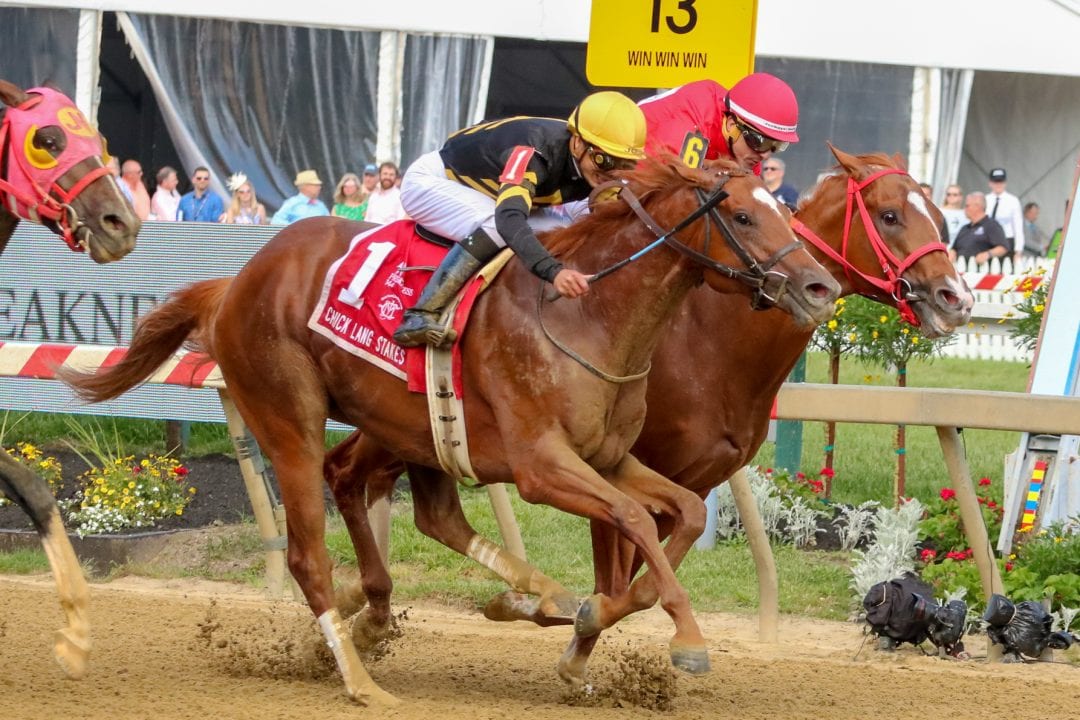 Lexitonian (#1) was up late over Gladiator King to win the Grade 3 Chick Lang Stakes. Photo by Dottie Miller.
HOW IT HAPPENED
In a Preakness Day at Pimlico filled with short-priced winners, it took the slimmest of margins to provide the first longshot winner by the name of Lexitonian (17.00-1) in the Grade 3 Chick Lang Stakes. It took a furoius stretch drive and splitting rivals in the final strides to beat Gladiator King (8.40-1) by a head to his inside and Admiral Lynch (10.40-1) another head back to his outside. The $1 Trifecta of 1-6-4 returned $1,785.90.
Lexitonian with Jose L. Ortiz aboard was rated behind the early leaders, saving ground along the rail into the far turn, angled to the three-path near the eighth pole, remained on his left lead and closed deteminedly to be up in time. The hard luck runner-up did all the dirty work vying for the early leader with Malpais (3.00-1 who faltered in the stretch to finsh seventh) taking the lead at the top of the lane only to be caught at the wire. Third-place finisher Admiral Lynch exchanged bumps with Pyron (3.30-1) leaving the backstretch, steadied in close quarters inside the three-eighths pole then swung to the five-path as his rally fell short.

Preamble (1.70-1) who was a perfect 3 for 3 entering this contest was never in contention, travelling mid-pack down the backstretch, was four-wide on the turn then gave way entering the stretch and was eaased approaching the wire to finish ninth.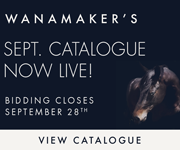 QUOTABLE
"He broke on top. I could have gone to the lead if I wanted to, but figured there was going to be a lot of speed in the first half. So [trainer] Jack [Sisterson] told me if I could relax him and sit him back 'I would be the man' (smiling). And that's what I tried to do. He relaxed really well, because the pace was really fast. When I asked him to go, he was there for me the whole time. He didn't switch leads in the stretch, but he was digging in. He was trying, and that's all that matters." 
— Jockey Jose L. Ortiz
"I didn't have to tell [jockey Jose Ortiz] really anything. I said just break and if he relaxes, just sit him behind the pace. He won it for us." 
"He came back fine after that [OC75k/n1x-N] race at Churchill. In my opinion he ran a much better race than it looked on paper. JOel [Rosario] who rode him that day told me that he used him a little bit early and that if he were to ride him back, he'd take him back."
"I could be wrong, but he seems like a horse where the more you work, the more he could go over the top. So I figured I might as well run him instead of work him."
— Trainer Jack Sisterson
FACTS AND FIGURES
Winner paid: $36.00 – $15.60 – $2.80
Winning time: 1:09.74 
Margins: A head from Lexitonian to Gladiator King, a head back to Admiral Lynch and one-and-one-half to Pyron
Winner's record: 4-2-0-0, purse earnings of $172,400
CONNECTIONS
Owner: Calumet Farm
Breeder: Calumet Farm (KY)
Pedigree: Speightstown-Riviera Romper, by Tapit
Jockey: Jose L. Ortiz
Trainer: Jack Sisterson
HOW WE 'CAPPED IT
 #8 – Preamble (5-2): Might be the best 3-year-old sprinter in the male division with a perfect 3 for 3 record but has a tough act to follow after Covfefe shattered the track record yesterday for this 6f distance (1:07 3/5); no record required, just prove you're the best        
 #9 – Confessor (15-1): Speed figures don't measure up compared to his eight foes in here but the locals that he's been beating came back on Thursday to win (Hall Pass); could benefit from an insanely quick early pace and pass leg-weary foes in the shadow of the wire      
 #7 – Pyron (7-2): One of many speedsters who could assert himself early and get separation from the rest OR be part of a crowded group of pacesetters who run out of gas in mid-stretch
IN YOUR STABLE MAIL
Third-place finisher Admiral Lynch as mentioned earlier deserved a better fate and was likely the best as he exchanged bumps with Pyron leavimg the backstretch then was steadied in close quarters inside the three eighths pole, yet still rallied in deep stretch widest of all to get the worst end of the three-way photo.