Fuller barn area, more days fuel optimism at Delaware Park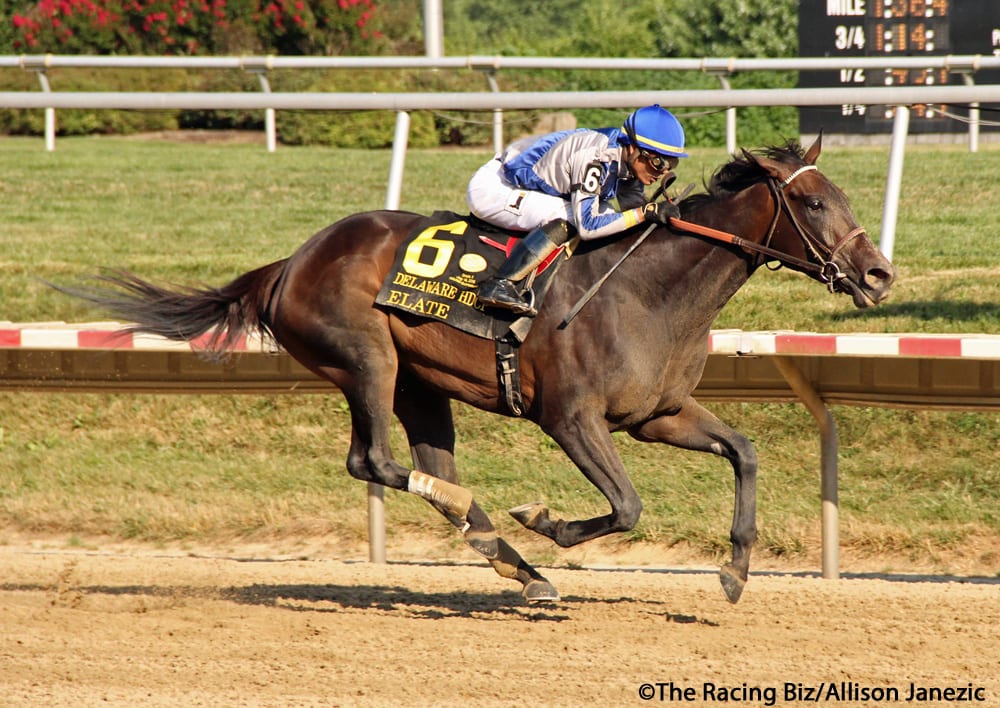 Elate won the 2018 Delaware Handicap. Photo by Allison Janezic.
Buoyed with additional revenue from sports betting on-site and with a new racing secretary at the helm of the racing program, Delaware Park will kick off its 82nd season of Thoroughbred racing Saturday, May 4, Kentucky Derby Day.
The starting date will be one of the earliest in recent memory for the storied oval, as purse money made available mainly through sports betting allowed the track to add four additional racing days to the schedule this season. Racing will run through October 2.
Bessie Gruwell, executive director of the Delaware Thoroughbred Horsemen's Association (DTHA), explained that the group's membership requested the additional revenue be used to add more racing dates to the live meeting instead of increase the overnight purse structure
"We are very excited to be able to add four days to the live racing schedule and begin the meeting on Kentucky Derby day in anticipation of the Triple Crown," Gruwell said.
Tom Creel, a veteran racing official who has served as racing secretary at Suffolk Downs and Great Barrington in addition to working as assistant racing secretary at Parx, brings a wealth of knowledge and experience to Delaware Park and is optimistic his staff will be able to offer racing fans larger and more competitive fields to wager on this season.
"We've got more horses on the ground this season and have had more request for stalls," Creel reported recently, "and there will be some new faces and new outfits racing here this season. We also have some new people in the racing office. These days bettors are looking for big fields since more and more players concentrate on exotic wagering, or gimmicks as they're called, and we'll be trying to give the bettors what they want with bigger and more competitive fields."
Jamie Ness will be back to defend his title, his operation strengthened now that he and the Midwest Thoroughbred operation of Richard and Karen Papiese have reunited recently. Ness was Midwest's top trainer when the owners led the nation in races won from 2011 to 2015, and Ness led the nation in races won with 395 victories in 2012. The partnership ended in early 2016. Ness has gone on to build a powerful public stable and recently began running Midwest Thoroughbred horses again.
While Ness, who has 44 stalls allotted to him, is expected to be a strong force at Delaware Park this season he figures have some competition for the top spot, topped by Claudio Gonzalez. Gonzalez has emerged as a dominant power in Maryland in recent years and last season led all trainers in the Free State with 155 winners. He won the title at the Laurel winter meeting with 40 victories from 143 starters, winning at a 28 percent clip, and will have approximately 30 head on the grounds.
Trainer Gerald Bennett, who is running away with the trainer's title at Tampa Bay Downs this winter, is also expected to make his presence felt. Bennett has a 27-win edge over his nearest rival, Kathleen O'Connell as May 1 and will take his fourth straight title at the Oldsmar oval. Bennett tied for fourth in the standings here last season. Anthony Pecoraro finished second to Ness last year and brings a solid outfit to Stanton for the 2019 season.
Some new outfits will be racing for the first time at Delaware Park, including colorful and sometimes controversial Marcus Vitali. Vitali has been in and out of the news in recent years in disputes at tracks in Maryland, Florida and Pennsylvania over a myriad of subjects including medication violations and using other trainers to enter horses while under suspension. But he been training for 30 years, and in 2015 his stable amassed earnings of more than $2.5 million.
Jockey Carol Cedeno will be back, and the defending champion, who set a record with seven wins on a single card at the Stanton oval last July, figures to have a shot at her fifth local riding title.
Topping the challengers to Cedeno will be Alex Cintron. Cintron, who has a home near Delaware Park, has committed to ride at Delaware Park this summer and is a solid journeyman rider.
One interesting newcomer bettors might want to watch is Raul Mena. Mena began riding in the U.S. in late 2015. This season at Tampa the 26-year-old has won 30 races despite not riding regularly for any big stables; that ranks him sixth in the rider's standings. Mena is expected to get a shot at some live mounts early in the meet.
A number of riders, including Trevor McCarthy and Daniel Centeno, will be riding at several Mid-Atlantic tracks this summer including Delaware Park.
The battle for leading apprentice jockey could turn out to be a good one. Julio Correa has been on a hot streak the past two months and has 36 winners already in 2019. Antonio Quiles returned recently after being sidelined for several months due to an injury and has five of his first 21 mounts. Avery Whisman, who counts Mike Smith among his mentors, comes east from Turf Paradise and has been working with top outfits like those of Chuck Lawrence and Kieron Magee.
The Grade 2 $750,000 Delaware Handicap is again the crown jewel of the 2019 stakes schedule. That mile and a quarter fixture will be run July 13. Also on the card that day will be the Grade III $200,000 Kent Stakes for 3-year-olds going nine furlongs on the turf. The Grade 3 $300,000 Delaware Oaks will run on July 6, along with the Grade III $200,000 Robert L. Dick Handicap at 11 furlongs on the turf for older fillies and mares.
Also on the Delaware Handicap undercard are four MATCH Series races, all with $100,000 purses: the Just a Kiss, for fillies and mares at 1 1/16 miles on the turf; Dashing Beauty, at six furlongs on the main track for fillies and mares; the 7 ½ furlong, grassy Glasgow Stakes for three-year-olds and up; and the six-furlong Hockessin, for older boys.
First race post time is 1:15. Racing will run three days a week until May 30th then four days a week to the end of the meeting.