Trainer Lawrence hopes innovative procedure gets Glorious Empire back on track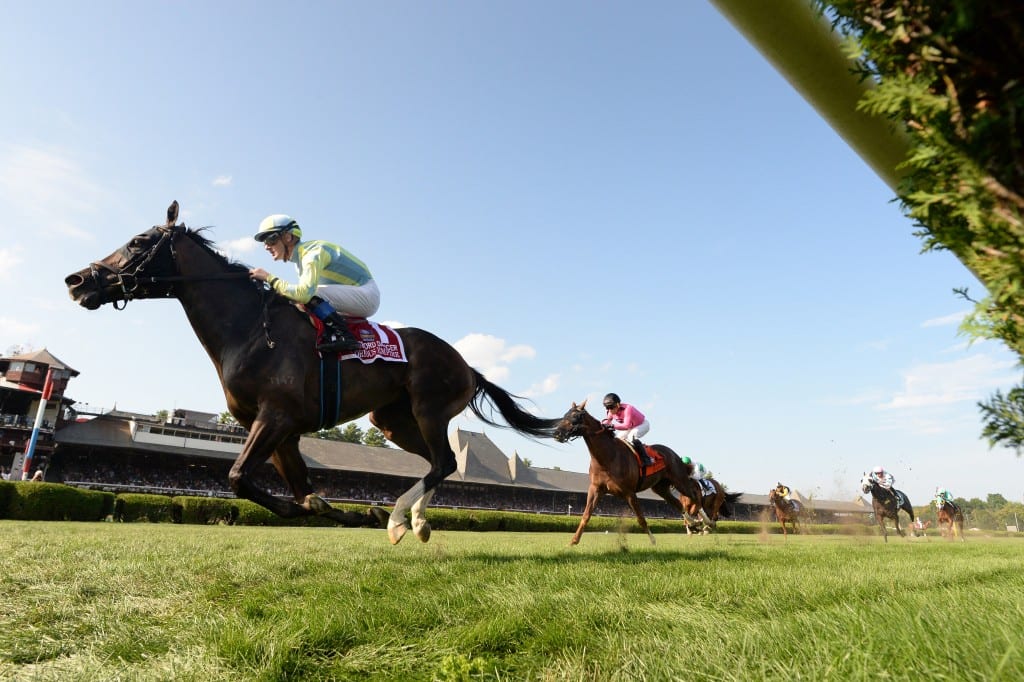 Glorious Empire won the G1 Sword Dancer at Saratoga. Photo by NYRA.
Glorious Empire, the horse many considered the top turf runner in the U.S. in 2018, turned eight in January. At an age when many thoroughbreds are heading to a life of leisure, the Irish-bred Holy Roman Emperor gelding's connections are hoping an innovative procedure to repair a tear on his right front suspensory ligament will allow the veteran to return to action and the top of the turf division.

Glorious Empire burst into the national spotlight last summer at Saratoga. Following a dominant allowance win at Delaware Park, he stunned a strong field to lead throughout in the Grade 2 Bowling Green Handicap before hitting the wire on even terms with Channel Maker.
That was the first career stakes win for the horse owner Matthew Schera had claimed for $62,500 in May 2017, and it turned out to be just the beginning. He came right back in the Grade 1 Sword Dancer and used his strong early speed to advantage again, wiring an even stronger group to take his second straight graded race and earn a spot in the Grade 1 Longines Breeders' Cup Turf.
In the Turf, run over a deep and yielding turf course, Glorious Empire set the early pace before fading to last over the boggish conditions.
Feeling another good race was needed to prove his worthiness to Eclipse Award voters, his connections brought Glorious Empire back for one more race in 2018. In the Grade 2 Fort Lauderdale Stakes on December 15th at Gulfstream Park, Glorious Empire didn't disappoint, winning his fourth race from six outings for the year.
Unfortunately the win came at a cost.
"He came out of the Gulfstream race with some filling in the right front, so we had some pictures taken and sent to Dr. Dean Richardson at New Bolton Center," says Glorious Empire's Fair Hill-based trainer, James "Chuck" Lawrence. "Dr Richardson is one of the top equine surgeons in the business and he confirmed Glorious Empire had suffered a small tear on the suspensory. He recommended a surgical process known as Tenex, which involves using ultrasound to basically clean out the damaged area with a minimally invasive procedure, followed by stem cell infusion to promote healing in the area.
"The surgery was performed on January 5. and so far things are progressing slowly but steadily," Lawrence reports. "He's been walking three days a week, and the next big step for him will be to put him under tack, which we plan on doing sometime in mid-April. If he handles that step, then he can slowly be put back in training. If all goes well, we're hoping for a return to action in late August."
There were many in the business that felt Glorious Empire had the qualifications necessary to earn the Eclipse Award as top older turf male. But when the awards were announced, sprint specialist Stormy Liberal was given the award, perhaps the first time a sprinter had received the nod as top turf horse.
Glorious Empire won three graded stakes during the season, one more than Stormy Liberal, whose first graded win during the season came in the Grade 3 Eddie D Stakes on the downhill turf course at Santa Anita. But Stormy Liberal delivered on the sport's biggest day, taking the Breeders' Cup Turf Sprint for the second consecutive year.
"It was an honor to be considered a finalist for top turf horse in the country, and I have nothing but respect for Stormy Liberal and his accomplishments," Lawrence said. "But I believe in our division, as has happened before, too much emphasis is placed on one day and one race: Breeders' Cup. I think going on a horse's body of work through the season is a fairer and more equitable way to judge their standings in a given division. But of course I'm prejudiced; I'll be the first one to admit that."
Glorious Empire was always cut out to be a nice horse. He won four of his first six starts in Europe and then won in Hong Kong before coming to North America. Schera took quite the gamble to put up $62,500 to claim him at a moment when he had lost all six of his North American starts.
But the gamble has paid off handsomely. Glorious Empire amassed earnings of $767,830 in 2018 and now has a record of 10 wins from 25 career starts.
Now, at the ripe old age of eight, he's on the comeback trail again.
"If he isn't able to make it back, he owes us nothing," Lawrence reflected. "The joys and thrills he's given us can't be measured. But if he comes back and hasn't lost that step that separates the good ones from the rest, maybe we'll have some more fun before the year's over. We're keeping our fingers crossed."