Injured bug boy Trotman still has big goals in sight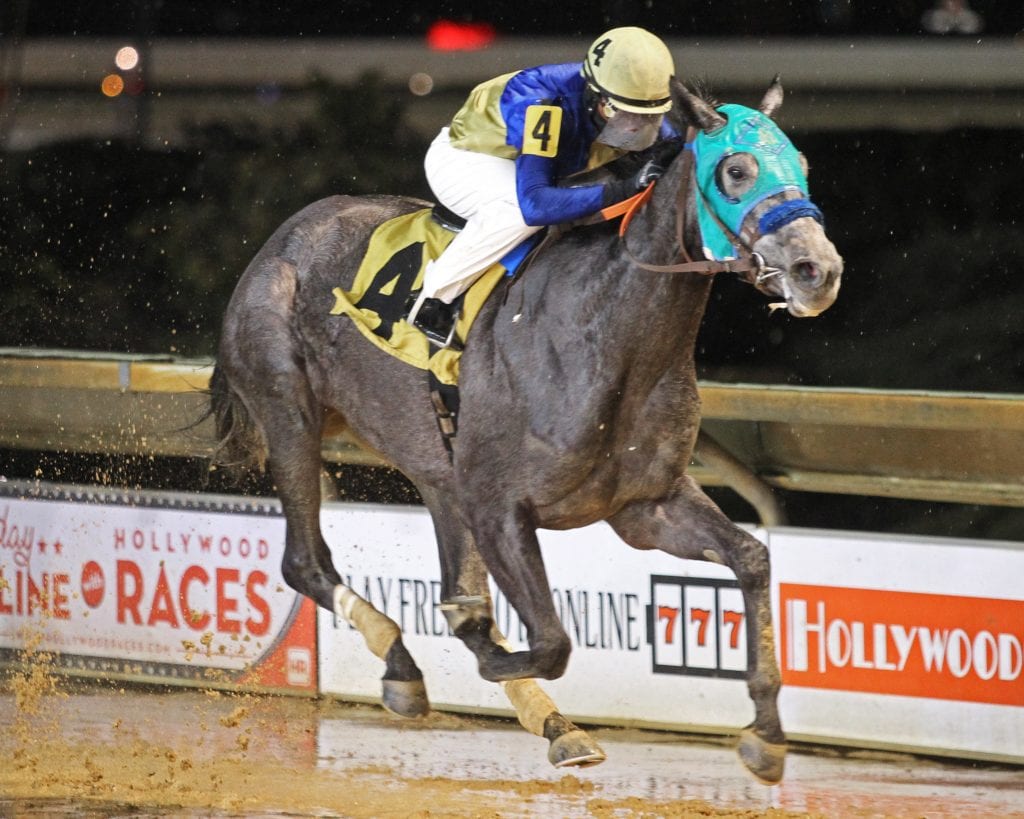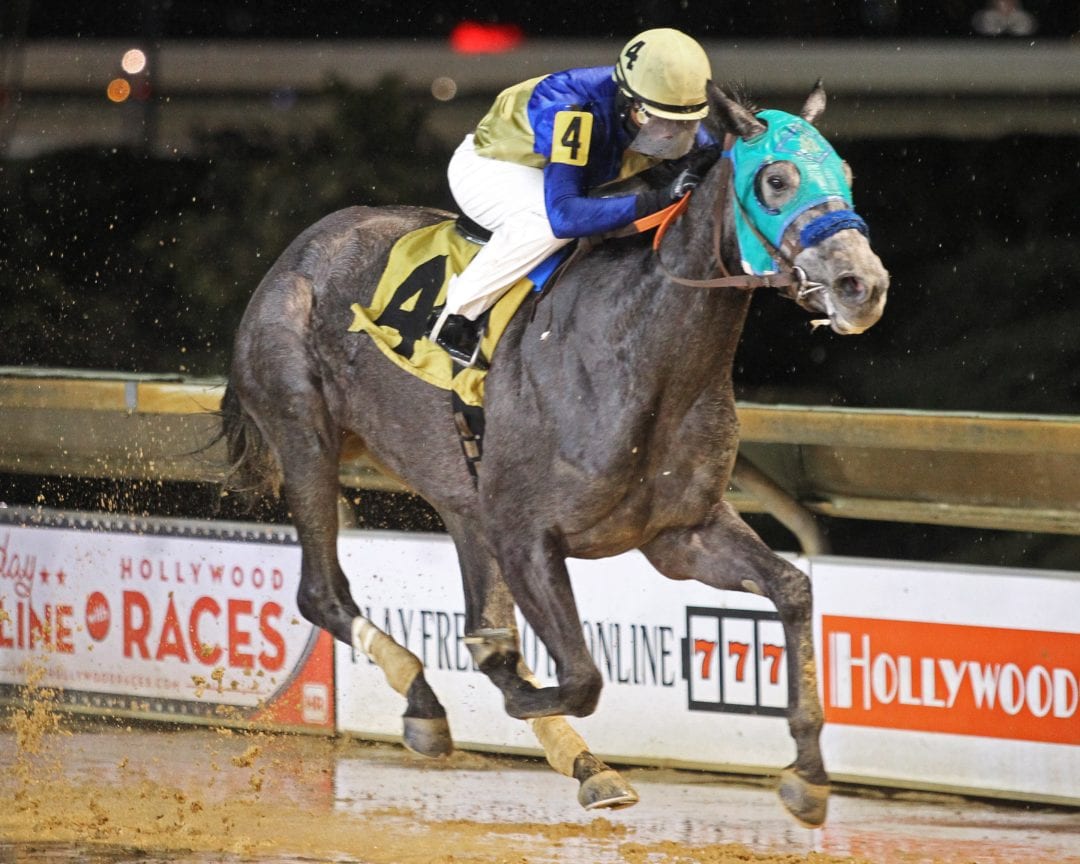 Keimar Tromtman won aboard Unruly Julie for trainer Jeff Runco. Photo by Coady Photography.
Through the early stages of his riding career, soft-spoken apprentice jockey Keimar Trotman has ascended to the head of the class among the riding colony at Charles Town in both wins and earnings through last Saturday night's card. But with the first hint of stakes action just around the corner this weekend, Trotman suffered a neck injury on Monday morning while galloping a horse for trainer Jeff Runco and is expected to be sidelined for the next four to six weeks.
Trotman, 21, was born in the Bronx but moved to Barbados when he was two. He began his riding career in Barbados where racing opportunities are limited, especially for apprentice riders, and came to Charles Town just about a year ago. He currently leads all Charles Town riders with 30 wins and nearly $480,000 in purses through last weekend. He has also won eight races at Laurel Park, including the finale on the March 23 card for trainer Anthony Farrior.
But his climb to success took a temporary tumble, literally, on Monday morning when he was unseated during a routine training trip over the Charles Town strip.
"I was able to get up right away, but then I went down because I could not breathe," Trotman recalled later that afternoon. "I had the wind knocked out of me. I really was not in a lot of serious pain. I could walk and my arms felt fine. But after they looked at the x-rays the doctors told me that I had suffered a fracture of the T-9 and T-10 vertebrae. They can't really do any surgery. I just have to rest. They told me probably four to six weeks, but I might be able to come back sooner. It's just one of those things that happens in racing."
Trotman's agent, Steve Paras, who handled the book for Ramon Dominguez when he first arrived in the United States before turning him over to Steve Rushing in the late 1990's, has high praise for Trotman. He commends the apprentice rider's work ethic, as well as his ability, and has enjoyed watching the youthful jockey enjoy success at Charles Town while making inroads at Laurel Park.
"Keimar is such a quiet, hard-working kid," Paras said. "He's up very early every morning and he's either galloping horses at 4:30 in the morning at Charles Town or heading over to Laurel to gallop horses for Dale [Capuano]. Then some days he's riding horses at Laurel and then heading back to Charles Town to ride the card. He's really willing to learn and listen to the trainers. It's a shame he got hurt the other morning, but he'll be back and I believe he'll come back stronger than ever. He's got a couple of hairline fractures and the only thing you can do for them is rest."
Paras noted that Trotman's apprenticeship would expire on September 27 prior to his injury on Monday, but if he misses six weeks then his apprentice dates would be extended accordingly.
"It's never a good time for a rider to get hurt, especially an apprentice who is really starting to make a name for himself at two different tracks," Paras said. "But, fortunately for Keimar, his injuries are very minor and he just needs to rest for a month or so, which is going to be tough for him because he's always busy. But if he starts back in May and keeps riding at two tracks each day, he'll still have a shot to win more races than any other apprentice. That's really our goal. We want to have a shot at winning the Eclipse Award as champion apprentice. I think he can have the most wins, but it will be tough for him to lead in earnings."
This past Saturday afternoon, Trotman steered Lonely Drifter to an 11-1 upset in a one-mile event for claimers in the Laurel Park finale for trainer Anthony Farrior, and he then ventured to Charles Town and rode four horses, finishing second on one of them. Two nights earlier on the Thursday card, he steered Unruly Julie to a victory in a maiden special weight event for top local conditioner Jeff Runco.
"You can see watching him ride night in and night out that's he's definitely learning very quickly and getting better," Runco said. "As far as comparing him to other apprentice jockeys who rode for me here, he's not at the top, but he's above most of them. He's very good at getting horses in good position, which is a big part of riding up here. It's a shame he got hurt the other morning, but I expect he will be back in a month or so and then hopefully he will be able to get right back at it."
Last Wednesday evening, Trotman steered home Good Day Lucas first in a claiming event for trainer David Walters, who agreed with Runco's assessment.
"One thing about him is he puts horses in good position, and he's not afraid to go a left-handed stick in the lane," Walters said. "Horses really are not used to getting hit left-handed, and when he goes to his left hand he seems to hit them in the right spot. I was sorry to hear that he got hurt the other morning because he was really doing well up here. I hope he comes back in a month or so and comes back healthy and focused and ready to ride again."
Through last Saturday night, which will be his last action until his return from injury, Trotman had won 38 races this year with earnings of over $660,000 from 248 mounts. In his career to date he boasts 67 wins and nearly $1.1 million in earnings from 453 mounts. He won five races on March 15, taking two at Laurel then three more that evening at Charles Town. He also recorded riding hat tricks at Charles Town on February 15 and Jan. 25.
"It's unlucky that I got hurt, but that's racing," Trotman said. "I just have to relax and rest and wait to get back. I still have time to win plenty of races. I've learned a lot listening to riders like J.D. Acosta, and I talk to Wes Hamilton about succeeding as an apprentice. When I started riding, one of my goals was to win the Eclipse Award as apprentice. I still have that goal. My injury is just a minor setback."