For Jaywalk, Glorious Empire, Breeders' Cup bids began with Delaware wins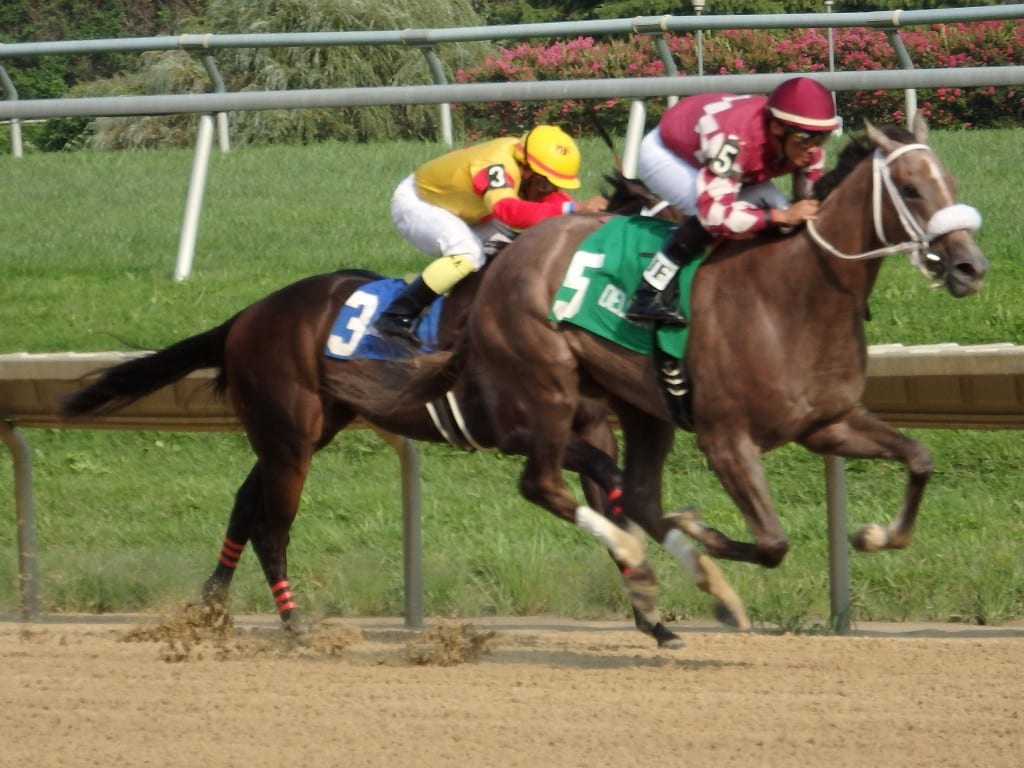 Jaywalk won the White Clay Creek Stakes at Delaware Park. Photo by The Racing Biz.
by Doug McCoy
Breeders' Cup, racing's world championships, will be run this Friday and Saturday at Churchill Downs, and a pair of horses who kicked off their run to Louisville with wins at Delaware Park will look to make their marks. Trainer John Servis sends out Jaywalk as one of the favorites in the Grade I $2,000,000 Breeders' Cup Juvenile fillies on Friday, and James "Chuck" Lawrence will play "catch me if you can" with front-runner Glorious Empire in the $4,000,000 Breeders' Cup Turf on Saturday.
Jaywalk showed signs of real talent and potential when she blew by the leaders down the stretch to take the $50,000 White Clay Creek Stakes August 22 over the Delaware Park main track. The quality of that field has been validated, as the top four finishers – Jaywalk, followed by Congrats Gal, Group Text, and Start the Show – all came back to win their next.
After the White Clay Creek, Servis decided to test his young filly with some of the best in the division in the eight-furlong, Grade 1 Frizette at Belmont. Many horsemen believe one-turn mile races like the Frizette and Met Mile are the toughest tests for a horse, but Jaywalk handled the jump in class and added distance like a good horse, taking command at the start, ripping through a third quarter of 24.06 seconds, and then coming home in :24.86 to be almost six lengths clear of a strong field in 1:34.57. That final time was a stakes record for the Frizette since 2005 when the race was moved to a mile, another indication of the strength of Jaywalk's Frizette performance.
The Frizette established Jaywalk as a legitimate contender for the top juvenile filly in the country, and on Friday the Cash is King LLC and D J Stable LLC star will attempt to join My Miss Aurelia as the latest filly to parlay a win in the Frizette to a victory in the B.C. Juvenile Fillies and an Eclipse Award as the top juvenile filly in North America.
Servis talked to The Racing Biz on Tuesday from Louisville after flying in Monday night to oversee final preparations for Jaywalk at Churchill Downs.
"She shipped great and we had her out on the track this morning," Servis said. "She looked great, travelled good and I couldn't be happier with the way she's coming up to this race. She's run over four different track surfaces in four career starts and it doesn't seem to make any difference where she runs, she handles everything in stride."
Jaywalk has won three of four career starts, the lone blemish a runner-up effort in her debut. After racing on an approximately monthly schedule for her first three starts, she had had six weeks between her win in the White Clay Creek and her victory in the Frizette. She'll come into the B.C. Juvenile Fillies with four weeks between starts, but Servis said he's doesn't feel the time between starts is too short for his star.
"If anything she's gotten better since the Frizette" he observed. "She's been more aggressive in the morning, more eager to train, and just seems to be getting stronger and more mature as time goes on. We've liked her ever since we saw her at the sale. She's just a very attractive filly, a very smart filly, and she loves to run. You can't ask anything more than that in a horse."
Servis was also pleased that Joel Rosario, who rode Jaywalk for the first time in the Frizette, wanted to ride the filly back on Friday.
"He had ridden two other fillies who are in the [Juvenile Fillies] the last time they ran, but he wanted to ride Jaywalk back," the horseman pointed out. "When he got off her after the Frizette, I said to him, 'Nice filly eh?' and he just broke out in this big grin and nodded his head yes, so I think our rider likes our chances."
There's a good bit of speed in the mile and a sixteenth Juvenile Fillies, so Rosario will have to work out a trip from the seven-hole for Jaywalk, who is the co-second choice on the morning line at 7-2.
"I'd think we'll be close up but not necessarily on the lead," Servis predicted. "There's a good bit of speed inside, then the outside filly from California [Bellafina] has gas, so I'd expect we'd be stalking the lead. If they want to go fast early, hopefully we'll stay in striking distance. She (Jaywalk) showed she can run at horses in the race at Delaware Park, and we train all our young horses to not be speed crazy and have something ready for the drive. I know I've got a quality filly who's raring to go. Now it's just up to racing luck and how things play out."
Glorious Empire gets new lease on life — at 7
Just about two months before Jaywalk's win in the White Clay Creek, another runner – the seven-year-old Glorious Empire – jump-started his career with a win at Delaware.
The onetime $62,500 claim, trained by James "Chuck" Lawrence, will be seeking to add another chapter to a true Cinderella story when he goes postward Saturday in the $4,000,000 Breeders' Cup Turf at 1 ½ miles. He is 12-1 on the morning line.
Owner Matthew Schera claimed Glorious Empire in May of 2017, and the Irish bred Holy Roman Emperor gelding made three starts before Schera sent Glorious Empire to Lawrence at Maryland's Fair Hill Training Center after his 2017 racing season.
"Matthew is a very sharp numbers guy, and he saw something in Glorious Empire that made him think he was worth the money. He (Glorious Empire) had been a little headstrong and ramped up when he was younger, and he also had a bleeding problem," Lawrence recalled. "Matthew felt the more relaxed environment at Fair Hill would allow the horse to learn how to relax and calm down a bit and as time went on that's what happened."
Fair Hill, located in northern Maryland near the Delaware border, is a private training facility. The bucolic center has not only dirt, turf, and Tapeta training surfaces but also turn-out paddocks and plenty of cross-country trails. That provides different training opportunities – and a different experience for the horses than the hustle and bustle of the racetrack.
"At Fair Hill we're not confined to certain times when it comes to taking horses to the track, and the atmosphere is so much more laid back and relaxed compared to the setting you get at the track," Lawrence explained. "We've been able to train him with long, steady moves, mostly at seven furlongs, and he's responded well. And since we've started running him longer distances where the pace isn't as frenetic and the whole scenario is just more sedate, he's come into his own."
Glorious Empire came off a nine-week break with a visually impressive win at Delaware Park over a strong field of allowance/optional claiming rivals June 28, and that performance was a portent of things to come. Lawrence shipped him to Saratoga to try graded stakes company in the Grade 2 Bowling Green, and Glorious Empire stunned that field by leading to the final stride before dead-heating for the win with Channel Maker at odds of 22-1.
He showed that race was no fluke next time out in the Grade I Sword Dancer when he wired another strong group to take his third straight win, this time going postward at 12-1.
While Lawrence expects his charge to be either on or close to the lead from the start, he discounts the notion Glorious Empire is a one-dimensional horse that has to have the lead to win.
"If they get crazy up front I'm sure Julian (Leparoux, Glorious Empire's rider ) knows enough to stay out of a speed duel," Lawrence said. "He's had plenty of experience with this type of race with his background in Europe so we'll have to trust his judgement once they leave there."
With significant rain forecast for the Louisville region on Wednesday and Thursday there's a good chance of soft or yielding conditions for the Turf, but that shouldn't be a hindrance to his star. Glorious Empire's win in the Bowling Green came over soft ground.
"I think he'll handle just about any type footing," Lawrence said.
Lawrence plans on doing everything he can to keep Glorious Empire's stress level low and said he plans on asking the Churchill Downs paddock judge for permission to saddle his charge in the tunnel leading out to the track rather than subject him to the zoo-like conditions around the saddling paddock.
"He's been training great, and he's sound so now it's just a case of trying to have him calm and cool," Lawrence said. "I know there are some nice horses coming from Europe including the Arc (de Triomphe) winner Enable and he'll have to be at his best, but he's dead honest and a happy horse right now, and happy horses have been known to do surprising things."