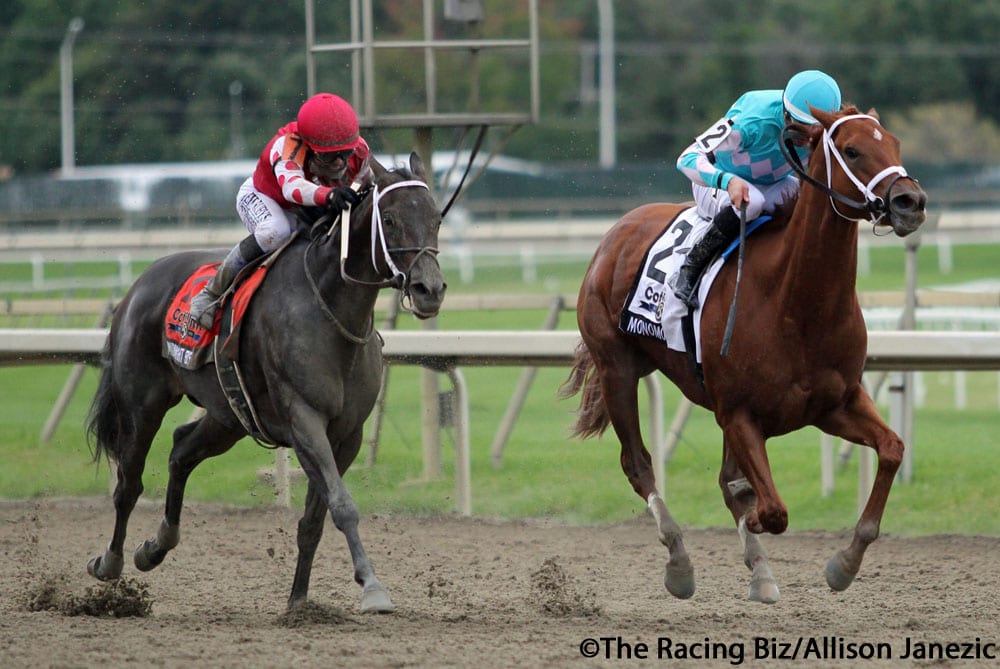 RT will be making occasional spot plays. A veteran handicapper, he loves him some exacta box action.
by RT
Chilly Night 34̊ at post time
Musings du jour
'Bama soiled the Sealy Monday night, as did my Ravens this Sunday last. I'm still alive with the Eagles winning the NFC as well as Indy for the AFC. This weekend I like the Pats -4, Philly +8, Dallas + 7 and Indy +5.5. The Pats are an incredible home field playoff prop, having covered all but one game during the reign of Brady. Dallas also seems a good play due to their recent form and LA appears to be on the other side of the peak – losses to Philly and Chicago point to a team that isn't as competitive as they were earlier in the year. They did beat Arizona and SF in their last two, but those rivals ended the year with a combined 7-25 record.  It is hard to back Jason Garrett; however, he has Prescott/Elliot/Cooper to trade blows with Goff/Gurley & co.
If you've been following on social media, you'll know I have done well of late. I started using Timeform exclusively because they are more exacting in their speed, pace, form and previous race ratings.
Nineteen days until Minnesota is in the rear view and Chincoteague is in range. It's been "unseasonably" warm here – high of 32. Then, they'll tell you that it "feels like" 27. How do the professionals determine what it "feels like"? Do you suppose they leave an intern outside for a bit and then ask how s/he feels?
PENN NATIONAL RACE 1
Exacta 5-4; also a win bet,
and twice as much to place, on #4
3 in front with 4-1-5 tracking
#4 Pattonville (2-1): The object of war is not to die for your country, but make the other bastard die for his….oops, I was thinking Gen George. Jockey Daniel Feliciano is going to draft off the 3 horse and blow past in the stretch along with the 5. Patton is far ahead of the rest in terms of coming into this race with form, speed and class.
#5 Last Woodman (7-2): One of Penn's hot jockeys, Inoel Beato, will rate this guy alongside of 4 and pass the favorite, Top Mention, in the stretch. In his last, he was one game guy and the return of Beato showed. Beato will be back up tonight, so look for another big move in the lane.
PENN NATIONAL RACE 3
Exacta 4/2-5-6-1; also, a win bet, and twice as much to place, on #4
4 on the lead, 2 way back
#4 Successful One (9-5): Successful One is going to wire this field. The favorite, #2 will try to keep pace, but he'll be dispensed with. The 1-5-6 will get a slice of this if they manage to stay near enough to pass the 2.
PENN NATIONAL RACE 5
5-2 on the lead with 6 & 3 near
#1 Fairfield (4-1)
#5 Goodmorningsunshine (2-1)
Betting maiden races usually comes down to who has the best figures in their last race. For your review, this is what Timeform has for the top two, and the remainder are not very close.
Par for this race: 51
#1 last out – 54 vs a 69 par
#5 last out – 56 vs a 59 par
The 5 is a vulnerable favorite because of its propensity to fade in the stretch, and Penn is a closers' track.
Both races were a $15K 6f MCL, but they were judged differently. Also, jockey Flores, who is aboard the 5-horse, is still on a cold streak. There are two looming threats: the 2 and the 6. The 6 gets Hernandez in the irons and the two is 3rd out after being claimed by Naoise Agnew.