RT's spot plays: Penn National December 21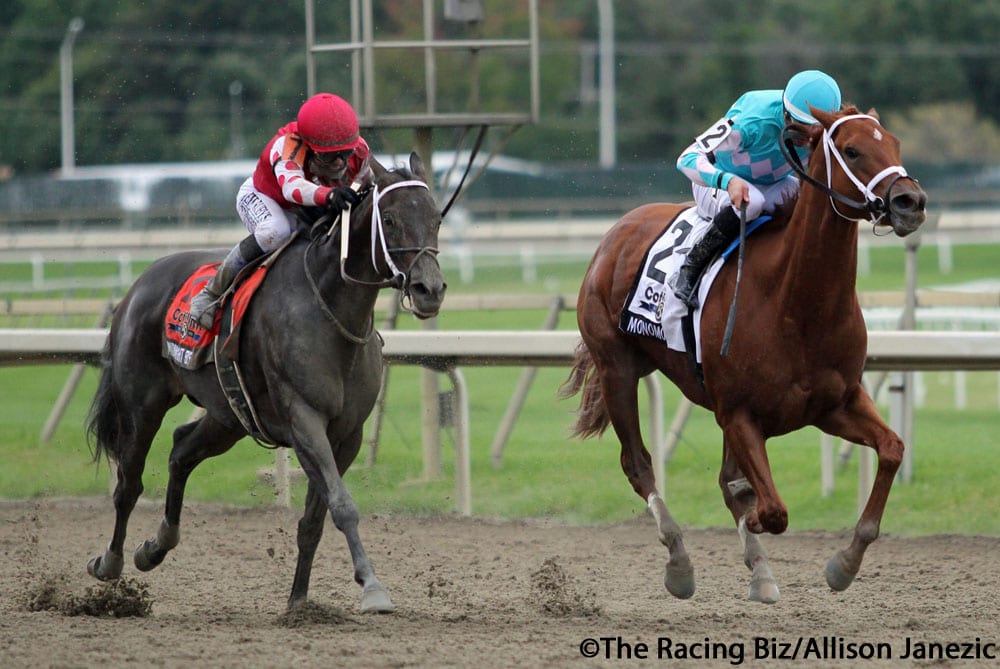 RT will be making occasional spot plays. A veteran handicapper, he loves him some exacta box actions.
by RT
Rainy, 50s, dark out. Night is like that.
If you have any money left after shopping for your significant other, kids, folks and buds, along with the beating you may have taken in the market of late, here are my picks to, ahem, hopefully get you somewhat back to par. 
Happy Hunting!
PENN NATIONAL RACE 1
I'm betting W/P on 5 and Exacta 5-3 both ways, over 6-4.
5-4 on the lead, 1-2-3 behind
#5 Warriors Shadow (7-2): Warrior was put on the bench in May and returned on November 30th in a $9K claimer – giving her an airing out while scoring a 22 Beyer. Expect her to improve from that. Against this level, as demonstrated earlier this year, this one was hitting much higher Beyers as a beaten favorite. PP 5 at this distance is clipping at a 24% rate

#3 Silver Jane (6-1): Silver Jane is in her 2nd out off a layoff. In her last race, Wolfsont moved her into contention, then mistakenly swung to a dead rail against a speed bias track. Kravets' move to apprentice jock Stephanie Sheroski (23% win streak the last 10 days) gives her a weight edge tonight.

#6 Tango With Lois (6-1): This choice is purely based upon the Hernandez/Cifarelli combination of six ITM results in nine outings.
Vulnerable favorite – #4 Wild Honey (6-5): Shipper from Woodbine has the highest recent Beyers. However, my research has shown that the move from synthetic to dirt at Penn, has not been initially favorable.
PENN NATIONAL RACE 2
I'm betting an Exacta Box 6-7-5.
5 on the lead at the ½ w/8-9 nearby.
#6 Mission Good Karma (4-1): Given the speedy pace being set by 9, 8 & 5, I looked for the stalking/closing type and landed on Mission. In her last race, Otero hung her five wide and had nothing left in the tank to work with. She did, however, close two lengths on the leader to bank the place dinero against a speed bias track on that day. She has four races here with a win, two places and a show.

#7 Grecian Dancer (5-2): For the same reasons as above, I went with Grecian Dancer. Rodriguez/Kulp connection has been procuring a 56% ITM performance, and this one has shown the ability to close against a speed bias. Grecian Dancer has been on hiatus with Kulp, who is winning at a 22% clip. Dropping from an $11k claimer last time, this AP Indy filly will have the benefit of a speedy pace for her to strike.

#5 Warfront Salsa Rvf (5-1): Trainer Kravets moved Wolfsont off this filly in favor of Tyler Conner. In Warfront's last race, previous jock Wolfsont fried her on the front end, exhausting her tactical skills. This filly has the tendency to get to the front and it wouldn't surprise me to see Conner lock her down to the far turn – then have her flying down the stretch from off the pace. She has hit higher Beyers than the rest this meet, and accepting her last race as a bounce, I'm expecting a big run out of her tonight.
PENN NATIONAL RACE 3
I'm taking 4 to WP and a trifecta box of 6-4-3-2.
3-4 on the lead with 5-1 behind and it probably will end the way it starts.
#4 Hay You Guys (7-2): The entire tenor of this filly has changed since Stickler put Beato in the irons. This Bernardini soph has won her last two outs with Beyers of 70 and 69, respectively. Beato has been hot of late (27% strike rate last 10 days), and this jockey/trainer combo wins 36% of the time. This runner has $89K in the bank this year with all of it earned at Penn. Class of the race, speed of the race, trainer with a 27% win rate, and she enters in good shape. A good horse, a good jockey, a good bet.

#2 Wildcat Cartridge (5-2): Trainer Kulp has yet to get the best from this Messner filly and drops her down to her lowest level this year. Wildcat has two sharp works over the track, a 30% win ratio, a 100 Timeform rating for late moves, the best E speed rating, and the 2nd best earnings-per-race.

#3 Golden Promise (5-2). Two back, Golden Promise pounded out a wire-to-wire victory over $16K claimers, then moved up the ranks against allowance company. In that allowance race, try as he may, Flores couldn't get her to fire. It appeared that the sloppy conditions were not to her liking, disappointing bettors, as she went off as the favorite. Wild Again filly drops in for her lowest tag of the year. Of her 11 starts, she has three wins, two places and two shows. Rodriguez/Kulp are scoring at a 56% ITM rate, and her return off a bounce should factor in here

#6 Spring Away (5-1): I'm betting a trifecta this race and am including this filly. This fall, during the four times Spring Away was ridden by Maicol Inirio at Penn, the result has been two wins, a place and a show.