RT's spot plays: Penn National December 22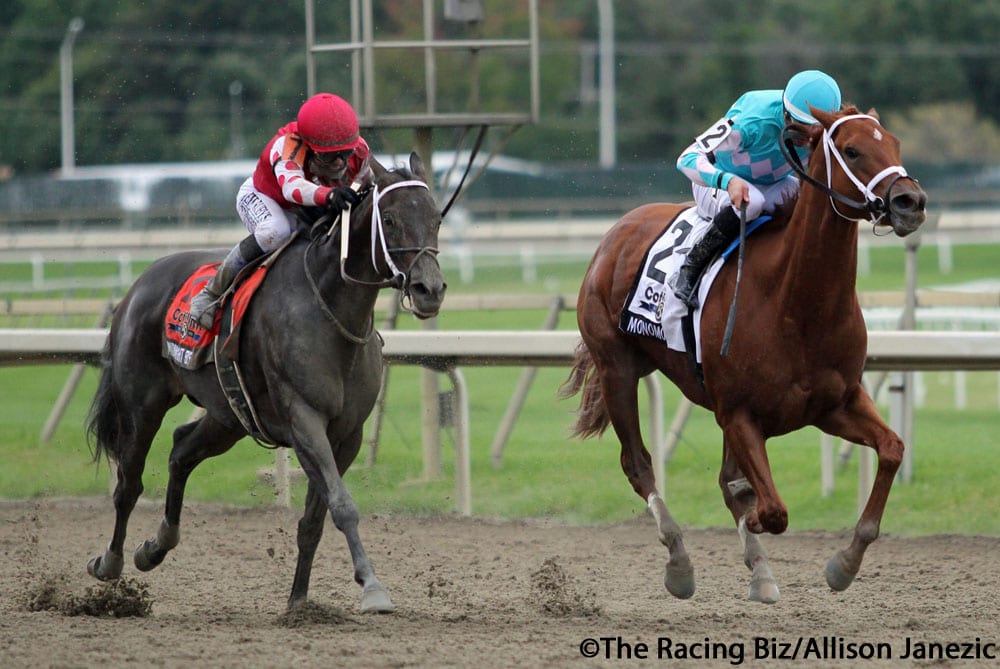 RT will be making occasional spot plays. A veteran handicapper, he loves him some exacta box actions.
by RT
Partly Sunny – high to be 44. Hopefully the rain finally abates
There's supposed to be a 16-18 mph wind. If that's the case, pay attention to the stalker style horse who carries a leading jockey. Personally, I have not been to Parx in a few years, so if you are familiar, and know whether the wind is a cross blow, headwind or tailwind, use this to your advantage. Think of a NASCAR driver drafting…or taking out your driver and smacking your nasty slice into a crosswind gusting from right to left and landing it in the fairway..…then you sheepishly smile at your mates and collect your greenie for that fairway in regulation….cha-ching $$
Pennington, Arroyo and Jann Hernandez have been the hottest jockeys of late.
Musings Du Jour
A word to the wise today: Stay away from the grocery store. Last night was like being in the old USSR. The shelves were barren and a zillion customers queuing for their one potato and three onions.
Instead, stay home. Fire up the tube and take the under 24.5 in the first half of the Chargers/Ravens…then take the Ravens +4.5. The ebb of predominate offense seems to be shifting in the NFL and with Jackson as QB, Baltimore has found a new stroke….and my how I loathe David Philip Rivers after he cost me 4 dimes plus the vig in his final bowl game at NC State. (Editor's note: The guy doesn't even know the first name of SD's QB. You sure you want to take his sports betting advice?)
Bonehead move of the day – yesterday on AQU race 5. I equivocated and didn't get a bet down on #3 Sara Street. Yes, she only paid $4.90, but if there was ever a mortal lock for a horse race, that was it. As my Daddy used to say, "Still no vaccine for dumbass."
Three days until Christmas. It's the time of year for the three most terrifying words in the English language: "Some Assembly Required."
Speedy recovery from your angioplasty procedure, CC. Keep your head up.
One last schtick: Merry Christmas, Ruth. May the road rise up to meet you; may the wind be at your back; may the sun shine warm upon your face; may the rain fall soft upon your fields, and until we meet again, may God hold you in the palm of his hand… RT
Happy holidays to all!
PARX RACING RACE 1
1-5-6 exacta box
8 gets the early jump and 3-6 near
#5 Belly Dancer (4-1): With a fast pace projected and routes rarely won by front speed at Parx, I went shopping for a closer, or three. First up is Belly Dancer, who has a Timeform late rating of 95. The recent move to Rodriguez in the irons has been most fortuitous; exemplified in his last race on 29 November.  Belly Dancer ground down his rival in the stretch ticking the last fraction at 31.07, best of this group. Rodriguez rated him well, swung wide down the four path, and Belly Dancer dug in to win, netting a 60 Beyer. With Rodriguez retaining the ride, this guy will be there.
1a Zipped Code & #1 Kendricks (2-1): Juan Vasquez pair with one being the speed type and 1a having the late kick. Personally, I am partial to 1a, but, like you, also favoring my wallet, can care less who closes the deal. 1a has the second fastest final fractions in this group, the highest E speed figure (by a wide margin), and highest earnings per start. If it's Vazquez' intention to have Kendricks as the rabbit for Zipped, this may backfire due to the early fractions that 8-3-6 will set. Both Zipped and Kendricks entering from separate key races.
#6 Act Of Madness (20-1): Hot trainer Miguel Penalooza (6 starts, 2 wins, 1 place 1 show of late) cuts Act Of Madness back to a mile 70 yards and gets Dexter Haddock back in the saddle. We should see Haddock getting Act clicking the Beyers in the 60s.
PARX RACING RACE 2
Exacta Box 9-8-3
9 w/p key 9/8 over 3-2x (if installed)
5-4 get the early jump with both entries trailing close
#9 Planet Trailblazer (2-1): This 5yo gelding will go off at or below 1-1 odds by post time and it's understandable. Trainer Servis and jockey Pennington have combined for three wins, three places and a show in eight starts. This Brazilian-bred has $9100 in earnings per start, and the next closest in this field is $5700. he has an E speed rating of 85, $129K of earnings, a win over the track and has raced against much better, clocking higher Beyers than the rest. The only time Pennington drew the whip in his last race was when he heard footsteps in a decided match. Planet made it look easy. Frankly, for $7500 this guy is a steal. If you get even or better odds, try not to bonehead like I did yesterday.

#8 Shotmaster (5-1): "Time enters into the argument under certain conditions, but if depended entirely for a deduction it will be found wanting," Pittsburg Phil said. Shotmaster has 16 outings at Parx with four wins, two places and two shows. Look for the combo of Hernandez/Farro to get a slice. 

#3 Ninetyeightoctane (10-1) stretching out, this Brown-trained gelding by Violence is seeking his bold closing move to ring the register. Rodriguez/Brown combo is 29 out of 44 ITM and this runner has four wins in 12 attempts at Parx. If pace makes the race, he and #8 should be closing on #9.
PARX RACING RACE 3
Exacta Box 7-6-1
Slow early fractions with 2-1-1a-8-5 in the mix
#7 Point Lockout (6-1): Claimed two back, then thrown into $25K claiming company last out, Point Lockout is better suited to this sphere and returns David Castillo on her back.  PL's Beyer pattern suggests improvement this race and with the slow pace, she'll have the chance to close in the stretch.

#6 Queen Of Swag (3-1): Trainer Susan Crowell's move to Jockey Mario Sanchez, the second leader at Parx in route wins (17%), is a pick up for this filly. Look for Sanchez to have her near the lead on the far turn, then utilize her closing ability to get up for this.

#1 Resonate (7-5): Another second off a claim, Rodriguez gets a second shot on Resonate, a four-year-old Exchange Rate filly. She has six starts at Parx with a win, a place and three shows, earning $31K. Prior to her last out-for-air race, she was clicking at 56 & 60 Beyers. With 1 mile dirt affairs favoring the two inside posts by 35% cumulative, Resonate has to be included in my wager.